My SEO Journey [Pro Edition]: Najaf-ul-Rehman from paraphrasing.io – SEO success requires devotion, time, and effort
My SEO Journey [PRO Edition] is a series where professionals in the SEO Industry, Digital Marketing, or Web Design share their honest SEO Journey filled with failure, success, and most importantly, proven results. Episode #138 features Najaf-ul-Rehman from Paraphrasing.io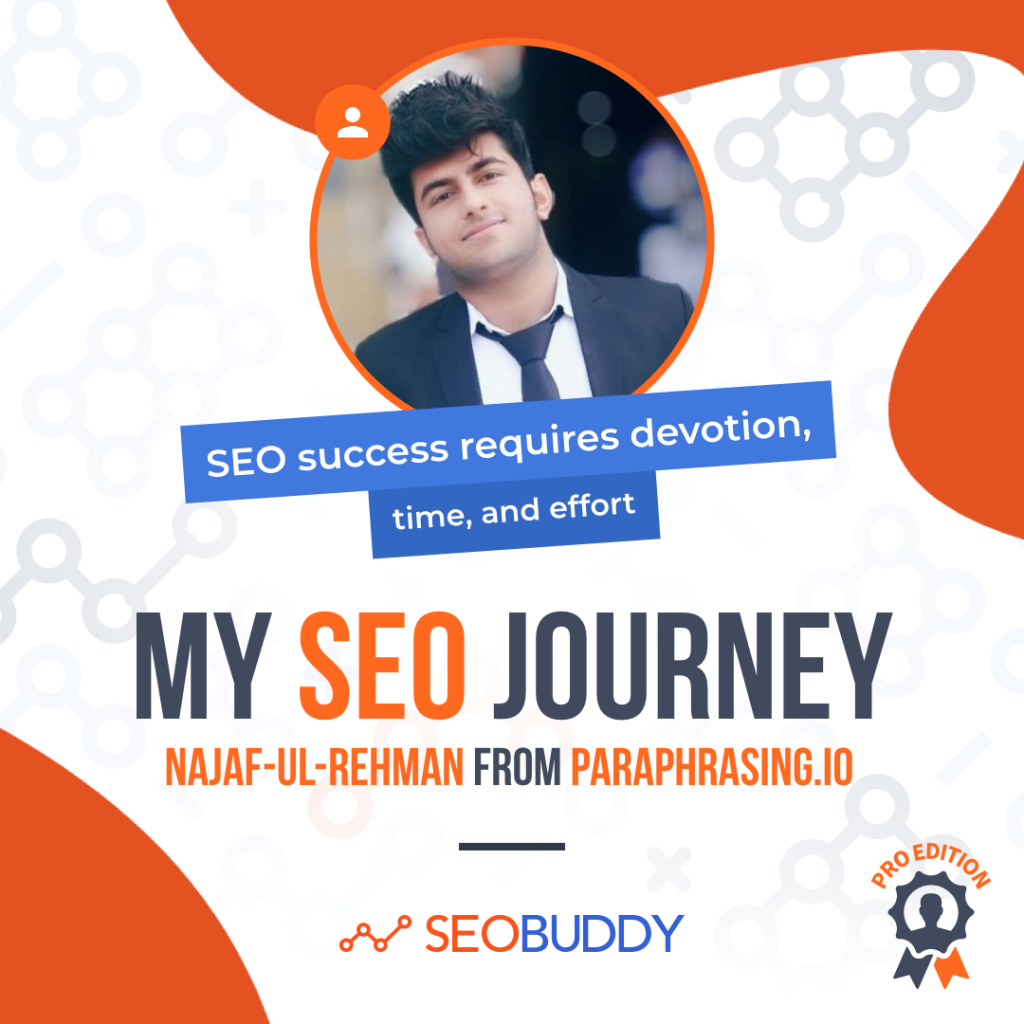 I am a certified SEO professional with more than three years of experience in digital marketing. I am currently working as an SEO manager at Techlo9, a digital marketing agency based in Pakistan. I've worked on a variety of AI tools. Our main product is paraphrasing.io. The paraphrasing tool, in my opinion, has the potential to be an extremely useful resource for authors, students, and scholars.
I also work for many international brands and clients. I am responsible for managing a team of SEO experts and ensuring that their clients' websites rank highly on search engine results pages (SERPs). I am also an experienced competitor analysis expert and love playing SEO, especially when the competition is tough.
Here are some of my accomplishments:
Managed a team of SEO experts and ensured that their clients' websites rank high on SERPs.
Conducted competitor analysis and developed strategies to improve clients' rankings.
Increased organic traffic to clients' websites by 300%
Reduced the cost of paid advertising by 50%.
I am a highly skilled and experienced SEO professional passionate about helping businesses succeed online. A valuable asset to any team and is sure to help you achieve your digital marketing goals.
Here are some of my skills and expertise:
SEO
SMM
Google Analytics
Google Search Console
ahrefs
SEMrush
Competitor Analysis
Keyword research and new startups
What's your backstory, and how did you come up with the idea?
My road to success was not simple. I had to put in a lot of effort and study SEO in depth. Along with these difficulties, I had to contend with opposition from other accomplished SEO specialists.
As a freelancer, I began my SEO profession and rapidly established a solid reputation. working soon with some of Pakistan's largest businesses. I established Techlo9 in 2015 to aid companies of all sizes in increasing their online presence and generating more leads and sales.
I have a strong desire to support internet companies' success. In my opinion, SEO is one of the most important resources that companies can use to connect with their target market and expand.
My perseverance and commitment eventually paid off. As a result, I was successful in achieving the top Google ranking for the keyword "SEO".
I believed that my triumph served as motivation for all SEO specialists. It demonstrates that anyone can succeed in SEO if they are prepared to put in the necessary time and effort.
The power of algorithms in SEO
The foundation of search engines is algorithms. They evaluate websites' relevance on a number of variables, such as user experience, and keywords. As an SEO specialist, I realised how important it was to comprehend these algorithms. I have been able to optimise websites by keeping up with the most recent algorithm and trends.
There are a number of factors that algorithms consider when ranking websites, including:
Ranking and Visibility
The positioning of websites on SERPs is determined by algorithms. Websites that meet the requirements of the algorithm and have greater optimisation have a tendency to rank higher. SEO experts concentrate on optimising websites to increase their chances of ranking highly.
Keyword Optimisation
In order to comprehend the purpose behind user searches, algorithms examine keywords. Professional SEO experts increase the chance that web pages will show up in search results by optimising web content with keywords. In order to match online content with the preferences of the algorithms, keyword research and optimisation are essential.
Content Relevance
The quality and relevance of material are evaluated by algorithms. Websites that offer useful and engaging content have a better chance of appearing higher in search results. SEO experts concentrate on producing high-quality content that matches user intent.
Backlinks and Authority
The quantity of backlinks leading to a website is taken into account by algorithms. Strong backlink profiles increase the likelihood that a website will appear higher in search results. Link-building techniques are used by SEO experts to develop high-quality backlinks.
User Experience
The user experience that a website offers is taken into account by algorithms. Websites with quick load speeds and simple navigation will likely rank better. SEO experts make their websites more user-friendly and ensure that they satisfy the requirements of the algorithms.
Algorithmic Updates
The algorithms of search engines are frequently updated to improve the user experience. These changes may have a big effect on how websites rank. SEO experts must stay current on algorithmic updates to comply with the latest standards.
Have you learned anything particularly helpful in your SEO journey?
Yes, I have learned a lot of things from his SEO journey. Here are some of the most helpful things he has learned:
The importance of content: In terms of SEO, content remains king. If you want to rank effectively in search engines, high-quality content is important.
The importance of keywords: Keywords matter a lot for SEO. Today, Google ranks websites based on a number of metrics, such as backlinks and content quality.
The importance of backlinks: Backlinks are still a significant ranking element. Google now favours backlinks coming from reliable websites that are useful to the target market.
The importance of user engagement: User interaction is becoming a key ranking component. Google seeks to rank user-friendly and educational websites.
The importance of patience: The game of SEO takes time. Gaining Google's trust and beginning to perform well in search engines takes time.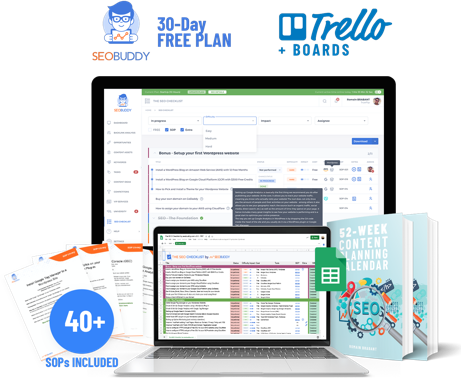 There's more…
Now it's time to discover the other 102 steps that will get more organic traffic flowing to your website. Get the SEO Checklist here.
Want to get a sneak peek of what it looks like?
Enter your email and get a free demo version of the SEO Checklist.
Here are some additional tips:
Focus on creating high-quality content.
Use relevant keywords throughout your content.
Build backlinks to your website.
Optimise your website for mobile devices.
Track your progress and make adjustments as needed.
Final Thoughts
The SEO process is challenging and complicated. Success requires devotion, time, and effort. It is, nonetheless, a gratifying path that can result in excellent chances. You need to stay current on the most recent changes because there isn't one SEO technique that works for everyone. Building an excellent foundation of high-quality content is essential for long-term success. You must work with others, such as developers and designers, in order to achieve your goals. You must exercise patience and perseverance. There will be obstacles along the way, and SEO takes time. Never give up!