My SEO Journey [Pro Edition]: David Hoos from outloudgroup.com – My tips if you have limited time to dedicate to SEO
My SEO Journey [PRO Edition] is a series where professionals of the SEO Industry, Digital Marketing, or Web Design, share their honest SEO Journey filled with failure and success, and most importantly proven results. Episode #68 features David Hoos from The Outloud Group.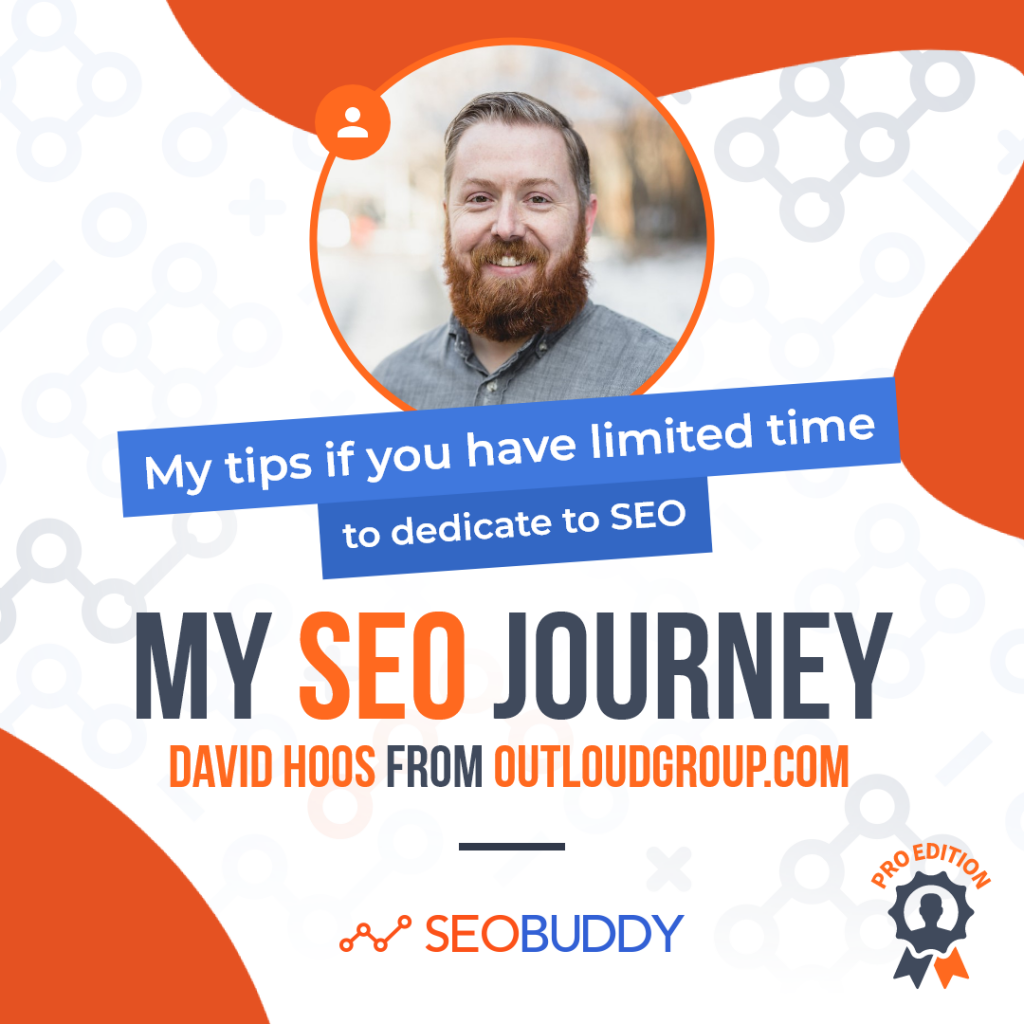 Hey. I'm David Hoos and I run marketing for The Outloud Group. We're an experienced influencer marketing agency that has provided a range of services to growing brands and creators for over a decade.
While many other businesses tend to have a central 'why' as their mission for existing, we live by a central 'how' instead. Our mission is to make our brand and creator relationships our top priority–-to facilitate win-win deals as much as possible. As we like to put it, we're in new media, but we're all about old-fashioned relationships.
The Start of My SEO Journey
While my journey at Outloud began less than a year ago, my journey in SEO began over five years ago and I've learned a lot in that time. I've worked as the first in-house marketing hire for three different types of marketing agencies and as a result, I've had a lot of opportunities to experiment and optimize my approach.
Now, when you're the first marketing hire, you always end up wearing a lot of hats. That fact has forced me time and time again to try to be lean and mean with my approach to SEO. I simply can't be a full-time SEO, so I've had to figure out where my energy would be best spent.
So, if you're a founder or a marketer with limited time to dedicate to SEO, you'll want to stick around. Here's are some of the lessons that I've learned about doing more with less.
The Lessons I've Learned
When it comes to being lean and mean, there are three main areas I've developed a strong conviction around.
Content-driven networking
Listings in high-intent directories
Publishing data content.
Let's unpack each of these.
Content-driven networking
First, focus on being invaluable to others in your industry. Networking is your friend. Two key strategies that work well here are working to be featured on regular industry podcasts and offering to regularly write guest posts for others in your niche. Both of these techniques have the benefit of introducing other audiences to your expertise while also earning you a backlink in the process. More bang for your buck.
Listings in high-intent directories
The next strategy I recommend is to get your business listed in as many relevant directories as possible. While you can list yourself with broad directories like Google My Business, the real impact is more likely to come from industry-specific directories. For agencies like ours, these have been places like G2, Clutch.co, and others, but there are often similar directories for other industries. 
In my experience, these sites often spend a ton of time working on their own SEO in order to rank high for high-value commercial keywords. The benefit of posting to these places is that in addition to getting a backlink that can help your SEO, you are also positioning yourself in a place where many of the visitors are already in purchase mode.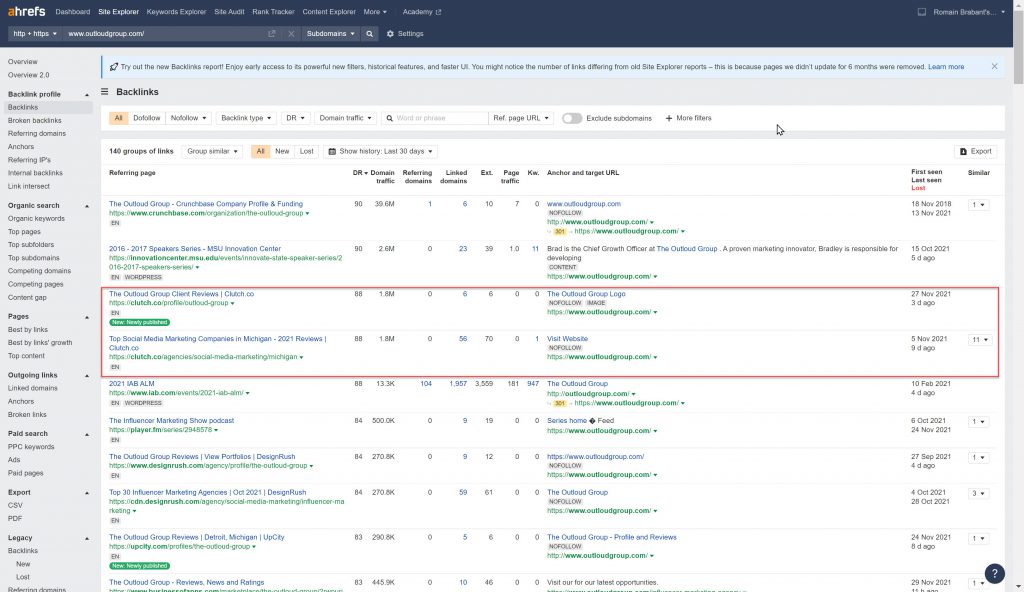 Publishing data content
The last strategy is to publish as much data content as possible. When it comes to trying to attract backlinks to your site, one of the most foundational is to have content worth linking back to. One of the simplest ways to do that is to collect original research and data and publish it.
Original data and research provide others in your industry with a reference when working on their own content. When they're looking for some data to cite in their own content, you'll have the perfect piece of content for them to link back to.
Don't make these mistakes
If there were any hard lessons I've learned in the process of reaching this framework, I'd probably say that they are 1) Don't get caught up on high volume keywords that might bring you lots of traffic (but often the wrong folks who aren't interested in buying) and 2) Having a clear niche industry that you serve can make a big difference. It makes knowing who to partner with, which directories to choose, and what data to publish so much easier.
How do you like to track your SEO progress?
My favorite tool for tracking SEO progress is Ahrefs, hands down.
It's a powerful one-stop-shop for keyword research, monitoring rankings, doing content research, and more.
Some thoughts on link building

All of my efforts around link building have been centered around my niche. That typically looks like reaching out to folks who are natural partners and other media creators in my niche (SaaS providers, non-competing agencies, magazines, etc).
From there it comes down to developing a relationship with them. I've found that rarely, if ever, does it work to ask for a favor right out the gate. The better way, I've found, is to start with trying to give them something. Start from a place of generosity and provide value before asking for something in return.
My biggest influences
The biggest influencers of my SEO journey have probably been Brian Dean, Benji Hyam, and Jimmy Daly and Ryan Law (from Animalz).
Looking forward, I'd like to get better at finding ways to scale this approach beyond myself. At the current stage, it is still a very manual process and I'd love to find ways to simplify things even further.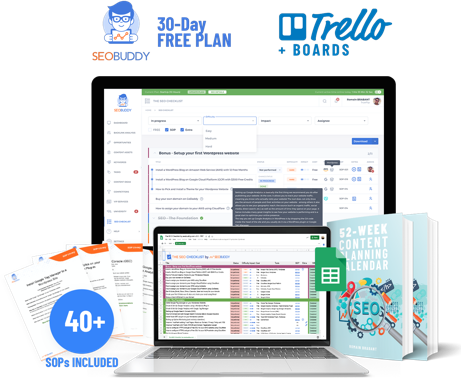 There's more…
Now it's time to discover the other 102 steps that will get more organic traffic flowing to your website. Get the SEO Checklist here.
Want to get a sneak peek of what it looks like?
Enter your email and get a free demo version of the SEO Checklist.
What's the next step for me in my SEO Journey?
As I look forward towards the future of my SEO journey, the biggest challenge I am confronting is how to improve SEO on a lower-domain authority site. Even though The Outloud Group has been in business for over a decade, it still has a lower domain authority (likely due to being part of a still industry that's still maturing).
While this could be looked at as a disadvantage, I'm looking at it as an opportunity. Our work certainly speaks for itself, so my job is just to make sure the SEO reflects that. I have confidence that as I employ the strategies I've listed above, the domain ranking and overall keyword rankings will improve. Keep your eye on us.
The best place to find me online is either Twitter or LinkedIn.