My SEO Journey [Pro Edition]: Noman Jahangir from njvmarketing.com – You have to keep yourself updated with the latest trends
My SEO Journey [PRO Edition] is a series where professionals in the SEO Industry, Digital Marketing, or Web Design share their honest SEO Journey filled with failure, success, and most importantly, proven results. Episode #104 features Noman Jahangir from NJV Marketing.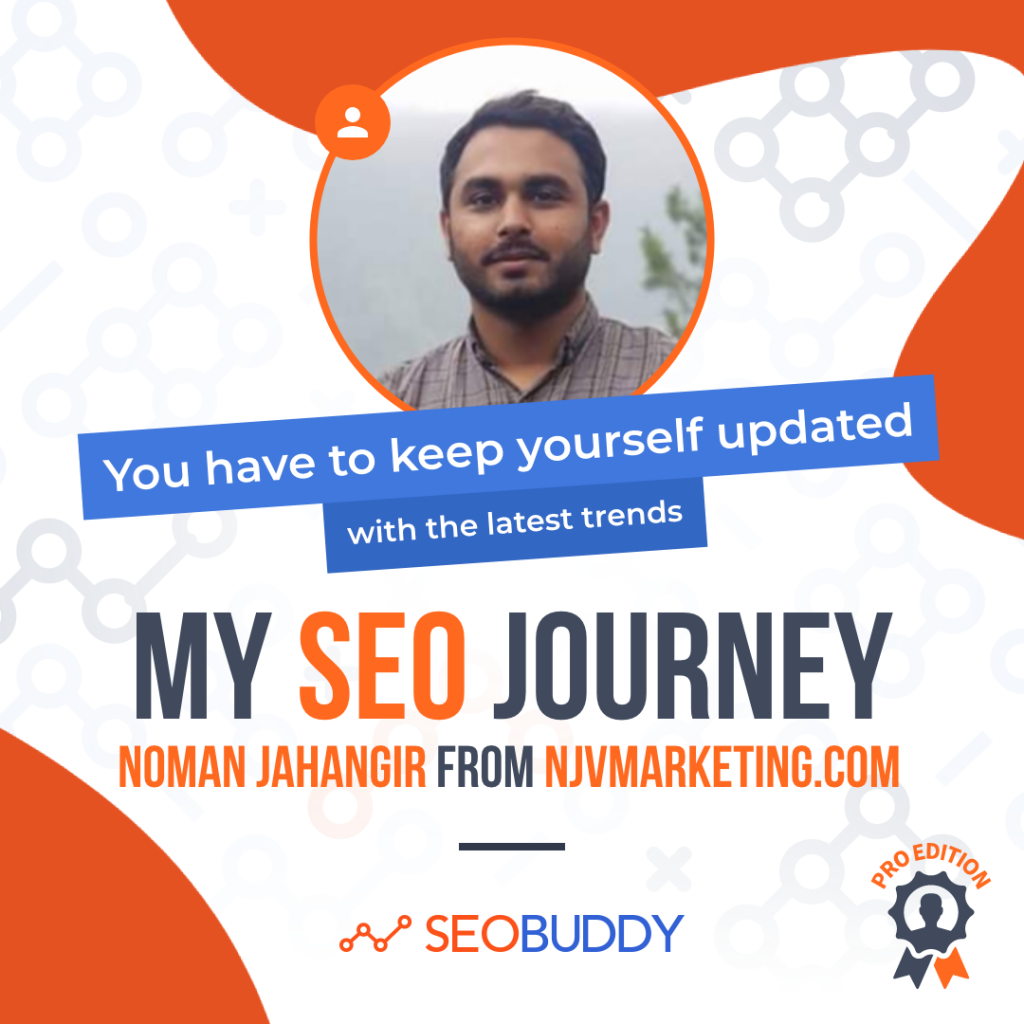 I am Noman Jahangir, founder and CEO of NJVmarketing.com an SEO and digital marketing agency.
I started my career as a freelance SEO specialist. I have worked with various companies. My specialization is in the finance and education niche. I have worked a lot in Finance. I started NJV Marketing in 2020.
We work with a quality assurance program in our agency. We believe in truth and fairness. NJV marketing has been following Google guidelines from the beginning. We adhere to the guidelines of Google when it comes to SEO. We are working on launching our own network of finance educational websites such as financial-accounting.org ( In Progress ).
Our Mission is to provide high-quality and ethical digital marketing services.
I would like to quote the example of one of our clients, 55brokers.com. It's a finance website having Forex broker's reviews. I worked on their link-building. They had organic traffic of 18k before our work. After our work, their organic traffic boosted to 33k per month.

I obtained high-quality links for them. We got links from top publications such as Business Insider, Jpost, and more. We also got link placements from pure finance websites and formulated their off-page strategy.
What's your backstory and how did you come up with the idea?
I have started my career as a freelance SEO expert. As time passed, I was able to get more clients. After getting more orders, I felt the need for a workforce in order to complete those orders efficiently. I hired qualified professionals in order to complete clients' work.
The idea to launch NJV Marketing was always back in my mind.
I was always eager to launch my own company in SEO and digital marketing industry.
I am earning a handsome amount from my agency work. Now we have 9 employees in the agency working with over 30+ clients.
Since launch, what has worked to attract more organic traffic?
SEO and marketing have always been my aim. I have been doing SEO for many years. The thing that motivates me to get more traffic for my clients is the satisfaction I get after getting tons of traffic for them, increasing client revenue and sales.
One thing is sure, you can not learn something 100%. You have to keep yourself updated with the latest trends. In our agency, We arrange workshops for employees to learn the latest updates and technologies.
We arrange free courses for our employees to enhance their capabilities.
My Strategy is to create high-quality guides, How–To articles, extensive checklists, and content hubs for my clients.
We have been successful in this marketing strategy. In this way, we were able to create a brand reputation, increase conversions and attract high-quality natural backlinks without any spammy link-building techniques.
Getting customers back is not an easy job. It's a thing you need to really work hard. The thing I should recommend is to always focus on providing quality work to your clients. Even if they left, keep your contact with them. Connect with them on Linkedin or Twitter (not on Facebook or Instagram as they are not for professional connections).
Offer them a free coffee, lunch, or a giveaway service, and advice to get them back.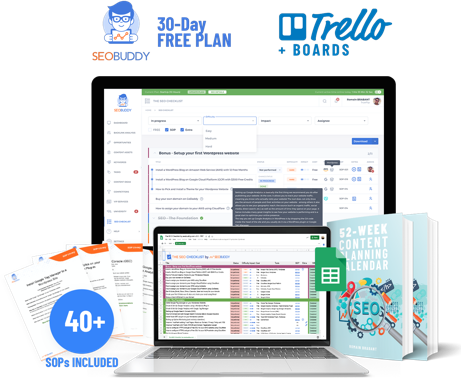 There's more…
Now it's time to discover the other 102 steps that will get more organic traffic flowing to your website. Get the SEO Checklist here.
Want to get a sneak peek of what it looks like?
Enter your email and get a free demo version of the SEO Checklist.
Have you learned anything particularly helpful in your SEO Journey?
I learned so much in my SEO journey and am still learning.
The first thing I would like to state is do not take Google as your enemy. Google's preference is to show high-quality results that are best available on the internet. If they fail to provide the best results, it would be the death of Google.
Adhere to the guidelines of Google, and do not indulge in spammy and black hat SEO techniques.
After getting hit with my Google updates when at the start of my freelancing career for building spammy links, I learned a great lesson, and I will never build spammy links again.
I strongly suggest doing only white-hat SEO. Google is your helper. It provides you with a great tool we know as "Search Console." The purpose is to use it to optimize your pages and help Google find useful and relevant pages.
What SEO tools do you use for your business?
SEO tools are good, and they really ease your SEO efforts, especially when you are researching new keywords and doing competitor analysis. Over-relying on SEO tools results in average or poor performance.
Always put your own human analysis when doing work for your own website or client work.
I do use Ahrefs for my SEO efforts most of the time. Ahrefs for its huge backlinks database and keyword research. It helps us find new opportunities to get high-quality backlinks and helps a lot in keyword research.
I also use Ubersuggest to get a different aspect.
It is a good tool when it comes to finding low-hanging keywords and blog post ideas.
What have been the most influential books, podcasts, or other resources?
I regularly read articles and blogs on Search Engine Land, Neil Patel, Search Engine Journal, Semrush, Ahrefs, Matt Diggity, Nathan Gotch, and Sarah Taher. I love to watch Neil Patel's youtube channel.
I would like to mention Google search central as well. It also helps me in getting worthy knowledge.
What's the next step in your SEO Journey?
The next step is to open an academy for new students and aspirants who want to pursue a career in SEO.
We will provide them with high-quality education and internship opportunities as well.
Where can we go to learn more?
You can follow NJV Marketing Blog, and like us on Facebook, Linkedin, and Twitter.