My SEO Journey [Pro Edition]: Matt Kenny from nectafy.com – Growth Content is a long-term strategy
My SEO Journey [PRO Edition] is a series where professionals in the SEO Industry, Digital Marketing, or Web Design share their honest SEO Journey filled with failure, success, and most importantly, proven results. Episode #107 features Matt Kenny from Nectafy.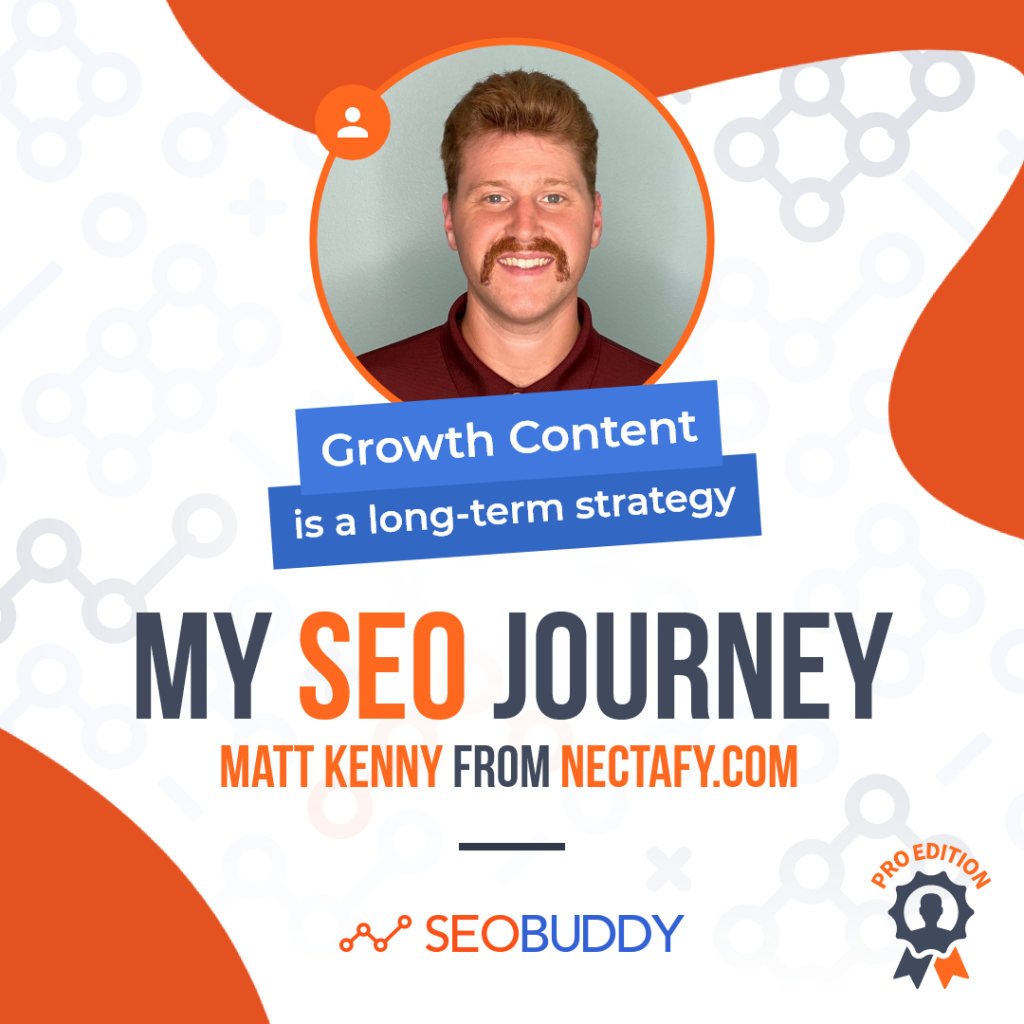 My name is Matt Kenny and I am the Lead Content Strategist for the content marketing agency, Nectafy. While I am not the leader of our agency, as the Lead Strategist I help guide our agency's marketing efforts with regards to publishing and distributing unique content across our website's blog, email lists, and social media accounts.
At Nectafy, we offer a variety of different content & strategy-related deliverables (blogs, SEO strategy projects, and the creation of downloadable resources – like whitepapers or infographics) with the central goal of helping our client's websites grow their traffic, leads, and customers.
All of these deliverables fall under what we like to refer to as Growth Content, which is our 4-piece formula for driving traffic, leads, and future customers through the world-class content we produce.
The 4 pieces of our Growth Content formula include:
1. SEO
2. Content
3. Industry Expertise
4. Process
What's your backstory and how did you come up with the idea?
I began my digital marketing journey shortly after graduating The University Of Iowa with a BBA in Marketing and getting hired at a company called Intoxalock (based in Des Moines, IA). Intoxalock is a company that specializes in the development of ignition interlock devices, or breathalyzers, which are installed in vehicles to prevent drinking and driving.
During my time at Intoxalock, I was given the opportunity to work on various digital marketing projects to help improve our company's SEO and brand awareness in the form of; blogging, video production, linkbuidling, PPC, lead generation, and reputation management.
After building up relevant experience across these different digital marketing projects for a couple of years, I was able to transform into a T-Shaped Marketer specializing in the form of content marketing. With this relevant experience, I started looking at other job opportunities away from Intoxalock that would allow me to better hone in on my deep passion for content marketing.
That's when I found Nectafy and their quirky job listing for a remote-based Growth Content Strategist.
After going through a rigorous, multi-layered application process (all of which is actually documented in this fun Nectafy blog post), I was hired by Nectafy in July 2019 and have since been helping our clients across various industries with growing their website traffic, leads, and customers.
Since launch, what has worked to attract more organic traffic?

Since starting my work with Nectafy, here are some of the top tips that I would recommend for growing your company's website and increasing traffic and sales from the content you produce:
1. Always start with creating a dedicated Buyer Persona for your target audience. This consists of getting actual insights from real-life customers, in addition to using data points from your website. Once you have a Buyer Persona created, make sure that each piece of content you create has a connection to this persona and their needs/wants/challenges. For more information on how to get started with a Buyer Persona (and blogging in general for your website), check out this blog post: https://www.nectafy.com/blog/writing-a-blog-for-your-business
2. Each piece of content you produce for your website should incorporate the use of a Subject Matter Expert (or SME as we like to call them). This is at the core of every content asset that we produce for our clients and differentiates us from other content marketing agencies and freelance writers who elect to primarily use internet research as the source of their produced content. For more information on Subject Matter Experts, check out this blog post: https://www.nectafy.com/blog/content-creation-plan
3. Be realistic with the keywords/topics that you target with your content utilizing tools like Semrush and their Keyword Difficulty metric (in addition to looking at the Domain Authorities of websites currently ranking on page 1 for your intended keyword targets). For more information on keyword research, check out this blog post with practical tips on how we use Semrush for this: https://www.nectafy.com/blog/semrush-keyword-research
4. Stay consistent with your content production and remain patient, since Growth Content is a long-term strategy. If a client is starting from ground zero with their blog (meaning no previous blog posts published) it will typically take about 3-5 months from their first published article before they start attaining traction with their website's organic traffic. For more information on how we've helped grow our client's websites over the past few years, check out the following case study articles:
– https://www.nectafy.com/blog/content-roi/saas-content-marketing
– https://www.nectafy.com/blog/organic-traffic-growth-case-study
– https://www.nectafy.com/blog/content-roi/2-million-in-sales
– https://www.nectafy.com/blog/content-roi/healthcare-marketing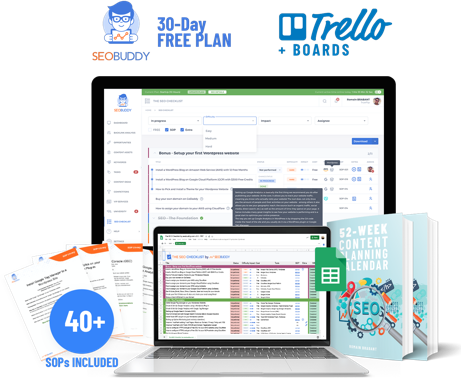 There's more…
Now it's time to discover the other 102 steps that will get more organic traffic flowing to your website. Get the SEO Checklist here.
Want to get a sneak peek of what it looks like?
Enter your email and get a free demo version of the SEO Checklist.
Have you learned anything particularly helpful in your SEO Journey?
Some of the best lessons I've learned over the past few years working with our clients at Nectafy are:
1. Not all organic traffic is created equally. If you find yourself having a large amount of organic traffic going to your website but no leads or customers are being created through this traffic you may want to rethink the approach to your content marketing efforts. This is something that happened with a former client of mine where I helped them grow their organic traffic targeting a list of broad education-related keyword terms, which appeared to be bringing in not the ideal audience for our client's website (students vs. businesses). Make sure you are being very intentional with what keywords you aim to rank for and understanding the search intent behind those keywords before moving forward with your content
2. Write for humans and not for Search Engines (like Google or Bing). The more you focus on creating helpful informative content with your Buyer Persona in mind, the more successful your content will be vs. writing content to just "rank at the top of Google".
3. Whenever you can simplify the user experience (UX) on your website. Within the last two years we made some simple UX changes to one of our client's websites, which involved the incorporation of a main menu that dragged down with a user as they scrolled down a page (what some might refer to as a "Sticky Menu"). After making this change to the client's website they have seen nearly a 3x improvement in monthly demo requests. It's small changes like these that can provide the most value for your company's website, so when in doubt think about how you can simplify the UX and create the best experience possible for people visiting your website.
4. Keep learning new things. I've made it a point every year to try and learn new skills/tactics that we can apply to the Nectafy website and our client websites. This even falls as an item under Nectafy's list of core values, which is the following: "Intentional learning not complacency". Knowledge expansion is a very helpful skill that every marketer should uphold on an annual basis, especially within the ever-changing SEO industry.
What SEO tools do you use for your business? (your SEO Tech Stack)
My tech stack consists of the following:
– HubSpot
– Semrush
– Google Analytics
– Google Search Console
– Google Tag Manager
– WordPress
– Databox (here's even a full review of our Databox usage at Nectafy)

Here's a relevant article we just published on the topic of linkbuilding and how we've been recently approaching it:
https://www.nectafy.com/blog/is-link-building-still-relevant-to-seo
What have been the most influential books, podcasts, or other resources?
– Backlinko blog
– Semrush blog
– Ahrefs blog
– Moz blog
– Marketing School podcast (with Neil Patel & Eric Siu)
What's the next step in your SEO Journey?
I am actively working on advancing my knowledge within the spaces of CRO (Conversion Rate Optimization) and utilizing LinkedIn for B2B marketing, in addition to my continuous learning of SEO and content marketing best practices through the usage of online webinars, paid training courses (like from Udemy), and marketing podcasts/blogs (as listed above).
Where can we go to learn more?
For more information about Nectafy please check out our website: https://www.nectafy.com/
For more information about me and my content marketing journey, please check out my LinkedIn profile: https://www.linkedin.com/in/content-marketing-wizard/