My SEO Journey [Pro Edition]: Karsten Madsen from morningscore.io – Not all traffic is created equal
My SEO Journey [PRO Edition] is a series where professionals in the SEO Industry, Digital Marketing, or Web Design share their honest SEO Journey filled with failure, success, and most importantly, proven results. Episode #129 features Karsten Madsen from Morningscore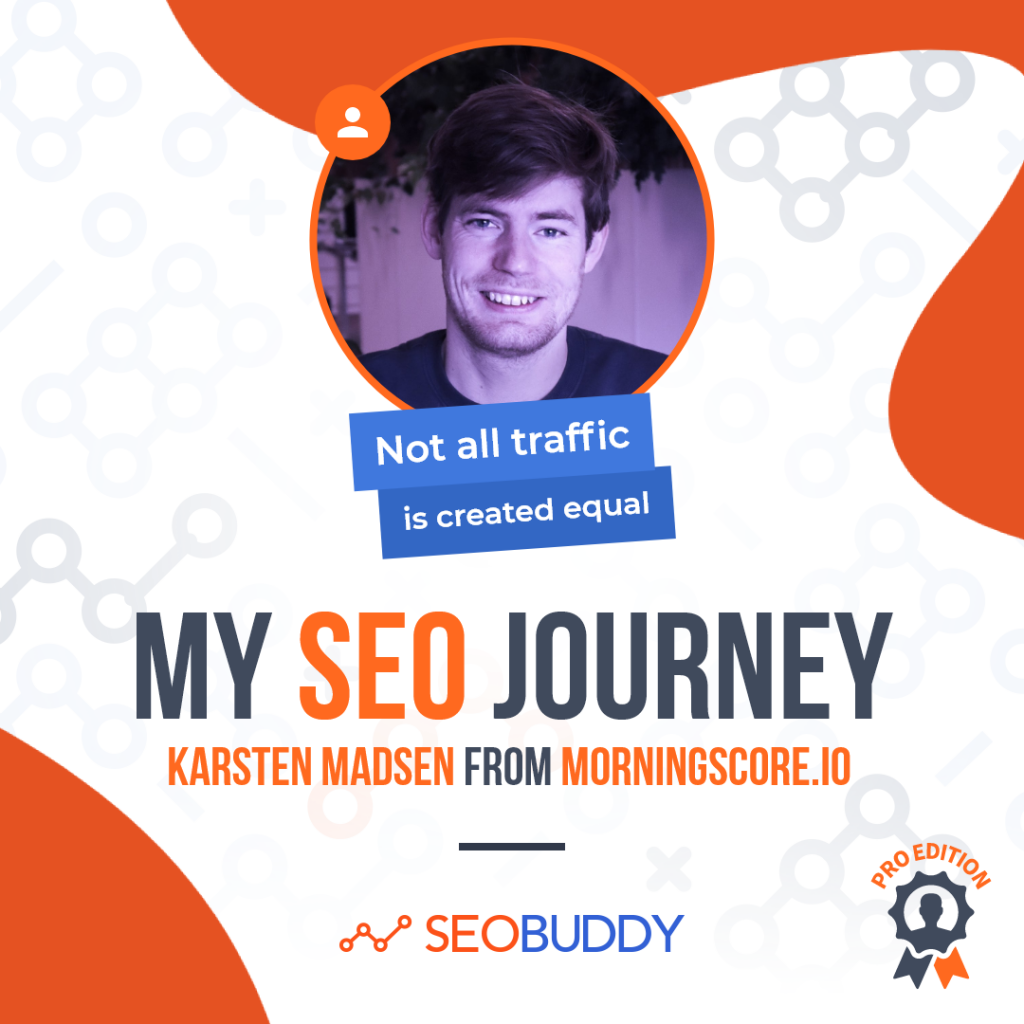 I am the CEO and co-founder of Morningscore – an easy all-in-one SEO tool built like a game. We are one of the newer tools. Got almost 1000 subscribers now and starting to take off 😉
I started out as an entrepreneur right after high school in 2010 in the south of Denmark. And I was a big noob. First venture failed. Made all the mistakes. I have 2 successful companies under my belt now. These days I live in The Netherlands and work remotely with the team in Denmark. Every month I go one week to the office.
What's company's backstory and how did the idea originate?
I built a web agency together with high school friends in 2010 and fell in love with SEO. Frustrated clients who could not understand what was going on with their SEO gave me the idea for Morningscore.
The original idea of "keep track of your agency" did not fly though. Not a big or clear enough solution for customers to pay for it. By accident we learned that a gamified "do-it-yourself" tool had way more potential. So we built that over the last 5 years.
We try to be original in our product and brand. We wear silver space suits at work to support our space theme. And building the product like a game certainly forces us to think differently.
What's the mission of the company?
We sell an all-in-one SEO tool to primarily e-commerce, agencies and the service industry. We want to make SEO feel good and be that motivating tool to guide the journey. Our long term goal is to be among the top 3 SEO tools.
I feel like SEO is often thought of as this boring thing with repetitive work and nerds analysing data with fancy spreadsheet functions or Python programming.

We are an anti-dote to that. We believe SEO should be seen as this cool race to be no. 1 and every step towards that should be celebrated with confetti and green checkmarks.
Since the launch of your brand, what has worked to attract more organic traffic?

We ran a beta for 6 months. A really good idea in software. In the beginning it was LinkedIn / cold emails to Danish companies with a passionate startup message "hey we are the new SEO tool from Denmark, come join our free beta". So that was an easy thing to say yes to.
In 2018 when we were founded it was also easy to get reach on LinkedIn. I posted videos that easily got +5k views each. It got way harder today. But then the new medium is TikTok I guess.
And then of course SEO which worked great for getting users and today is our most important channel.
Growing SEO is always hard in the beginning. But it's also where the canvas is clean and the fruits are all low hanging. So just making sure we had all the typical pillow links and mentioned in different startup media was our no. 1 priority. After that we steadily built great content on top.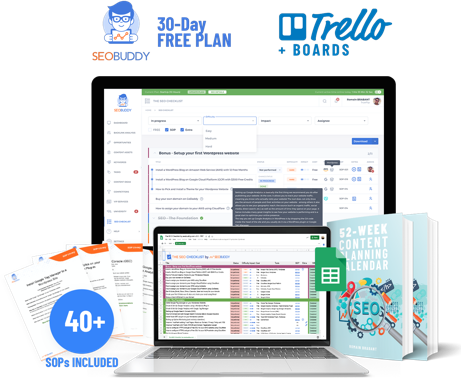 There's more…
Now it's time to discover the other 102 steps that will get more organic traffic flowing to your website. Get the SEO Checklist here.
Want to get a sneak peek of what it looks like?
Enter your email and get a free demo version of the SEO Checklist.
Have you learned anything particularly helpful in your SEO Journey?
I'we learned that not all traffic is created equal. Converting traffic can be 10x or even 100x better than research / informational traffic. So focusing more on keywords that would bring trials and clients was an important lesson. I also realized that having partners is a great way to get strong links and mentions.
Not an SEO lesson, but the most painful moment in the journey was shipping our product too early. We had 4000 beta users. 30 converted to paid. If we had waited another 6 months with our go-live I am quite certain we would have gotten at least 100 additional clients.
What SEO tools do you use for your business?

Yeah, getting links from partners / suppliers / friends of your biz should always be no. 1. Creative links are important and not that hard to do. Pillow links are a good way to get started but should not stand alone.
50 good pillow links is what I would consider good and not overdone. Finding websites that mention you but don't link is a good one too.
I actually don't look at competitors for link ideas. But I know it helps many, so it's a good trick too.
I teach link building tricks on YouTube. So recommend checking Morningscore out there for tons of link ideas.
What have been the most influential books, podcasts, or other resources?
Essentialism by Greg McKeown – it shows how small and focused can be an advantage. It taught me how to say no to things to actually grow better and faster.
I find David Heinemeier Hansson inspiring. Follow him on LinkedIn
Michael Seibel is a legend – follow him on YouTube
In SEO, Kevin Indig is great – follow him on Twitter
What's the next step in your SEO Journey?
I want to test AI translated content and expand in like 5 new markets quickly. Of course I want to have a professional proofread the machine translations, but I think this model could save a lot of time and money and bring new relevant traffic fast. I expect to boost our traffic +30% within 3 months of having executed on this plan.
But before we do that, we have some old content to update in the master language first (English). So right now going all in on SEO and it feels great!

The overall goal is to grow our SEO traffic +50% in 2023. From roughly 10k to 15k unique visitors/month.
Where can we go to learn more about you and your company?
Our website, where you can also test our tool free 14 days – no credit card: https://morningscore.io/
My LinkedIn – happy to connect: https://www.linkedin.com/in/karsteel/
Our Company LinkedIn where we are very active: https://www.linkedin.com/company/morningscore/
YouTube channel with link-building cases and other good stuff: https://www.youtube.com/@morningscore