My SEO Journey: Erica Terranova from moomin.com – Growing in authority on a strong brand integrity
My SEO Journey is a new series where entrepreneurs and Indie makers will share their honest SEO Journey filled with failure and success, and most importantly proven results. Episode #15 features Erica Terranova from Moomin.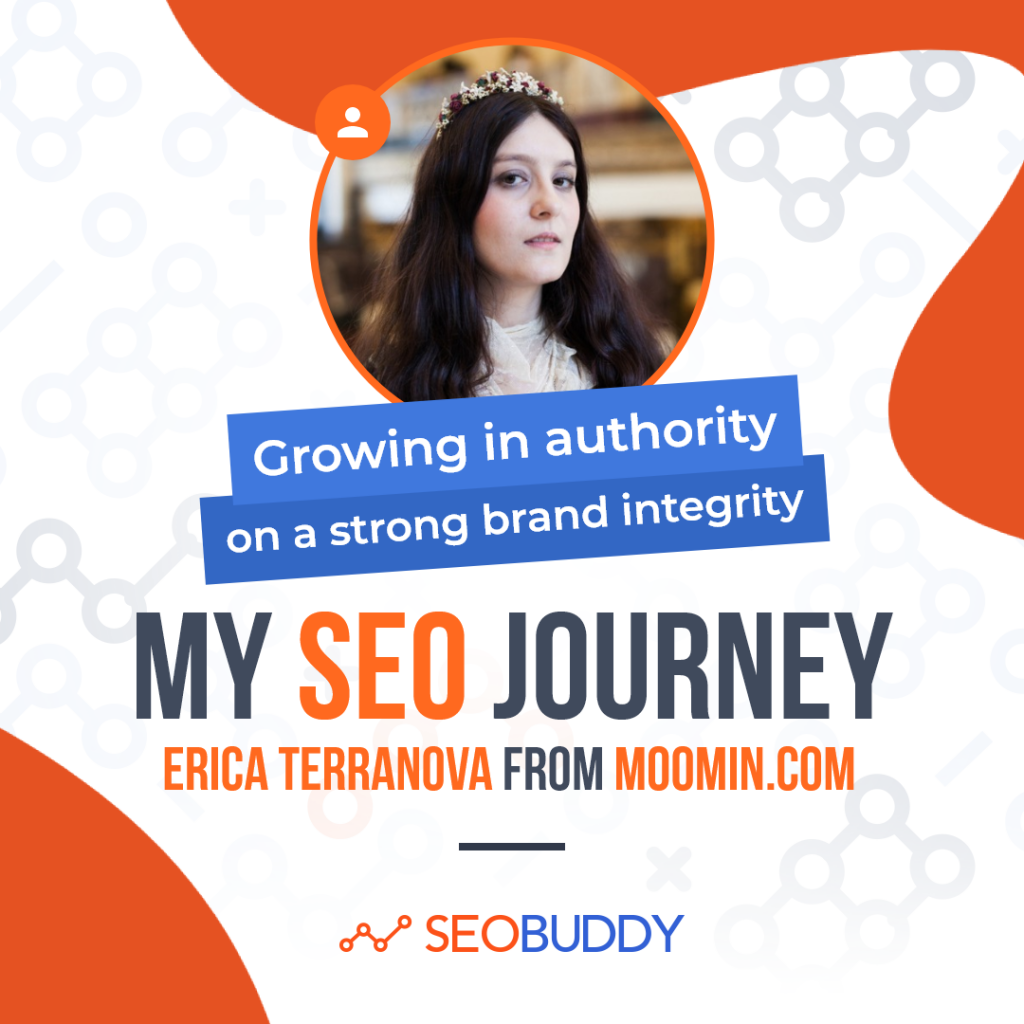 I am Erica, and I work in the Marketing team at All Things Commerce, which is owned by Moomin Characters and works on the digital side of the Moomin brand. Moomins are the beloved creation of Tove Jansson, a renowned fine artist from Finland, and they are known all over the world.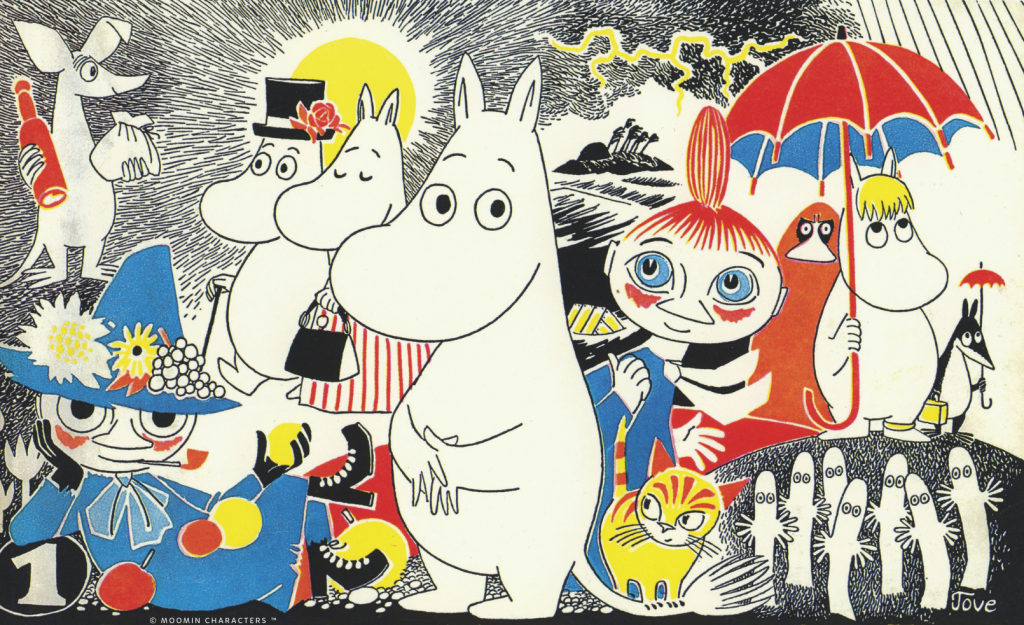 The digital efforts for Moomins include social media, a strong focus on content production, the website moomin.com and the connected e-commerce platform on shop.moomin.com to which we have recently added a UK and German storefront.
Moomin SEO Content Strategy – It's all about the brand
When it comes to SEO, Moomin has built a strong foundation exactly because of the focus on content production, with hundreds of articles on the blog that cover anything from product releases to in-depth analyses of the books, characters, and Tove Jansson.
At the same time, focus on brand integrity and brand values has helped build a strong reputation so that we currently have 2,843 referring domains, including a lot of important publications like The Guardian and The New York Times.

On the other hand, we have little control on which sites link back to us so we tend to focus on organic quality link-building to counteract unavoidable toxic domains.
What this means in practice is that we focus on writing great content. We don't send emails asking for link but just focused on building the best hub for Moomin fans all over the word.
We of course also interact with cultural figures and institutions and participate in podcasts and other media initiatives.
It is important to note that this is the result of a conscious, years-long choice to focus on content production above all else and thanks to the effort of the whole company in building a reputable, beloved brand and bring the Moomins successfully to the digital sphere.
There are no shortcuts to brand-building and having a crystal clear vision of what the brand is and what to prioritize is a necessary requirement.
In my previous jobs, I have seen first-hand how in the current marketing landscape we often tend to prioritize short-term performance gains over long-term brand building, which is an effective strategy when you have a lot of VC capital to spend but creates problems down the line when it's time to be profitable, lower performance spend and turn customers into fans.
The only way to get better is to measure and test new things
Once you find a formula that works it is tempting to just keep repeating the same thing over and over again, but that would be a mistake. We all know how algorithms updates can suddenly change everything, but, more generally, the only way to find new avenues for growth is to keep testing new things.
Therefore, having a product roadmap for your website/blog and constantly run optimization tests is needed. This applies to content, UX, landing pages, search, navigation, etc.
One thing I noticed when I joined Moomins was that we should improve our measurement capabilities, and we are now able to measure the performance of our shop and website combined, or separately so that we can track the performance of every blog post also in terms of sales.
We are also tracking how improvements to meta description and SEO title lead to higher CTR for content ranking organically. We are tracking improved performance via Search Console/Google Analytics.
When it comes to testing new content, I recommend keeping up to date with other companies in your sector, think critically about your audience needs rather than your sales goals, and commit to test a different type of content at least once a month (quiz, infographic, downloadable, video, lists, how-to guides, interviews, audio, etc.).
Quiz – https://www.moomin.com/en/which-moomin-are-you/
Quotes – https://www.moomin.com/en/quotes/
Interviews – https://www.moomin.com/en/blog/qa-moomins-creative-director-sophia-jansson/
Downloadables – https://www.moomin.com/en/blog/a-printable-weekly-schedule-in-moomin-style
Not everything will work, but you will learn a lot from these experiments. We are currently testing more Livestreams, pure content newsletters, using blog posts in PPC, influencer campaigns, and more.
Relying only on social media and search engines is not recommended.
At Moomins, we strongly believe in email marketing and work extensively on growing our Fanclub members and provide them with great content via email.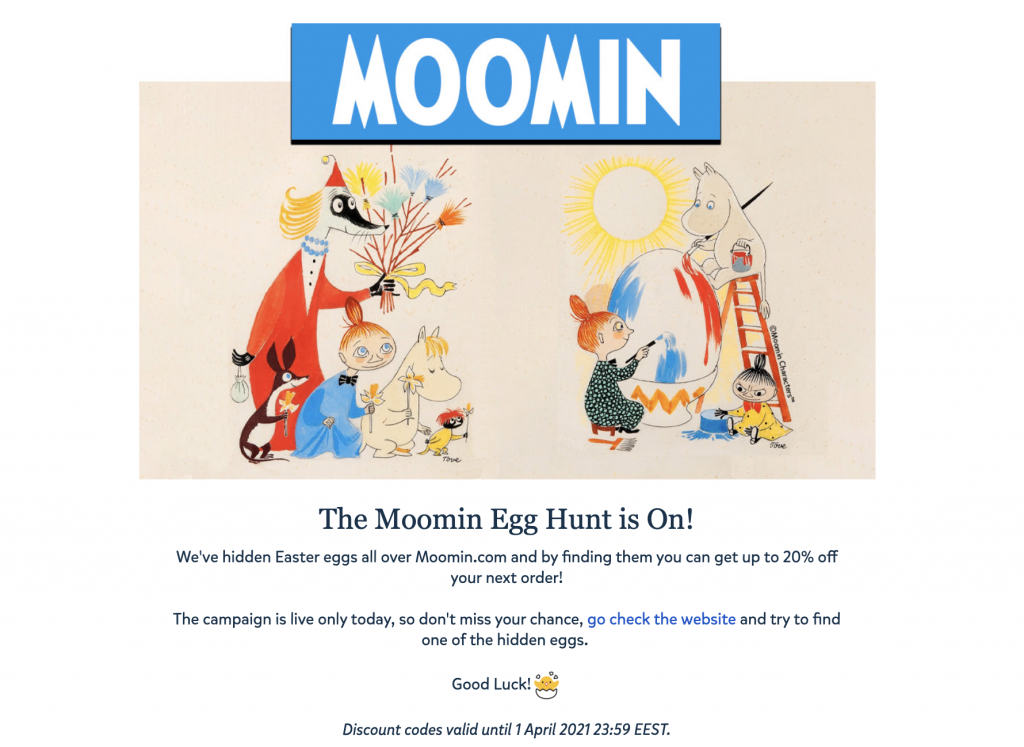 Having a loyal fanbase we can redirect to our content and that are interested in sharing it is a great asset also to bypass the known problem of Google searches increasingly ending in no clicks. While we aim to grow our organic traffic we also want to maintain a healthy dose of direct traffic and a database of contacts that want to hear from you.
Any SEO Tools you can recommend?
Personally, I am a big fan of Ubersuggest, AnswerThePublic, and Keywords everywhere.
I have also worked with both Ahref and SEMRush and haven't noticed much difference between the two so I am pretty tech-agnostic when it comes to paid SEO tools.
What the future holds for Moomins
Optimization is an ongoing process and there is always room for improvement. In the future, we plan to focus on voice search, accessibility, mobile optimization, and semantic SEO to continue growing Moomins globally.
We do SEO in order to reach our audience better and it is always important to measure your brand awareness and growth to ensure your efforts are paying off. Measurement and testing will remain at the forefront of our marketing and SEO strategy.