My SEO Journey [Pro Edition]: Yuliya Gorenko from mischka.agency – Influencer marketing is one of the most effective link-building techniques
My SEO Journey [PRO Edition] is a series where professionals in the SEO Industry, Digital Marketing, or Web Design share their honest SEO Journey filled with failure, success, and most importantly, proven results. Episode #133 features Yuliya Gorenko Mischka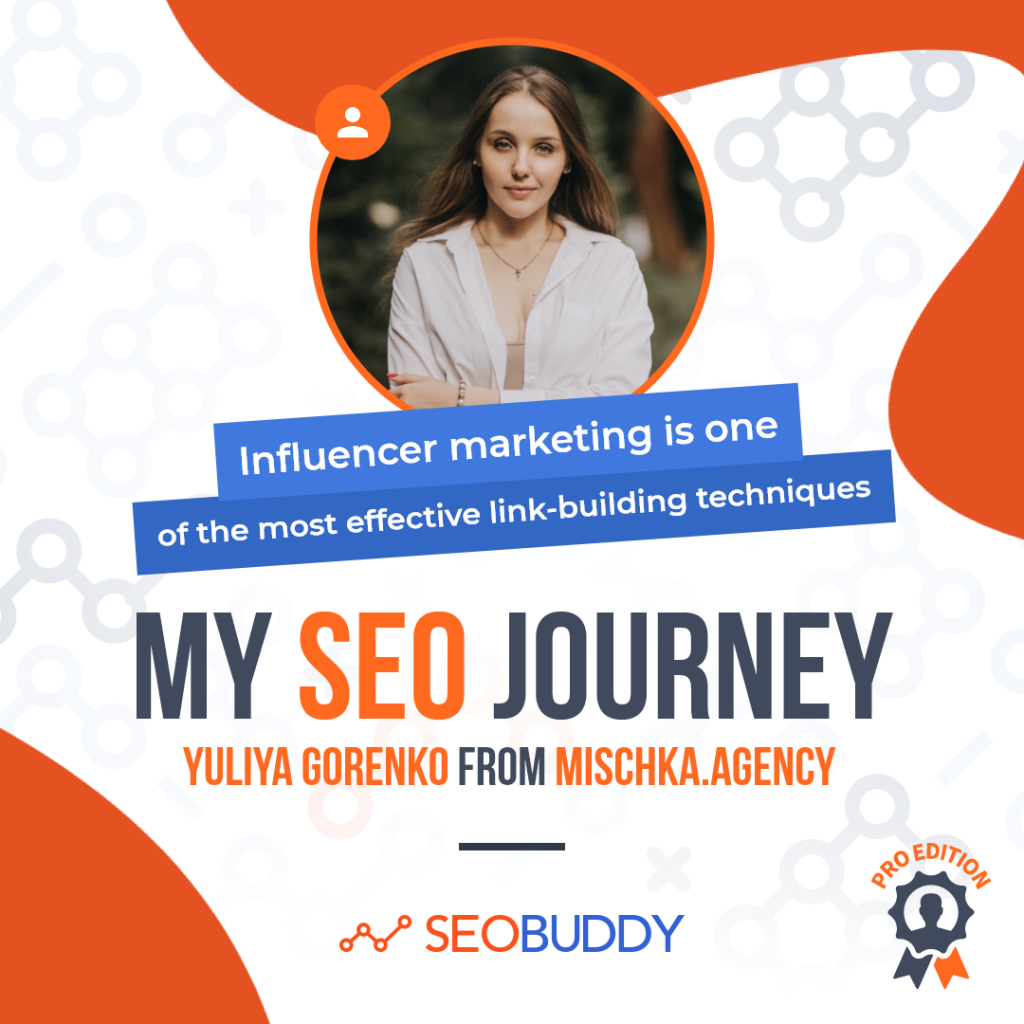 Yuliya Gorenko is a Marketing Communications professional with over 10 years of experience in public relations, digital marketing, and events management.
Yuliya has worked with established global brands and cutting-edge start-ups throughout her career. Yuliya's hands-on expertise extends to various industries including consumer goods and beauty products, mobile apps, B2C SaaS, and enterprise software.
In 2019 Yuliya co-founded Mischka – a California-based marketing communications boutique that turns products into brands.
What's your backstory and how did you come up with the idea?
This saying by Erwin Schrödinger pretty much captures our brand's vision: "If you cannot—in the long run—tell everyone what you have been doing, your doing has been worthless."
Throughout my career, I've seen many companies that developed promising products but they didn't know how to communicate their value to the world.
I believe that the right message can change how others perceive your product or service. This is why I started Mischka – a marketing communications agency that drives measurable business growth through powerful storytelling.
At Mischka, we combine proven communication techniques like content marketing and influencer relations to help brands grow. SEO is a huge part of this effort. As we practice this holistic approach to the online presence of our clients, a beautiful synergy is born.
Since launch, what has worked to attract more organic traffic?
Organic traffic growth is one of the major KPIs our clients focus on. As an evangelist of influencer marketing, I always point out the impact influencer partnerships have on a brand's organic traffic increase.
There are several outcomes of brand-influencer collaborations that directly boost organic visits to our clients' websites:
1. Influencer marketing is one of the most effective link-building techniques. Having your brand's website featured in a publication done by a reputable personality adds credibility to your domain and improves its search ranking.
2. You'll also see an uplift in your organic traffic due to the brand mentions. So many times I've seen a spike in a brand name organic search after an influencer talks about it in a YouTube video or podcast episode.
One of the brands my agency works with has a "How did you hear about us" survey for new customers. Due to this survey, we often learn that customers discover the brand through an influencer they follow.
There are many ways brands can get started with influencer marketing. It does not always have to be too expensive. Here's a quick tip on how to enter influencer marketing in a really cost-efficient way. By using social monitoring tools you can identify who's talking about your brand. Then try contacting those influencers and offer them a free product and a commission for referral sales they generate for you.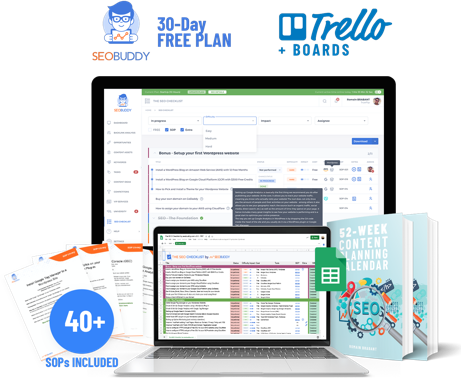 There's more…
Now it's time to discover the other 102 steps that will get more organic traffic flowing to your website. Get the SEO Checklist here.
Want to get a sneak peek of what it looks like?
Enter your email and get a free demo version of the SEO Checklist.
Have you learned anything particularly helpful in your SEO Journey?
Keyword research has been key to successful SEO strategies for our agency clients. Identifying and targeting those keywords that are highly relevant to your brand and your buyer's search intent has proven to be our quick wins.
That's why I believe that you need to hire someone with extensive PR background to run your search marketing.
What SEO tools do you use for your business?
Here are a few search marketing tools I use and definitely can recommend:
1. I love Ahrefs for keyword research and backlinks tracking. I trust its data accuracy and use it for content strategizing for my clients.
2. Reporting is key to any marketing plan execution and SE Ranking has always been my tool of choice for search engine ranking position tracking. This software allows you to get a comprehensive view of how your website ranks in search engines for your target keywords. It also allows you to see what other brands are ranking for those keywords and how you stand against them.
3. Mention is a great tool for web monitoring. It helps you discover relevant brand conversations at scale.
Proactive link-building has always been an integral part of the SEO programs I implement for my clients. I think the main takeaway I'd like brand owners to understand is that link-building can never be cheap. You'll need to work with a professional PR & outreach team to discover relevant link-building opportunities.
Then, you'll need to invest in talent that will take care of your content creation at scale. If someone tells you they can build links for you cheaply, beware, you are getting spammy links from trashy websites. You don't want to have your brand associated with those. Plus, as search engine algorithms are getting more sophisticated, low-quality links will only cause harm to your search results.
What have been the most influential books, podcasts, or other resources?
A few podcasts I've been subscribed to for a while now are:
1. The Marketing AI Show – covers the latest updates in AI technology and its impact on marketing.
2. Think Fast Talk Smart by Stanford Graduate School of Business – an amazing podcast that explains how to leverage the power of marketing communications.
What's the next step in your SEO Journey?
I am curious to see how the fast-pacing development and adoption of ChatGPT will change the search engine market. Are we still going to use Google as our preferred search engine?
I think brands should keep a close eye on how consumers adapt ChatGPT in their day-to-day.
With the rapid progress of AI-powered writing, content creation becomes feasible for everyone. So it becomes more important now who the message is coming from. Influential personalities will be central to the public discourse. This means brands should step up their influencer programs to effectively reach and engage their audiences.