My SEO Journey: Mike Slaats from upvoty.com – From a Domain Rating of DR53 to DR70 in 10 months
My SEO Journey is a new series where entrepreneurs and Indie makers will share their honest SEO Journey filled with failure and success, and most importantly proven results. Episode #7 features Mike Slaats from Upvoty.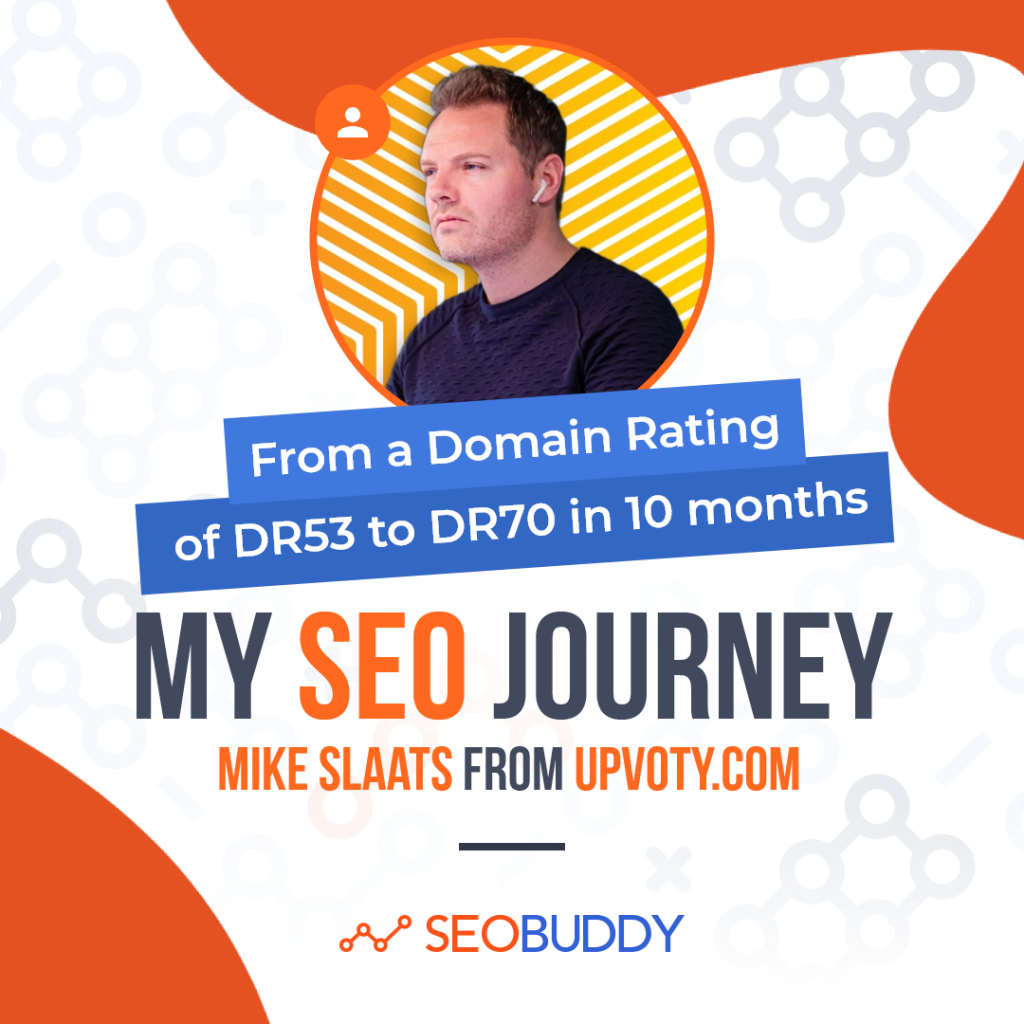 I'm Mike, and I'm the founder of user feedback tool Upvoty.
I was always fascinated by SEO, however, in my previous startup, I made the big mistake of focusing too much on direct sales via paid marketing. Paid marketing is a quick buck, right?
But in the long term, SEO is so much more valuable.
So now, with Upvoty, we're going all-in with content marketing, guest posts, eBooks, and more.
What's your experience working with agencies, freelancers, or building your own in-house SEO Team?
I think it's beneficial if you're working with a dedicated and specialized SEO team.
We started out with a local agency for our SEO, but it turns out, working with larger organizations and agencies is hard. Often, communication lacks, and you can't really move quickly when you want to implement new SEO strategies.
That's when we went looking for freelancers and started to work on our own dedicated SEO team.
I mainly found freelancers through my own network on Instagram and Twitter. A couple of people were referred by people I respect. After working with a trial, we hired a copywriter, researcher, and consultant.
All of these efforts resulted in more traffic:

And a spike in domain authority:

Which is a KPI we like to monitor once a month, as well as our number of referring domains & backlinks:

Obviously, this resulted in a revenue spike as well:
Jan '21 stats for @upvoty

💰 $ 10,435 MRR
🎉 313 paid clients
📉 4 churns
📈 61,723 visitors

Crossed the 10k milestone 🎉✌️ pic.twitter.com/8q4E8BZgPg

— Mike Saas (@mikedotsaas) February 5, 2021
What's your favorite link-building strategy?
I think, in the end, it's all about the value you're providing or what you're sharing.
We're investing a lot of time in guest posts by either doing interviews or sharing our knowledge. I love to do podcasts, which are often transcribed into posts. This results in a really great and valuable piece of content, it's fun to do, and it will certainly benefit you with a valuable backlink.
The biggest failure would be to not keep it relevant.
I know we all want to be linked from the bigger domains, but is it really going to help you?
I mean, getting links from the big guys often takes so much time or even money.
Focus on getting linked from relevant sites so your links can benefit both your domain reputation as well as getting visitors that convert.

We also invest a lot in our own blog which is getting a lot of traffic and some of our posts are highly convertible as well. Besides that, our customers are getting their own .upvoty.com subdomain and they're linking to it from their website, socials, etc.
This results in more traffic and a higher DA.
What is your content strategy?
We're posting a lot on our blog about what's relevant to product managers and product teams.
Those types of readers are part of our ICP (ideal customer profile) and thus we tend to write helpful articles for them. By doing so, they're not only converting into paying customers, but they're also more likely to start following our brand and become a fan.
One of our highest converting blog posts is The best ways to communicate the product updates to your customers. This was a brilliant suggestion from our content researcher who found out that a lot of product managers (part of our ICP) are looking for the best way to communicate new product updates so they keep their users happy and work in the most efficient way doing so.
This article provides a lot of tips and it is built highly visual with images and examples, which makes people wanting to try out our product.
What is your biggest SEO Hacks?
One of our biggest SEO hacks would be writing 'alternative to' pages.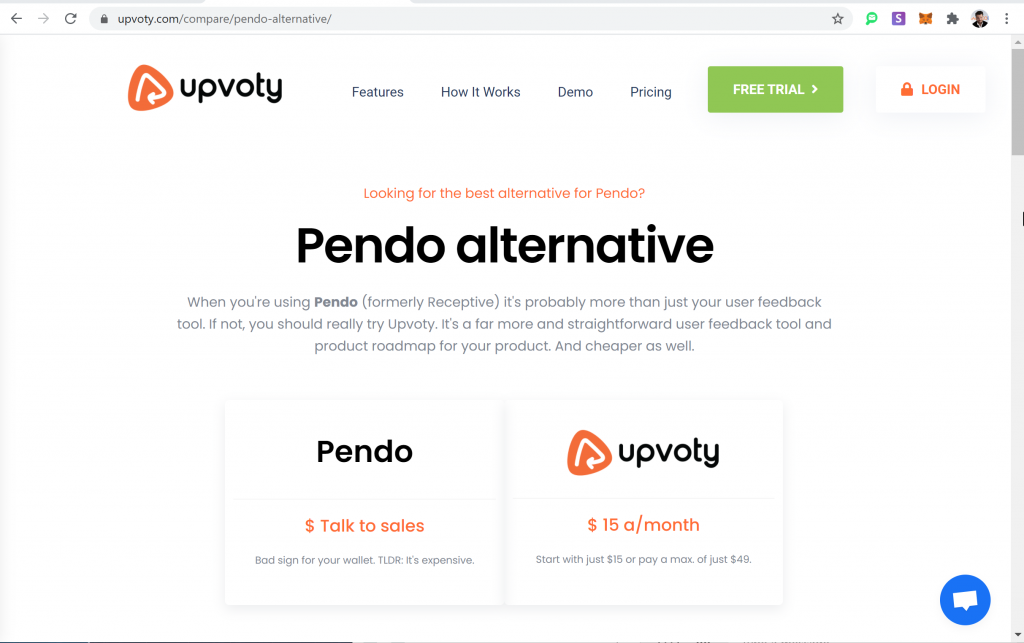 We have written a dozen landings pages that are targeted at the customers of our competitors. On those pages, we highlight why we think switching from competitor X to Upvoty is a good idea. The pages contain images, pros and cons, a price comparison, and of course, a nice call to action to win them over.
Those pages have proven to be highly successful in terms of onboarding customers from our competitors.
Especially for the biggest 2, those customers are highly actively searching for alternatives to either save money or to switch to a different kind of product.
We're now targeting direct competitors, but in the future, we will target different kinda competitors such as for example 'Google Spreadsheet'. While Spreadsheet not being a user feedback tool, product teams do use spreadsheets to document user feedback internally.
We can write articles and landings pages to convince them, there's a better alternative.
Can you disclose some challenges you're still facing today?
We're now targeting mainly with keywords and articles that are highly focused on conversions.
For example, we're targeting a lot of keywords such as 'user feedback tool'.
That's great, but we want to expand our content marketing in a way it'll benefit our brand (by providing helpful articles) and attract new customers that are potentially a fit, but necessary right away.
In other words: Targeting early on in our customer's journey.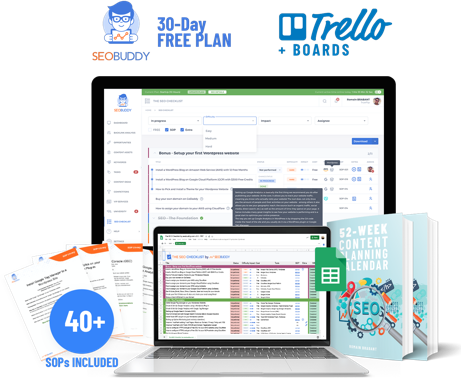 There's more…
Now it's time to discover the other 102 steps that will get more organic traffic flowing to your website. Get the SEO Checklist here.
Want to get a sneak peek of what it looks like?
Enter your email and get a free demo version of the SEO Checklist.
Can you recommend some SEO blogs or SEO influencers?
I honestly don't read that much about SEO.
I learn the most by listening to podcasts or talking to other founders and marketers in SaaS. In my own SaaS Podcast, I always ask the question: "What are you doing to get new users to the product", such as in this episode with Pierre de Wulf from ScrapingBee, who has a great tactic in publishing articles to inform people about web scraping.
What are your favorite tools?