My SEO Journey: Andy Sartori from mealpro.net – Start off with a very clear hierarchy for your site.
My SEO Journey is a series where entrepreneurs and Indie makers share their honest SEO Journey filled with failure and success, and most importantly proven results. Episode #36 features Andy Sartori from MealPro.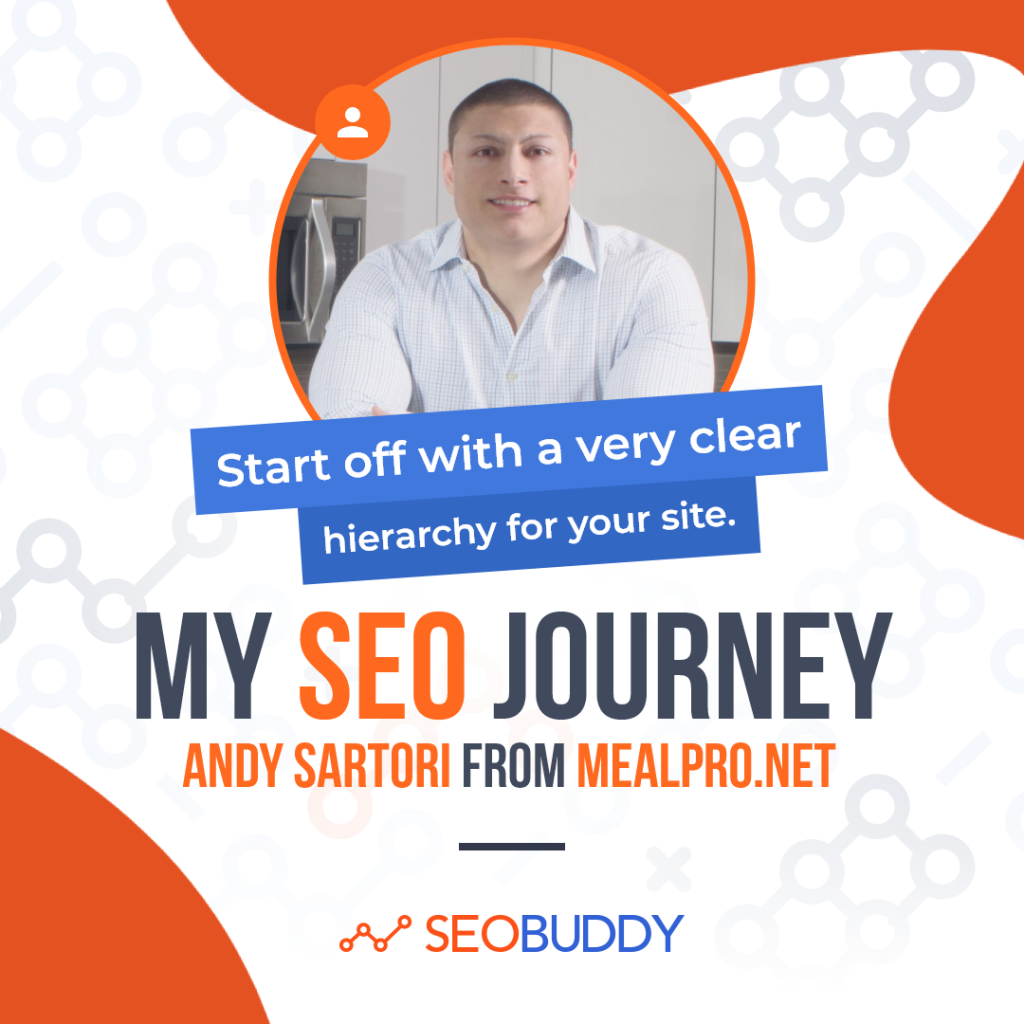 Hi, my name is Andy Sartori. I am the founder of MealPro, a startup in pre-cooked food delivery that specializes in customizable meals. Our typical customer is a busy, health-conscious individual who has no time to shop, prep, portion, and cook meals to support their nutrition objectives, hence our call-out "Eat with Purpose".
Our meal plans offer choices that range from high protein to low carb so that your diet matches your activity and nutrition goals. Our website includes a unique calorie calculator that customers use to help fine-tune their nutrition and design the meal plan they need.
Since I started the company four years ago we have doubled in size every year, we have served about 10,000 customers across the US, hitting an annualized revenue run rate of two million dollars.
Every week we move two pallets of quality ingredients through our kitchen.
We have now 11 employees, and are constantly on the lookout for more!
What's your backstory and how did you come up with the idea?
I hatched the business idea for MealPro almost by chance, while I was out with two friends to grab a bite.
They were different in a lot of ways – gender, lifestyle, body type, and much more – and both were on a diet, but they ordered the same meal. The girl was eating too much for her diet, while my other friend was eating too little.
I realized that restaurants are standard but people are unique and recognized the business opportunity for customized meal prep. So, I started MealPro. Today MealPro is an online food delivery service that specializes in custom, ready-to-eat meals made with natural ingredients.
The journey has been incredible. Take a look:

Since launch, what has worked to attract more organic traffic?
We established our presence by focusing on one message – healthy meals for active individuals – and we built high-quality content and web presence around this.

Our approach includes:
A Nutrition Blog providing good content with good user experience.
High quality images, easy to read text with good contrast between text and background, giving every element a height and width to prevent content layout shift as the page loads.
Moving as many javascript lines of code to the bottom of the page to make sure the content on the page renders quickly with the JS loading in the background after the user is preoccupied reading content.
Always using the chrome inspect element to see how content responds on different devices and make CSS, page element adjustments accordingly.
Giving different headers different font-weights to make sure the user experience is good.
Breaking long pieces of content into paragraphs to make them more legible. This may not directly impact SEO but it will make the content more legible, so users will spend more time and it ultimately increases your quality score.
Building a click through funnel in GA to track user behavior on the page and how it influences other pages is also helpful. Since most default marketing is last click attribution, having a holistic understanding of the click through behavior gives you an idea of whether or not the content you are creating plays a part (perhaps first interaction) of the users in your sales cycle.
Great content that has substance is good for SEO and other digital channels also.
Our focus on our blog page has allowed us to build a presence on social media also, with videos, educational posts addressing best practices in nutrition (for example the one above) that bring independent value to casual readers and of course motivate them to learn more about our offering.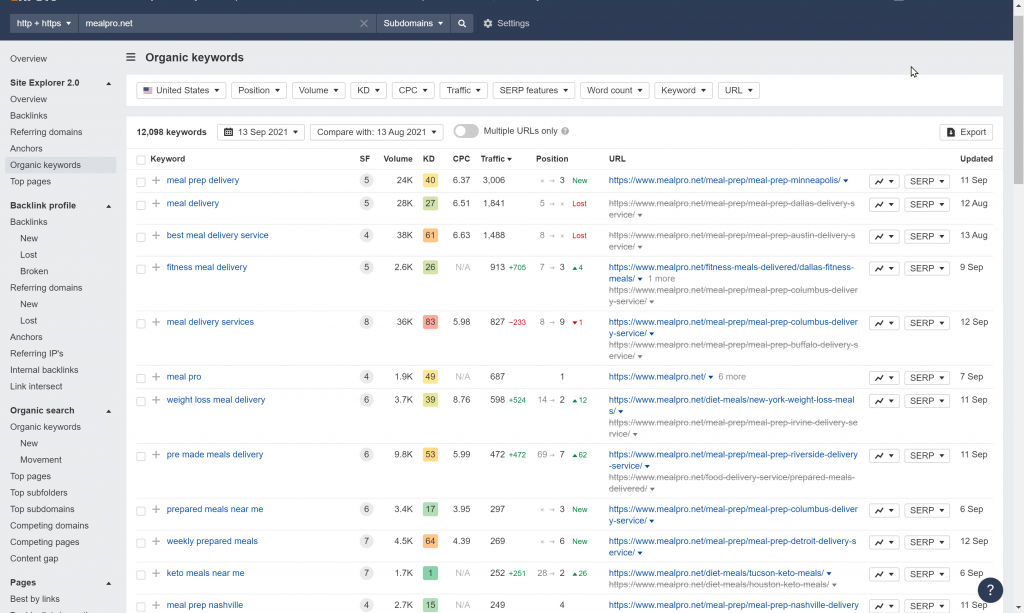 Any opportunity to generate content is really a sales call that the power of the web magnifies thousands of times, and that search engine algorithms latch on to enhance rankings.
Our strategy is based on three tiers including organic web traffic, social media, and some ad campaigns, where we seek to capture all synergies.

Have you learned anything particularly helpful in your SEO Journey?
Start off with a clear sitemap.
We made the mistake initially to add pages to the website with no clear hierarchy. This is because we just had a general sense of the pages we wanted to create but as we added product lines and product pages our strategy evolved 'in ways we could have predicted' as time wore on.
This caused some overall confusion in how users and web crawlers navigate the website and resulted in us merging pages, moving child pages to different parent pages and this created many 301 redirects in our .htaccess file.
I would recommend starting off with a simple site map with clearly outlined parent pages that you can nest all related topics underneath. Think about parent and child pages into the future also.
Where will you put new product pages, new blog posts?
Have a very clear hierarchy and sitemap that allows you to add pages in the future.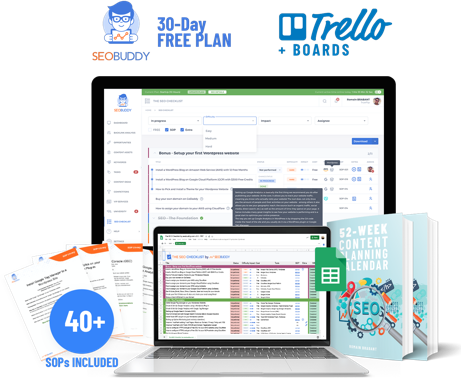 There's more…
Now it's time to discover the other 102 steps that will get more organic traffic flowing to your website. Get the SEO Checklist here.
Want to get a sneak peek of what it looks like?
Enter your email and get a free demo version of the SEO Checklist.
What's your SEO Tech Stack?
Most of my SEO tech stack is in the form of browser extensions.
I use an internet speed checker to find out how fast my current internet is (this is especially helpful if I am working remotely to give me a consistent baseline in comparing load times across networks – or to troubleshoot if something seems like it is not loading.)
The Google developer tools are also a huge resource to do high-level preliminary testing and check the quality score of your pages. My favorite is the website speed analysis because it analyzes the content of the pages on the website, gives you a score out of 100, and gives you suggestions on what you can do to make the page faster.
A great way to improve SEO is also to have a network of people you can use as a sounding board.
When I lived in Silicon Valley tech meetups could be topic-specific and Google would host meetups at their campus to discuss new releases. Of course, this group of people is well versed in digital marketing and I would have some interesting conversations.
At one point – I even met a developer who helped write the Google Inspect Tool in the Chrome browser!!

Before COVID, I would make an effort to attend and/or present at in-person events.
The organizer would typically list the event participants on their website, allowing other websites to pick up this information and creating a beneficial snowball effect. At the event I would find opportunities to network with industry peers and most importantly with the press, sharing my story and creating more opportunities for other events and presentations.
During COVID we had an opportunity to support a clinical trial with Idaho State University, to establish the effectiveness of an anti-inflammatory diet for certain medical conditions.
As a result, the University reported on our role as suppliers of quality meals on the page describing their study and linked it (.EDU) to our website.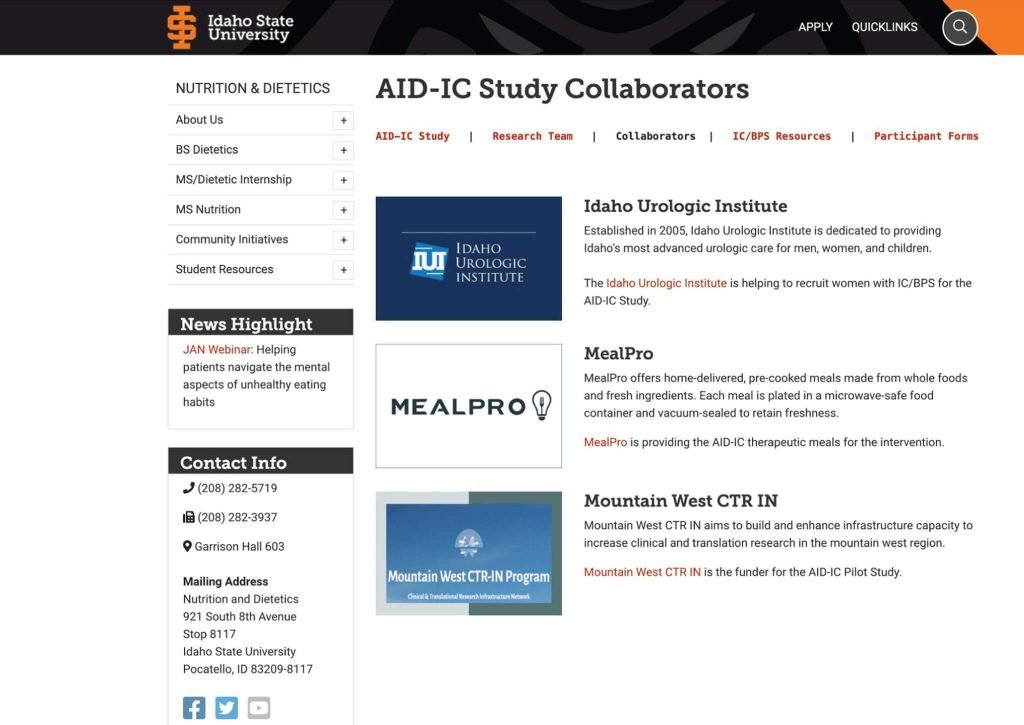 And we're now offering Medically tailored anti-inflammatory meals to our customers.
Something unexpected that really helps was opening more locations.
We opened one location in a high traffic area in the Sacramento Metro and it attracted a lot of buzz from local news to the chamber of commerce… This is kind of a high-cost way to build domain authority but it sure helped.
What have been the most influential books, podcasts, or other resources?
As for online publications I enjoy reading Occam's Razor, a digital marketing blog authored by Avinash Kaushik, a former googler and digital marketing evangelist. He writes about analytics, KPI's, digital marketing metrics in a light, playful way that is effective and entertaining
Another book I enjoyed was "The 7 habits of highly effective people" by Stephen R. Covey as well as "How to win friends and influence people" by Dale Carnegie. These are practical books about habits, human interaction, and general collaboration topics that never go out of style.