My SEO Journey [Pro Edition]: Jason Thibault from massivekontent.com – Social media is an amazing laboratory to test your hot takes and content ideas
My SEO Journey [PRO Edition] is a series where professionals in the SEO Industry, Digital Marketing, or Web Design share their honest SEO Journey filled with failure, success, and most importantly, proven results.  Episode #121 features Jason Thibault from Massive Kontent.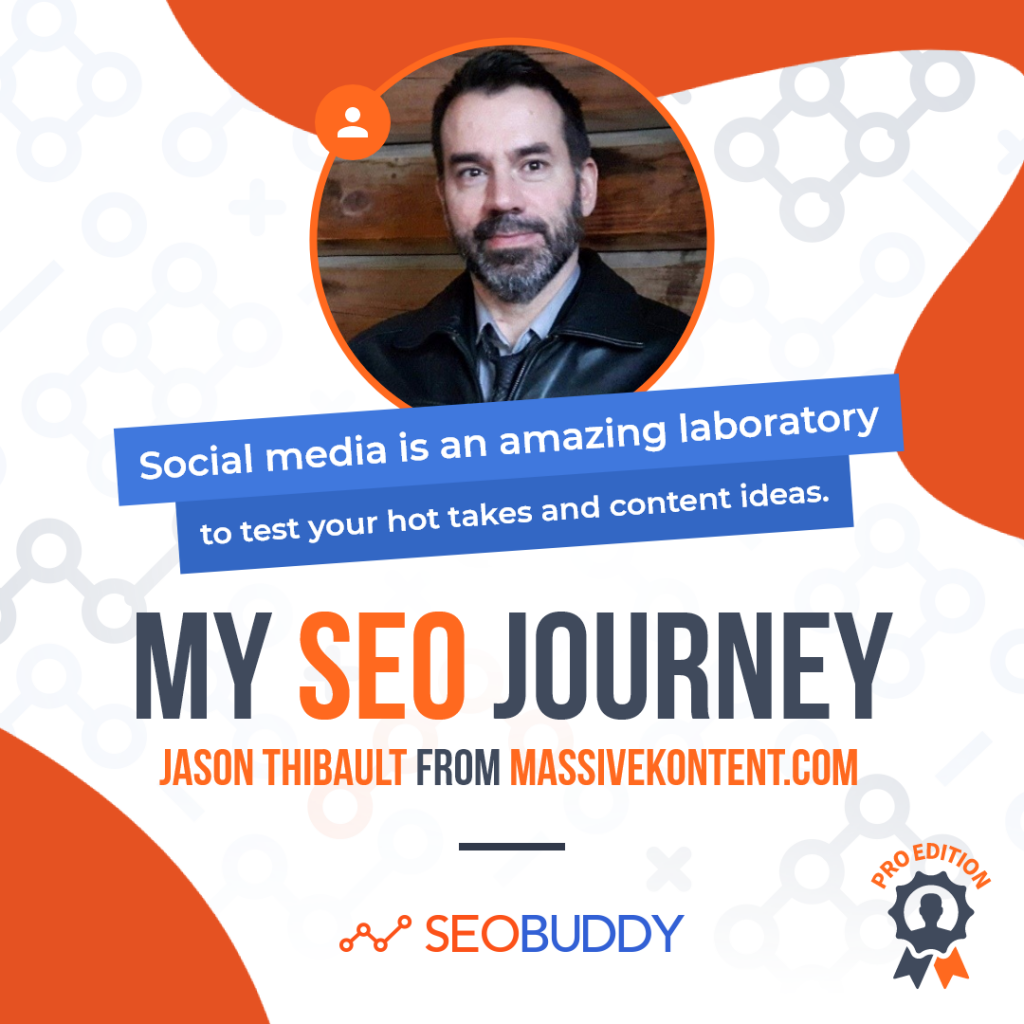 I'm Jason and I founded Massive Kontent—a content amplification, promotion, and distribution service—back in 2015. I run a done-for-you content promotion and distribution service primarily for SaaS and tech companies who are looking to turn their social media accounts into content amplification engines.
I make your content work 10x harder for you.
What's your backstory and how did you come up with the idea?
I ran a boutique graphic novel publishing house back in the 2000s. We were new and unknown, and we didn't have a foothold in the comics industry. We needed to quickly set ourselves apart. Webcomics were becoming a thing in the mid-2000s, so I took a 72-page graphic novella that we were scheduled to publish in 2008 and broke it up into 24 three-page segments.
This was my first brush with content repurposing.
I posted the short comic installments online over a 24-week period to build awareness and we ended up accumulating 500,000 pageviews and tens of thousands of MySpace followers on our company page. We were blown away by the power of social distribution. When we finally ran the marketing campaign for the printed book we received 800 pre-orders from comic stores. Not bad for an indie upstart!
I ended up burning (figuratively) the publishing biz to the ground due to the financial devastation incurred from printing paper books from up here in Canada. I had to shake off the initial disappointment and realize that I had gained the invaluable skill of marketing unique items to a niche audience.
I enjoyed the experience of marketing the books more than the actual creation of them. And I knew that I could get a campaign across the finish line. I spent two years exploring the world of SEO and content marketing to see how to apply these concepts to the business world at large.
I was stuck in an office admin job in the early 2010s when I dreamt up my vision for Massive Kontent 1.0 – a long-form content marketing agency. That morphed into a content promotion service two years later.
Since launch, what has worked to attract more organic traffic?
I use both short and longer-term growth strategies for the business. If you're looking for immediate impact, there's nothing better than showing up on LinkedIn and Twitter several times a week. Social media is an amazing laboratory to test your hot takes and content ideas.
If your post results in a feeding frenzy of likes and comments, it's probably worth looking at expanding it into a blog post or YouTube video.
So far, nothing beats blog posts for a far-reaching impact on your business. I've had clients contact me after reading a four-year-old article. A well-written and well-optimized post can stick around at the top of search engines for years.
When I launched the blog on my site I tried my hand at just about every type of authoritative content. I broke down other companies' marketing campaigns, dissected marketing tutorials, and interviewed subject matter experts. I always tried to speak to the source as the web has been littered with copy-and-paste articles since its inception.
Use social media to engage with your prospects day to day and use your content library to win them over when they're researching vendors. And try to use a conversational tone across the board.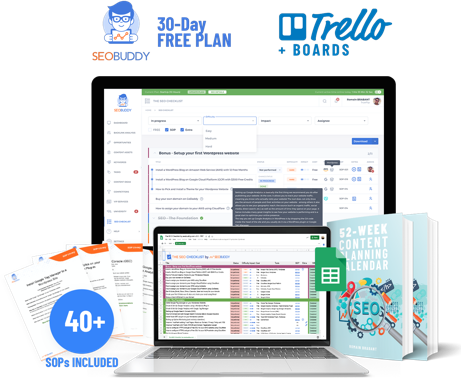 There's more…
Now it's time to discover the other 102 steps that will get more organic traffic flowing to your website. Get the SEO Checklist here.
Want to get a sneak peek of what it looks like?
Enter your email and get a free demo version of the SEO Checklist.
Have you learned anything particularly helpful in your SEO Journey?
My first mistake was writing about anything and everything having to do with content and SEO and not narrowing my scope. I attempted to cover entire industries, marketing tactics, and trends within the span of a couple of articles. Instead, I should have embraced topic clustering and written a series of articles until each topic was exhausted.
My second mistake was taking my foot off the blogging gas pedal. I would write 3-4000 word posts and burn out after hitting publish. I would sometimes go months before posting again. The smarter move would have been to consistently write dozens of 1200-2000 word articles and build up authority on two (or three) overarching topics. That definitely hurt my bank account.
I've spent the last few years primarily on social media repurposing written and video content for my SaaS clients. Writing hundreds of shorter posts has taught me how to synthesize ideas and publish them in 100-200 word bursts. Less is more.
What SEO tools do you use for your business?
I cut my teeth on SEMRush and used the platform for years due to Nick Eubanks creating a keyword research course based on its features. But I eventually became jealous of all of the Ahrefs stans and moved over to that platform 5 years ago and still use it to this day.
I use Ahrefs for everything from topic research to competitor backlink and content gap analysis. It's an all-in-one tool that has enabled thousands of us to earn a living.
I run a lot of paid content amplification via Twitter ads so audience intelligence and social analytics tools like Audiense and Followerwonk are a crucial part of my tech stack.
I've used 3 main tactics to build links over the past few years; creative commons image linking, HARO and Quora submissions, and guest contributions to authority blogs.
I built my own free stock photo library by uploading 700 of my photos to Flickr and made them royalty free by setting the creative commons default to CC BY 4.0. I picked up 30-40 passive links using this method. Some of the sites linking back to me were in the DR 70-75 range.
I spent the better part of a year contributing expertise to HARO queries. This landed me another 20 backlinks from impressive websites. The majority pointed to my homepage but a rising tide raises all ships and my deeper pages soaked in some of that "link juice".
And occasionally I'd get approached by writers at sites like Ahrefs to contribute to guides on Quora or content distribution. It was all pretty low-effort link-building that boosted my site from DR 19 to 40 despite not adding any new content in years.
What have been the most influential books, podcasts, or other resources?
I follow JH Scherck and Benji Hyam for their scorching hot marketing takes on Twitter.
I subscribe to Ryan Stewart, Ahrefs, and Optimist on YouTube for their deep dives into SEO and content marketing.
I listen to Dan Shure's "Experts on the Wire" podcast for hour-long conversations on specific SEO-related topics and Greg Isenberg's "Where it Happens" to explore the future of AI and marketing.
What's the next step in your SEO Journey?
Like millions of other professionals, I'm diving headfirst into the world of AI. I'm obsessed with generative AI and where it's moving in regard to video and imagery.
I'm also doubling down on YouTube SEO. It's a huge missing component in B2B SEO and B2B social marketing and I want to close that gap.