My SEO Journey: Marko Saric from Plausible.io – From under 150 to over 7k+ Monthly Organic Traffic in 11 Months
My SEO Journey is a new series where entrepreneurs and Indie makers will share their honest SEO Journey filled with failure and success, and most importantly proven results. Episode #2 features Marko Saric from Plausible Analytics.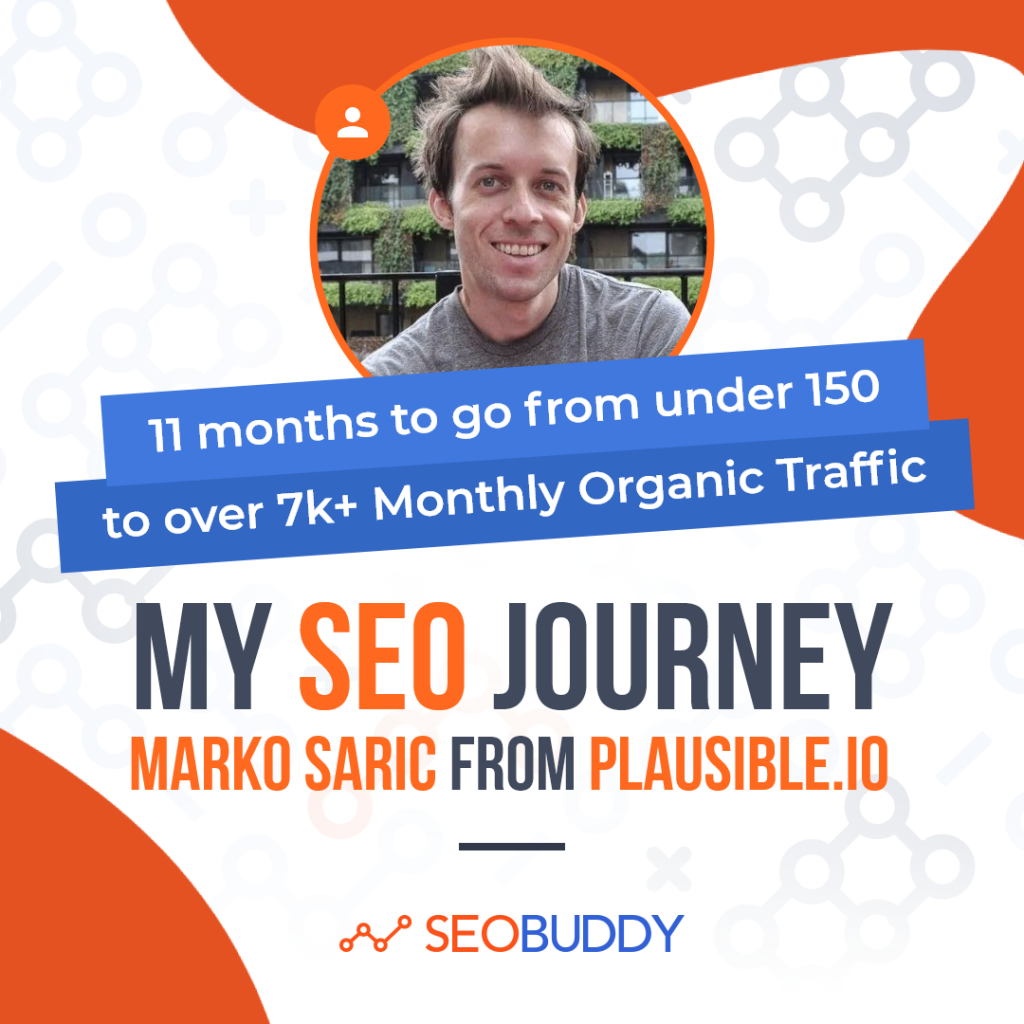 Plausible Analytics is a simple, open source, lightweight (< 1 KB) and privacy-friendly alternative to Google Analytics. Plausible is trusted by 2,000+ subscribers to deliver their website and business insights. Our mission is to reduce corporate surveillance by providing an alternative web analytics tool which doesn't come from the AdTech world.
Plausible Analytics is a self-funded and bootstrapped startup.
We're not interested in raising funds or taking investments.
This also means that we had to stay frugal.
So we didn't have a marketing or SEO budget to work with and all the work we have done and all the results we have achieved have been completely organic and cost us $0.
Everything we do is done "in-house" between me and my co-founder. As we're a two-person team and marketing and communication being my responsibility, it is really easy to organize this as we're keeping it simple.
He focused on the design and development and I focus on marketing and communication.
I've been in the online marketing world since the late 1990s when I created my first website as a teenager. It was a fan site for my favorite band Metallica. So I created the website and then needed to figure out how to get traffic to it so that's how I started exploring the world of internet marketing.
Every job I've had since finishing the university has been in the online marketing field (mostly in blogging, content marketing, affiliate marketing, and social media marketing) so I have accumulated a lot of knowledge and lessons learned along the way.
Which helps when doing marketing for a brand new startup.
My recommended way to get into the world of marketing and SEO is to start your own blog or a website. Start publishing content and try to attract an audience. Take it one step at a time and try to learn and improve so every day you get a little bit better.

This will teach you more things than any other resource can.
Our SEO Content Strategy
Everything we do with Plausible Analytics starts with content.

And I don't mean just any random content. I mean well-researched and well-thought-out content that is useful, interesting, opinionated, and that answers questions real people have.

We publish such content approximately once per week.
I joined Plausible as a co-founder in mid-March 2020.

We have all of our website traffic stats open to the public so you can easily follow and examine the progress we've made. In March, the month I joined, we had 143 visitors from Google search.
Some 10 months after, we had 7,167 visitors from Google search in January 2021.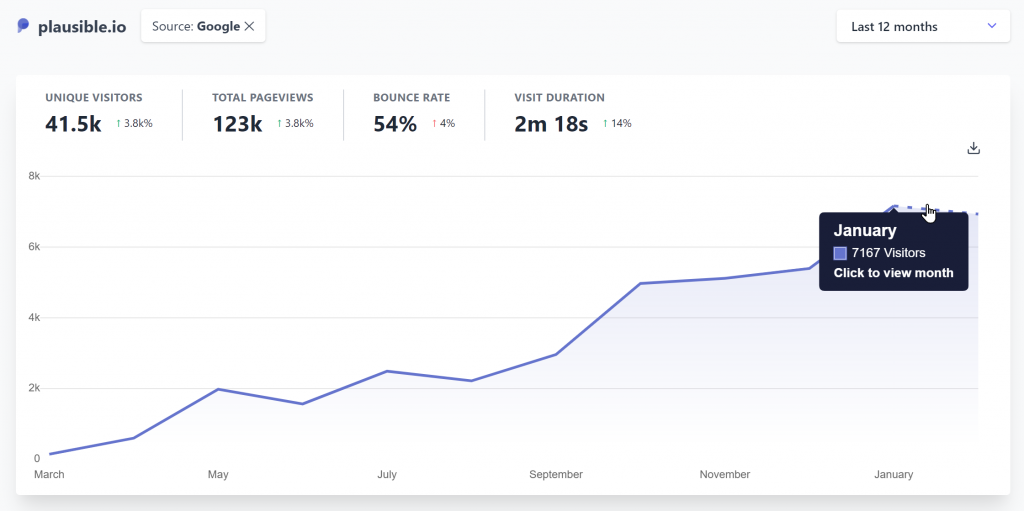 February is not complete yet and despite having 3 days less than January, it seems likely we will have the new record month.
Here are our last 12 months of traffic from Google:
https://plausible.io/plausible.io?period=12mo&source=Google
What has changed? We started publishing content on our blog.
I published my first blog post on April 8th on why you should remove Google Analytics from your website. See https://plausible.io/blog/remove-google-analytics.
Since then we've published 32 blog posts.
We've also published complete documentation that goes into detail on what our product does, how to use it, and how to integrate it with other popular tools.
We've also published 15 product pages focusing on the different aspects of what makes Plausible different from the traditional web analytics tools (topics such as open-source, privacy-focused, lightweight, and simple to use) and there are now also several direct comparisons to popular tools such as Google Analytics and Matomo.
So basically we've written a ton of content since April last year and it is difficult to deny all that content not playing a part in our increase in Google rankings too.
How do we figure out what to write about?
It's a mix of focusing on product features (such as Plausible being an open-source web analytics tool) and popular issues our product has a solution for (such as being able to track external link clicks).
We also add more newsworthy topics such as GDPR (how to make your web analytics GDPR complaint), privacy regulations (web analytics without cookies), or things such as changes in browsers (for instance Safari's Privacy Report which affects sites that use analytics).
I know that creating content is a very valuable marketing activity for us so I make sure to put some regular effort into it. I have a little document where I put any new topic idea and it stays there.
In most cases, a topic presents itself naturally based on market news or the latest feature we've released with Plausible. But when I want to write a new post but I'm not sure what topic to focus on, then I review my ideas document and pick an idea from there.
Obviously, if we are about to expand the team or hire someone to help us, then this way of doing things won't work as well, and probably most of my time would go into actually setting up processes and explaining things rather than doing them.
The second part of this is just publishing a post is not enough.
How do we grow our Domain Authority?

For each post that we publish, we also try to get out there to spread the word about it.
We're very active in different niche communities such as Indie Hackers, social media platforms such as Twitter, and niche aggregators such as Hacker News.
Sharing our posts on these different sites helps us get the word out there and get more people to come to visit us.
This leads to more social media shares and more links too.

We're active members of these different communities so it's not just about going there when we have a new post and posting a link. For instance, I check Indie Hackers daily and am part of some discussions and threads that I find interesting and relevant.
Then sometimes, when I have something interesting to say, I would post a new thread with a summary of my post which also links to it. In some cases, the post is fully repurposed to Indie Hackers but it also has some prominent links to drive traffic to us.
We're also part of the open startup movement. This means that we are happy to share our stats, other metrics and details on things we're doing, results we're achieving and lessons we are learning. On our blog, on our Twitter profile and on our Indie Hackers profile you can see regular updates on our achievements including our MRR growth, the number of subscribers and more.
The fact that we are so open about everything gives us something more interesting to talk about and gives another reason for people to follow us, talk about us and spread the word about us.
There's no 100% right or wrong rule here. It depends on the context of the community and the topic of your post. As my intention with posting is to spread the word to more people that may be interested in what we're doing, in many cases simply posting a direct link won't achieve my goal.
In most communities, it is best to post some useful insights natively to get people to engage and then add some relevant links and messages here and there throughout the post.
What is the next SEO Challenge for Plausible.io?
Plausible Analytics is growing fast both in general but also in search rankings.
The challenge will be to see what happens and whether we'll be able to continue this crazy growth as it gets increasingly competitive in the marketplace and search results.
My impression is that it is easier to build brand awareness than it is to build Google rankings.
Most of our traffic to date comes from people searching for our brand name and relevant phrases directly so it remains to be seen if we will be able to get higher up in Google results for more competitive keywords such as web analytics or Google Analytics alternatives.
The best thing you can do to increase the brand awareness of your startup is to build a product that people love. The product is the key to why so many people keep searching for Plausible Analytics on Google.
People check us out and find the product a refreshing experience compared to traditional analytics such as Google Analytics. That makes them share us on social media or via direct messages or via emails or their own websites and other communities.
I can do all the content and all the marketing work that I want but if it all leads to a product people hate, then we won't be able to achieve the results we have over the last 10 months or so.
We've grown our search traffic a lot as shown and we've grown our MRR from some $400 in April 2020 to more than $10,000 at the start of 2021. And we went from fewer than 100 subscribers to more than 2,000 right now. Marketing is vital but without a product that people want and that people love, it gets so much more challenging.
Any recommended SEO Influencer?

One person that I've followed for years and read their blog posts regularly is Rand Fishkin. He's now building his own startup called SparkToro and is regularly blogging and/or tweeting insights into his journey which is useful as we're kind of doing a similar thing.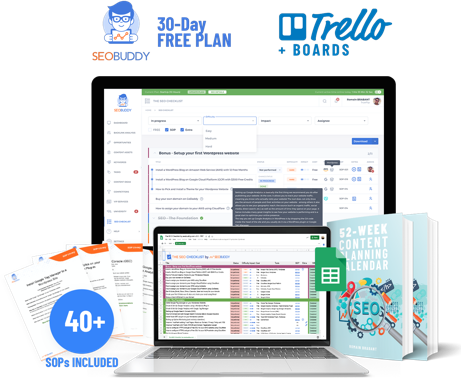 There's more…
Now it's time to discover the other 102 steps that will get more organic traffic flowing to your website. Get the SEO Checklist here.
Want to get a sneak peek of what it looks like?
Enter your email and get a free demo version of the SEO Checklist.
My Favorite SEO Tools
Some more SEO-specific tools that we use are F5Bot which helps us get notified about people talking about Plausible Analytics or relevant topics (such as people complaining about Google Analytics) in social media. Then we can go there and join the conversation.
We also use Ahrefs Webmaster Tools which helps us figure out new people linking to us so we can follow the conversation and get feedback.
We use Google Search Console as an easy way to see what keywords we rank for and in what position and follow our progress in search results. It's a great tool and doesn't need us to add any Google scripts on our site.
We even built a Search Console integration with the Plausible Analytics dashboard so we now simply get the keyword phrases people find our site with directly in our own dashboard without needing to go to Search Console itself.