My SEO Journey [Pro Edition]: François Mommens from linkody.com – Nail the Search Intent and Build Links
My SEO Journey [PRO Edition] is a series where professionals of the SEO Industry, Digital Marketing, or Web Design, share their honest SEO Journey filled with failure and success, and most importantly proven results. Episode #47 features François Mommens from Linkody.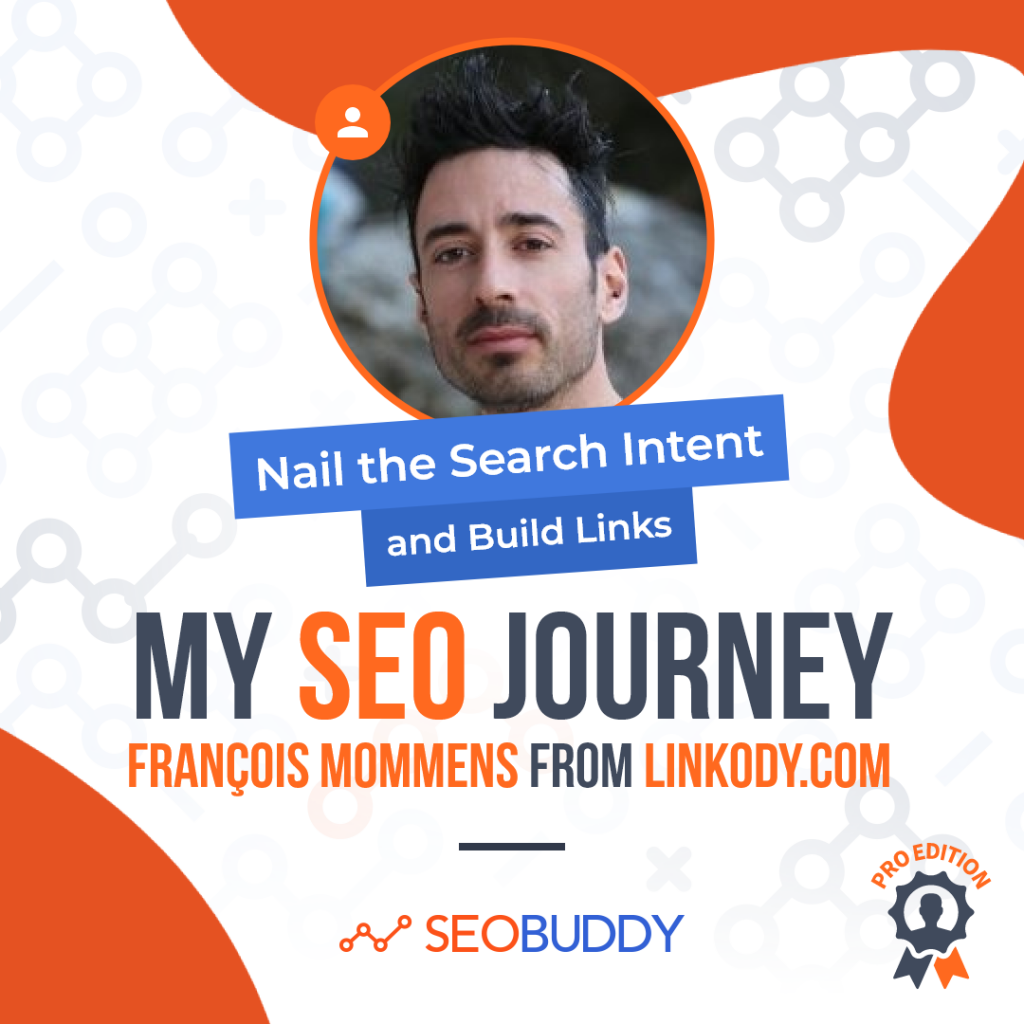 Hello, my name is François Mommens and I am the founder of several innovative SEO tools. I just moved to Spain after living 9 years in Amsterdam. I love the outdoor and building stuff.
Linkody is my flagship product. It offers a complete solution to webmasters and SEO agencies to manage entirely their link tracking and link building processes.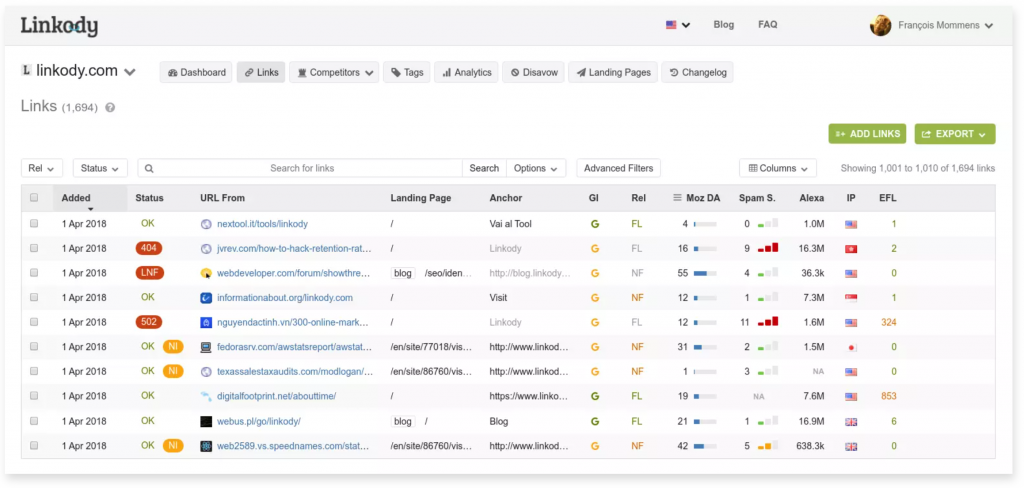 LinkStorm is a tool to optimize internal linking. Right now there is a free version that provides internal link opportunities. Enter your website URL, the tool will crawl it and quickly offers link suggestions you can add to your content right away.
Finally, I've just launched IndexCheckr, a tool to check if any page is indexed by Google. If some of your pages are not getting any organic traffic, checking if they are indexed should be the first step.
What's your backstory and how did you come up with the idea?
When I started Linkody I didn't know much about SEO. I didn't know anything about marketing. Or running a business. I didn't even know that what I was starting is called a SaaS :'D
I just needed a simple tool and it didn't exist, so I decided to develop it and make it available to anyone. It's only later, when the tool got some traction, that I saw a business opportunity.
Being a solo founder is hard. Bootstrapping is hard. The first few months, I worked on Linkody during evenings and weekends while keeping my 9-5 job. I originally have a technical background. Working on the dev and simultaneously learning and executing all the other parts of the business was tough.
Now that I'm running and developing 3 different SEO tools, I can't say things got simpler 😀
But, I am adamant about maintaining a good work-life balance. I sleep an average of 8h a night. I spend one or two days a week rock climbing with my girlfriend. I practice 1h of yoga every day. I don't consider myself that well organized, but I do have sessions of intense focus with bursts of productivity.
Since launch, what has worked to attract more organic traffic?

I spent a lot of time trying stuff that didn't work out, like FB ads, cold outreach, social networks… The only thing that has been working for me is SEO. 100% of my customers are coming through organic traffic.
This traffic is coming mainly via two avenues. The blog, and a few free SEO tools.
Two of them are very popular and have several money keywords on the first page of Google.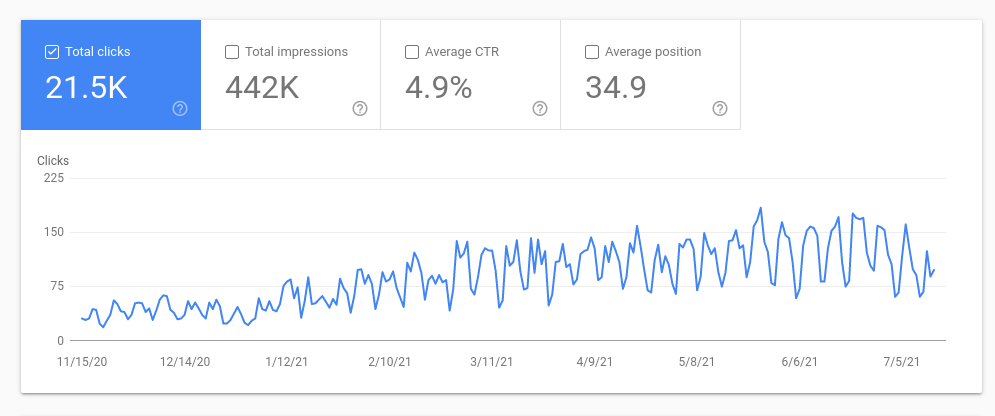 The blog has reached a critical mass and my domain authority is high enough that I don't need to write the content myself anymore. I just curate and publish guest posts. I receive a lot of offers.
Over time I refined a process to spend the minimum amount of time. I have a list of criteria to quickly decide if I will discard a cold outreach or follow up, and a process to decide if I will publish or not the draft. No back and forth, it's either good and follows the guidelines or it's rejected.
The blog does not convert into paid customers. But I keep working on it because it gets backlinks and gives notoriety. That's always been my long-term strategy.

Have you learned anything particularly helpful or advantageous?
I don't consider myself an expert in SEO. There are things that work and I don't understand why. There are things that don't work, and I don't understand why either.
One of the free tools I created was ranking very well for a long time then went progressively down to the 5th page. A lot of the pages that are ranking in front of me are complete garbage and irrelevant. It really puzzles me. Everything I've tried has failed. This remains a mystery.
So I'm very cautious about giving any SEO advice. It's not an exact science. You can read everything and the opposite. A lot of people claim to have the magic bullet.
But with SEO you have to test for yourself what works and what does not.
There are for instance 3 things that everyone is touting as essential but turned out to be a pure waste of time:
Improving the page loading time
The loading time is part of the new Google Core Web Vitals. It's even now displayed within GSC. And it's a bad user experience. So it looks like it's a big deal. However, Google itself said that it's a very minimal ranking factor. It could play a role in case of a tiebreak between pages. Nevertheless, I spent the time and effort to optimize my content and bring it from the red zone to the green zone. This had zero impact.
Killing non-ranking content
Google says poor content impacts the entire site. SEOs say there is the crawl budget and you should kill any content that is not ranking. I went through all the content that was still not ranking after one year and set it to no index. This had zero impact.
Correcting broken outbound links
Over time, resources are removed and links get broken. I had accumulated hundreds of broken links I didn't notice at first. Broken links provide a bad user experience. You can read everywhere it's a good SEO practice to keep them in check. So I set myself to replace them with new similar resources. Again, this had zero impact.
In my experience, the 2 things you need to rank a page are: nail the search intent and build links.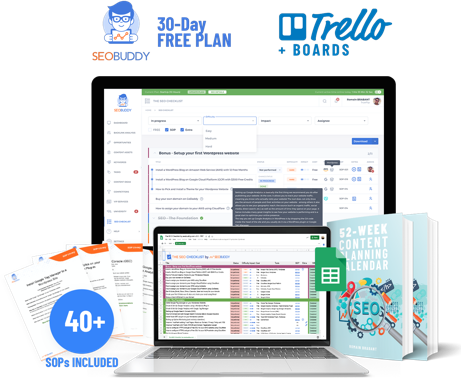 There's more…
Now it's time to discover the other 102 steps that will get more organic traffic flowing to your website. Get the SEO Checklist here.
Want to get a sneak peek of what it looks like?
Enter your email and get a free demo version of the SEO Checklist.
What SEO tools do you use for your business?
The SEO tools I use are:
Linkody
For link building, I obviously use my own tool Linkody. Particularly for these 3 tasks:
Making sure the links I get through my partners are not changed or removed. I have several partners with whom I'm doing 3 ways link building. Recently, a link from a high DA site was changed from follow to nofollow. I got notified by my tool and asked my partner to correct the issue. Without Linkody it would just have remained unnoticed.
Disavowing dubious links. Disavowal is a very controversial topic. Google says it's useless to disavow unless you get a manual penalty. Well, getting out of a penalty can take a very long time. I rather preemptively disavow any bad link. Linkody gives enough metrics and data to do that job with confidence.
Keeping an eye on my competitors' link acquisition rate and making sure I"m not falling behind.
Kwfinder
Part of the process to accept or reject a guest post offer is to check the targeted keywords. I use this tool to see if they strike the right balance between traffic and difficulty. I use it also to find the right keywords when writing some new copy.
Google Search Console
All the information about what pages and what keywords rank is there. I'm not sure why you would need a paid tool when GSC is free.
What have been the most influential books, podcasts, or other resources?
The Lean Startup was very helpful to acquire a good methodology and avoid wasting time on useless endeavors. If you're a developer bootstrapping your first business, I also highly recommend reading Start Small Stay Small.
I listen regularly to the Indie Hacker podcast. Some episodes can be quite inspiring.
Where can we go to learn more?
Try LinkStorm and give me some feedback 🙂
Read Linkody's blog to learn more about SEO and traffic acquisition. It's well-curated 😉
Get in touch on Linkedin or Indie Hacker.