My SEO Journey: Lidiya Kesarovska from letsreachsuccess.com – DR47 Pro Blogger tips to 100k Monthly Pageviews
My SEO Journey is a new series where entrepreneurs and Indie makers will share their honest SEO Journey filled with failure and success, and most importantly proven results. Episode #21 features Lidiya Kesarovska from Let's Reach Success.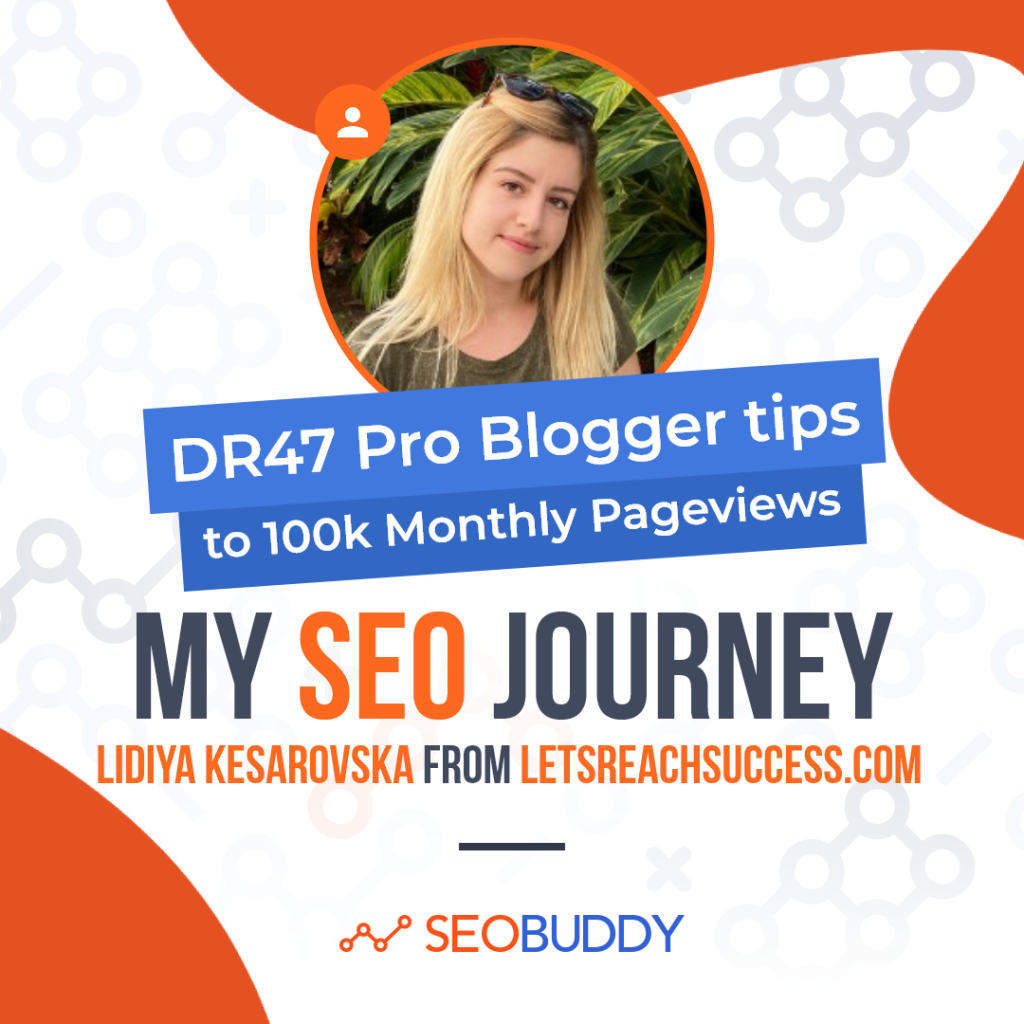 Hey and thanks for having me here. I'm Lidiya Kesarovska, a blogger, course creator and the founder of Let's Reach Success where I help people build an abundant, value-driven business so they can live a fearless life and serve their purpose.
I've been a blogger since 2013.
My income journey started with freelancing, though, but after some time I stopped enjoying this, started treating my blog as a business, and went from being a hobby blogger to running a 5-figure recession-proof blogging business and loving every part of it.
It's thanks to that income that I've managed to become self-employed, work from home (or anywhere else), do what I love, leave my home country and relocate to my dream destination.
So it was a natural change of direction to start covering these topics (business, blogging, lifestyle design, and financial independence) and help others do the same.
I provide value through my free content and paid programs.
I've slowly transitioned to a course creator in the last year or two and now pay less attention to SEO, but focus more on digital products, email marketing, launching, networking, and branding. However, I still get steady blog traffic from all the content I've created and optimized over the years, and that's the beauty of SEO.
I was able to grow my blog to 100K monthly page views and monetize in 4 different ways. Without any traffic, none of this would be possible, of course.
So even though my current traffic is less than that and I focus more on products, below, I'll share the different things I've done over the years in terms of SEO.
Here's a screenshot of my traffic for 2020: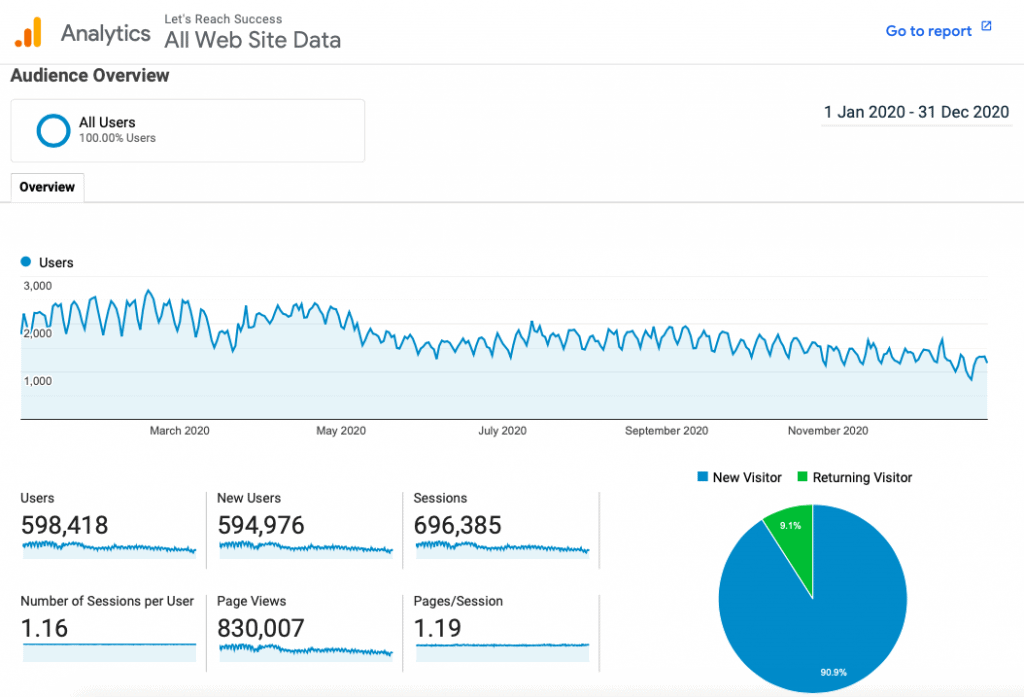 What is your experience working with Agency, Freelancer or doing SEO in-house?
I've never hired an expert.
I wasn't even tech-savvy and knew nothing about blogging and SEO when I started back in the days, but I believe this is a good example that it's all possible the DIY way.
Of course, working with an agency or an SEO expert would save me a ton of time, but the more you dive into search engine optimization thanks to all the free resources out there (+ maybe investing in a paid program*, like I did, and testing different tools), the more you develop it as a skill and that becomes a big asset in your business.

* Stupid Simple SEO by Mike Pearson: https://stupidsimpleseo.co (it focuses on SEO specifically for bloggers and I found a lot of value in it).
What is your favorite SEO resources?
You can't go wrong with trusted resources like Neil Patel's blogs and Moz.
I was also following and learning from fellow bloggers who – like me – shared behind the scenes of their blogging business, including what they do to optimize their content and rank it higher. And even though they are no experts, if something worked for them, it's an idea worth considering.
What is your Link Building Strategy?

Link building is one of the trickier aspects of SEO as it involves forming connections, reaching out to other people, and doing things outside of the comfort zone that is your own blog.
I always relied on content marketing.
That means creating solid content that's so good that it gets shared and linked to.
Other website owners are always looking for external links to include in their articles, so they do quick Google searches and look for valuable resources. If your piece meets all the criteria (attention-grabbing title, good page authority, good design, and user experience, is long enough, has visuals, is valuable, loads fast, good on-page SEO, etc.), it makes sense that many people will link to it.
The next best way to get backlinks is through guest posting.
That usually applies to bloggers who also want to build a name for themselves and are the face behind their blog, as opposed to niche website owners whose business model is different.
As a writer and business owner, it's important to be published on other platforms and share tips, get found, get your name out there, and form relationships with other bloggers.
If you're just starting out, that might not be an option. You might also reach out to others yourself and suggest great topics for guest posts (in case you know for sure that they are accepting contributors).
When I was in the personal development niche during the first few years of my blogging journey, I contributed to many sites. I even got published in TIME magazine. It was all about the content though, but my bio was still there and I got a backlink, plus I got the chance to provide value to a new audience.
Now things are different and as a course creator, I don't do guest posts anymore, but only accept interviews and features.
Content Strategy
My content is the backbone of my business.
Regardless of what business model I'm transitioning into, all the articles I've written over the years and the new pieces of content I create weekly (whether that's blog posts, podcast episodes, newsletters, social media posts, lead magnets, etc.) is what helps me grow my audience.
And as we all know, you need people to be able to do business.
So once you have those readers or followers who are interested in what you're saying and have to offer, you can monetize in different ways.
My current content strategy can be summarized like this: 95% of my content is free and always will be, and the rest is paid (and only for those who want to dive deeper into the topics I teach).
The beauty of content creation is that what you published years ago can bring you traffic on autopilot today, and depending on how you monetize, that can mean ad revenue, affiliate marketing earnings, and so much more.
The first rule in content marketing is to cover topics that you have knowledge in and that are in demand (people search for these online and are looking for solutions) as well as to provide value with every piece of content.
Whether it's educational, inspirational, or both, make sure the reader leaves with something after reading a blog post. What's more, add internal links, an opt-in form (offering a lead magnet related to the topic of the article), optimize well, and make sure your site loads fast and is well designed so that the reader can check out other posts and sign up to your newsletter, where you can form a relationship with them.
How I tackle long-tail keywords
I'm a big fan of long-tail keywords.
Once I have a topic in mind, I check how many searches it gets using Google Keyword Planner. I also do a Google search for it and go through the articles that rank on page 1.
I look at the length of each, might check the DA of the sites, see what points they covered in the post, etc.
All this is to make sure I can create a long-form article that's more valuable than all of these and which really has the potential to rank on top.
This is a fun skill to build.
After some time, you get better at quickly spotting keywords that will do well, plus finding many related ones to sprinkle throughout the page.
Here's an example.

I've done this successfully with 1 of my most visited blog posts How to Become a Self-Made Millionaire with No Money. I chose the keywords, added synonyms, outlined them, and wrote them strategically, while still providing as much value as I could (and financial advice, mindset tips, and strategies, etc.)
It ranked in the top 3 results of Google for 'how to become a self-made millionaire' in a month or so and is still staying there after so many years.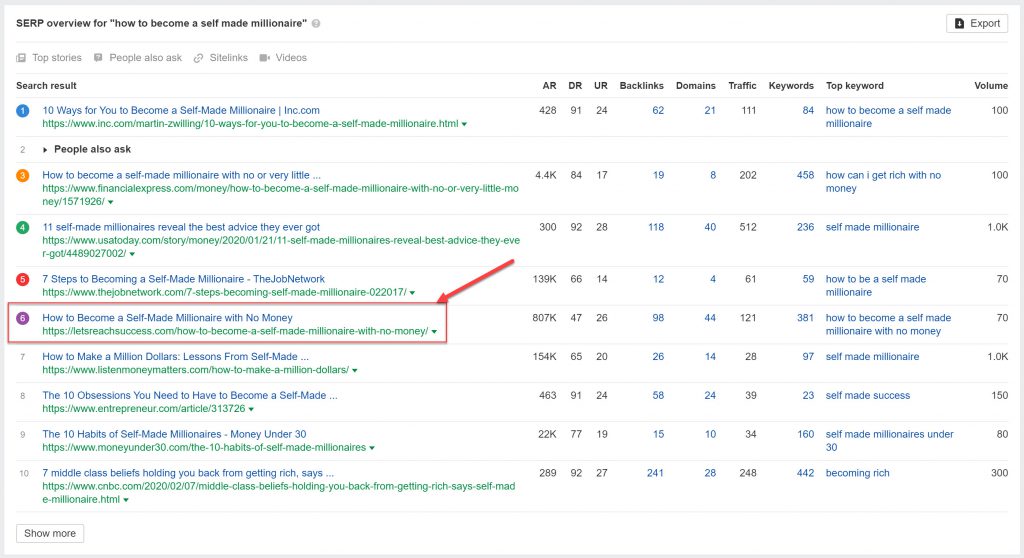 It also did well on Pinterest, which is my second top traffic source after organic traffic. A few Pins for that article went viral and increased the authority of the page even more.

When you create long-form guides like that and optimize them well, don't forget to also update them once a year or even more often.
Some challenges I'm still facing today
A great example is the fact that my traffic is lower than it was a year ago and 2 years ago.
It's because I'm focused on selling digital products and growing my email list, but that also means less ad revenue, and potentially fewer people interested in sponsored collaborations (that's one of my main income streams as a blogger).
SEO takes consistent effort.
Things in the industry change and we need to stay on top. We can also analyze our competitors, check if the rankings of some pages on your site dropped and do something about it, try new ways to create more backlinks, etc.
There's always something to do, but of course all that can also be outsourced. So whether you're investing in your self-education or will delegate the SEO activities related to your business, the point is to always be making this a priority unless you want the traffic to not just stop growing but to also drop.
My favorite tools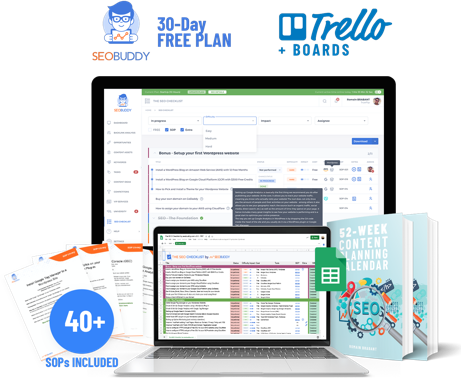 There's more…
Now it's time to discover the other 102 steps that will get more organic traffic flowing to your website. Get the SEO Checklist here.
Want to get a sneak peek of what it looks like?
Enter your email and get a free demo version of the SEO Checklist.
Final words
SEO is a long-term strategy.
Those looking for quick wins and quick income streams most probably won't have the right mindset for this, won't be looking to create valuable content and help their audience. But if you're really trying to build something sustainable, you know website traffic plays a big role in this and you can't just do the work in the first 2 weeks and expect results.
It's okay if you devote the next few months to optimizing your website and any existing piece of content, as well as creating workflows that will save you time with keyword research, optimizing new content, updating old posts, and any other repetitive tasks related to the growth of your website.
Don't let the time this takes discourage you as you'll be reaping the benefits for the rest of your life (which includes consistent traffic, high DA, and passive income).
Thanks for having me again, and if you want to connect, you can find me on my blog Let's Reach Success, check out my Courses, or say Hi on Instagram.