My SEO Journey: Adar Hay from Jiga3d.com (YC W21) – Hacking our way to targeted organic traffic with long-tail keywords and professional tools
My SEO Journey is a new series where entrepreneurs and Indie makers will share their honest SEO Journey filled with failure and success, and most importantly proven results. Episode #31 features Adar Hay from Jiga.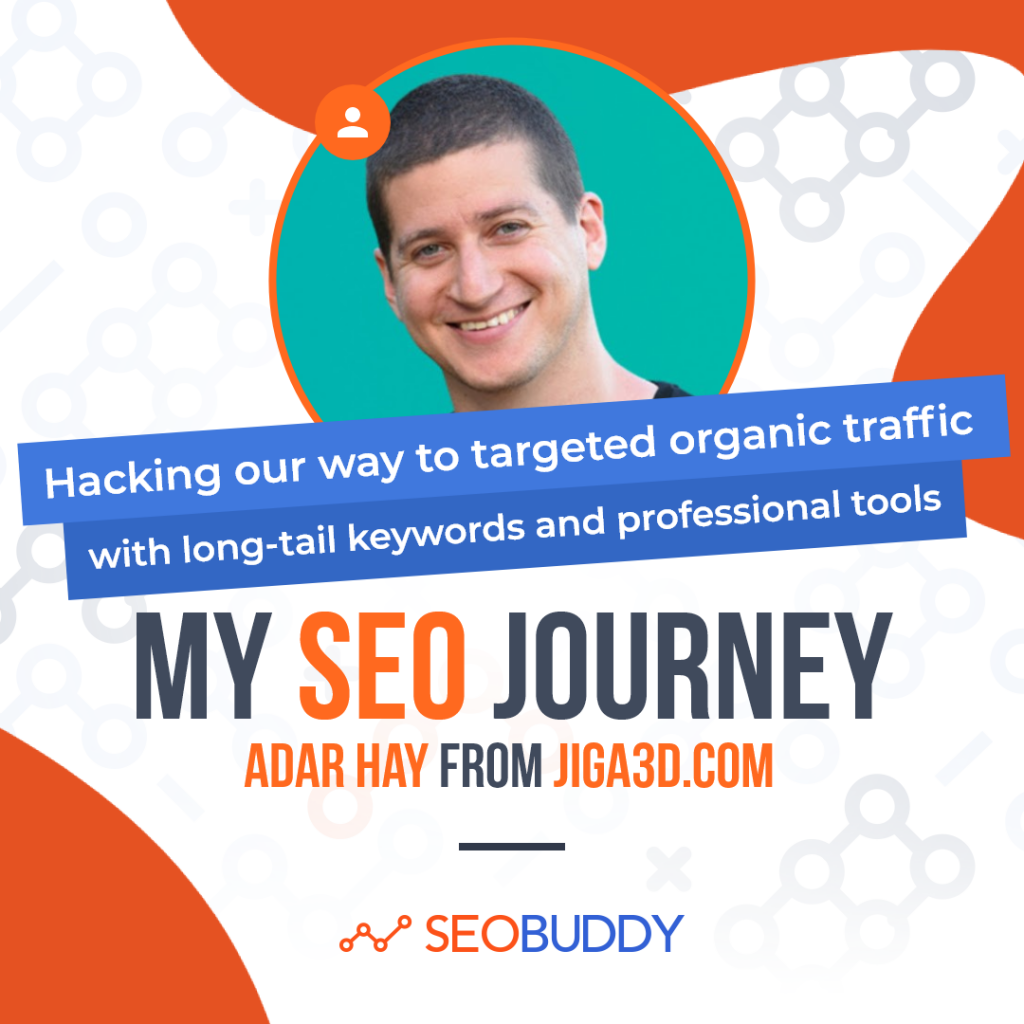 My name is Adar Hay, I am the co-founder of Jiga, a Y-Combinator backed startup in a mission to help mechanical engineers ship products 3X faster.
Our mission is to be the go-to B2B marketplace for custom parts, to make it easy for companies to purchase parts for production, saving them time and costs and connecting them with manufacturing suppliers.
What's your backstory and how did you come up with the idea?
I've been working on marketing, sales, and product management before starting Jiga. I also host a weekly popular tech podcast and show in Israel, which I've been doing for the past 5 years.
In March of 2020, I co-founded Jiga to change the way people buy custom parts.
Before founding, my friend and co-founder, Assaf was running a 3D printing manufacturing service.
We were shocked by how inefficient the process for buying parts was—spreadsheets, emails, texts, and chats with every potential manufacturer.
We saw it as an opportunity to fix that problem.
Since launch, what has worked to attract more organic traffic?
We started off with a few pages and little to no content. Slowly, we added more pages and content, improving the quality of our website. Our articles are found in our resource center.
We are creating content for engineers. This content has to be very practical and unique, and this is one thing that guides our strategy.
So we started creating tools like a 3D viewer for chrome and a Material Volume to Weight Calculator.
This will be of use to them in their jobs and provide us with more traffic.
And, it paid off – the calculator ranks for many long-tail keywords!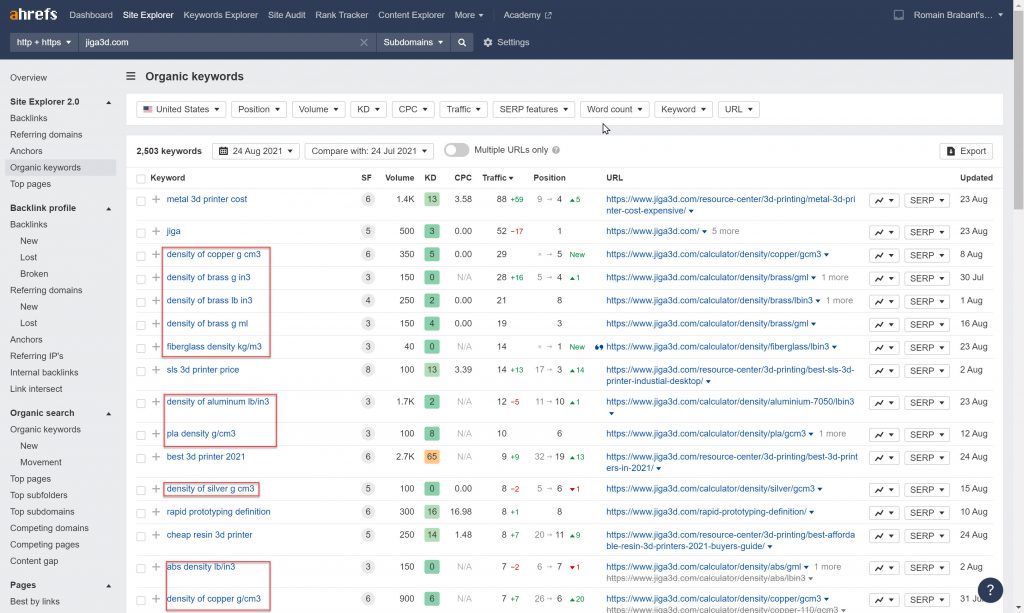 We also did some link building (and are still working on it) to get the readership we want.
Oh, and of course, we kept track of our metrics too! We put around 6-12 months' worth of effort into this SEO experiment before deciding whether or not to continue with the same strategy for future content.
We wanted to make sure that the traffic we're getting is not just a one-off burst of visitors and would keep coming back. We wanted the kind of traffic you get when people keep going back, reading new content, seeing what's there for them to read each day/week/month.
That's why we do our best to create content that adds value for humans and going for quality over quantity, both in terms of backlinks and content.
As of writing this, our domain rating is now 39, and our monthly users to 4.15k per month.

Have you learned anything particularly helpful or advantageous in your SEO Journey?
The benefit of link building cannot be underestimated – it helps grow our domain rating/authority to ultimately generate more traffic, which then converts into higher sales for you.
However, it is really hard and takes a lot of time.
It has a lot to do with timing, competitiveness, and social signals. Basically, if you're not ranking already because of organic traffic or links, it's going to be tough to rank by getting backlinks.
We learned that we needed to focus on building strong relationships with others in order to get good backlinks rather than taking shortcuts. The few really good backlinks we got were so much more important than the many mediocre ones because they were from reputable sources and helped us rank higher in SERPS.
Authority and relevance are the most important factors in deciding how valuable a link from an external site will be to you. We always refer to Ahrefs for a website's DR. If the DR is less than 25, we consider it low-quality, mid-quality for DR45+, and high-quality for DR60+.
But we also consider the type of backlink.
We now also try to move away from directory listings, as we consider them of lower quality as well.
Once we find good websites, we start by searching for what content these reputable websites are most likely to link to. Next, we create the SEO content or tools.
Lastly, we do the hard part – reaching out, through social media, groups, and direct email.
Since we needed to rank our pages in Google's top ten, we decided to make a long-term investment.
We hired a Content Marketing Associate to build good content and set up an outreach campaign. It took four months but we were finally able to get into the coveted top ten pages of Google for our desired keywords.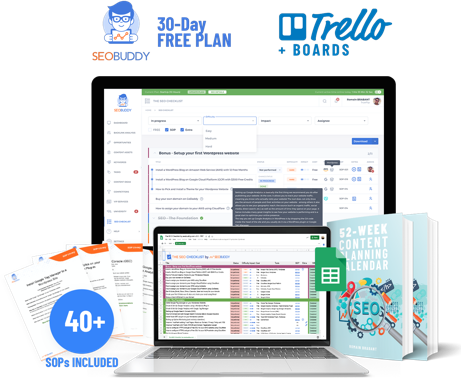 There's more…
Now it's time to discover the other 102 steps that will get more organic traffic flowing to your website. Get the SEO Checklist here.
Want to get a sneak peek of what it looks like?
Enter your email and get a free demo version of the SEO Checklist.
What's your SEO Tech Stack?
We've been using Google search console, of course, Google's keyword planner, Yoast SEO, Ahrefs for research, and lately have been experimenting with SurferSEO for content building.

Link building has been an important part of our SEO strategy to increase the visibility of our site.
Recently, we created a list of resource providers in the industry and contacted them to offer free access to our platform (value), the backlink was given even if not asked.
This link-building method or ultra-targeted link building helps improve the positive response from our outreach effort. It gives us a better opportunity to create relationships with the people who are most interested in our site's niche. And not only that, we do it for free and indirectly get new customers.
What have been the most influential books, podcasts, or other resources?
I've been reading Neil Patel's blog and newsletter, and they've been great.
I also like Hubspot, Moz, Search engine land, and Backlinko.
I also like to follow companies and people who do great marketing and learn from their work, such as Gong. I think that this is the best resource for inspiration – see what people do to market themselves and learn from it.
Where can we go to learn more?
For more information, visit our website here, follow our Facebook page here, Twitter here