My SEO Journey: Holger Sindbaek from online-solitaire.com – From DR0 and $0/month to DR44 and $10.000/month.
My SEO Journey is a new series where entrepreneurs and Indie makers will share their honest SEO Journey filled with failure and success, and most importantly, proven results. Episode #28 features Holger Sindbaek from Online Solitaire.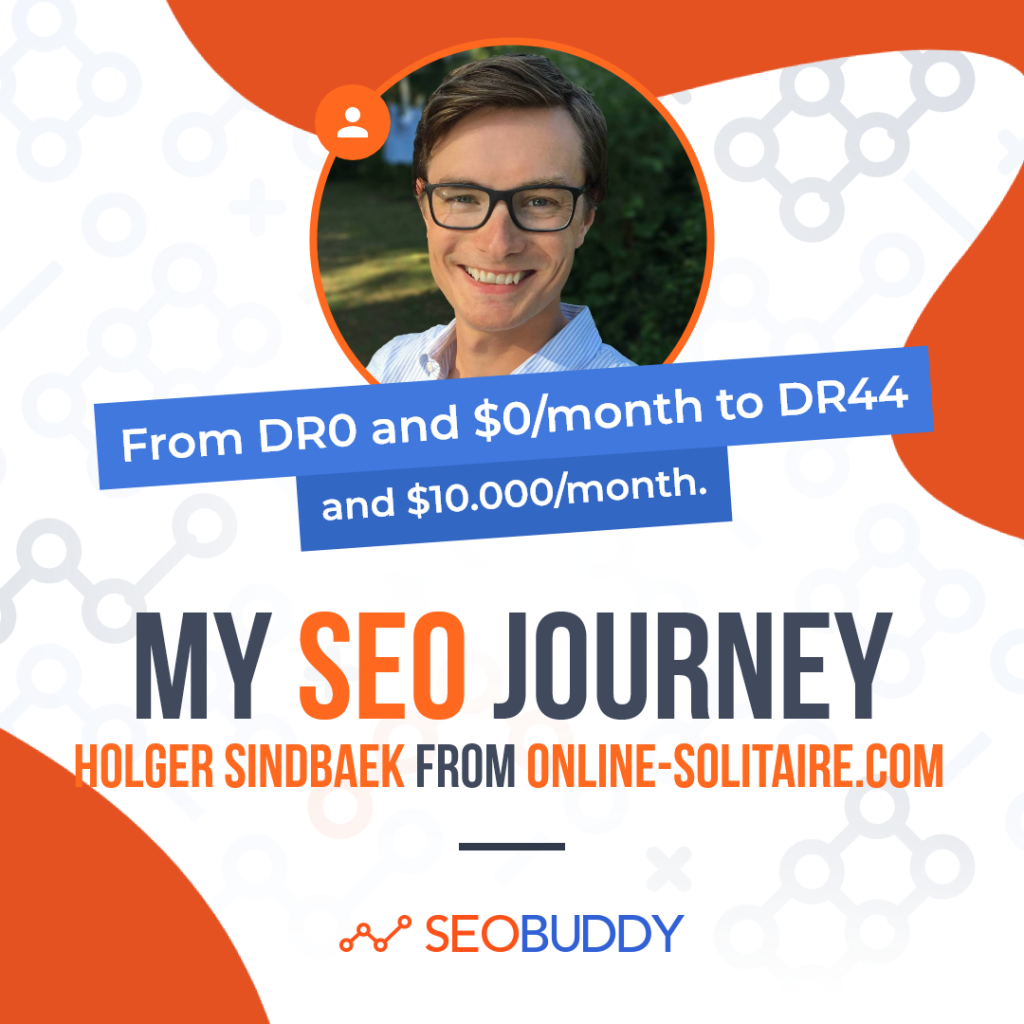 My name is Holger, and I'm a designer-turned-developer from Copenhagen, Denmark. I've always been creating side-projects, and my most successful one has been online-solitaire.com, a site where people play Klondike Solitaire, Freecell, and Spider Solitaire online for free.
In regards to SEO, it's been a bumpy ride for me, and it still is.
When I first created the site, I knew nothing about SEO, so I had to learn everything from scratch. Then after I learned how SEO works, then the hard work begins, which is figure out how you'll get backlinks to your site.
It's been a struggle and still is, but I've now grown the site to DR44, and I'm starting to get more and more organic traffic.

What's your backstory and how did you come up with the idea?
I've always been creating side-projects as a way to learn a new programming language or to hone my design or programming skills. After having created a bunch of side-projects that no one was using, I kind of lost my motivation though, so I decided to look deeper into the market before making my next side-project.
This was all the way back in 2012 and I wanted to take a deeper dive into programming for the macOS platform. I had already made a topbar calculator for the Mac and it got a good deal of downloads, but it wasn't really earning any money.
I was really inspired by Patrick McKenzies's yearly reports on his Bingo Card Creator, which he had created as a side-project and with time netted him a decent (relatively) passive income. What he had created wasn't very innovative though.

He wasn't re-inventing the wheel, but simply made a better product of something that already existed.
That sounded like a good idea to me and the way I decided to go about it was to scrape the Mac App Store, so I could rank apps in relation to their monthly downloads, their average review, how hard such an app would be to make and their monthly earnings (which I'd estimate).
I created a script to do just that and then export that data to Excel, so I could process it better.
From that, I ended up with a list of about 15 apps, where only some of them had potential.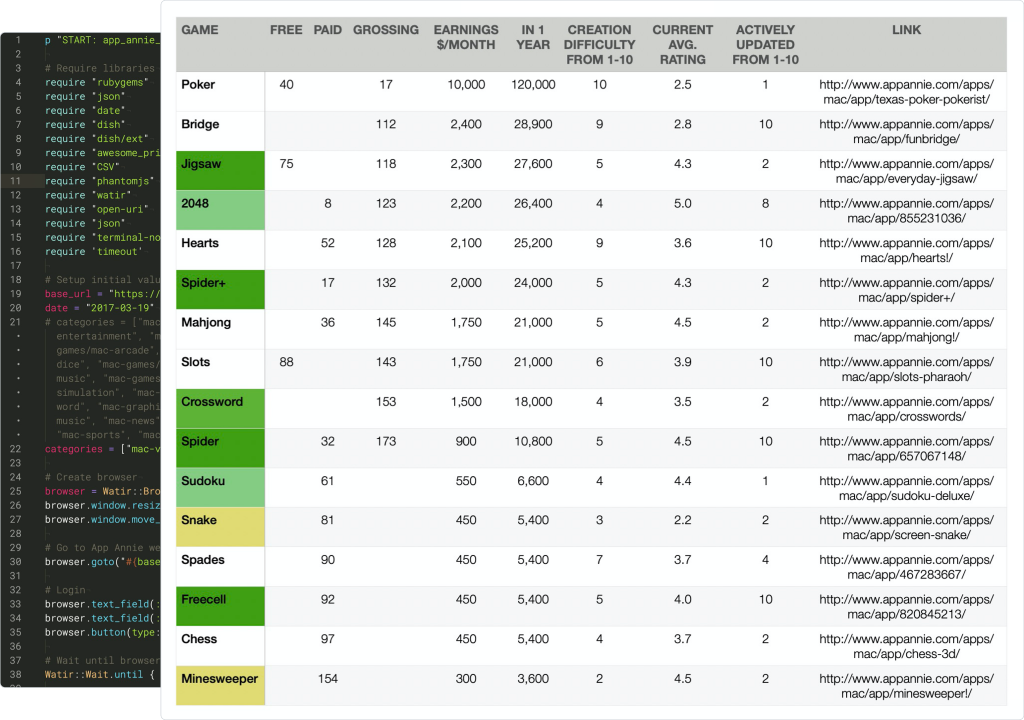 As you can see, one of those apps where solitaire. Spider and Freecell Solitaire to be more precise. The Spider and Freecell Solitaire apps already up there had relatively good ratings, but once I took a closer look at them, I was pretty sure that I could create something better.
I decided to create Freecell as the first game. It took me about 2-3 weeks of full-time work to get the first version launched and it was a success in its own modest way. People downloaded it and they were also willing to pay for the in-app purchase. I ended up creating Klondike Solitaire and Spider Solitaire for the Mac App Store as well and those 3 games earned me a side-income of about $1000-$1500 for many years.
Fast forward 5 years or so. I had been living in New York for 3 years, going through the stressful experience of running a venture-funded startup with a friend. We ended up getting to the point a lot of other startups get to as well, where they have tried everything and they have to throw in the towel. I was kind of burned out and didn't really know what to do, and I guess those are the moments where people grab hold of something old and familiar.
In my case, it was my old solitaire games.
I decided to program the solitaire games from scratch for the web. Partly because I wanted to get my hands dirty with a programming framework called React and partly because I thought there still was room for improvements when I looked at all the solitaire websites available.
Since launch, what has worked to attract more organic traffic?
First of all, when I started online-solitaire.com I knew nothing about SEO.
I knew about the term, but it was just a black box to me. I kind of had a feeling that ranking well on Google was kind of based on luck. So before I could even try to attempt to get any organic traffic, I had to learn the basics of how on-site and off-site SEO works. I could then go on to optimizing the pages on my website for specific keywords before I went about trying to get any backlinks to my site.
For a long time, I kind of gave up on SEO and moved on to other things. I hadn't implemented any ads on the site, so I wasn't making any money on it, which doesn't leave a big incentive to work on something. I must have done a good job with the on-site SEO because the site kind of grew on its own for a while.
A bit over a year ago I decided to implement ads on the site. To be honest, I kind of thought that ads were dead and there wasn't that much money in ads on websites. Luckily I was wrong on that one. After trying out a few different ad networks I landed on Freestar, which I'm still using to this day.
The revenue to start off was kind of the same that I earned on my macOS apps, around $1500/month, but it has since then been growing steadily and is now around $10.000/month, which is awesome.
The revenue increase is partly because of internal optimizations on the site, an increase in retention rates, and the fact that I've put a greater focus on SEO and creating backlinks.
Have you learned anything particularly helpful or advantageous?
Screwing up can cost you a lot of hard work.
I initially had the site on the domain solitairegamecenter.com, but then got the chance to buy online-solitaire.com, which I thought was a much better domain. I switched the site over and simply re-directed all the traffic from the old site to the new site.
I still wasn't earning any money on the site at this point, so I wasn't taking the whole project too seriously.
Looking back, I probably should have. I ended up forgetting to renew the old domain, which removed all the link juice that the old domain sent to the new domain. Overnight the site tanked in Google Search and clicks more than halved.

Another thing that I've had a bad experience with is outsourcing SEO work.
At one point I hired a guy to write guests posts and such that could be posted on different blogs. Getting someone to do quality work for you in the SEO world has been quite a challenge. I've always ended up having to do things myself in the end.
I can also recommend keeping the focus on one thing.
I have a tendency to start a lot of projects. One of them was online-jigsaw-puzzles.com, which is a website that lets you play jigsaw puzzle games from all the photos Unsplash. The site works nicely, but once I released it, I kind of realized that I just doubled the SEO work that I was doing for my solitaire site.
The site is still up and running, but I ended up putting my focus on the solitaire site since that's the site I was earning money from.
What's your SEO Tech Stack?
For use Moz's on-page optimization to optimize for specific keywords. I generally don't like Moz that much, but I find that their page optimization score is really helpful when optimizing a specific page for a set of keywords. It's a paid tool, but I definitely think it's worth it.
For general SEO I'm a big fan of Ahrefs. They give a great overview of how your site is doing, what's going on with your backlinks, which keywords you have a chance of ranking well on, and so forth. Basically everything you need to keep up with your site's SEO.
I've just signed up for the SEOBuddy Link Chest and I already like the platform. I think it's especially useful if you're working on SEO in a team. I wish I'd had something like their Link Chest when I first started since it gives you very actionable and easily accessible SEO tasks. One of the hard parts of SEO work, for me at least, is to keep up the feeling of momentum, since a lot of the work is kind of tedious.
Last but not least is Google Search Console. You can't do a whole lot with GSC, but it gives you the hard data from Google Search which is what all your SEO translates to in the end.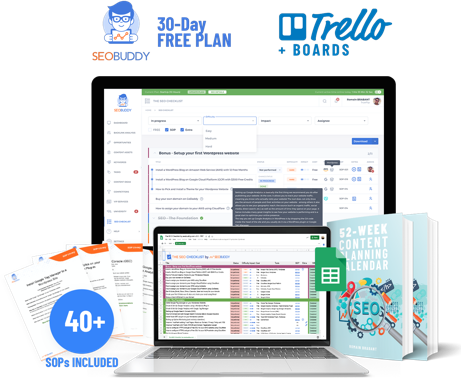 There's more…
Now it's time to discover the other 102 steps that will get more organic traffic flowing to your website. Get the SEO Checklist here.
Want to get a sneak peek of what it looks like?
Enter your email and get a free demo version of the SEO Checklist.
What have been the most influential books, podcasts, or other resources?
I've read a good bunch of books on startups and entrepreneurship throughout my time, but the most influential resource for me these days is the Indie Hackers community. I can especially recommend their podcast, which features talks with all kinds of interested people making money on the internet.
Where can we go to learn more?
You can shoot me an email at [email protected] if you have any questions or would like to chat. I'm not that active on social media, but if you want to keep up with what I'm doing when I'm not working on Solitaire games, you should check out my newest project which is a jewelry organizer designed and crafted from solid European oak. It's a passion project of mine, that has turned into a kind of a side hustle.