My SEO Journey [Pro Edition]: Nebojsa Jankovic from heroicrankings.com – an SEO campaign is only as good as the people behind it
My SEO Journey [PRO Edition] is a series where professionals in the SEO Industry, Digital Marketing, or Web Design share their honest SEO Journey filled with failure, success, and most importantly, proven results. Episode #122 features Nebojsa Jankovic from Heroic Rankings.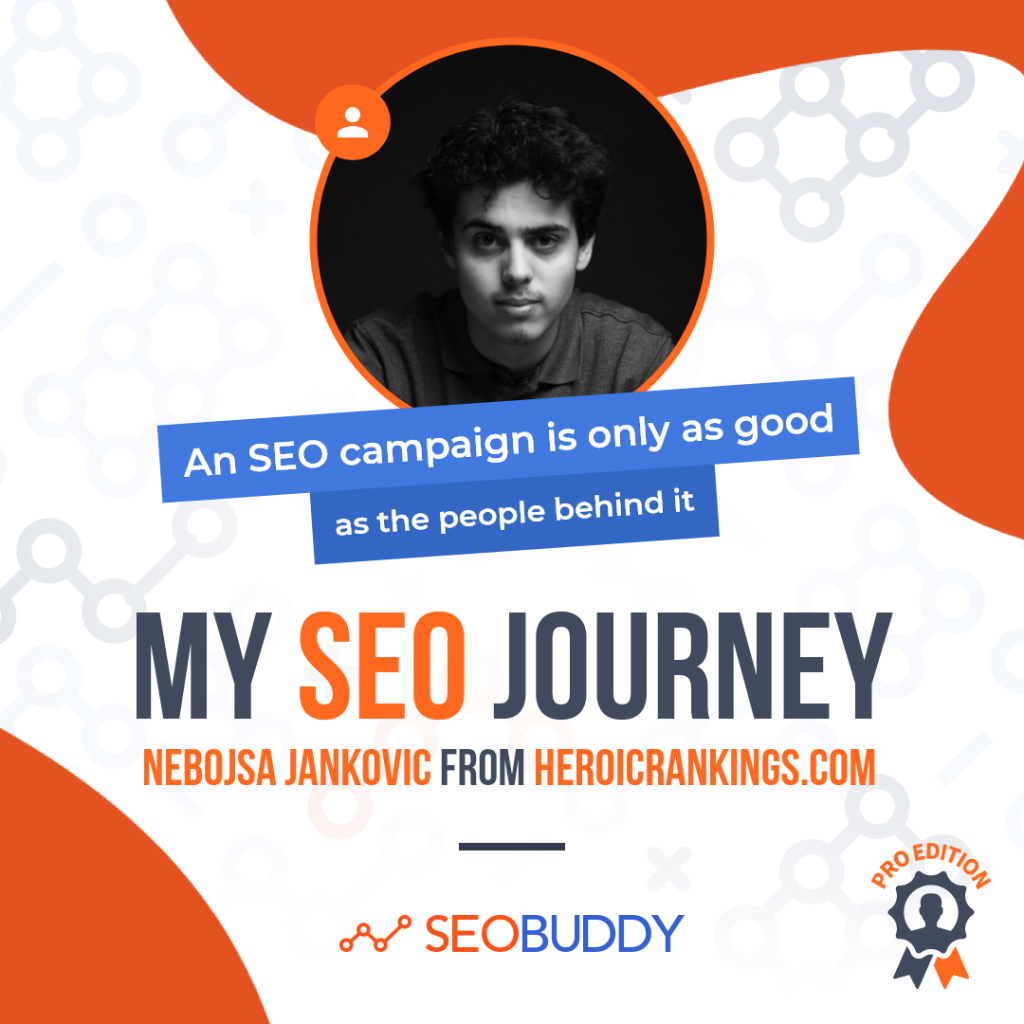 Working in this field has never been more challenging yet, more lucrative. With an influx of advanced tools and AI bots, many people have false confidence that they can handle SEO independently. So, they get a brilliant idea to cut costs and handle this DIY.
Only a few weeks later, when their SEO rank doesn't budge from the starting point (if they're lucky not to run it into the ground), they start realizing the truth. This field is complex and operates on nuances that only someone with years of experience understands.
Sure, AI technology and advanced SEO platforms are a challenge, and many of our colleagues are right to fear for the industry's future; however, there's a silver lining. Never before were there so many laymen and first-timers in the industry, which means it was never easier to stand out (if you know what you're doing).
This is where our team at Heroic Rankings stands out.
Years of experience
I started in 2015 as a lead generation specialist and link builder. As anyone familiar with SEO knows, these are the industry's entry-level jobs and its backbone. No matter how good your overall SEO strategy is, if your leads are not solid and your leads not good enough, you won't get very far.
Learning was my main objective, and I was making progress each day. My skills were increasing and I went more deep in SEO. I worked as an SEO manager for a Utah-based agency. I worked with local and international clients, all requiring custom-made SEO strategies. The task was challenging in its own right, but it also taught me how to interpret the big picture.
This experience proved invaluable once I started working as link building director for a Miami based company. I grew the team from four to over 20 employees. This is where I learned to delegate, use process automation the right way, and, frankly, learned more than I ever wanted to about resource management.
After months and months of superb results (always surpassing initial goals), I faced a new challenge – SEO consulting. Here, I helped a company with 100+ employees build their link-building company from the ground up.
This was probably a pivotal point in my career. It made me realize I had all the skills, knowledge, and tools to do the work. It also reminded me of that old quote, "Those who can do, those who can't teach."
There was no more delay. It was time to build my own team.
I decided to embark on this incredible adventure with my co-founder Nenad Stamenković, a personal friend, a confidant, and an expert with over 13 years in this industry. With my organizational abilities and his client-savviness, we had a structure that simply couldn't fail.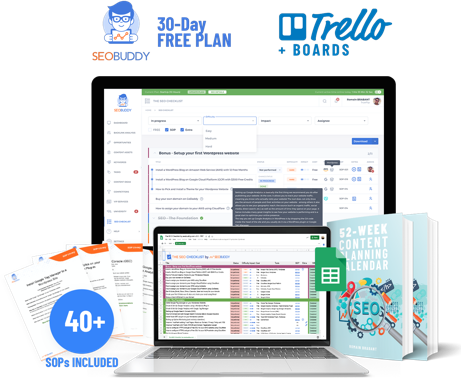 There's more…
Now it's time to discover the other 102 steps that will get more organic traffic flowing to your website. Get the SEO Checklist here.
Want to get a sneak peek of what it looks like?
Enter your email and get a free demo version of the SEO Checklist.
Unwavering commitment
If we were to do this, we had to do it right. With that in mind, I set two main principles.
First, since AI content was out of the question, we needed an experienced and reliable team. In link building strategies, things are simple – the end product is only as good as the team behind it.
Second, we would use our commitment to stand out. We will always try harder and never charge you for temporary results. In other words – you keep what you paid for.
According to one statistic, about 35% of all link-building companies have their links disappear 3-4 months after they build them. Sure, it's a bad practice, but it's after the client has already paid for the links, so who cares, right? Well, we do! This is why we perform weekly health checks on our links to ensure this figure is always below 5%.
Link building reinvented
One of the things that we wanted to do differently is to provide a lifetime guarantee on our links. As we've said, up to 40% of backlinks eventually decrease. Sometimes, all it takes is for the guest poster/link builder to ask to get them back. However, this requires a lot of extra work that many link-building companies lack the vigor for.
Perfection is nothing more than an incredible commitment to details. If you do enough small things right, the bigger picture will just work.
So, while links in guest posts, comments, and business directories are standard link-building practices, our attention to detail makes our results stand out.
Sure, we can provide a brand-new site with 0-50 DR and 2K+ visitors in just six months, but our work doesn't end there. We find the biggest pride in that once we achieve results, there's no going back. You keep your rank and traffic and use this new position as a jumping-off point for further scaling your business.
Most importantly, while building trust with our clients, we never EVER expect them to take our word for it. This is why we have advanced reports that allow our clients to track the progress of their online rank in real-time.
Emphasis on client relations
You're just as good as your clients say you are.
The problem is that while some objective KPIs indicate growth and great performance, people often forget that link building is a service industry. In a service industry, the only KPI that matters is customer satisfaction.
So, to gather the first positive user experiences, we developed our own system for finding new clients. This went on in a couple of steps.
First, we identified non-competitors (web designers and developers) who shared our similar client bases and reached out to them.
Second, we developed a great ICP (based on our years of experience in the field). This allowed us to reach out directly to these people on platforms like LinkedIn.
Third, you can't do anything without a good email marketing campaign, so we started with a massive outreach project early on.
Fourth, since most of us have been in this industry for years and years, we all had previous contacts in the field. Reaching out to them and convincing them to give our new agency a chance was not a significant challenge.
Fifth and final, we are fully committed to promoting our enterprise on social media.
It didn't take long for us to pass the critical 15-client mark. Past this, the demand for our services skyrocketed, and we got twice as many in the next month. Thanks to our business model's high level of automation and amazing organizational structure, this was still nowhere near our operational capacity.
Final thoughts
According to Price's law of productivity, only a handful of people at every enterprise are actually doing most of the work. In our case, this is definitely not true. At Heroic Ranking, everyone is pulling their own weight.
As we've already stated, an SEO campaign is only as good as the people behind it. This is why we put all our hopes in our team. Through trust, teamwork, and common goals, there's no link-building challenge our Heroic Ranking team cannot overcome.
After years in this industry, my standards are pretty high. This is why I can confidently claim that a team that has gained this level of trust and success shouldn't struggle with any client, no matter how demanding.