My SEO Journey [Pro Edition]: Bill Sebald from greenlanemarketing.com – Understand the true rules of engagement
My SEO Journey [PRO Edition] is a series where professionals in the SEO Industry, Digital Marketing, or Web Design share their honest SEO Journey filled with failure, success, and most importantly, proven results. Episode #119 features Bill Sebald from Greenlane.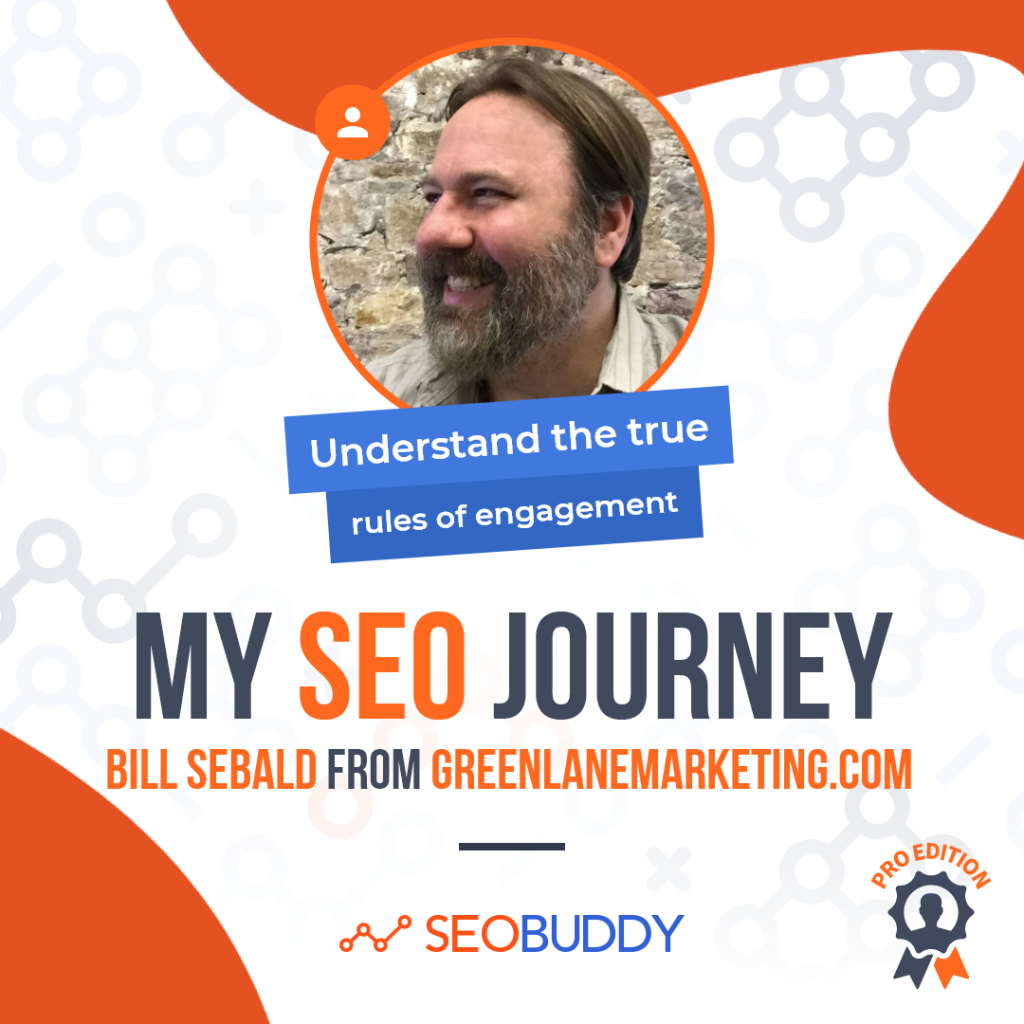 My name is Bill Sebald. I started in SEO in 1996. I have worked with more than 100 famous brands on their SEO, especially in the eComm space. I'm lucky to be part of the first waves of SEOs, and I spent my career helping others learn what I learned.
Currently I am the Founder and Managing Partner of Greenlane, a search marketing agency near Philadelphia. We have a big experience set in the industry, so we're often called to fix SEO and PPC ROI issues where others have not been able to crack the code. I love to help companies grow their business with search engine optimization.
I'm also a recognized writer and occasional speaker. Also, an Adjunct Professor at Philadelphia University teaching SEO.
I have helped brands including Levi's, GNC, Ace Hardware, Toys R' Us, Lincoln Financial, The Art Institute, Mattel, Dockers, Calvin Klein, American Medical Association, NBA, Petsmart, and more than 100 recognized names.
What's your backstory and how did you come up with the idea?
I was a musician, trying hard to make it in the music business. I had rock star dreams. This was right around the time Napster was forcing the record industry to take the internet more seriously. Though my rock star dreams didn't come to pass, the networking was terrific. I met enough people who had a need for digital marketing but didn't know where to begin. And so, I pursued digital marketing with passion.
I was thinking up ways to drive new traffic to the artists and brands that were trying to get more qualified visits, and I stumbled upon early search engines. They were easy to manipulate and drove plenty of new traffic. By the time Google came to the party, I was already fully engaged in learning how to deconstruct these algorithms.
My passion for SEO started there. In time I found my first SEO forum, highrankings.com. Since then, I've been able to move through the digital marketing industry, ultimately creating my current agency over a decade ago. It's been a terrific experience.
Since launch, what has worked to attract more organic traffic?
SEO works. It works well. As long as you understand the true rules of engagement. By looking at what search engines are serving for queries, you can understand what Google believes the intent of the search is. So, if you want to make sure your content is considered, you have to make sure your content matches exactly what the algorithms are looking for. (Or, at least match better than your competitors.)
As long as you constantly press on the gas, and make smart decisions as the data pours in, you'll eventually hit your SEO goals. Too many people don't invest enough time or money, and then get outpaced by their competitors. They'll say, "SEO doesn't work," while their competitors will benefit from believing otherwise.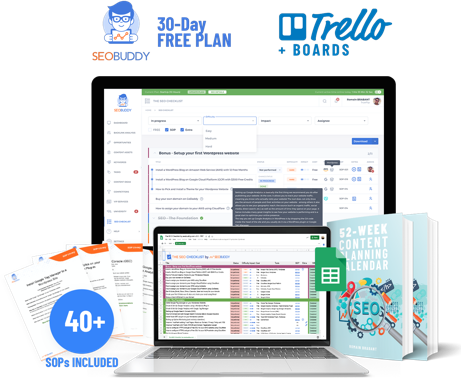 There's more…
Now it's time to discover the other 102 steps that will get more organic traffic flowing to your website. Get the SEO Checklist here.
Want to get a sneak peek of what it looks like?
Enter your email and get a free demo version of the SEO Checklist.
Have you learned anything particularly helpful in your SEO Journey?
Traditional SEO best practices and technic are pretty useless these days. Don't pretend Google is still the same as they were before the Hummingbird Update in the early 2010's. Once SEO hit the mainstream, everyone did the same tactics and best practices. This put Google back in the situation of not being able to properly tell true site quality. So obviously, they had to put in new search models and AI.
For that reason, there are virtually no shortcuts left. Especially if you plan for your earned rankings to stick. SEO is not a game for everyone. If you are risk adverse or have a tiny budget (against aggressive competitors), try a safer digital marketing channel.
What SEO tools do you use for your business?
There are a few tools that I use every single day.
1. Sitebulb – Just an amazing tool for discovering and fixing technical SEO issues. Easily the best around.
2. Pitchbox – for link building or any kind of promotion, this is a must have platform.
Give me an email address and a spreadsheet, and access to Google Analytics and Search Console, and I could do a bulk of my SEO with just those tools.
3. Ahrefs.com or SEMrush.com would be the third tool I use most often. It makes it much, much easier to take apart of competitor with the data these tools provide.
I love link building. Not just for passing PageRank (or whatever they call it these days), but simply for promotion. I never pursue a link on any website that doesn't look like it's loved by the owner, or loved by an audience. Why would Google heavily weigh a link that doesn't actually demonstrate usefulness to a visitor?
What have been the most influential books, podcasts, or other resources?
I use Blinkist.com, which is essentially providing short audible writeups of the main point of many business and marketing books. Maybe my best discovery of the last 5 years.
What's the next step in your SEO Journey?
I plan to keep following the ever-changing landscape. With more AI coming into play, it will be very interesting to see how people react to search engines in the future. Because after all, it's the Google users who decide what features stay and go.