My SEO Journey: Jae Jun from gorillaroi.com – Producing hard-hitting, value-adding, insightful evergreen content
My SEO Journey is a series where entrepreneurs and Indie makers share their honest SEO Journey filled with failure and success, and most importantly proven results. Episode #55 features Jae Jun from Gorilla ROI.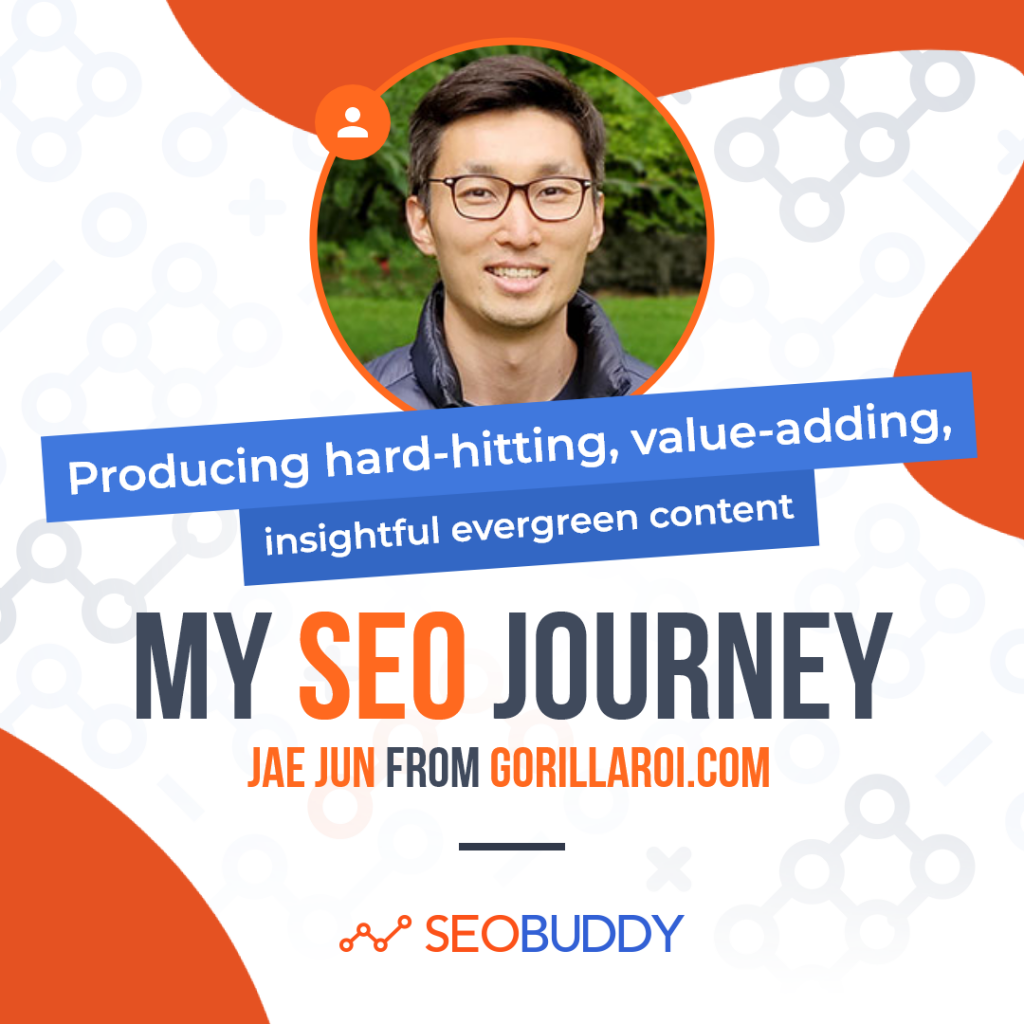 I'm Jae, founder of Gorilla ROI, a SaaS for Amazon sellers to pull Amazon data into Google Sheets to help sellers outperform their competition by making it easy to access data, create unique custom reports and improve efficiency with their data analytics.
My wife and I started a business with growth coming from Amazon. But as we grew, we were leaking a lot of money due to being reactive to issues. We'd run out of stock because of bad inventory forecasting decisions, wrong product mixes, overpaying fees.
A lot of my data analytics was manual. Exporting reports, manually cleaning it up, creating pivot tables, and then finally getting to the real work of finding insights and deciding what to do. And I'd be wasting 1-2 hours for a small business, working to get data.
So I came up with Gorilla ROI to help automate data collection into Google Sheets with the mission of making it super easy to get messy raw data into spreadsheets in a clean and organized way.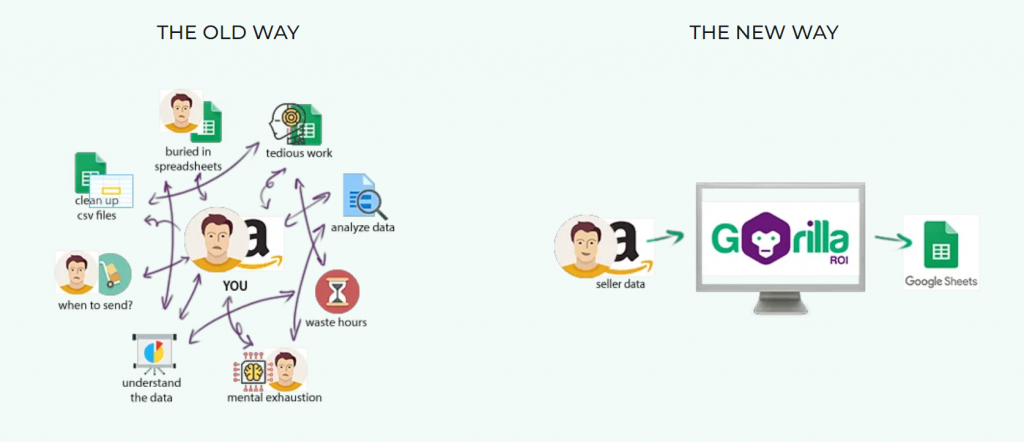 Our core customers are Amazon sellers and Amazon agencies who are data-driven and use spreadsheets in running their FBA business due to its flexibility. We definitely try to deter new sellers and non-spreadsheet people from signing up. It creates high churn and expensive customer service.
What's your backstory and how did you come up with the idea?
Our Amazon store was growing quickly but the lack of data analysis and ease of accessing data was a pain.
I don't like how we need to collect and update data manually. It's a very tedious and time-consuming process. The bigger you are, the more often it's needed, and the longer it takes. When you calculate how much time you are wasting on things that don't help grow or improve the business, you can see how much resources it eats up. It adds up quickly.
Because we were doing things manually, the slowness of updates, stale data, and human errors meant we were losing track of fees and other costs that kept slipping. $1 here and there may not be much, but when multiplied by tens of thousands of transactions – that's a lot of money.
I was able to solve most of these problems by creating my flagship product, Gorilla ROI.
A Google Sheets add-on that can call very specific data points with a regular spreadsheet formula. If you want to know how many sales a particular product sold on the 3rd day of the month, we have a formula for that. If you want to know how many reviews came in over the last 2 months, we have a formula for that.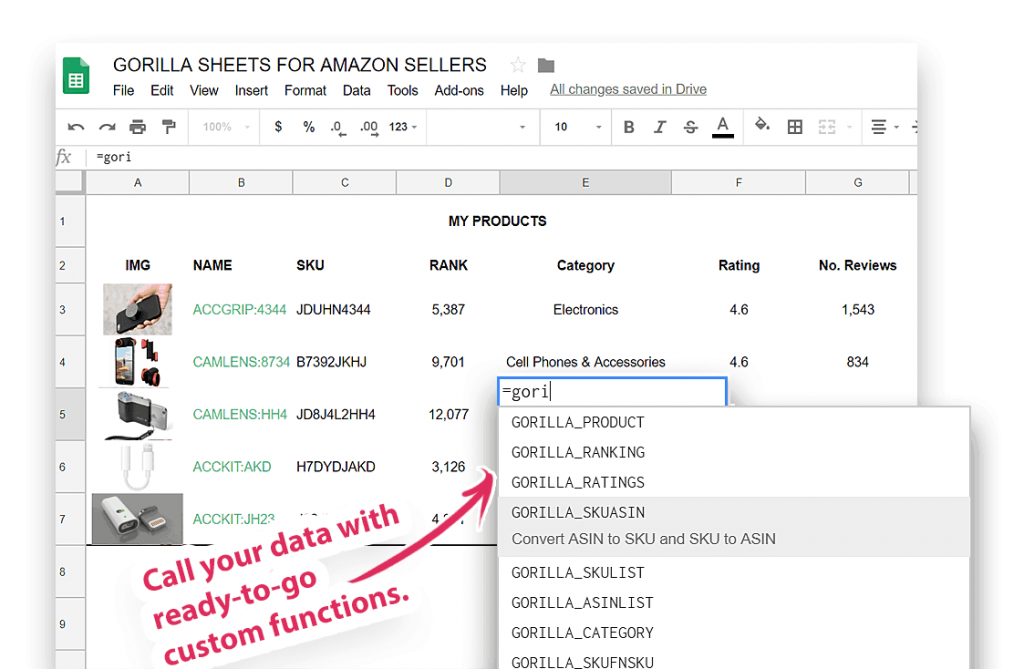 My background in this area is simply because I'm a spreadsheet nerd and I'm always looking for ways to pull data into spreadsheets directly and dynamically. The first validation was to scratch our own itch and I knew other sellers must have the same issue. I could see how Google was extending their products, and as more people switched from Excel to Google Sheets, I knew there had to be demand.
The goal from the beginning was to make it into the pointiest feature set in order to be a hyper-focused solution rather than an all-in-one / master-of-none solution.
I wanted to be the sought-after "brain surgeon", instead of the general family doctor.
Since launch, what has worked to attract more organic traffic?

Traffic growth has been steady because we offer a niche product with an audience willing to learn more about FBA business. Content marketing has always been my strength so I focused on topics that attract veteran Amazon sellers, offering insight that goes above and beyond the regular level of most blogs.
We offer hard-hitting, value-adding, insightful information that can only come about because we are sellers on Amazon and have grown more than the majority.
An example is our Amazon profit calculator that combines information and a free tool.
Another example is a free list of Amazon spreadsheets we offer for free when others charge for it.
We publish monthly income reports which are always read and followed because who doesn't want to know how much someone else is making. But we include real failures and wins as part of our journey. That level of transparency and genuineness makes it easy for people to trust us and earn their business.
We use Mangools KWFinder and Ahrefs for keyword research. We only use relevant keywords that have high search volume and low keyword difficulty as much as possible. In this particular industry, it's quality over quantity for us.
If we were doing affiliate marketing websites, we would pump out content as much as possible.
By being extremely narrow and focused on our core target audience, it's not hard for us to rank quickly and higher than bigger authority websites. Being the "brain surgeon" is our key strategy with content marketing. Not the "general doctor" which has more volume, but lower purchase intent and pain points involved.
Here's an example of an article that is the 3rd result on page 1 of Google. We were able to rank this even if we're not a trading blog or a law firm blog.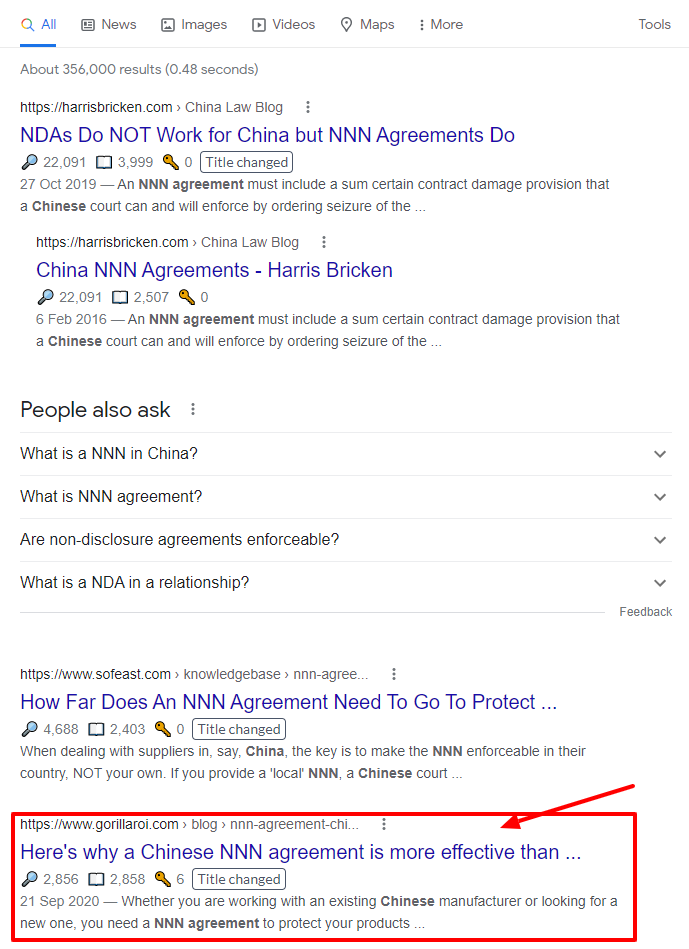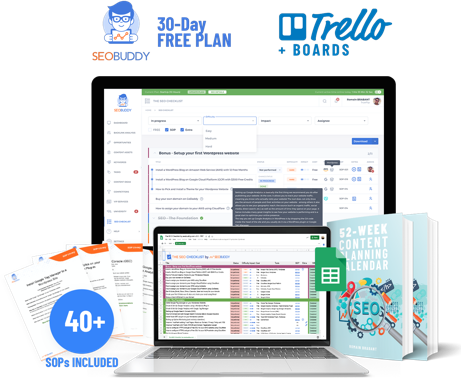 There's more…
Now it's time to discover the other 102 steps that will get more organic traffic flowing to your website. Get the SEO Checklist here.
Want to get a sneak peek of what it looks like?
Enter your email and get a free demo version of the SEO Checklist.
Have you learned anything particularly helpful in your SEO Journey?
The main advantage comes from having built a successful blog before from scratch purely from SEO.
I did that by being authentic and publishing no-nonsense content that's been carefully researched. I took the experience of knowing what worked in my previous blog and figuring out how I can apply the same principles but to another industry.
Free tools work really well, income reports, sharing deep insights that you'd normally have to pay a consultant for.
None of this is cheap or quick. Long-term strategies for evergreen content have always paid off for us.

What's your SEO Tech Stack?
Ahrefs is a great SEO tool if you want to track your keywords and audit your website.
Mangools (KWfinder) is an easy-to-use keyword research tool to find high volume low competition keywords.
Rankmath is something that I use to replace Yoast that has become ad-heavy and slow. It can compute readability and keyword density in an article. It will help optimize titles, URL length, SEO meta description, and more.
We use Surfer SEO for our writers. It's a tool that can help guide the writers to write optimized articles. It pulls in competing articles and generates optimal word count and the number of times you need to repeat supporting keywords. It also lists article snippets and questions that people are asking. This way, Surfer can help your articles compete.

I've done outreach to gain some guest posts and link exchanges.
Always hard work, but I like to cut to the chase with link requests to keep it simple and quick. Although it's 2021, I still do old-school stuff like trying to send signals to Google. Even if it's nofollow links, blog comments, I'll leave relevant comments so that maybe it will be a breadcrumb for someone to come back to our site.
I have a team that does this and an area I am looking to fully delegate and set up better systems for.
What have been the most influential books, podcasts, or other resources?
Tyranny of the Urgent
10 min booklet. It's a Christian book and is the basis for many other time management books that came after like "The 7 habits of highly successful people".
Traction: How Any Startup Can Achieve Explosive Customer Growth
An easy book to read and remember. The bullseye chart of the different distribution channels alone will improve your business.
The Goal: A Process of Ongoing Improvement
A classic book on operations and constraints that I wish I had read a decade ago. Business fiction that is engaging, relatable, and actionable.
How to Win Friends & Influence People
There's nothing I can add about this book. Timeless advice that you can read over and over.
An obvious must for anyone in the SEO game. Deep valuable content with lots of actionable insights.
Where can we go to learn more?
Please visit https://www.gorillaroi.com to see what I'm up to.
Check out all that we offer there especially if you have an Amazon FBA business.