My SEO Journey: Margot Daugieras from favikon.com – Unlike other marketing sectors, SEO requires time, but it serves as our most powerful marketing lever
My SEO Journey is a series where entrepreneurs and Indie makers share their honest SEO Journey filled with failure and success, and most importantly, proven results. Episode #135 features Margot Daugieras from Favikon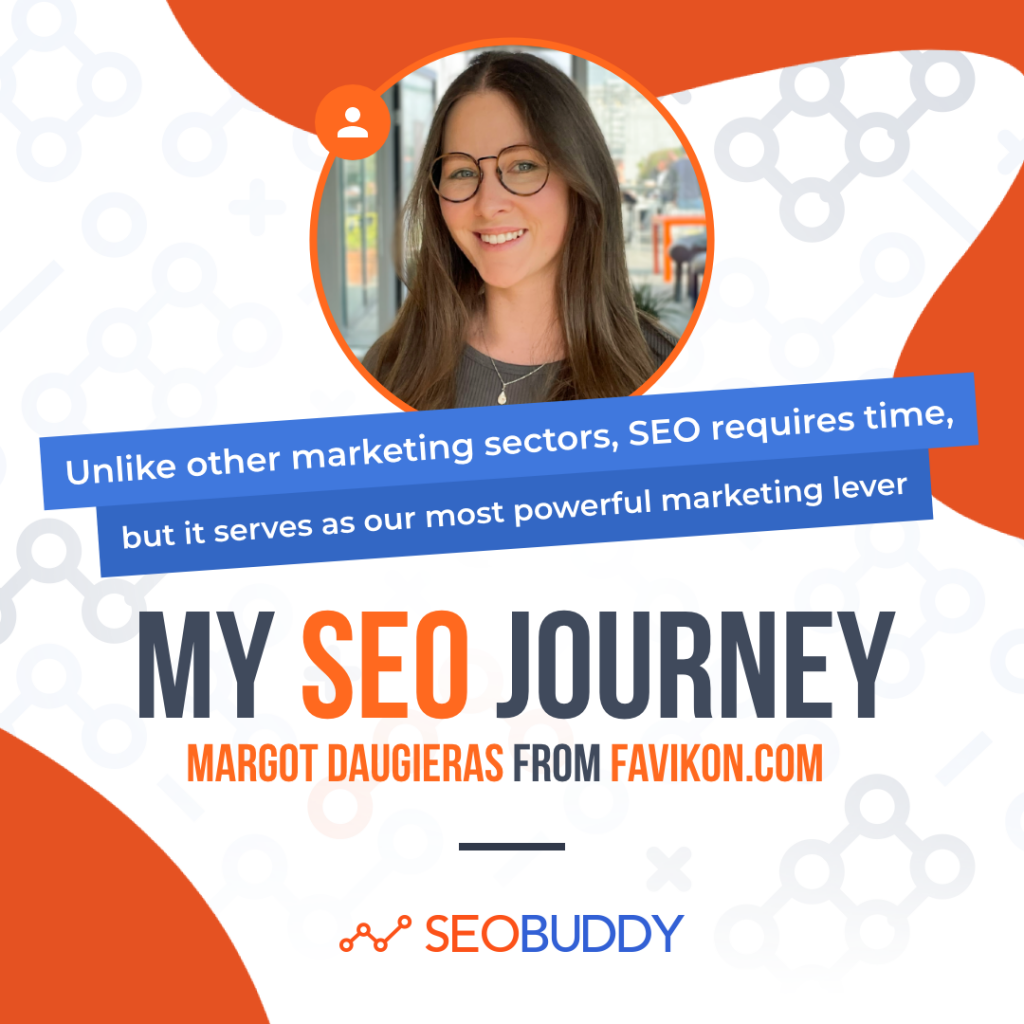 My name is Margot Daugieras, and I hold the position of Head of Marketing at Favikon. Having dedicated over 5 years to the field of marketing, I have gained extensive expertise in various aspects, with a particular focus on search engine optimization (SEO). Since I've joined Favikon, my professional journey has been enriched with invaluable experiences that have further deepened my understanding and expertise in SEO matters.
Favikon is an innovative influencer marketing tool that is designed to simplify the process of finding top-noch content creators within any particular industry or sector. We understand that identifying the right influencers for a brand can be a time-consuming and challenging. That's why we have developed Favikon, a platform designed to simplify this process and facilitate the connection between businesses and influencers who share their brand values and cater to their target audience.
What's company's backstory and how did the idea originate?
The emergence of influencers in companies' marketing strategies in recent years has presented new opportunities, but came up with significant challenges. Companies have recognized the importance of collaborating with influencers to enhance their visibility, reach their target audience, and strengthen their brand image. However, with the proliferation of content creators on social media platforms, it has become increasingly difficult to identify the most relevant and authentic ones for successful collaborations.
In this context, Jérémy Boissinot and Joni Shkurti conceived the idea of Favikon. They understood that businesses need an efficient tool to spot genuine content creators among the hundreds of thousands of available profiles. They also realized that capitalizing on the opportunities presented by the creator economy, requires a profound understanding of this transformative landscape.
Favikon uses artificial intelligence (AI) to analyze and evaluate content creators from all around the world across each social media platform. By harnessing this cutting-edge technology, our tool empowers businesses to filter and assess creators based on distinct criteria including content quality, audience engagement, industry relevance, and more.
However, Favikon goes beyond the mere search and selection of top influencers. We also recognize the importance of staying constantly updated on emerging trends and industry developments. That's why we recently introduced a new functionality focused on "creator listening." This feature enables businesses to monitor real-time industry evolution through the insights gathered from content creators on social media. It furnishes brands with invaluable insights on emerging players, emerging trends, and potential avenues for engagement.
I was thrilled to join this project at its launch three years ago. Being part of Favikon has been an incredibly rewarding experience, as we continue to revolutionize the way businesses connect with authentic content creators.
Whats the mission of the company?
Favikon was born out of the necessity to identify the right influencers from a vast pool of content creators. Our tool provides a global analysis and evaluation of creators, enabling businesses to discover the most suitable partners for their marketing campaigns.
Additionally, our "creator listening" functionality allows brands to stay informed about industry developments and seize emerging opportunities.
Since launch of your brand, what has worked to attract more organic traffic?
During the brand's launch, the absence of a showcase website posed a challenge in garnering attention for the project. Upon joining Favikon, I quickly created a showcase website using Webflow to simplify the process. This allowed me to create the site swiftly while ensuring responsive pages for SEO, while also providing a user-friendly environment for the marketing team to edit articles. Over the course of three years, I believe there were three key elements that helped boost our SEO efforts:
1. Creation of long-term targeted keyword articles: From day one, we have been consistently writing 1 to 2 articles per week focused on keywords related to the influencer marketing industry. This approach enabled us to quickly rank for 6,000 targeted keywords and refine our positioning over time.
2. Technical analysis and optimization: About six months after launching the website, our traffic growth stagnated, and we were unsure of how to proceed. I embarked on a thorough technical analysis of our site and identified several issues, such as indexed tool pages that were accessible only to clients and heavy pages due to oversized images. We spent two months to address these technical issues, resulting in a significant surge in our site's traffic. Currently, we generate approximately 500,000 site visits per year.
3. Streamlined user journey and conversion tracking: As a SaaS tool, approximately 80% of our sales process relies on inbound marketing. The showcase website and the generated traffic serve as the main engine of our business. Consequently, we invested time in simplifying the registration process on each landing page, providing clear explanations of our tool, and diligently tracking conversions.
Sometimes, providing too much information can slow down the registration process.
What has helped us progress the most is taking the time to identify important keywords and giving our all to improve rankings for those specific keywords. Of course, this approach will also lead to ranking for related secondary keywords. However, the most crucial aspect is to rank for your targeted keywords.
As a small business, we didn't immediately target the most competitive keywords like "Instagram influencer" since there is fierce competition in those areas. However, we noticed an increasing interest from brands in TikTok, and the keywords surrounding that platform had low competition two years ago. We employed a similar strategy for LinkedIn content creators, which weren't highly sought after two years ago but have now become a goldmine for businesses.
Unlike other marketing sectors, SEO requires time, but it serves as our most powerful marketing lever.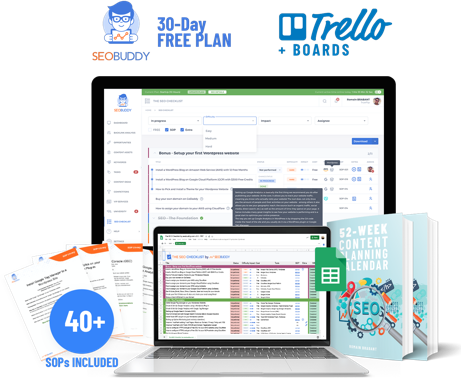 There's more…
Now it's time to discover the other 102 steps that will get more organic traffic flowing to your website. Get the SEO Checklist here.
Want to get a sneak peek of what it looks like?
Enter your email and get a free demo version of the SEO Checklist.
Have you learned anything particularly helpful in your SEO Journey?
I believe we didn't took the technical aspect of SEO seriously enough for a long time. Instead, we used to focus much more on content aspects such as creating articles and producing landing pages. While content is important, neglecting the technical aspects can be detrimental. Thankfully, we fixed this issue, but it took us a long time to make the necessary changes to each page, and Google also took a good amount of time to re-evaluate our site.
One aspect that didn't work well, in my opinion, was creating an excessive number of pages. For a while, I had read that having a large site with numerous pages was crucial for ranking. However, in reality, aside from articles, it wasn't beneficial for us to have too many pages because users would get lost and leave before converting. While traffic is important, we mustn't forget the primary objective: conversion.
By reducing the number of pages (excluding the blog), our conversion rate has significantly increased.
Ultimately, what truly matters in SEO is observation. Depending on your service/product and target audience, the user behavior on your site can vary greatly. There are certain rules that apply to all sites, but there are also many factors that depend solely on your audience.
What SEO tools do you use for your business?
There are many highly valuable SEO tools, but if I had to mention the ones that have truly helped me progressing, I would say Semrush and Microsoft Clarity.
Semrush is truly a goldmine when it comes to identifying the best keywords and tracking your rankings. We subscribed to Semrush a year after starting our SEO efforts, and it saves me an incredible amount of time on a daily basis. It is also the best tool for analyzing and managing backlinks.
Clarity allows me to gain deeper insights about our users. I have never been a big fan of Google Analytics, even though we use it, as I found the user experience quite subpar. However, when I discovered Clarity, everything changed. In my opinion, it is the perfect blend between Google Analytics and tools like Hotjar, which tracks user behavior and provides valuable user insights.
For Link-Building, we started by collaborating with marketing tools reference websites, which helped us acquire some really interesting external links. At the same time, we established three partnerships with non-competing websites in the same industry, with whom we regularly co-author articles.
This allows us to strengthen our own links while also enhancing the link profiles of these partner sites.
Furthermore, during significant launch periods, we always prepare a PR campaign to secure links from reputable media outlets. We believe in the power of building connections and relationships to amplify our online presence.
What have been the most influential books, podcasts, or other resources?
I primarily follow SEO content on LinkedIn to deepen my knowledge of the subject. Many creators share interesting tips, such as Brian Dean through his blog, Backlinko. I also follow the Search Engine Journal blog to stay updated on news and emerging trends in the field, as I don't have any SEO experts around me on a daily basis.
I've also consumed a lot of YouTube videos from the Ahrefs tool in the first year as well. Their tips are well-explained!
What's the next step in your SEO Journey?
Currently, we had to make a major change to the website because our target audience has slightly evolved, and the tool has evolved significantly. As a result, we had to modify a section of the pages, and we're starting from scratch with a large portion of the targeted keywords. Previously, our focus was centered around B2C influencer marketing, but now we have a lot more B2B keywords to target.
So, I would say that for the next few months, our goal is to establish a strong position in the B2B influencer marketing market. And over the course of the year, I would like us to surpass one million visits!
Where can we go to learn more about you and your company?
Shall we connect on LinkedIn? I regularly share my experience as a Head of Marketing (in French).
Feel free to add me: https://www.linkedin.com/in/margot-daugieras/
Learn more about our services: https://www.favikon.com/
Discover everything about influencer marketing: https://www.favikon.com/resources/blog
Follow our tips: https://www.linkedin.com/company/favikon/
Stay updated on the creator economy: https://twitter.com/favikon_
Meet our teams: https://www.tiktok.com/@favikonhouse