My SEO Journey [Pro Edition]: Joe Davies from fatjoe.com – Mastering processes with a 100+ team to earn up to 200 backlinks per day 🤯
My SEO Journey [PRO Edition] is a series where professionals of the SEO Industry, Digital Marketing, or Web Design, share their honest SEO Journey filled with failure and success, and most importantly proven results. Episode #34 features Joe Davies from FATJOE.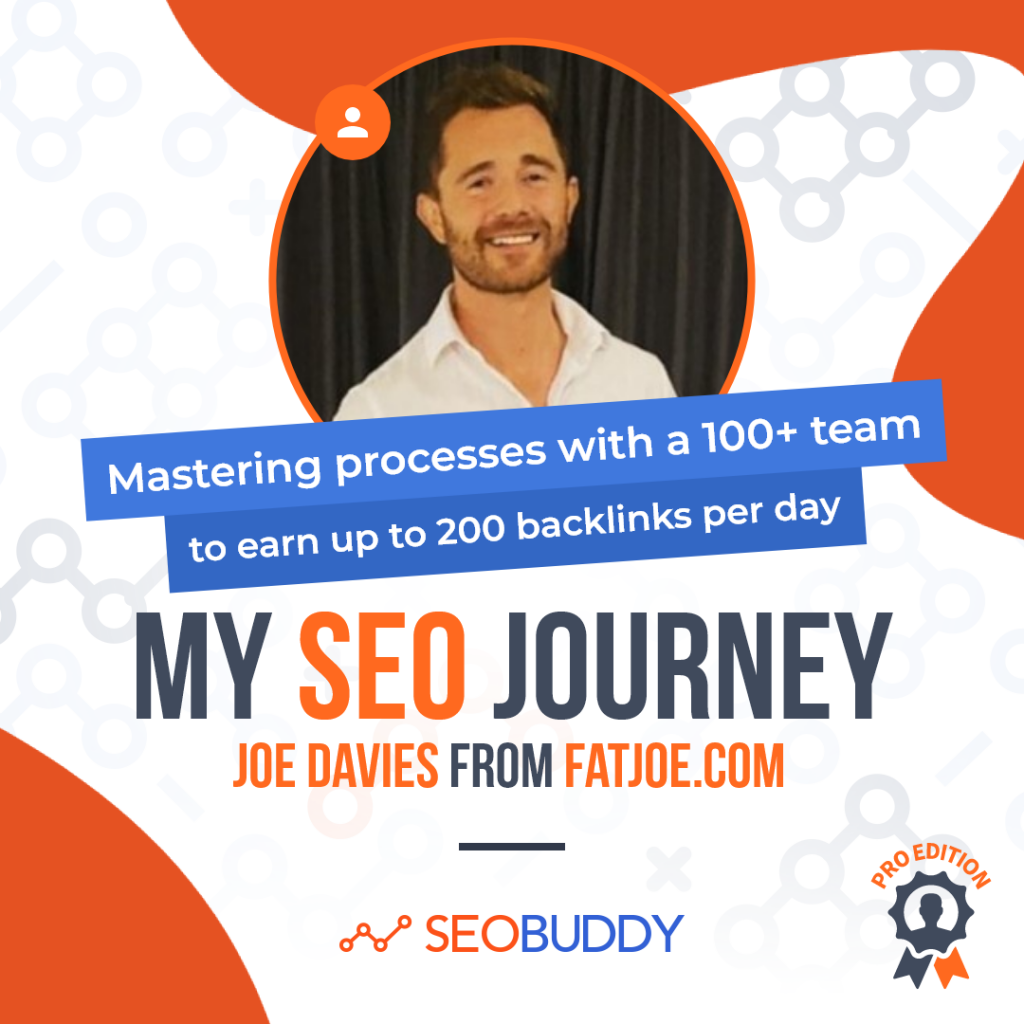 Hello! My name is Joe and I co-founded FATJOE.
We're a marketplace for agencies, covering everything from link building to content & video.
Our flagship product is Blogger Outreach. We really nailed down the process for this link-building service and can deliver quality placements at scale.
FATJOE.com aims to take all the hard processes of marketing and package them up into products for agencies and in-house teams. Our team is now a 100+ operation, with a core office in Birmingham, UK, and specialist teams remotely working all over the world.
What's your backstory and how did you come up with the idea?
So, me and my business partner came from an SEO agency. We were deep in the trenches, selling the SEO, building the campaigns, and then executing on the campaigns.
As the SEO agency grew, we experienced firsthand how important outsourcing was to scale up our client deliverables without having to increase overheads.
Outsourcing, however, created a lot of vendor clutter.
We had link-building guys from a forum. Content writers from Upwork. Designers from a contact on LinkedIn. An outsourced company submitting press releases. Video production gig on Fiverr. Clutter.
This became very hard to manage, and quality wasn't consistent.
Deliverables would be sent in CSV's, PDF's, sometimes even text files. When we had large volumes to complete, some vendors couldn't manage. We even had some vendors disappear.
It became increasingly hard to collate the deliverables for clients and manage all the various vendors.
We needed a trusted, single source for our outsourced services. A platform, or company that could give us consistent quality, guaranteed delivery dates, fanatical support, and ready to send white-label reports.
There wasn't a solution out there, so we created it. FATJOE was born.

Since launch, what has worked to attract more organic traffic?
Organic traffic was steadily built up as we promoted using guest posts and press releases. We ranked for popular link building and outsourcing terms early on. There weren't many others at the time offering an agency solution.
We blogged a lot in the early days, and this gained a lot of links, but our biggest link earners are our free tools.
From very early on, we created FATRANK, a free lightweight ranking tool for Chrome (now available in iOS and Android too). This gained lots of traction and exposure.
Using the same methodology we launched a Blog Title Generator, NoFollow Highlighter, and an Infographic Embed Code Generator.
These tools over time gained lots of links but also started ranking in their own right, giving us lots of marketing-related traffic we could nurture into paying customers.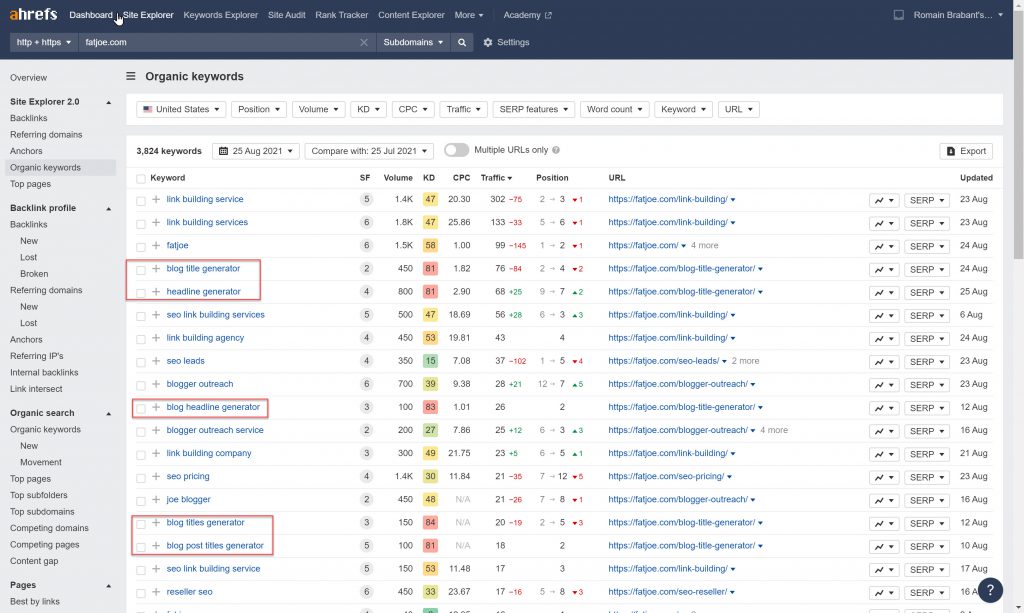 Have you learned anything particularly helpful during your SEO Journey?
Start globally
We started on fatjoe.co.uk – and quickly moved to fatjoe.com (after years of trying to buy the domain). This cost us a lot of SEO equity and inconvenience in the short term.
Get an office
Although most things can be done digitally, an office in the early days made it real and we took the business very seriously.
Do it together
A business partner can work wonders. If one of you is more technical, and the other more commercial-minded, it's a match made in heaven.
Create processes for everything
Everything we do regularly is process-driven. From how we answer emails, produce reports, staff training, and stock up the fridge.
This removes the chances of errors and keeps things lean and efficient.
What platform/tools do you use for your business? (your SEO Tech Stack)
Ahrefs – I feel everybody is going to include this one. It's just the all-in-one research & audit tool for SEO. We use it when prospecting, auditing, and just generally researching SEO.
Help Scout – this tool has become our customer support secret weapon. It ensures we never miss an email, and we can keep track of support ratings right inside. We also create custom workflows to automatically email customers if they perform certain actions. This also handles our online chat.
AirCall – this tool allows our staff to take calls to our office number right from their own mobiles when working from home. It allows us to create local country numbers too (for AU, and US) and redirect them to our support team. It's very clever in the way you can create rules and automation, even custom greeting tones.
Calendly – great for scheduling meetings with potential clients.
Hubstaff – we track all of our products using Hubstaff. It also handles Payroll for our contractors.
Trello – We use this to manage our projects for Marketing, Operations, and Development.
Google Workspace – Our emails, online documents, spreadsheets, and chat communication are all handled within Google Workspace.
Hireflix – we currently have some BIG hiring campaigns for developers, writers, and SEO specialists. Doing video interviews with all the candidates was taking around 4-5 hours per day, and blocking out a lot of our calendars.
Since integrating Hireflix into our hiring process we now send videos a link, in which we ask them pre-recorded video questions. They record the answers in 2 mins or less, and we get the completed video file to review at a time convenient to us.

Our own link building to FATJOE is quite autonomous these days. Our tools and blog posts and now videos attract very high-quality links.
For clients, we use Blogger Outreach and Niche Edits as our main form of link building.
This includes very extensive prospecting and emailing using Pitchbox. From there we supply high-quality content written by one of our talented writers and use it to encourage links back to our clients.
Here is our process:
When we have a link-building order from one of our clients, first of all, we will use simple Google searches and Ahrefs to build a long list of prospective bloggers within a certain set of metrics and traffic.
With this list, we will then use our system Ahrefs API to cross-reference existing links from domains (to avoid duplicates).
One of our outreach teams will then go through a personalization outreach process, writing one line of personalized information against each prospect.
For example, "Great post about Labrador training!". This increases the response rate.
Along with the personalization, we ask the blogger if we can contribute a similar post.
When the responses flood in, we use a secondary quality control to ensure the sites hit all of our guidelines: No guest post only sites, no "Write for me" pages, no PBN, no bad neighborhood IP's, etc.
After that, we negotiate the content with the blogger and have one of our talented writers write either a completely new post for the blogger or an additional piece of content for an existing post (niche edit).
This is our process in a nutshell, and we're currently landing over 200 placements per day across all of our clients.
What have been the most influential books, podcasts, or other resources?
To name a few marketers I follow and listen to when it comes to SEO or general marketing: Matt Diggity, Authority Hacker, Glen Allsopp, and Stacked Marketing Newsletter.
I think you can pretty much keep your finger on the pulse with the above resources, and this is pretty much all I listen to these days, to keep the noise low.
Where can we go to learn more?
FATJOE.com – my company website
You can find me on Twitter at @fatjoedavies
You can email me at [email protected]