My SEO Journey [Pro Edition]: Usama Bin Qasim from enzipe.com – Consistent SEO Analysis and Tweaking is the Way to Success
My SEO Journey [PRO Edition] is a series where professionals in the SEO Industry, Digital Marketing, or Web Design share their honest SEO Journey filled with failure, success, and most importantly, proven results. Episode #136 features Usama Bin Qasim from Enzipe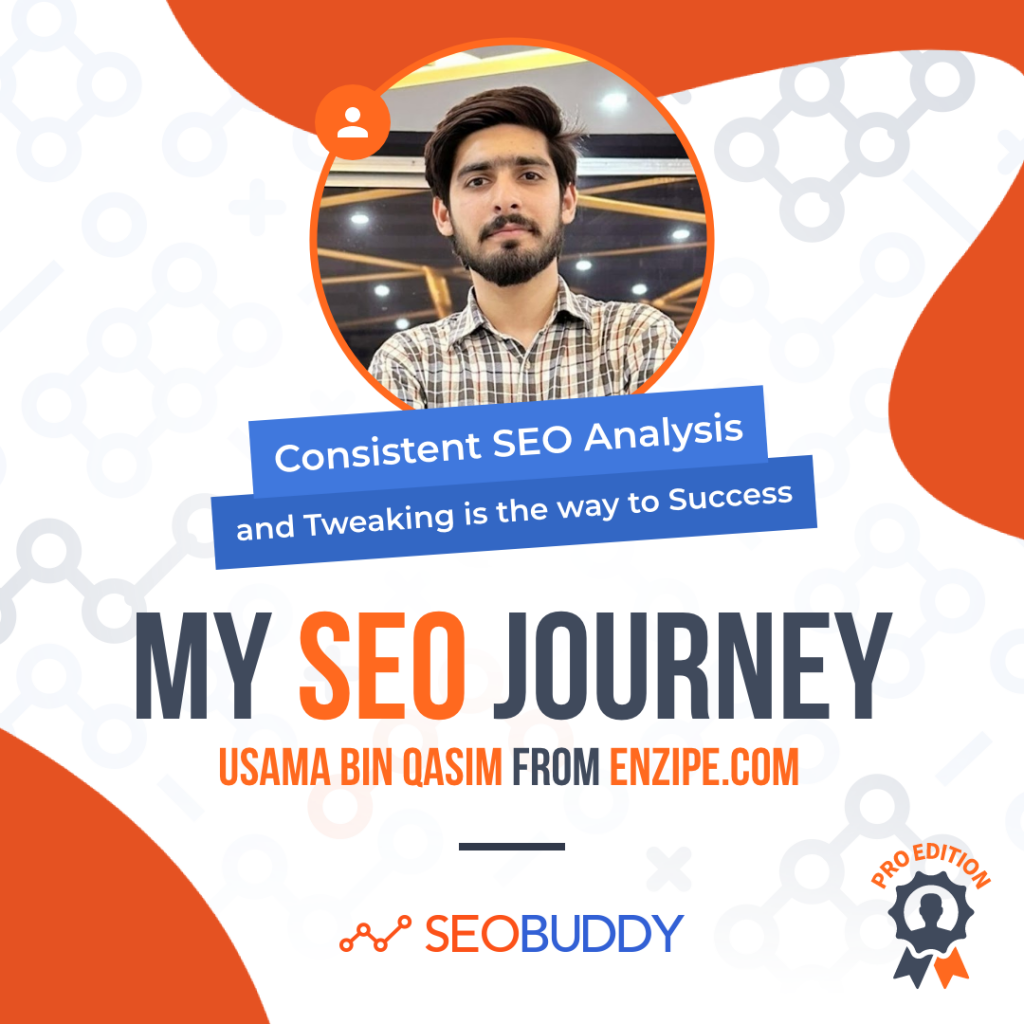 Hey there! This is Usama Bin Qasim, the SEO Product Manager and Team Lead at Imagetotext.info. As of now, this website is performing as a thriving online tool. But how did I manage to achieve this success? Well, that's what I will share with you today.
What's your backstory, and how did you come up with the idea?
The start of my career as an SEO expert was via an internship at a local software house. There, I worked for about three months, during which I learned valuable things. After completing this internship, I knew I wanted to be a full-time SEO professional. In other words, this experience ignited my passion.
My SEO Journey At Enzipe
Once I knew the basics of Search Engine Optimization, I started my search for jobs. Fortunately, I found the perfect fit. In March 2021, I joined Enzipe. It is a diverse company that has developed various online tools for content optimization and related tasks.
As an SEO person, my task was to improve the search engine ranking of these tools' websites. In my early days, I was given targets like getting authoritative backlinks from various sources. And I can say with surety that I achieved, if not exceeded, all my given targets.
With time, I gained more and more experience. I learned from my mistakes and setbacks. Soon, my efforts were noticed by the company when they promoted me to the position of team lead. Now, I manage a team of fresh and experienced SEO workers. Together, we build the authority of sites from scratch and elevate their organic rankings.
Websites I have worked on
I have been assigned to work on various websites at my current company. Let me give you an overview of all these sites.
All these sites are ranked at decent spots in search engines. I have managed to secure a first position for some of them as well. But don't worry, as I will share my secrets with you shortly.
How I increased organic traffic from 300 to 1.3 Million Per Month?
Out of all the sites I have worked on, some of the most satisfactory results were shown by imagetotext.info. I have fine-tuned its search engine performance to such a level that it gets 1 million + clicks every month.
Some of the strategies and techniques I applied to achieve this are explained in the following.
When I was assigned to polish this website's SEO, it was only getting around 300-400 monthly clicks. And the reason for this was quite evident. The site was not optimized for any of the traffic-attracting keywords. I noticed this issue and worked to fix it.
I diverted my efforts toward finding the best keywords for the site. I was aware that having a single focus keyword was not enough. That is why I researched various secondary keywords as well.
Moreover, I also utilized long-tail keywords to decrease competition and rise up in the search engine rankings. To further broaden this network of keywords, I also searched semantically related or LSI keywords to insert in my site content.
Other than keywords, I found out that adding relevant FAQs can get you featured in Google Snippets. I made use of this information and added such FAQs in various tools' content on my website.
Another flaw that I noticed in this site was its content. The homepage content was poorly optimized. On the other hand, some tools on the site didn't have any content at all. So, I decided to redo the content totally. With the help of company content writers, I optimized this site's content with keywords, valuable information, and clear communication.
I also created a Blog page for the site where various highly optimized content is published.
Since the trend of keywords is ever-changing, I made sure that our site content remains updated according to those trends. I kept an eye on these trends and re-invented content regularly.
Another important thing I did was analyze our competitors to learn how they adjust keywords in their site content naturally and what keyword density they are using.
After collecting all this data, I compiled a plan where certain keywords needed adjustment in tool content. With trial and error, this plan worked out, and I utilized the best keywords for the site.
After improving the traffic of my site to a decent amount, I came up with the idea to make this website multilingual. This would make imagetotext.info accessible to people who speak other languages.
Implementing this idea was a tough task. But despite the challenges, I was able to get my tool content translated into 20 different languages. And all this content is optimized for different keywords.
This helped me gain traffic from various regions around the world. And this traffic enhanced the authority of my site considerably.
One thing I have learned about SEO is that there is always room for improvement. That's why it became a habit of mine to perform technical and other audits of the website. This kept me constantly updated on what aspects of the site needed tweaking.
These are some common issues that I noticed and fixed for imagetotext.info:
Canonical tags
Redirects
404 pages
Indexing and Crawling Issues
Other than these technical issues, I also kept an eye on the speed and responsiveness of my website.
Also, I made sure that the tools were working efficiently and in a quick manner. I monitored their performance on different devices like mobiles and tablets as well. In short, I made sure that users on all platforms could use my tool with utmost ease.
For further certainty, I tracked user behavior with the help of tools like Microsoft Clarity. This showed me all the problems users were facing. Consequently, I was able to fix them and improve user experience.
Audits of one's own site are essential. However, another thing to keep in mind is the off-page audit. This way, you can find broken links. Since such links damage your site's authority, you either need to restore them or remove them. Other strategies that I followed are given below:
I made sure that anchor distribution was fine
I calculated the ratio of no-follow and do-follow links
I searched for spammy backlinks and disavowed them
These simple steps helped me keep my Off-Page SEO flourishing.
As a result of all the above-mentioned efforts, I achieved desirable results. My sheer determination helped me achieve great outcomes.
The organic traffic statistics for the past 3 months are shown in the image below:

Here is Image to text monthly traffic stat from Ahrefs: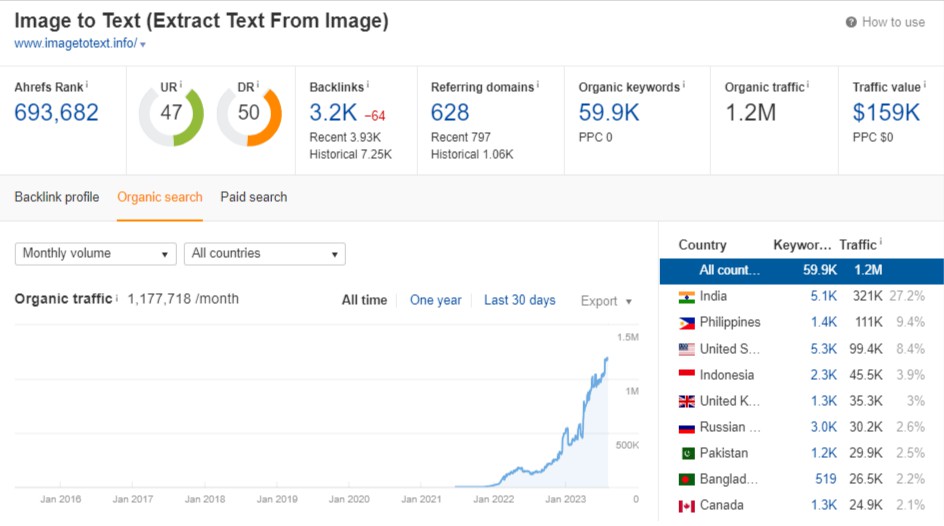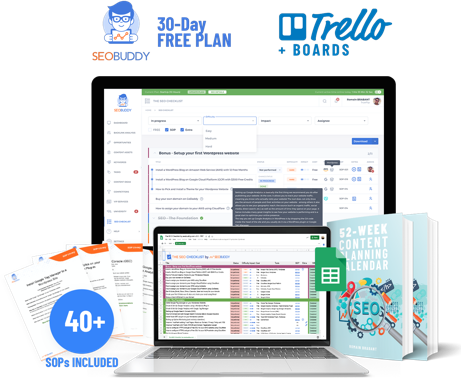 There's more…
Now it's time to discover the other 102 steps that will get more organic traffic flowing to your website. Get the SEO Checklist here.
Want to get a sneak peek of what it looks like?
Enter your email and get a free demo version of the SEO Checklist.
What SEO tools do you use for your business?
There is no doubt that optimizing a website for search engine ranking requires assistance from certain tools. These tools can be analytical utilities, keyword research tools, or overall SEO toolkits.
Over the years, I have used multiple tools for different SEO tasks. I think that the tools listed in the following worked best for me.
Ahrefs – As my main SEO toolset
Screaming frogs – For site audits
Semrush – For organic and paid traffic-gaining campaigns
Moz – For domain audits
ISearchfrom – For location-based search trends
Google Search Console – For monitoring and fixing site issues
Google Trends – For content ideas
Google Analytics – For traffic and other analytics
Yoast – For WordPress CMS-based websites SEO
Answer the Public – To find all possible long tail Keywords
With experience, I have realized that link-building is the best way to up your authoritativeness in the eyes of a search engine. Many professional SEO experts will agree with this.
Here are some of the ways that I found very effective for successful link-building. I have personally used all these methods for imagetotext.info's and many other projects success.
Guest Blogging
Influencer Outreach
Building Relationships with Webmasters
Epic content promotion
ABC Link Swap
Social media
Forum or blogger communities
Brand Mentions
The Power of Continuous Learning in SEO
You might have noticed already that my SEO strategy involves continuous work. You can always look for betterment. Everything from your website design to your backlinks needs constant oversight.
This non-stop hustle results in continuous learning. Even after three years as an SEO professional, I still learn new things that benefit me and my campaigns. So, if you take one piece of advice from me, have this:
"Constant SEO learning is the way to success."
Which SEO influencers have I been following?
I have always had SEO personalities whom I look up to. I have learned a number of different valuable lessons from these professionals. Some of the prominent ones among them are:
Matt Diggity (YouTube)
Neil Patel (Ubbersuggest)
Brian Dean (Backlinko)
Daniel Foley Carter (Linkedin)
Fery kaszoni (Likedin)
Seroundtable (Blog)
Matt Diggity (Youtube)
John Mueller (Twitter)
Barry Schwartz (Twitter)
What's the next step in your SEO Journey?
My motto about constant learning is because of the ever-changing horizon of SEO. SEO constantly evolves and introduces new developments every now and then.
For example, nowadays, the integration of AI in everything has affected this field. Google and other search engines are adopting NLP search algorithms. This can potentially revolutionize the way in which keywords function. But if that happens, I will be ready to learn all about it and try my best to implement the new strategies.
In the same way, if any other new strategies are developed, I will adopt them as soon as I can.
Where can we go to learn more about you?
If you want to Hire me for your SEO project or any further guidance about my SEO techniques, then you can contact me on the following platforms:
Linkedin: https://www.linkedin.com/in/usama-bin-qasim-ubq277/
Email: [email protected]