My SEO Journey [Pro Edition]: Kaleem Ahmad from enzipe.com – How I made my SEO writing more creative with Paraphrase Online?
My SEO Journey [PRO Edition] is a series where professionals in the SEO Industry, Digital Marketing, or Web Design share their honest SEO Journey filled with failure, success, and most importantly, proven results. Episode #141 features Kaleem Ahmad from Enzipe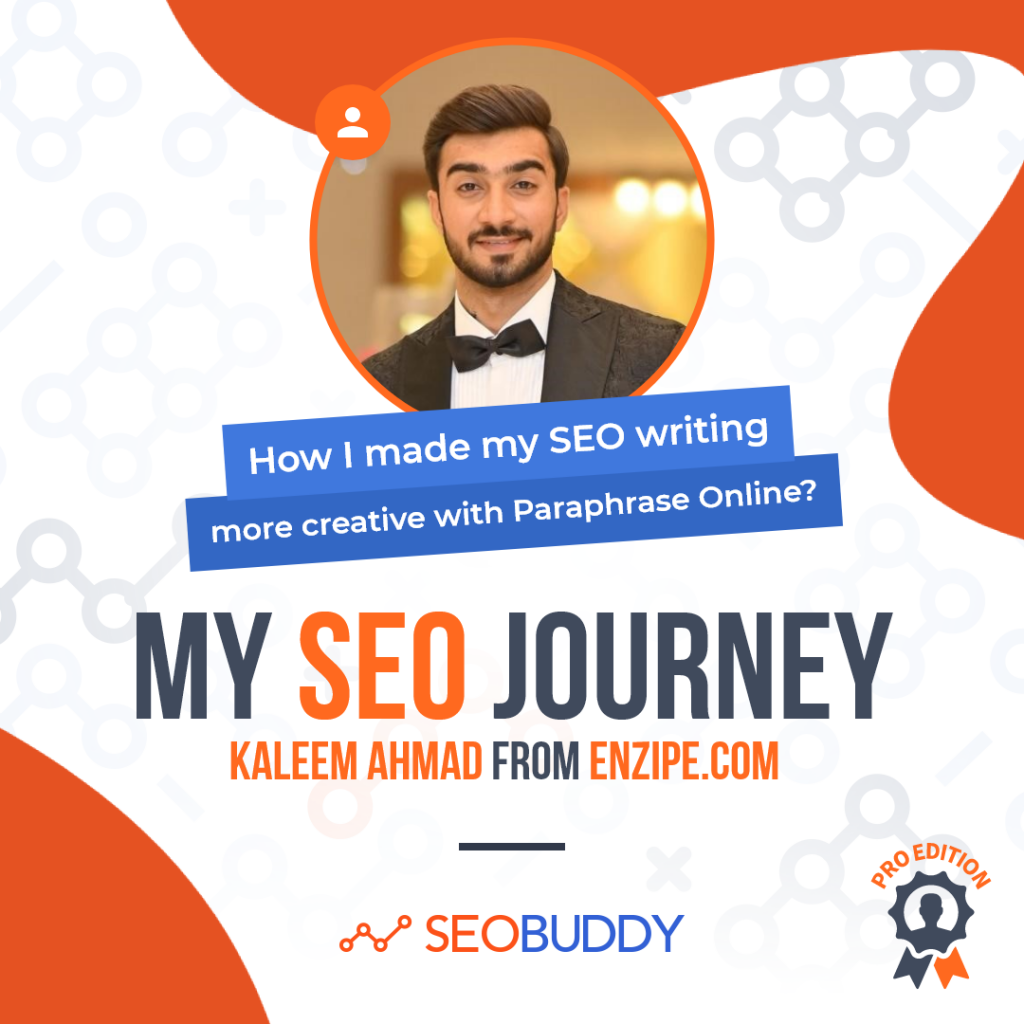 My name is Kaleem Ahmad, and I'm an SEO expert and a content writer. During my journey, it was really hard for me to write fully SEO-optimized content that ranks high on search engine result pages (SERPs).
You know that there are many things you need to follow while writing perfect content. For example, the content should be, readable, engaging, plagiarism-free and also with keyword cluster if you want to rank it high on SERPs.
So, one day, my friend, who is also a writer, introduced me to an online paraphrasing tool called Paraphrase Online. I first thought this was also a normal paraphraser like others, but after using it, I was out of words.
For me, it was a free available treasure from which I can take a lot of benefits. It has helped me a lot in my SEO writing and changed my bland writing to more creative, which persuades the readers to click.
Paraphrasing tool by Paraphrase-Online.com has helped a lot in my SEO writing and made it more creative.
So, here I'm going to share my SEO journey and show you how I made my SEO writing more creative with Paraphrase Online.
What is Paraphrase Online?
Paraphrase Online is free AI paraphrasing tool that works to rephrase the given text by changing words and restructuring sentences while keeping the original meaning the same.
This is all done because of its highly advanced artificial intelligence (AI) algorithms working on its backend.
These algorithms first analyze the text and then replace the majority of words with appropriate synonyms. Besides, a useful benefit that you can get from this paraphrase tool is it can improve the tone of the content like you want.
This can be done with its five different rephrasing modes. Each mode works differently and can make changes in the text.
For instance, if you choose mode Word Changer (the first mode of Paraphrase-Online.com), then it will work to optimize the tone of the given text to be more fluent.

So, this was all about what Paraphrase Online is. Now you know what this paraphraser is capable of, let me show you how it helped in my SEO writing.
How Paraphrase Online Has Made My SEO Writing More Creative?
Here, I'm going to show you how Paraphrase Online has made my SEO writing more unique and creative.
Keyword Adjustment
If you have a good knowledge of SEO, then you must know what the keyword is. It is a word or group of words that users use on search engines when looking for something.
In content, they are used to rank the blog or site higher on the search engines.
However, the majority of people use an excessive number of keywords in the text, which leads to keyword stuffing. When this happens, search engines think it is used to manipulate search ranking, and as a result, they lower the site ranking.
I have also faced this issue at the start. Whenever I used the same exact keyword more than 20 times or more, they didn't rank well on the SERPs and didn't get the traffic I expected.
Then, I used the Paraphrase Online, which changed my perspective about reviewing the content. It finds those keywords that are repeating simultaneously and then changes them with synonyms (which I named secondary keywords).
Let's take the example of the keyword "paraphrasing." If you use it all in your content, then it leads to keyword stuffing. But, this AI-powered paraphrasing tool by Paraphrase-Online.com can change it to "rewording" or "rephrasing," which are also keywords.
If you don't believe my words, then check out the output results of Paraphrase-Online below. The mode I have used for this is "Word Changer."

So, this is how Paraphrase-Online helps me widen my research on keywords and helps me avoid keyword stuffing.
Optimize Content Readability
SEO writing doesn't mean only optimizing the content for search engines. SEO content is that which is optimized for both search engines and the audience. Let's think in that way.
Every content is written for a specific audience. But if you only care about ranking high and don't give proper attention to readers, then how will you be able to get traffic or clicks?
So, the main concern of your SEO writing is that it should be optimized for both readers and search engines. For the audience, the content should be readable and easy to understand.
Believe me, readability matters the most for your SE rankings. It's the ease with which a normal reader can easily read and understand the written text. It helps to persuade the readers to stay longer on the website.
When this happens, like a reader staying for a long time, it increases the dwell time and lowers the bounce rate of the site. And when search engines notice such activities on your site that readers are staying for long on your site, they rank it high on SERPs.
They think you are providing useful information to the users, which is helping them find what they were looking for.
In the case of readability, I always used Paraphrase Online, and it has helped me a lot. It provides me with different ways to express my thoughts to readers in a readable manner.
It can change all the complicated words in the text with easy synonyms and also break lengthy sentences in a unique manner. And the best part is it doesn't change its context and make it readable.
Let me show you how this AI-powered online tool helps me whenever I want to make content readable.
For this, I have written a difficult paragraph by myself and pasted it in the given box. The mode I choose for this purpose is its "Sentence Rephraser," and the output is shown below.
The purpose of using the "Sentence Rephraser" mode is it works more effectively than the "Word Changer" mode to make text readable.

Using Paraphrase Online has helped me a lot to improve the readability and increase the dwell time on site.
Protect Content from Plagiarism
Plagiarism is the worst issue that most writers face while writing. It happens when they copy someone else written work and represent it as their own without even crediting the real author.
In the field of SEO writing, it can lead to various issues if found in the content, such as low ranking, site penalty, etc.
If you also face such issues in your life, then it will bring no benefits but drawbacks. I also face this issue sometimes when I write any blog or content.
But Paraphrase Online has also got my back here, just like in other cases. It has helped to write plagiarism-free SEO content that ranked high on the search engines.
As you know, Paraphrase-Online.com works to replace words with synonyms and restructure sentences.
So, whenever you paste a text in the tool, it analyzes it and rephrases it completely, and doesn't change its context. This all leads to making the given text plagiarism-free.
Below is the image of the output I get from Paraphrase-Online. I have pasted a sample text in it, and the rephrased version is in front of you, which looks almost new.
The mode I used here is again the "Sentence Rephraser." The reason is, other three modes of this tool are premium.

In this way, it brings more creativity to the content and also makes the SEO writing plagiarism-free. In other words, it is an all-in-one package for writers that can help them in various ways.
So, these were the benefits of Paraphrase-Online.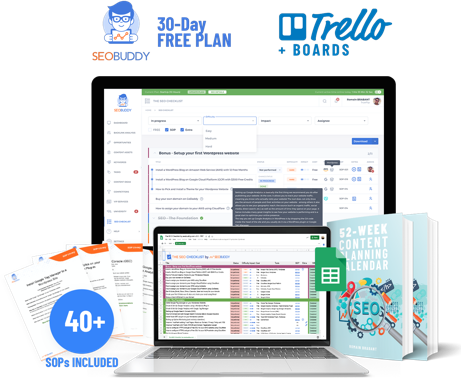 There's more…
Now it's time to discover the other 102 steps that will get more organic traffic flowing to your website. Get the SEO Checklist here.
Want to get a sneak peek of what it looks like?
Enter your email and get a free demo version of the SEO Checklist.
What Other Tools Do You Use for Your SEO Writing?
I know that Paraphrase Online helps me a lot, but in some cases, I have also used some other online tools to write perfect and fully SEO-optimized content that ranks well on SERPs. So, I'm going to show you those tools and their purposes.