My SEO Journey: Ed Latimore from edlatimore.com – Why finding your voice and producing content you're passionate about are the best SEO hacks
My SEO Journey is a series where entrepreneurs and Indie makers share their honest SEO Journey filled with failure and success, and most importantly proven results. Episode #43 features Ed Latimore.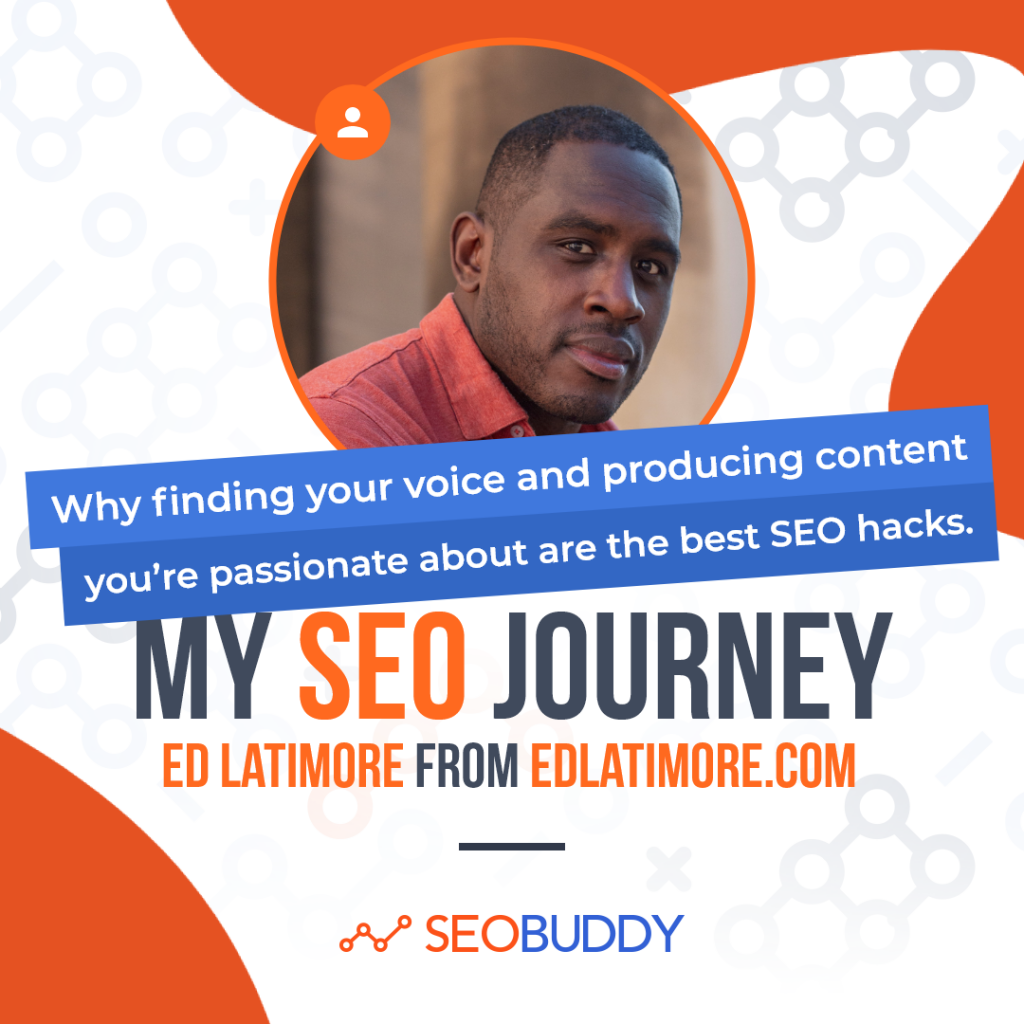 I'm Ed Latimore. My website, edlatimore.com, focuses on overcoming addictions, dealing with trauma, and developing practical applications of stoicism and forgiveness to improve the relationship you have with yourself and others.
My website is broken down into five categories:
Mental mastery,
Physical mastery,
Emotional mastery,
Money skills,
and addiction & sobriety.
To supplement the free information on my site, I have various books and courses to help people develop in these areas.
What's your backstory and how did you come up with the idea?
I grew up poor in public housing projects, but I managed to move out when I was 18, and I've never been back. I spent most of my 20s doing two things: drinking to excess and boxing.
The former almost destroyed my potential to go far in the latter.
However, I eventually quit for good on December 23rd, 2013.
Drinking was my "keystone habit." Once I got that under control, the rest of my life similarly organized itself. I was able to focus on being an even better fighter and writer. I even went on to earn a bachelor's degree in Physics. During this time, I was writing about my life and journey on my website.
I tried different blogs in the past, but I had trouble finding my "voice."
As a result, the blogs either never took off, or I lost interest in producing content for them.
The thing that made this blog stick is that I found my voice: writing about what I'd learned the hard way to ensure that other people could learn it the easy way. I could help others overcome their challenges because I'd overcome so many of my own.
Since launch, what has worked to attract more organic traffic?

Attracting organic traffic balances writing what you care about and writing about people's search intent.
I'm fortunate because I had no idea how SEO worked when I started working on my blog. I was just writing what I wanted to write and getting links naturally via guest posts and interviews.
I didn't try to stuff keywords or trade backlinks, mainly because I didn't understand that stuff. I figured—somewhat naively—that all I had to do was write good content.
So this is what I focused on, and thankfully, it worked.
I was trying to be helpful within my realm of expertise. I don't even think that I was a good writer, but I was an authentic one. I wrote about things like growing up in public housing, my struggles with alcohol, and boxing.
These were things with which I had a lot of expertise.
Producing content you're passionate about is the single best tip for attracting organic traffic. This strategy will allow you to create a lot of content centered around the idea. Your content didn't always need to have similar themes and concepts.
However, recent updates to the Google search algorithm have made it vital that you produce a lot of content around the same theme. Google establishes your authority on a topic, and it's a ranking factor for your site.
The easiest way to establish authority is to write about something from different angles. For example, I have an article about my lessons from drinking, how to stop drinking on your own, how to socialize sober, my favorite non-alcoholic drink, etc.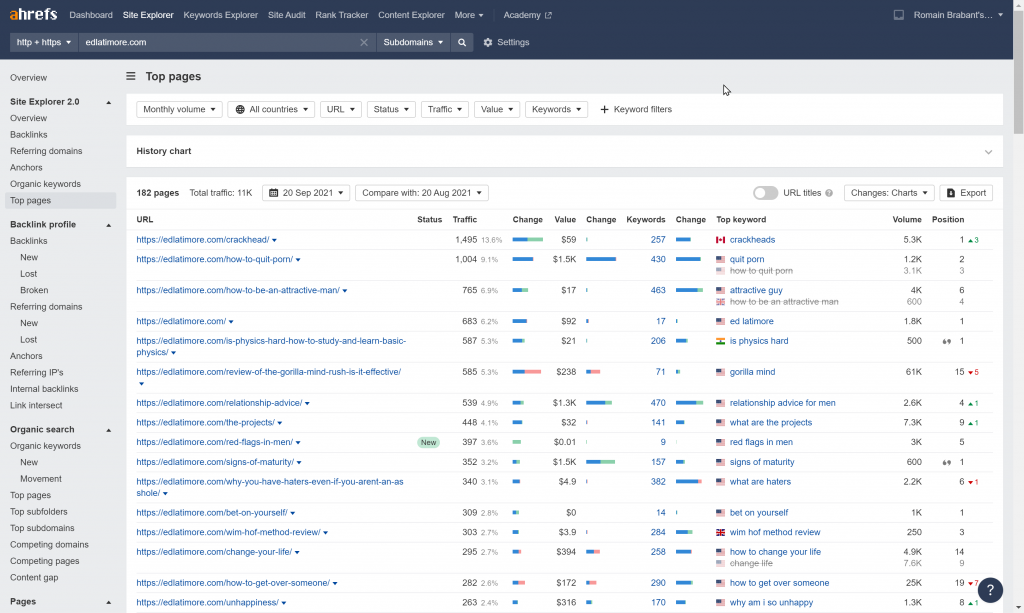 Another helpful thing for attracting organic traffic is living a life or developing a product that supports your content. These things make it easier to sell your content. More importantly, this makes it easy for people to look you up to interview you or give you an opportunity to guest post.
If your content is good and you've got a story, business, or product as a sort of "proof of work," then you will have several interview opportunities. These interviews will grant you backlinks to your website, which increase your website's domain authority and improve its ability to rank for keywords.
One last thing that will help you attract organic traffic is if you spend time growing a social media platform. It doesn't matter which platform it is, so long as it promotes articles and drives traffic.
Compared to a blog, social media growth is typically faster.
The trade-off is that the clickthrough rates on a social media post are lower.
With that said, it's unofficial common knowledge that social media shares are considered a ranking signal for SEO. You lose nothing by promoting your post on your social media, while you stand to gain exposure and SEO rankings by doing it.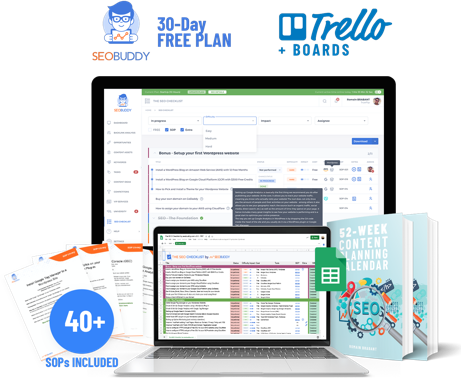 There's more…
Now it's time to discover the other 102 steps that will get more organic traffic flowing to your website. Get the SEO Checklist here.
Want to get a sneak peek of what it looks like?
Enter your email and get a free demo version of the SEO Checklist.
Have you learned anything particularly helpful in your SEO Journey?
The biggest lesson I've learned in my SEO journey has been the value of long-tailed keywords.
These are the keywords that don't have a huge search volume, but the competition is low. You can build an entire website around targeting long-tailed keywords. Also, ranking well for long-tailed keywords gives you a decent chance of ranking well for more prominent, tangentially (or directly) related keywords.
For example, I could write an article about "how to make money online."
This keyword is challenging to rank for, as it gets a lot of monthly searches of volume, and several sites are writing about it. A more prudent strategy is to attack a long tail keyword that's a subset of that keyword. "How to become an online entrepreneur" is the keyword I chose to go after instead.
It was much easier to rank for this keyword.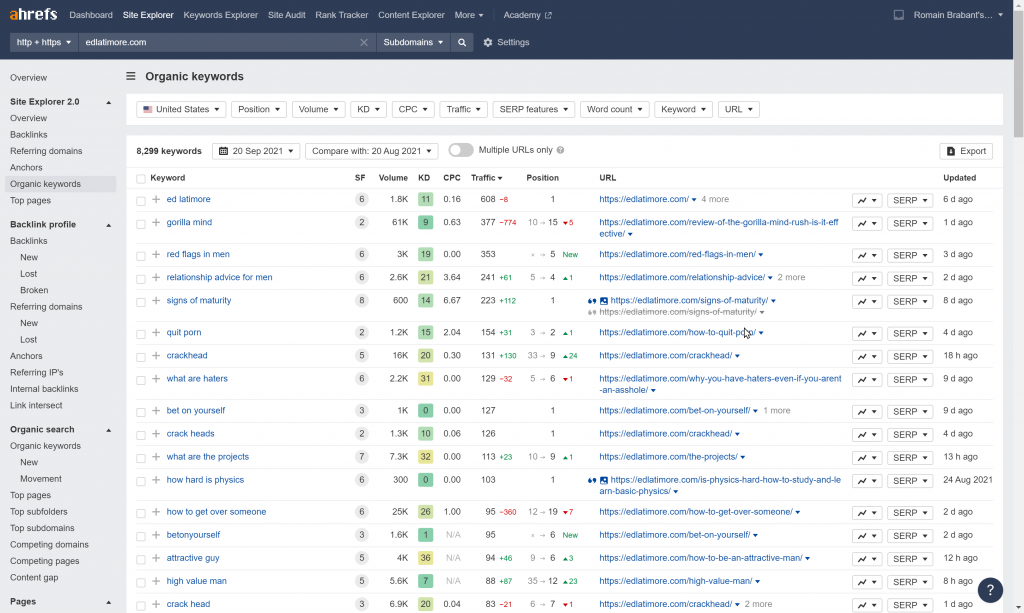 Another helpful lesson I've picked up is to stay on top of all things related to the google search algorithm.
It will change, and when it does, you need to understand how to adapt. I've watched many websites perish because they did not adapt to the changes that Google implemented.
What's your SEO Tech Stack?
I use Ahrefs to conduct keyword and competitor research.
I use What's My SERP to get a real-time look at my ranking for various keywords. Ahrefs allows you to see keyword rankings, but it only updates every few days. What's My SERP gives immediate feedback on the effectiveness of my strategy.
When writing and outlining articles, I use Clearscope to give my posts the best chance of ranking. It's truly a fantastic technology that compares the most used words, cited articles, and questions asked of the posts in the top 10 for a keyword. It ranks them to determine the most significant things you need to include to give your content the best shot of appearing on the first page.
The last tool I use is PageOptimizer Pro. It performs a function similar to Clearscope. It compares your article to the top articles for the keyword you're trying to rank for but uses different criteria for determining the strength and priority of certain words and phrases.
However, I know that I'm in good shape if I score well on Clearscope and PageOptimizer Pro.
I have used a few strategies for link building.
One of the best ways to build links is to get yourself into a position to give guest posts and interviews. This method is probably the most organic way to get people to link to you. Not only are you not asking for it, but the link also tends to be related to your website's area of expertise.
I've also used some link-building agencies. The best one, by far, is Growth Engine. I met the founder in person, and I thought he was a solid guy. I was extremely pleased by the type of links they were able to place for my site. Although it's quite an investment, I highly recommend it for anyone looking to build links in a fast, reliable, white hat, completely hands-off method.
My next favorite method is to leverage my social media following for a link on someone's website. Many people want promotions and shoutouts on Twitter or Instagram. I ask for a link back to my website if they have one in exchange for giving those.
It's worked to get me some pretty cool links to my website.
What have been the most influential books, podcasts, or other resources?
I've studied the Ahrefs blog. I also watch the Clearscope youtube channel. The Ahrefs blog is a gold mine; not only for SEO tips and tricks, but they also show you how to use their platform for maximum efficacy.
The Clearscope youtube channel is an underrated, underappreciated resource. The people at Clearscope have done fantastic work figuring out how the SEO algorithm not only currently works but how it continues to change and grow.
If you're willing to sit down and watch a few videos, you'll get a lot out of their YouTube channel.
Where can we go to learn more?
Twitter: www.twitter.com/edlatimore
Instagram: www.instagram.com/edlatimore
Website: www.edlatimore.com