My SEO Journey: Cédric Sigoire from deman-uebersetzungen.com – Learn some SEO basics before hiring an SEO Agency
My SEO Journey is a series where entrepreneurs and Indie makers share their honest SEO Journey filled with failure and success, and most importantly proven results. Episode #51 features Cédric Sigoire from DEMAN Übersetzungen.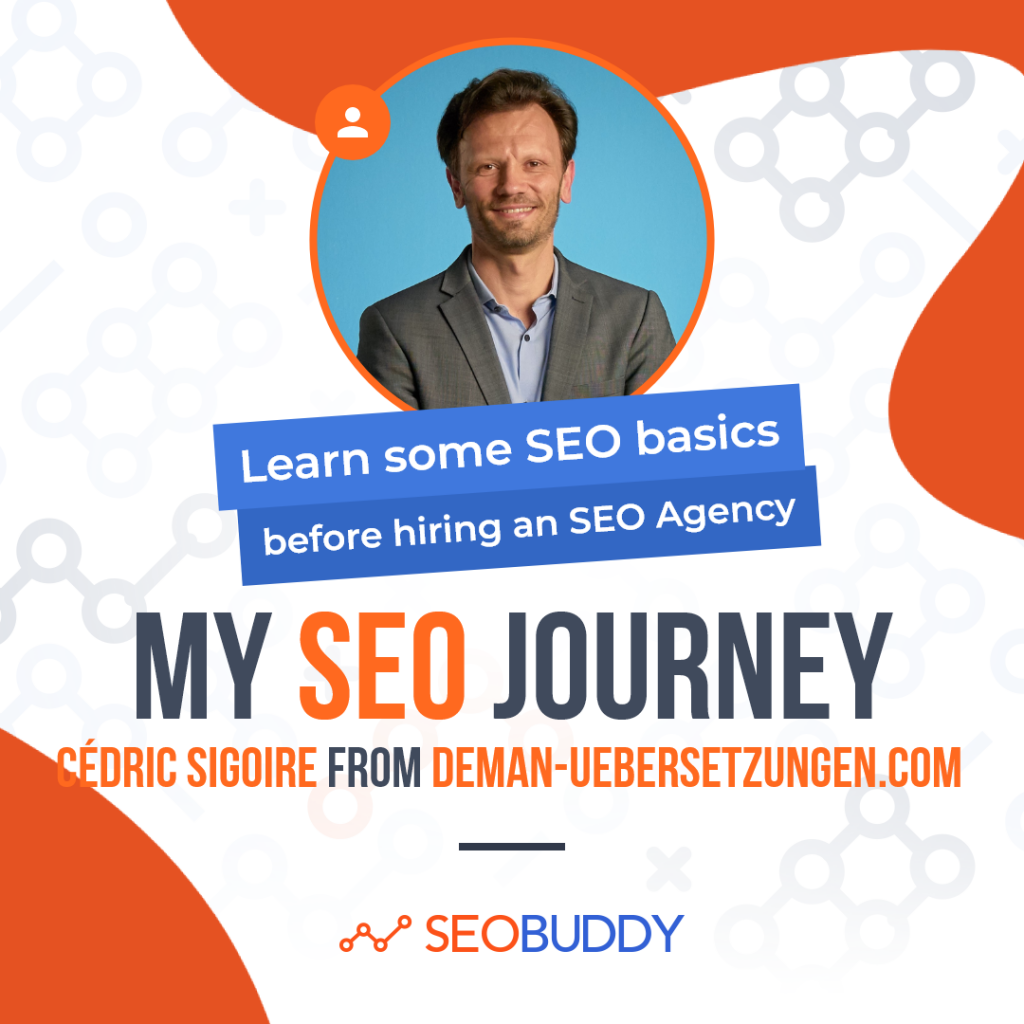 Hello, my name is Cédric Sigoire and I am the owner of the DEMAN Translations group.
We are a group of translation agencies specialized in high-quality translations for B2B customers.
We offer every type of translation, technical, legal, marketing, and IT, as well as interpreting. We grew through the acquisition of other translation agencies: Kosmos Translation, Lemoine, A4 Traduction, Bangard, Visavis,  Massanetz, Oroboo, Spanish English Translations, MediaMate, and Traducteo!
We plan to reach 6 million euros turnover in the year 2021 and 10 million euros in 2022!
What's your backstory and how did you come up with the idea?
I am a French citizen, and I did my whole career in international business development.
I was an exchange student in the USA and gained a double Master's in Business from a German and a French university through the Erasmus program. I have now been living in Germany for more than 11 years, and I really feel European.
I started my career as an export manager for casual shoes. After 4 years, I wanted to be more on the field and I left to join a producer of safety products as Export Director.
Through coaching, I really learned what selling means:
To understand the needs of your customer,
To ensure customer satisfaction with
The best product-market-fit possible. Selling is a win-win.
In 2010, I moved to Germany and took on a position as Country Manager for an e-learning company. I am living proof that an outstanding salesperson can be successful in many different industries.
I worked with distributors in different countries and was always convinced that the best way to become independent, wealthy, and accomplished in life is to have your own company!
Instead of starting a new business (with no revenue for many months), I decided to take over an existing business. In 2007, I started looking for an interesting company to take over. The search took me 8 years and I finally acquired the translation agency DEMAN Translations in Düsseldorf, Germany in May 2015.
Since launch, what has worked to attract more organic traffic?
The website of DEMAN Translations was "traditional ". It didn't have a fancy design and looked more like an online brochure. It was in 2 languages and had been SEO-optimized many years ago.
The URL was www.pauldeman.com. It was at position 8 for "Übersetzungsbüro Düsseldorf" ("translation agency Düsseldorf") and had a good domain authority since the domain name had been online since 2000.
We were getting about 1-2 leads per week.
In 2016, I wanted to get away from the name of the owner (Paul Deman) and decided to change the domain name and the URL to a more generic name www.deman-uebersetzungen.com.

I found a web design agency, which told me that despite changing the URL all the backlinks and authority will more or less be the same with redirections (301 Redirect). I had no idea about SEO at that time and paid about 7.000 euros for a new website with a new design and mostly new texts.
At the end of 2016, after a delay of about 6 months, discussions, and proofreading of the texts, the new website was online. I was very happy.
However it was a MISS: they did some 301 redirections, but we lost almost all traffic. The pages were written by professional copywriters but were NOT SEO-optimized. No competitor analysis had been done on the keywords and the texts were too short.
Result: we dropped down to position 18 for "Übersetzungsbüro Düsseldorf" ("translation agency Düsseldorf"), lost almost all our traffic, and did not get any more leads => for me it was clear: SEO doesn´t work for a translation agency!! I then concentrated my sales activities on cold-calling and sending emails!
At the beginning of 2021, I acquired the agency A4 Traduction, which had a DA of 28, was indexed for about 4.5 k keywords and realized about 10 k impressions per month on the search console.

The former owner did not invest in the website during the year 2020. When I started to fix some bugs and re-wrote some pages at the beginning of 2021, the impressions and leads went up again pretty quickly:

I changed my mind for DEMAN Translations and looked for:
An SEO consultant to select interesting keywords, write a briefing per keyword, put the texts online with an attractive design and do the internal links
A German SEO-copywriter
I found my SEO consultant on Fiverr.com and my copywriter through a relative.
We wrote about 25 new pages and re-wrote the 15 existing pages. We put them gradually online from May 2021 and we started to see traffic figures improve in July 2021:


Since August 2021, we have been in position 5 for "Übersetzungsbüro Düsseldorf" ("translation agency Düsseldorf") and we now receive 2-3 interesting leads per week.
My next step is now to concentrate on CTR and "bounce rate" (see next chapter).
However, since we are in a very fragmented market with a high number of suppliers, I am still not sure that a buyer of a big company will search online for a new supplier for translations.
The best way for us to acquire clients continues to be cold-calling: if you make 100 calls per day, you are bound to get 90 "NOs", and with every "NO" you are getting closer and closer to a "YES" 😉
My advice is therefore to try different possibilities: cold-calling, exhibitions, networking, speaking in conferences, SEO, ad-words, direct approach on Linkedin to find the best way to generate leads in your industry.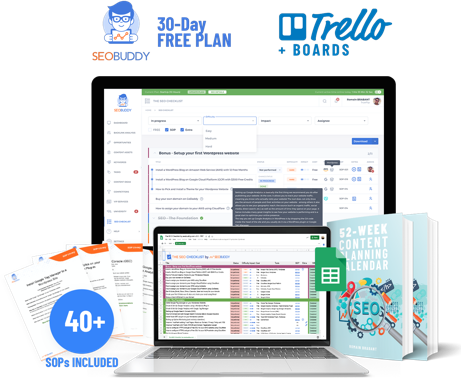 There's more…
Now it's time to discover the other 102 steps that will get more organic traffic flowing to your website. Get the SEO Checklist here.
Want to get a sneak peek of what it looks like?
Enter your email and get a free demo version of the SEO Checklist.
Have you learned anything particularly helpful in your SEO Journey?
Very important: SEO positions can change EVERY DAY! During summer 2021, Google did a LOT of updates and my (estimated) exposure in SERP changed from 75 k to 4 k views per month !!!

It helps me to realize that I should concentrate on "business" and "general" keywords and not only on peripheral keywords, which might bring a lot of traffic but no leads.
My SEO strategy was:
Check your backlinks: if you don´t have any, get the first 50 to 100 through general directory
Split your keywords between:

"Business keywords" => for me the type of translations (law, marketing,…) which will bring good leads
"General keywords" => for me translation + LANGUAGE (translation German, English, French,…), which may have high volume, but don´t bring leads. They are important to get traffic and support your "business keywords"
Peripheral keywords => for me "the most spoken language", "list of translation programs" or "glossary of translation terms". They are mostly not business oriented, have less competition and are therefore easier to rank in the first 2 pages of Google. They overall support your website
"Long tail keywords" => for me an annual translation report in English => they are a sub-category of the "business keyword" and target specific keyword with less volume, but high interest

Don´t forget that Google ranks the average of your website: if you score well on "peripheral" and "long tail" keywords, the whole website will be better.
Optimize your pages: Concentrate on the URL, the title, the H-tags structure and the density of keywords on the page
Put your pages online, and…. wait: Google likes news! When you put new pages online, Google will try them and they will, most likely, go up very fast: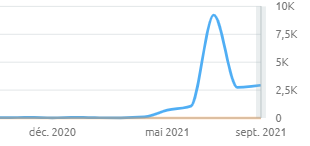 They may however go down as fast as they went up after the first update.
Concentrate on the CTR:
After 2-3 months, your pages and keywords are recognized by Google and your position will be more or less stable; look at the search console and Google analytics and check the CTR (click-through rate) and the "bounce rate" to see which pages are interesting and are in line with people's "search intention"
My biggest take-away from my SEO journey would be:
Learn some SEO-basics before starting: You will find numerous training videos for free or very little money on YouTube or platforms like Udemy.com. With this knowledge, you can then talk to an SEO-consultant and see if what he says makes sense
Start small when it comes to selecting the right partner: I first paid 100 euros for a competitor analysis on fiverr.com and had 2 pages of 1.000 words written before starting with more pages
Be careful of SEO agencies that ask a lot of money for a keyword research: I paid 1.000 euros for a keyword research and got a wonderful Google-Doc with many slides and a lot of color. Beautiful, yes, but… I did not get any new keywords other than the ones I already knew… 
What platform/tools do you use for your business?
I use Semrush weekly to:
get an overview of the total number of ranked keywords
get some improvement suggestions for my pages
do a weekly audit of the website to see the technical aspects
follow my "business keywords"
check the stability of the number of backlinks
see the best ranked website on some keywords to ask for backlinks
I use the Google Search Console to:
Follow the overall CTR
Follow the trend of the impressions
Follow the number of valid pages and errors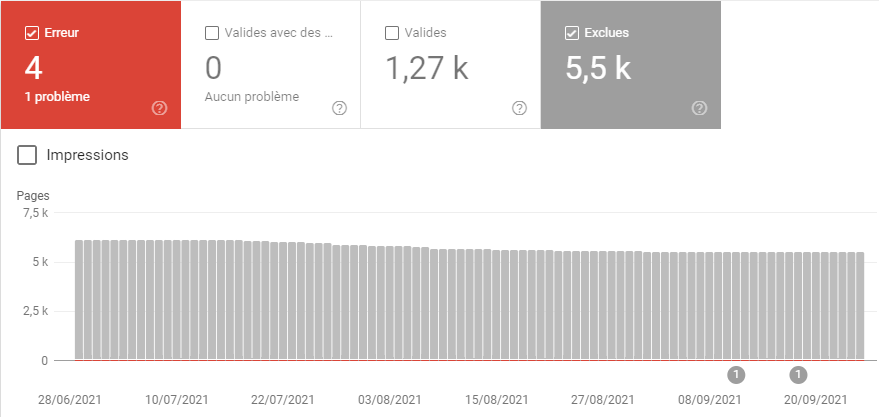 What have been the most influential books, podcasts, or other resources?
The One Minute Manager taught me to always do things with a KISS: "keep it short and simple".
The Morning Miracle changed my life since the beginning of 2021: every morning I wake up (without an alarm) at 5-5.30 a.m., drink 2 glasses of water, read books on personal development for about 15 minutes and do a 30-minute workout
I use Udemy to acquire new skills. I used it to get an introduction to SEO. It is a fantastic platform with so many online courses that everyone will find what they need. I like to watch videos at a speed of 1.5 – 1.75 x in order to save time and be more concentrated and focused.
I post on Linkedin at least twice a week. I use it also to connect with potential clients and find out about the trends in my industry.
What is the next step for you in your SEO Journey?
Change the CMS of A4 Traduction from Drupal to WordPress at the beginning of 2022 to reduce the number of pages (950 today!!!)
Start with link-building on some specific pages
Buy more websites (or domain names) in the translation field to create a network of websites to support each other
Duplicate what I learned for my other websites (sprachendienst.de – lemoine-international.com/)
Where can we go to learn more?
I am far from being an SEO specialist, but I would be happy to share my experience and get some SEO tips.
You can reach me:
And on my company pages:
If you have any questions or comments, drop a comment below!