My SEO Journey [Pro Edition]: Pavle Kezunović from deerdir.com – Transform Your SEO Expertise Into a Source of Passive Income
My SEO Journey [PRO Edition] is a series where professionals in the SEO Industry, Digital Marketing, or Web Design, share their honest SEO Journey filled with failure and success, and most importantly proven results. Episode #88 features Pavle Kezunović from DeerDir.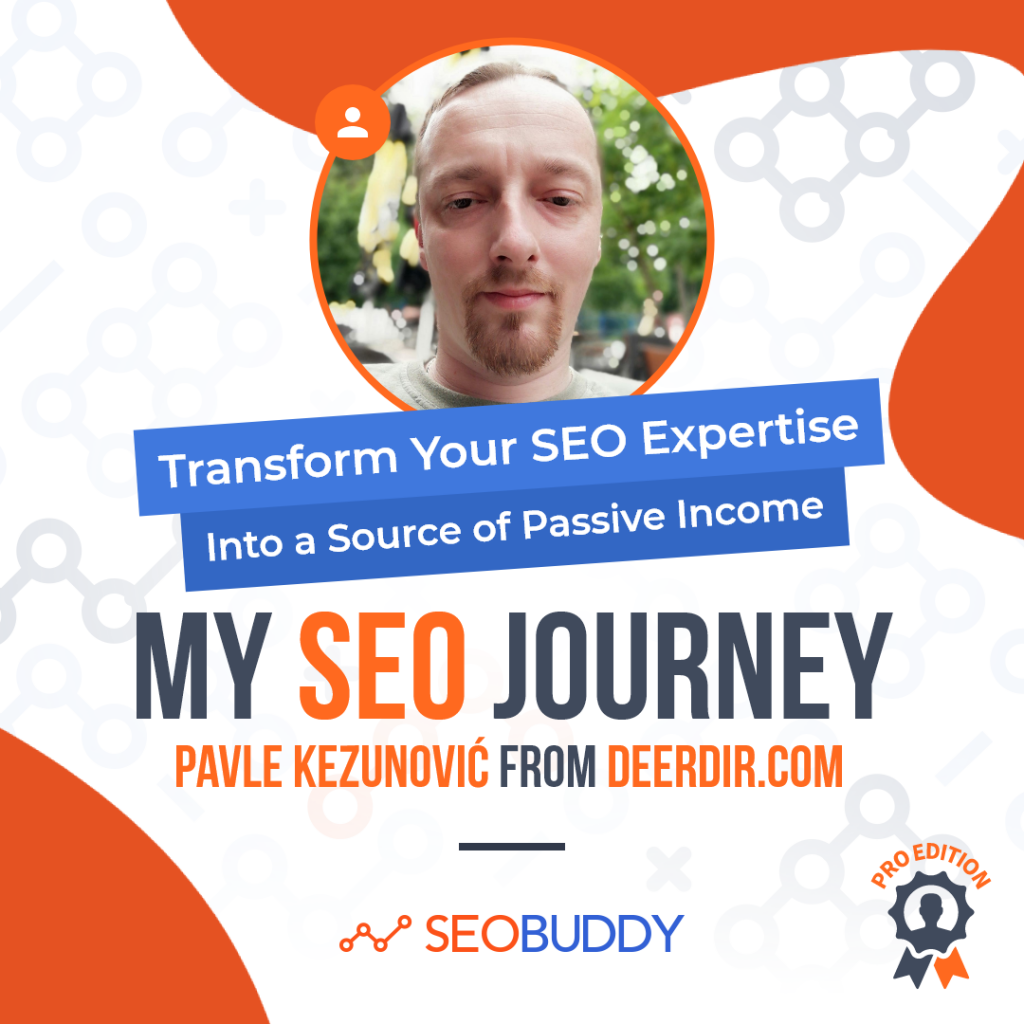 Hello! I'm Pavle Kezunović, the founder of DeerDir, a business directory, by profession, and an SEO Specialist, Web Developer, and Digital Marketer by vocation.
I have nearly 20 years of experience working in the digital realm as a freelancer, in-house SEO Specialist, and several digital agencies.
During my career, I have worked as a Back-End Developer, Google Ads and SMM Marketer, and Content Specialist, but in the past few years, I've specialized in Technical SEO.
In addition, I am the founder of DeerDir, a US business directory.
What's your backstory and how did you come up with the idea?
My first contact with the digital world was in the early 2000s. Perhaps younger colleagues don't remember these hardships, but back then, you couldn't use the landline phone thanks to the courtesy of the dial-up Internet. It would take hours for a single song to download, and the peak fun was playing online Flash games – but you couldn't do both simultaneously, of course.
Throughout the years, I got fascinated with the swiftness of innovation on the Internet. So I flirted with many of its aspects, from website development to testing out different Facebook advertising tips and tricks. Then, well-endowed with all sorts of digital knowledge, I slowly shifted my focus toward SEO, specifically Technical SEO.
To me, SEO perfectly intertwines creativity and rules, and Technical Optimization was a natural choice considering my development background.
Three years ago, I set up DeerDir, a business directory for local businesses across the United States. At the time, I've been – and still am – working as an SEO Specialist in agencies and as a freelancer for clients ranging from small local businesses to international enterprises.
However, setting up my own website and ideating and creating it from scratch allowed me to pour all my knowledge into a single, personal project and widen my expertise to the maximum.
In addition, it was an opportunity to play with SEO, testing any method and practice I could think of, yet, at the same time, earn passive income via paid directory listings and Google AdSense and build my name as an industry thought-leader.
DeerDir dons ads published via Google AdSense and, after only a few months of allowing ad space on the site, I've experienced traction in both web traffic, number of listings, and ad earnings. There's, of course, still much to do in terms of optimizing the directory for maximum AdSense results, but I'm confident I'll get there quite soon.
Since launch, what has worked to attract more organic traffic?
Everything to a certain point – but I'd single out content as the thing that got the ball rolling.
I performed complete technical optimization on the directory, ensuring Core Web Vitals are green, and page speed is as low as possible. In the UX department, I focused on keeping the website simple and intuitive.
But the site's most remarkable growth – both in terms of achieving organic rankings and traffic – came with growing the volume of content.
Needless to say, the content on my directory isn't creative nor extensive – but it's based on strategic keywords and provides users with the information they need and seek. Besides, I'd stress the organic traffic boost to my website once I've integrated customer reviews into my website, which both users and Google recognized as a sign of my site's trustworthiness and value.
I've witnessed my fair share of marketers and SEOs who saw the process of increasing website traffic as a sort of science fiction. But, in my opinion, driving web traffic isn't a process – rather, it is the result of a good website foundation, persistent online marketing efforts, and content that people are interested in.
Truth be told, directories aren't the top choice when seeking entertainment online – but I've pondered for a long time how I could leverage the traction from search trends. That's how the site's pages on popular categories and popular businesses came to be.
Some businesses and industries are naturally more popular and searched for during a certain time of the day or year, and through slight tweaks on these web pages, I manage to reap the benefits of the increased search volume.
Have you learned anything particularly helpful in your SEO Journey?
I proved and disproved some of the SEO methods and traditions. Still, I'd say the most important takeaway from my entire SEO experience is that every website, industry, client, and project is unique. Of course, books, conferences, and tutorials are valuable to some point, but what makes or breaks your SEO efforts' success is testing.
Testing took a large portion of my time when building and optimizing DeerDir, but it was definitely worth it. I'd found that some standard practices and common methodologies didn't work in my case, so finding the courage to break away from rules and play around was a true game-changer for me.
In addition, to truly learn SEO and understand how it works, you need to build a website from scratch. No themes, no developers, no designers – every site's aspect should be the result of your ideas and knowledge. Experiment, optimize, erase – and do it again and again until your efforts yield results.
DeerDir isn't the most visually attractive and attention-grabbing website out there – but every line of the site's code is written, tested, and optimized by me. And that is invaluable when, let's say, a Google update causes a drop in your rankings or traffic, as I can almost always accurately predict which site aspect could have been the cause and act instantly.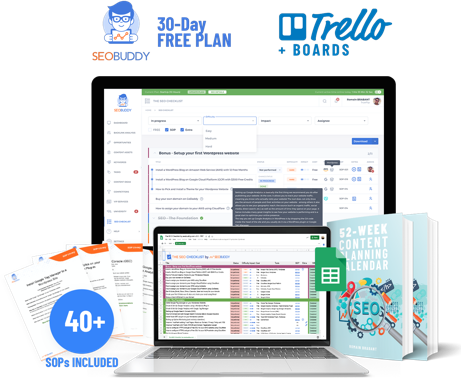 There's more…
Now it's time to discover the other 102 steps that will get more organic traffic flowing to your website. Get the SEO Checklist here.
Want to get a sneak peek of what it looks like?
Enter your email and get a free demo version of the SEO Checklist.
What's your SEO Tech Stack?
My top favorite SEO software are Screaming Frog and Semrush.
Screaming Frog is a tool I'd single out as the absolute must for all SEOs, especially those who do technical optimization and website audits. For my project, this software is indispensable, as it enables me to locate broken links, errors, and redirects, analyze metadata and review meta robots. In addition, Screaming Frog's feature of discovering exact duplicate pages is essential for business directories such as mine, as some businesses tend to create several citations on a single directory – intentionally to boost their backlink profile, or due to a simple oversight. Either way, duplicate content can harm my website and it's something I monitor constantly.
Semrush, on the other hand, is so versatile and feature-packed that it can literally make or break your every digital marketing project. As DeerDir generates passive income through AdSense, I find Semrush's Advertising Research feature especially useful. The first feature allows me to analyze ad budgets for different industries and thus uncover those with the highest price per click – in other words, the most profitable ones for me as a site owner.
Recently, I've developed an interest in On-Page SEO, specifically content optimization for desired keywords with tools that leverage AI. One such is Seolyze, which I wholeheartedly recommend to everyone keen on taking their client websites' content to the next level.
Of course, Google SEO tools, such as Google Search Console, Google Analytics, Lighthouse, and Chrome DevTools, are invaluable for my in-depth website SEO audits.
I'm strongly against any gray or black-hat SEO practices, so my directory's link-building process is somewhat organic. To be completely honest and transparent, it's still not my site's strongest suit, but there's a steady growth that I'm genuinely proud of.
DeerDir still doesn't have a blog – yes, a genuine sin coming from someone who nags all their clients on the importance of running a quality and consistent blog. But the topics are being collected and organized, and I hope my first blogs will be live by the start of fall.
Until then, I pitch my directory to online news portals and entrepreneurship magazines, and there are lucky breaks from time to time.
What have been the most influential books, podcasts, or other resources?
The SEO industry, and entire marketing for that matter, is so fast-paced that I'd honestly refrain from recommending any book as a valuable tool for those who want to stay on top of trends and best practices. Books are great for newcomers who are just beginning to explore the marketing world, but if you want to broaden your knowledge and learn advanced industry tricks, I'd always go with online resources.
My top pick currently is the Search Engine Roundtable, which articles amaze me with their accuracy, depth, and analytical approach to contemporary happenings in SEO.
Besides the Search Engine Roundtable, there are, of course, Semrush, Backlinko, Ahrefs, Moz, and Yoast, that publish valuable and professional content on their blog. Keeping up with any of these blogs is particularly important if you use any of these tools.
Of course, I regularly read blogs written and published on the sites of the best SEO agencies to gain insight into practices loved and followed by renowned colleagues across the globe.
Last – but definitely not the least – Google Webmaster Guidelines, i.e., the entire Google Search Central, which is the essential information source for SEOs, developers, and business owners alike.
Where can we go to learn more?
You can follow me on LinkedIn where I often present my projects' performance charts and discuss (un)successful SEO methodologies tested. Of course, you can enlist your business on DeerDir for a win-win situation.