My SEO Journey [Pro Edition]: Mark Whitman from contentellect.com – Productizing SEO services from $250k in annual revenue to $1 million within 12 months
My SEO Journey [PRO Edition] is a series where professionals in the SEO Industry, Digital Marketing, or Web Design share their honest SEO Journey filled with failure, success, and most importantly, proven results. Episode #95 features Mark Whitman from Contentellect.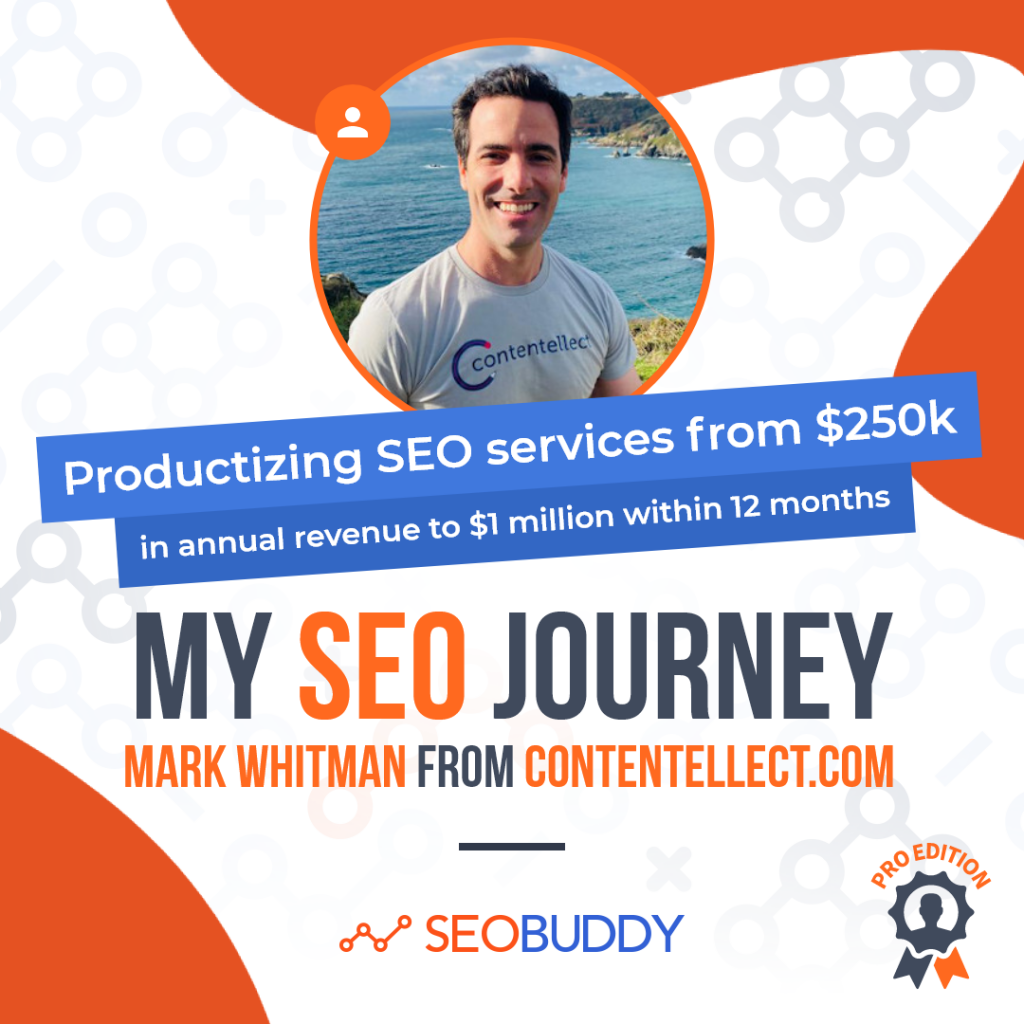 Hi! My name is Mark and I'm the co-founder of Contentellect, a content writing and link building service for agencies and SEO teams.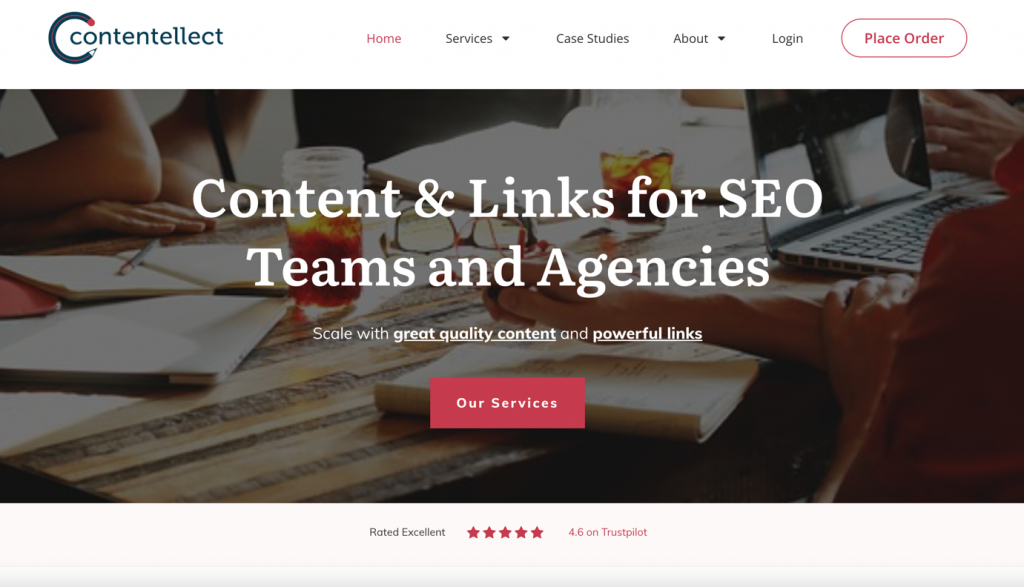 Contentellect started life in 2018 as a specialist content writing service for SaaS companies.
My co-founder ran the company for the first three years where we organically grew to $250k in annual revenue. In 2021 he was looking to do other things and I decided to buy him out and scale the operation.
Here's how we've grown from $250k to just under $1 million in annual revenues, in just over 12 months.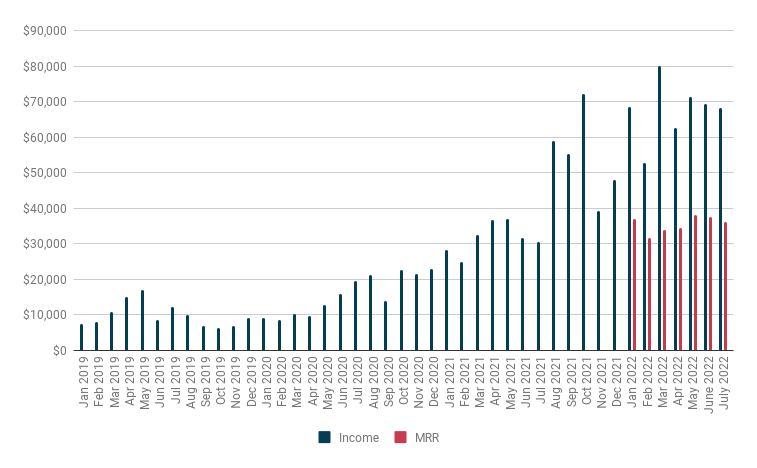 How have you managed to scale so fast?
If I had to distil our success down to two words, it would be systemize and productize.
The demand for content and links is enormous, but to scale a content writing and link building service without compromising on quality is hard.
The industry is also highly competitive with countless agencies, freelancers, and marketplaces.
We knew that to stand out and scale, we would have to systemize everything we do and productize every output we deliver.
This is easier said than done.
On the systemize front, we set out to define every process in our company and build streamlined Standard Operating Procedures (SOPs) for them. At Contentellect this starts with our slick systems to recruit and train great writers and ends with the seamless customer journey from purchase to delivery.
Every process in our company has been defined, streamlined, and optimized for a great output and customer experience.
On the output end we've stayed laser-focused on productizing our service. For each service we have clearly defined packages and outputs, and we don't change these to specific client needs.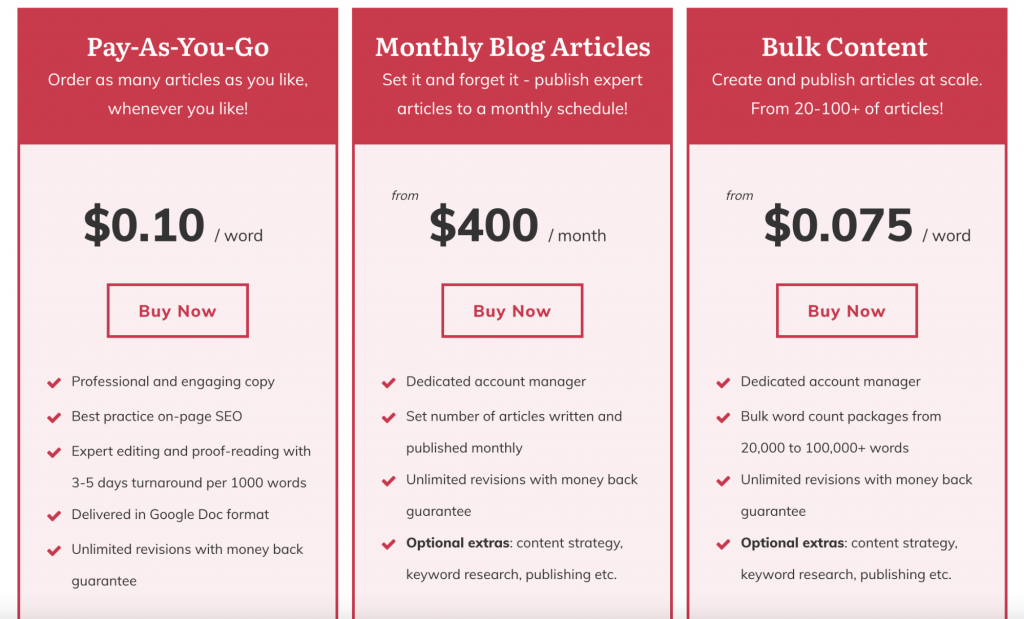 We also don't sell results. In SEO a client is only interested in one thing: ranking.
This is a result, and it is ultimately what SEO agencies sell.
At Contentellect, we sell outputs. In our case, quality content and powerful links. These are the building blocks of a successful SEO campaign, but we don't go to market promising results.
This means our service is perfect for agencies who need a reliable white-label partner, or companies with reasonably sophisticated SEO and marketing teams that need the manpower to produce content and links at scale.
How have you won new business?
After we had a super systemized and productized service set up, the selling bit has been quite easy.
As I mentioned, the demand for good quality content and links is huge.
Our go-to-market strategy has been to focus on where our audience hangs out and letting them know we exist.
For example, we've won a lot of business from being active in Facebook groups that are focused on online business.
We've also won lots of business from LinkedIn, and believe it or not, cold email outreach.
Because most clients have a great experience with us, they usually come back for more or sign-up to one of our recurring monthly subscriptions. This means we get a lot of repeat business and referral business.
Have you done any SEO on your own site?
Ironically, we did no SEO or content marketing for our brand in the first three years. We literally had a 5-page website.
This changed last year when we decided we would eat our own dog food.
There's an argument that it's a waste of time for an SEO agency to do SEO on their own agency website, as the space is just so competitive.
But equally, it's hard to demonstrate your SEO chops if your site has a domain rating of 0, has almost no referring domains and gets no organic traffic.

Also, what better way to demonstrate the quality of our content than by publishing to our own website.
Our SEO efforts on our own site have been pretty good.
In 12 months, we've increased our referring domains from 69 to 286, our domain rating from 17 to 32, and importantly our organic traffic from near zero to over 4000 visits a month.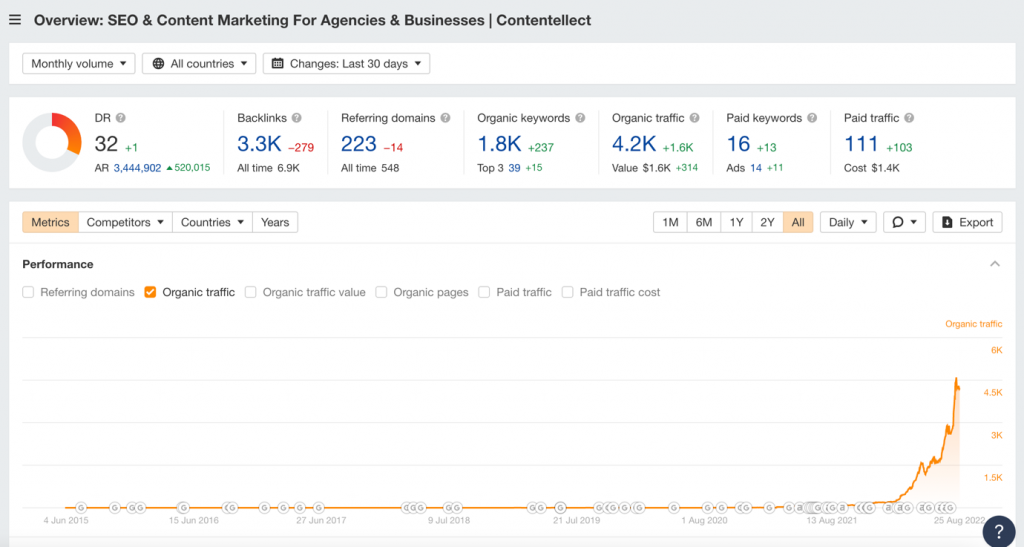 And the best part is this traffic is high intent, so we're getting decent conversions from our inbound efforts.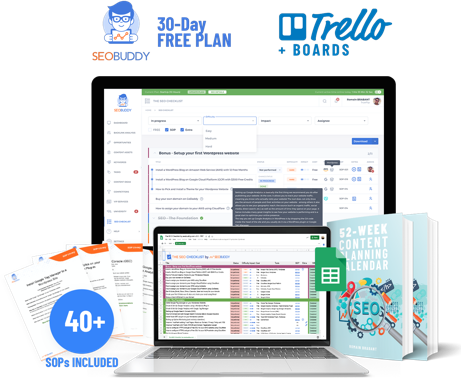 There's more…
Now it's time to discover the other 102 steps that will get more organic traffic flowing to your website. Get the SEO Checklist here.
Want to get a sneak peek of what it looks like?
Enter your email and get a free demo version of the SEO Checklist.
What SEO tactic is really working for you?
An SEO tactic that we're seeing huge results with is topical keyword clustering combined with high volume content production.
The overarching idea here is to become a topical authority through mass high-quality content creation.
The process starts with first generating 1000s of keywords in a niche.
For example, if you're in the dog training niche, you would start by generating every keyword in that niche using a tool like Ahrefs or SEMrush.
In the case of Ahrefs, you'd start by entering "dog" and "dogs" into keyword explorer. Then head over to Matching Terms, and include the words, "training" and "train". Exclude any irrelevant terms, like "near me" or "classes".
This will give you a shortlist of a few thousand keywords.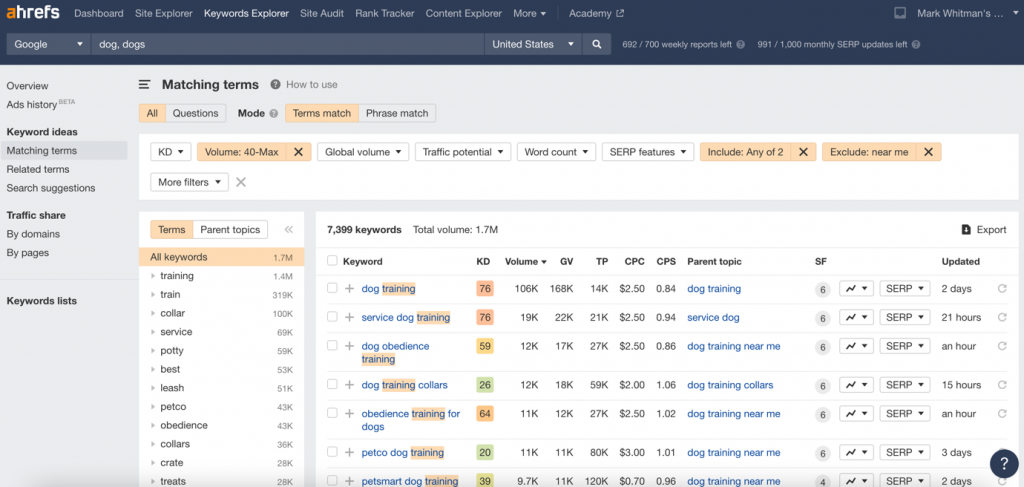 Export this list and upload to a keyword grouping tool. We use KeyClusters, which runs every keyword through the Google SERP and if a keyword shares 3 or more ranking pages with another keyword, they are grouped together.
The groups provide unique article ideas with a primary keyword and all the keyword variations.

We use the KeyClusters grouping to prioritize a list of articles based on a client's budget. For example, if a client has budget for 100k words, we'll prioritize around 70-80 articles (assuming 1500 words per article) from the grouping.
In each article we use some of the keyword variations in the sub-titles and content to ensure we cover every angle of a topic, and we also use the variations as anchor options for internal and external links.
This strategy of topical clustering and high-volume content production has generated insane results.
For example, we recently took a startup's site from 0 to 50k monthly visits in just over 6 months.
You can see how we did this in our keyword clustering case study.
If I wanted to start a productized agency today, what would you recommend I do?
I would recommend that you first start as a freelancer. Get a few clients and start sharpening your toolkit.
Once you've delivered great results and feel sufficiently skilled to scale things up, then pick off a key feature or two from your service that is easy to define and replicate. For example, if you're great at creating sales funnels, then define the ingredients into a productized output and build a service around that.
There are so many elements of marketing that can be productized. From logo design and landing page creation to content writing and email marketing.
Start with one clear proposition and become the best at that. Then productize your specialist knowledge into a replicable service that you can train others to deliver.