My SEO Journey: Jeff Deutsch from contactout.com – Find the best people to connect with and improve your link-building
My SEO Journey is a series where entrepreneurs and Indie makers share their honest SEO Journey filled with failure and success, and most importantly, proven results. Episode #106 features Jeff Deutsch from ContactOut.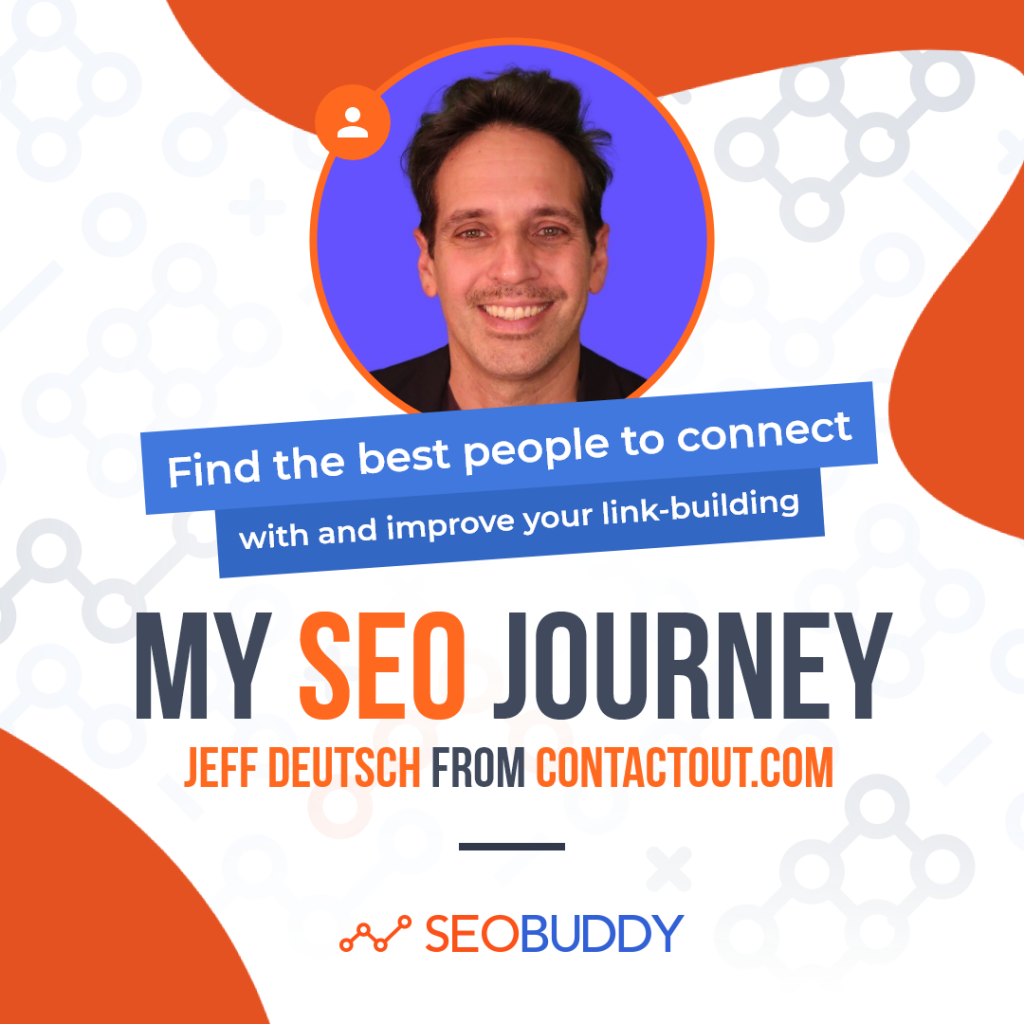 I'm Jeff, the Head of Growth for ContactOut. I have grown four technology companies, including VIPKid, a $4.5 billion online education company. In 2011, I also expanded my SEO SaaS company to $1 million in ARR.

At ContactOut, we keep a record of everyone's email addresses in a database. That's why top companies use ContactOut to reach out to and hire the best talent in the world.
We started in Silicon Valley in 2015, and our investors include 500 Startups and Startmate/Blackbird Ventures. Since then, over half a million users have downloaded our email finder extension to get in touch with their preferred candidates.
In particular, we've made it easy for users to
Customize their outgoing communications with the help of our mail merge tool.
Improve their network with the 90% precision of our data.
Reduce their workload by speeding up tedious processes like lead generation and pipeline construction with automation tools.
With our many tools and reliable information, you'll be able to reach more potential customers than ever before and get accurate results.
76% of the Fortune 500 companies are using our services in some way right now. For the past six years, our top goal has been to make it easy for our customers to find the correct contact information.
Currently, our goal is to be the most trusted way for people worldwide to connect.
Our Best Practices for Link-building

Reach out to sites with a lot of traffic and authority.
We prioritize reaching out to sites with high authority and traffic. It's because these websites have already established themselves as reliable sources of information for a large audience.
By leveraging the credibility of these popular outlets, our content can reach a vast number of readers quickly and effectively. Additionally, gaining coverage in trusted sites helps build trust among potential customers or clients researching our services or products online.
Avoid spammy sites and PBNs.
We avoid reaching out to spammy sites and Private Blog Networks (PBNs) because these websites can harm our website ranking in the long run. Spammy sites often contain low-quality content that does not provide any real value for readers or viewers. Similarly, PBNs are known as networks of artificially created websites with the sole purpose of improving search engine rankings – this practice is frowned upon by Google and other search engines.
By avoiding both types of sites, we ensure that our website maintains its current level of visibility without risking being penalized by major search engines later.
Utilize the RRR technique.
We use the RRR structure when reaching out to potential outlets. This acronym stands for Request, Relevance, and Reward—three critical components of any successful outreach campaign.
Request
The request is what type of coverage you are asking for; this typically includes articles or blog posts featuring your product or service in some capacity.
Relevance
Relevance refers to how relevant that content would be within the context of a particular website's target audience; if it fits with their readership base, then there will be little value gained from gaining coverage on such an outlet.
Reward
Finally, the reward is an incentive to encourage editors and writers at these websites to feature your content; this can range from free products/services up to monetary compensation, depending upon budget limitations and other factors.
Utilizing these three elements together during our outreach campaigns here at ContactOut ensures maximum engagement with quality outlets that will help us reach more people with our message.
Contacting the Right People
Who do we contact for our link-building efforts? The key is to get in touch with the right people.
Blog author: Reach out to the blog's author if you want specific information about their content, opinions or advice.
Site owner: Contacting a site owner can help provide important insight into a website's overall goals and objectives.
Webmaster: A webmaster is responsible for maintaining the technical aspects of websites, such as hosting, coding, design and security features. They are also often in charge of troubleshooting problems with running an online presence.
Content manager/editor: Content managers/editors have responsibility over all written material on a website; they create new content, edit existing posts and ensure to meet quality standards across all pages on the website. Reaching out to them can help you learn more about how specific topics have been presented by their company before or what types of stories may be interesting for future collaborations.
Linkbuilder/outreach specialist/SEO manager: Linkbuilders focus mainly on building relationships between different sites, so there is more traffic-driven back-and-forth from one page to another – connecting audiences with relevant content wherever it exists online. Outreach specialists specialize in reaching out directly to potential customers (or influencers) via email campaigns or social media messages. At the same time, SEO managers work closely with link-building and outreach teams to establish strategies for improving organic search performance by optimizing textual elements like meta tags and titles.
Using the Right Tools
Here are some tools we use in our link-building efforts at ContactOut.
Prospecting
Prospecting is an integral part of online marketing, and there are several tools to help you do it.
Ahrefs is an excellent tool for prospecting, keyword research and backlink stats. 
Google's SERPs bookmarklet can quickly extract all the links on a page, making it perfect for prospecting via Google search. 
Keyword Tool provides comprehensive keyword research capabilities so that your prospects will find what they're looking for more quickly on your website or blog post!
Lead Qualification
Lead qualification identifies prospective customers from a pool of leads based on their suitability for your product or service. Lead qualification involves assessing each lead's characteristics, such as domain authority (DA), domain rating (DR) and spam score (SS).
Three tools are available to facilitate the process: Free Domain Authority Checker, Website Authority Checker, and Spam Score Checker.
Free Domain Authority Checker checks DA – an SEO metric that measures how well a website ranks in search engine results pages.
Website Authority Checker examines DR – another SEO metric which predicts how likely your site will rank on SERPs.
Spam Scores Checker looks at SS – a numerical value assigned to email addresses indicating whether they are suspiciously low-quality or high-quality addresses.
Utilizing these three tools together during lead generation campaigns allows you to identify qualified prospects with higher conversion chances quickly.
Outreach
Outreach is a crucial element of digital marketing. Many tools and strategies are available to help you reach out to potential customers, partners and influencers in your industry.
Buzzstream is an email outreach tool used for prospecting or searching through emails quickly.
LinkedIn also provides valuable opportunities for contacting authors and website owners – using the 'Add To Network' function allows maximum effect from each contact attempt.
If there's a need to contact many people on LinkedIn, Linked Helper offers automation options so processes can run quickly with minimal effort required by the user.
Email Finders
Email finders are online tools that help you find email addresses and contact information.
ContactOut is one of the best email finders available, with a comprehensive database of both personal and business emails. 
Hunter.io also offers an email verifier specifically for businesses, which you can use in conjunction with their search function to pinpoint the exact address needed. 
All My Tweets provides another way of finding someone's contact details by allowing users to view all tweets from any Twitter user. If they publicly mention their email address on this platform, it will appear as part of your results.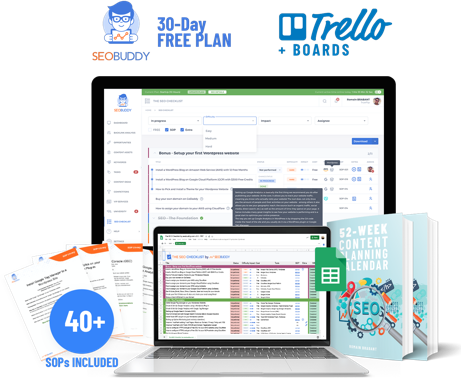 There's more…
Now it's time to discover the other 102 steps that will get more organic traffic flowing to your website. Get the SEO Checklist here.
Want to get a sneak peek of what it looks like?
Enter your email and get a free demo version of the SEO Checklist.
Conclusion
Link-building is an essential component of SEO, and it requires the right tools, strategies, and people to be successful. We use various methods at ContactOut for our link-building efforts: reaching out to sites with high traffic/authority, avoiding spammy sites and PBNs, utilizing the RRR technique when initiating outreach campaigns, and using prospecting tools such as Ahrefs or SERPs bookmarklet.
We also contact relevant people like blog authors, site owners or content managers that can help us get better results from our campaign. Finally, we use email finders like ContactOut or Hunter.io to locate emails quickly so we can take advantage of all potential opportunities with new contacts in our industry!