My SEO Journey: Michael Zipursky from consultingsuccess.com – Write the best content with expertise, passion, and consistency to win the SEO long-term game
My SEO Journey is a series where entrepreneurs and Indie makers share their honest SEO Journey filled with failure and success, and most importantly proven results. Episode #59 features Michael Zipursky from Consulting Success.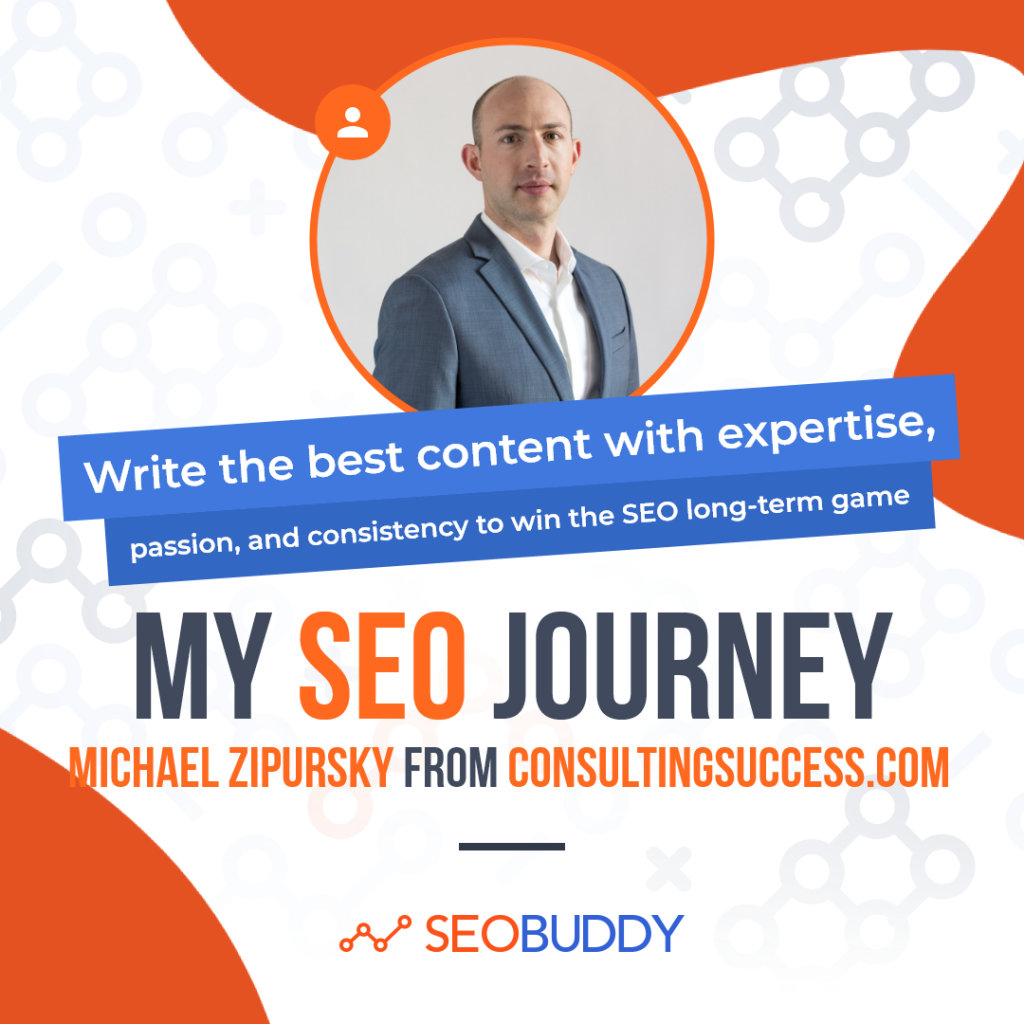 My name is Michael Zipursky, co-founder & CEO of Consulting Success®. We help entrepreneurial consultants build profitable, scalable, and strategic consulting businesses.
We have two products:
Momentum: Our self-paced program for new consultants or those who are looking to transition from the corporate world to start and grow their own consulting business.
Clarity Coaching Program: Our coaching program for consultants who want a personal and customized strategic plan to grow their consulting business — and to join a community of like-minded entrepreneurial consultants.
Our purpose: we exist to help entrepreneurial consultants achieve success on their own terms.
What's your backstory and how did you come up with the idea?
Sam (my cousin and co-founder at Consulting Success®) and I have started and grown many consulting businesses. We worked with clients like Panasonic, Dow Jones, The Financial Times, and we knew what it took to build up a successful practice.
We wanted to build a business where we could work from anywhere in the world.
Given our love of travel and experiencing other cultures, our goal was to build a business where we could take our families anywhere in the world — and also run a successful business at the same time.
Consulting Success® started as a blog. We were simply sharing what we knew about consulting: marketing, sales, pricing, hiring, time management, client relationships, etc. By writing about these topics, we honed our own skills. And we also helped up-and-coming consultants with their business.
However, our readers began to ask us for help. They asked us to create a consulting course — so we built one. And then they asked us for coaching — so we built a coaching program. By sharing what we had learned and building an audience, we created opportunities to build programs not based on what we wanted to create, but what our readers were asking for.
13 years later, Consulting Success® is going stronger than ever before — and we use many of the same strategies that worked so well for us at the very beginning.
Learn more about The Truth Behind Creating Consulting Success® below…
Since launch, what has worked to attract more organic traffic?

For over a decade now, we've been sharing what we know about consulting: writing long, informative articles to help consultants grow their business. That's the foundation of our marketing and our SEO strategy: create and share the best content on the web for consultants.
Why? Because we believe that by helping consultants with our free content, they'll be more inclined to invest in our paid programs. They want to invest in working with experts. By creating content that demonstrates our expertise, we give them a sample of what they can expect when they work with us.
For example, one of our most popular articles is our Consulting Fees Guide: How Much To Charge For Consulting (3 Formulas & Examples).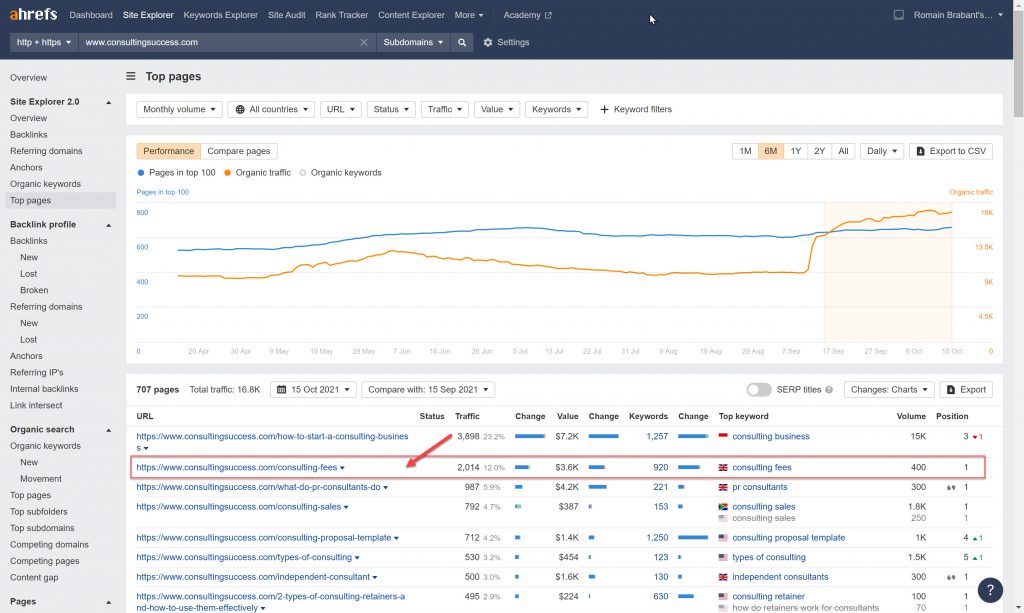 At over 4000 words, this guide provides methods, best practices, original research, and an action plan to help consultants improve their pricing.
Our approach is to write the best, most helpful content on the web for consultants — and do this consistently with every topic on consulting.
In addition to the written content on our website, we also host the Consulting Success® Podcast, Consulting Success® TV (our YouTube Channel), publish consulting books, and post consulting content on our social media channels (listed below).
We combine all of these methods together in order to attract more organic traffic and to keep readers coming back for more.
If you're serious about increasing your organic traffic, you need a few things:
Subject matter expertise
Passion for your business and audience
Writing ability
Consistency to create content
SEO is a long-term game, so if you're missing just 1 of the 4 elements above, you're better off choosing a different marketing method.
But if you have all 4, then you have what it takes to generate organic traffic through SEO.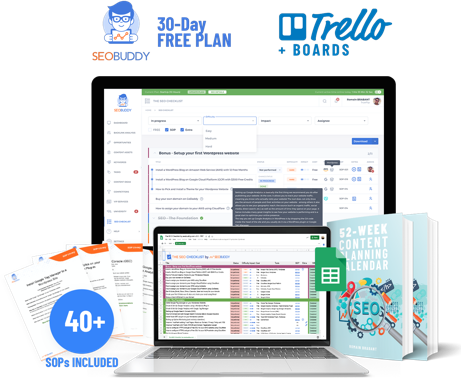 There's more…
Now it's time to discover the other 102 steps that will get more organic traffic flowing to your website. Get the SEO Checklist here.
Want to get a sneak peek of what it looks like?
Enter your email and get a free demo version of the SEO Checklist.
Have you learned anything particularly helpful in your SEO Journey?
Here's are a few key ideas and concepts we've learned that have helped us in our SEO journey:
SEO is simple, but it's not easy. Write great content for a long time. That will get you 80% of the way there.
You have to take a long-term approach. Tracking your day-to-day traffic will drive you crazy. Zoom out and look at the progress you've made over months or years, not weeks or days.
Building a writing habit is the best way to increase your SEO. Writing is what creates content, and content is what drives SEO. So if you can spend an hour a day writing and creating content for your site, that's one of the best habits you can develop in terms of helping your SEO.
Mastering a tool like Ahrefs is critical to your success. Without it, you're flying blind. It's imperative to know metrics for the keywords you're going after like global volume and keyword difficulty.
Think of each article you write as a "product" or a "fix." Your prospects are searching for solutions to their problems. AIm to write the best informational solution. Doing that will give you a greater chance of writing an article that ranks well.
What SEO tools do you use for your business?
We use a couple of different tools in our SEO tech stack:
Ahrefs: Our bread-and-butter for keyword research, competitor analysis, and rank tracking. A must-have for any business serious about their content marketing and SEO.
Google Analytics: An invaluable tool we use for measuring our site's performance. Not only does it help with SEO, but it helps with all other aspects of your marketing as well like conversion rate optimization.
Yoast: The Yoast WordPress plugin is a great on-page SEO checklist. It serves as the perfect reminder when you're looking to optimize a new post or improve an existing post for SEO.
Grammarly: Makes it super easy to make sure your grammar is perfect for each article. Readability is crucial for SEO, so we always make sure to triple-check our content.
Hemingway App: We try and write at a level that is easy to read and understandable, and Hemingway App helps us do that.
The main thing to succeed with SEO is your subject matter expertise, writing ability, and consistency. But these tools make up the other 20%. 

For link building, we take a more organic approach. We aim to write the best content on consulting and share it widely with our audience and network. We're confident that the best content attracts links all on its own, and it's worked for us so far.
A type of content that has worked particularly well in attracting links is our consulting studies:
We include original research and data in these studies. Other websites love to use these statistics in their own posts, and they'll often link back to us as a citation.
Another link-building method we use is guest posting.
We consistently reach out to other websites in our space and write guest posts on their websites that always link back to us. They might not be the most powerful links, but they are in alignment with our mission of creating the best consulting content on the web.
We almost never ask directly for links. We make content so good that other websites want to link to us because we provide the most value for consultants.
However, this may change in the future as we explore different approaches to partnerships and PR. Link-building is undoubtedly one of the best things you can do for SEO, but it's not easy and takes a lot of effort to do well. For now, we'd rather invest that time in our content. 
What have been the most influential books, podcasts, or other resources?
Here is a list of some of the most influential books, podcasts, or other resources on SEO:
Ahrefs Blog & YouTube Channel: A fantastic SEO resource to supplement the tool. Helps you get the most out of what we believe to be the most powerful SEO tool on the market.
Backlinko Blog & YouTube Channel: Another powerful SEO resource. Brian Dean practices what he preaches, and his blog is a model for how good SEO looks.
On Writing Well by William Zinsser: A great book on writing and improving your readability. Essential for any content marketer or SEO who writes a lot.
Twitter: We follow many lesser-known SEOs on Twitter who are always sharing new ideas and perspectives on content marketing. SEO is a creative enterprise, and some of the best marketing minds share their thoughts on Twitter.
What's the next step in your SEO Journey?
Our SEO mission will remain the same: to produce the best content in the world for entrepreneurial consultants.
However, there are some other ways we'll be exploring how to produce high-quality content, grow awareness and increase recognition of the brand.
We're always looking to improve our writing and SEO skills
We'll look into creating a content creation engine that is supported by guests
We'll do more with link building, PR, and relationship-building
We'll continue to not just focus on traffic as a vanity metric, but grow our meaningful traffic
We'll continue to optimize and integrate all of our various content mediums together: podcasts, YouTube videos, books, social media, and more
By continuing what's already working and constantly improving, we're confident that this will help us achieve our mission of being the #1 coaching and training company.
SEO has — and always will be — essential to our overall mission.
Where can we go to learn more?
Check out our different resources for more insights, stories, and content on starting, growing, and scaling an entrepreneurial consulting business.