My SEO Journey: Polina Haryacha from cloutboost.com – SEO is "the infinite game" and requires consistency
My SEO Journey is a series where entrepreneurs and Indie makers share their honest SEO Journey filled with failure and success, and most importantly, proven results. Episode #116 features Polina Haryacha from Cloutboost.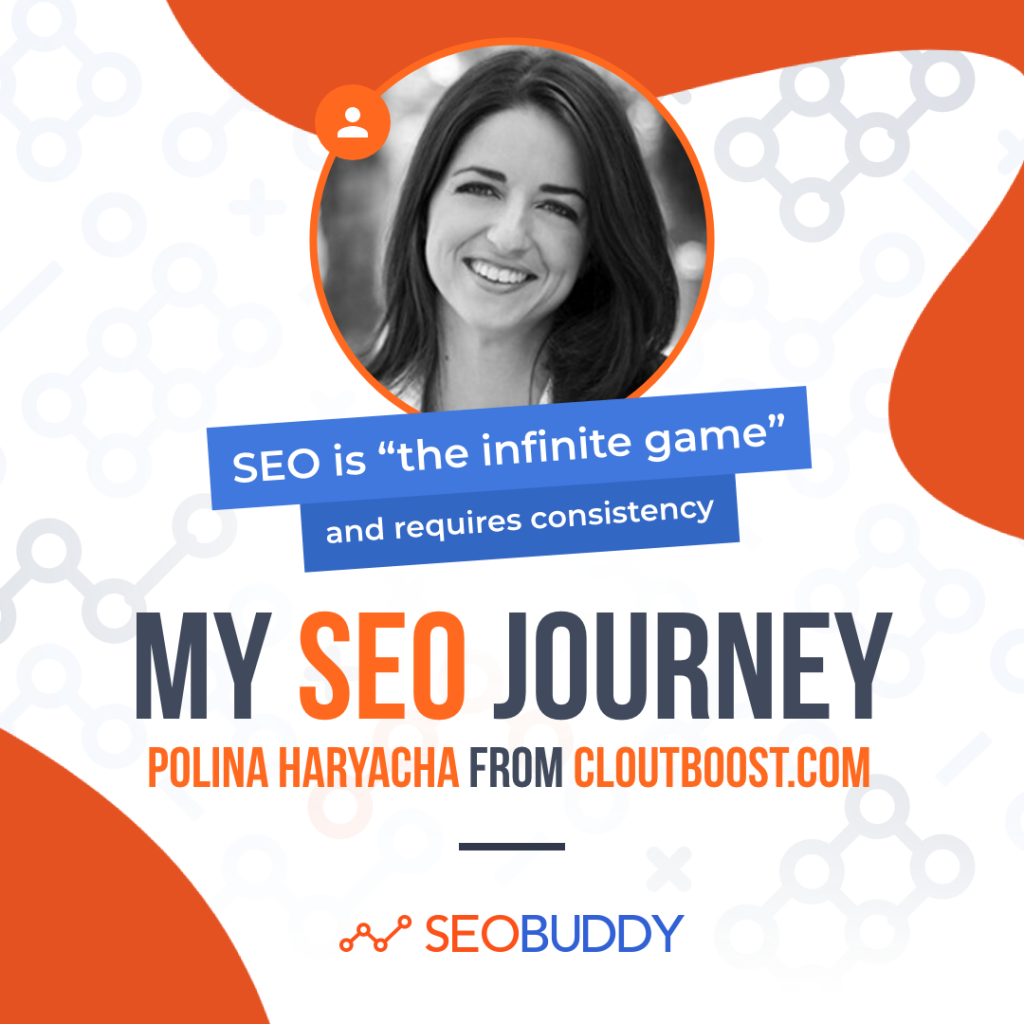 My name is Polina, I'm a founder and CEO at Cloutboost. Cloutboost is an AI-powered video game marketing agency that connects brands with gamers through a data-driven approach. We leverage data science to help brands target video gamers through Influencer Marketing, Public Relations, and Paid Media services.
Some of our loyal clients include Rovio, Samsung, TinyBuild Games, Wargaming, among others.
What's company's backstory and how did the idea originate?
Cloutboost was born out of my passion for gaming and data science. As a marketing team lead for a global publisher, I became aware of the untapped potential of data in the gaming industry, particularly in working with influencers. With millions of video game channels on YouTube alone, selecting the right influencers for games and analyzing their performance was a daunting task. We realized that only a small percentage of influencers were truly effective at driving conversions, and I saw an opportunity to bridge the gap with a solution tailored to the gaming industry.
Leveraging my background in data analytics, I began building a software that could extract and make sense of data about every gaming channel on Twitch and YouTube. Today, Cloutboost has access to millions of gaming channels with their most up-to-date stats, offering our clients comprehensive targeting, campaign management dashboard and real-time reports.
My goal with Cloutboost was to apply the unique combination of video game publishing expertise and data science skills to allow video game publishers to focus on creating amazing games, while we take care of the rest. With our tailored solutions, we not only provide comprehensive analytics but also take care of the hassle of campaign management and scaling.
Whats the mission of the company?
Cloutboost makes marketing as rewarding as games themselves. Through data-driven acquisition, we help brands tap into a 3 billion audience worldwide. Our proprietary analytics capabilities enable us to select the most effective influencers for our clients' games, analyze their performance, and run campaigns at scale.
Since launch of your brand, what has worked to attract more organic traffic?
Since the launch of our brand, we have focused on several strategies to attract more organic traffic.
We started by building a website using Webflow, which not only looks great but also resonates with our target audience and is optimized for search engines. We chose Webflow because of its clean code, impressive page speed, and SEO-friendly features. And it feels amazing to receive compliments from industry experts on our website!
Next up, we focused on creating high-quality content that's specifically tailored to the needs and interests of video game publishers and marketers. Our goal was to establish ourselves as thought leaders in the industry by providing valuable insights, tips, and advice to our audience. This approach has significantly contributed to our online authority and helped us build trust with our followers.
Last but not least, we've been actively building relationships with other bloggers and influencers in the video game community. This has allowed us to share our expertise and knowledge with a wider audience, as well as establish valuable connections and partnerships with others in the industry. To encourage collaboration and content exchange, we've even started accepting guest posts on our website: https://www.cloutboost.com/write-for-us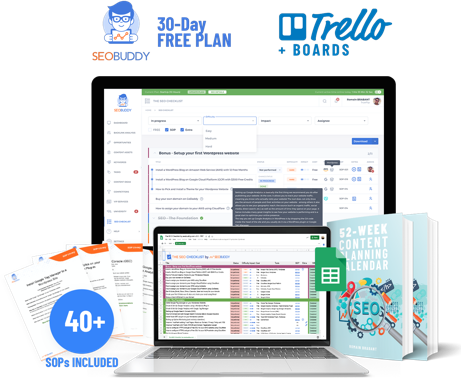 There's more…
Now it's time to discover the other 102 steps that will get more organic traffic flowing to your website. Get the SEO Checklist here.
Want to get a sneak peek of what it looks like?
Enter your email and get a free demo version of the SEO Checklist.
Have you learned anything particularly helpful in your SEO Journey?
Our SEO journey has taught us 3 key lessons.
1. SEO is "the infinite game". It requires consistency because search engines constantly update their algorithms, and user behavior and search trends are constantly changing. To achieve and maintain strong rankings, we need to consistently produce high-quality content, update our website regularly, and build high-quality backlinks over time. Besides, our competitors are also working on their SEO strategies, and if we don't remain consistent in our efforts, we risk falling behind in search results and losing valuable traffic to our website.
2. We have learned the importance of using data and analytics to inform our strategies, such as analyzing search data to identify trending topics within our niche or using predictive analytics to forecast search engine rankings. Without data, we would be relying on guesswork or assumptions about what keywords to target and what content to produce and ultimately lose business opportunities.
3. We have discovered that SEO is rapidly changing and requires constant learning to stay ahead, as seen with the introduction of mobile-first indexing and the emergence of AI models like GPT-4. To succeed in SEO, we believe it's essential to stay up-to-date with the latest trends and techniques while still prioritizing quality content creation.
What SEO tools do you use for your business?
1. Python for web scraping, data analysis and Natural Language Processing (NLP)
2. Google suite of tools for managing SEO (Google Analytics, Google Ads Keyword Planner, Google Search Console, Google Optimize).
3. SEMrush for keyword research, site audit, and competitor analysis to help us optimize and improve the website's performance.
4. Majestic SEO for backlink analysis to improve the website's authority and visibility in search engine results.
Our link-building efforts have been a strategic part of our content calendar, and we have found guest blogging to be particularly effective. Guest blogging achieves several goals at the same time for us: it generates high-quality backlinks, increases brand awareness, and establishes authority in the industry. We have been experimenting with different content formats such as industry analysis, case studies, infographics, data analysis, experts interviews, and more. By offering exclusive content to relevant media, we have been featured and linked back in leading business and marketing publications such as TechCrunch, AdWeek, and AdExchanger.
We have also contributed content to mid-size and small blogs that allow us to reach a highly targeted audience. We have noticed that building high-quality content has led to more link-building opportunities coming our way. Nowadays, we receive offers for link exchange from reputable partners almost every week, which is a testament to the success of our approach.
What have been the most influential books, podcasts, or other resources?
We have found several blogs to be particularly influential in our work.
1. The Moz Blog by Rand Fishkin has been an incredibly valuable resource for us. Fishkin's expertise in the field of SEO and his ability to break down complex concepts into digestible pieces has been a game-changer for our team.
2. We have learned a great deal from the Avinash Kaushik Blog. Kaushik's insights on analytics, measurement, and data-driven decision-making have been incredibly helpful in shaping our approach to SEO and digital marketing.
3. Lastly, we have found Google Search Central to be a critical resource in understanding the latest trends and best practices related to SEO. It offers a wealth of information, including updates to search algorithms, best practices, and helpful tools.
What's the next step in your SEO Journey?
As we look to the next step in our SEO journey, I'm excited about the opportunities to leverage GPT-4 to generate content at scale. We were happy to learn that Google has confirmed that AI-generated content is not against its search engine guidelines. While high-quality human-written content will always be important, the ability to quickly produce large amounts of content could give us a real advantage. With GPT-4, we can not only generate content, but also optimize it for keywords, including titles, meta descriptions, and other on-page elements.
In addition to leveraging GPT-4, we're planning to expand our presence on social media and try new strategies with guest blogging. Building relationships with partners in the content space is a strategy we're pursuing to gain more backlinks and increase the authority of our website.
Where can we go to learn more about you and your company?