My SEO Journey [Pro Edition]: Solomon Thimothy from clickx.io – Anything with a search bar is an opportunity to optimize searches that shouldn't be ignored
My SEO Journey [PRO Edition] is a series where professionals in the SEO Industry, Digital Marketing, or Web Design share their honest SEO Journey filled with failure, success, and most importantly, proven results.  Episode #112 features Solomon Thimothy from ClickX.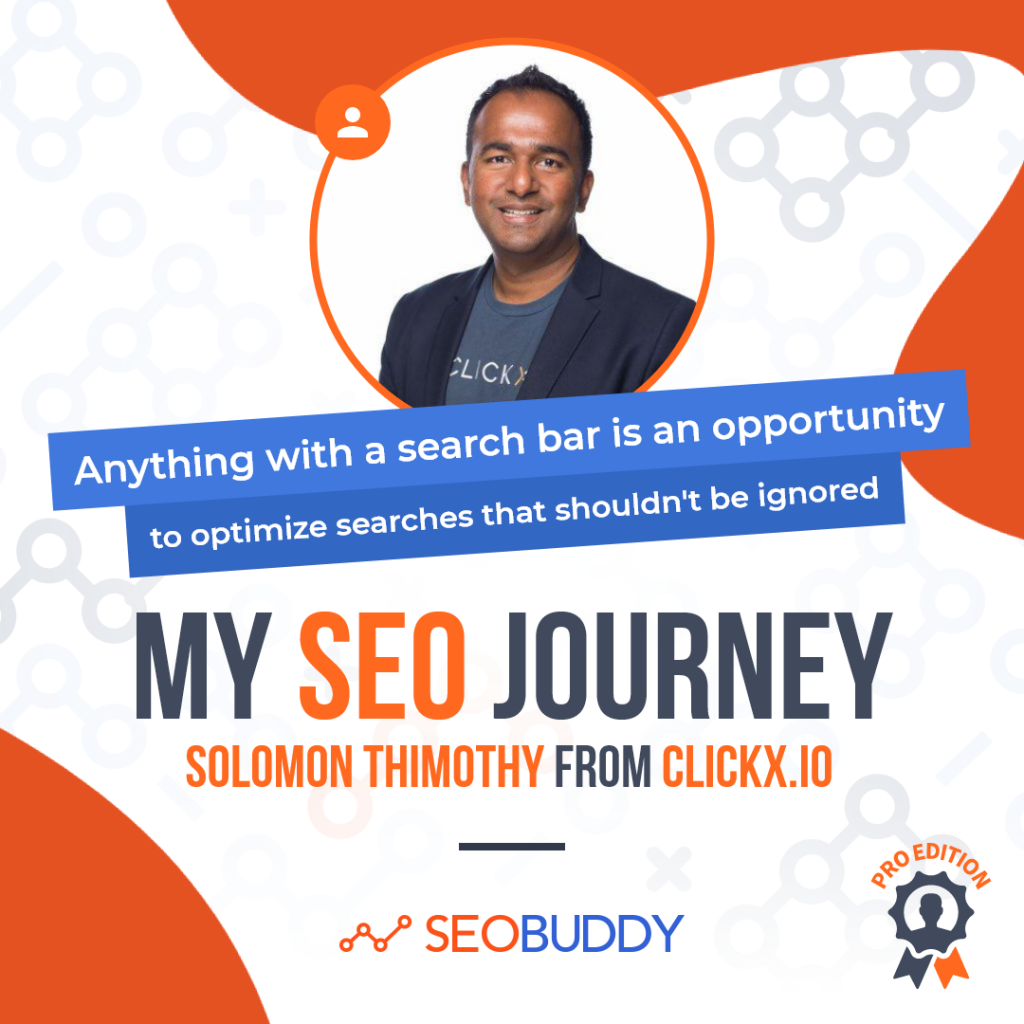 I am Solomon Thimothy, founder of ClickX and OneIMS. We are a B2B marketing agency.
We specialize in helpling B2B companies generate leads and close them to paying customers. We fix data problems, which is the biggest problem businesses have. They do not have the accessibility or know where the data is. Sales people have outdated CRM. There is no quality and fluidity to many businesses' data.
Fixing data helps to grow and scale the business.
At OneIMS, our mission is to design and develop the most effective and efficient Integrated Marketing Solutions for clients. As a lead generation and customer acquisition agency, we create powerful strategies and practical solutions to ensure that we produce measurable and sustainable results for advancing businesses and their brands. We strive to meet and exceed client sales and marketing goals by focusing on our core values of people, passion, and performance.
What's your backstory and how did you come up with the idea?
I graduated college and started a marketing agency building websites. All I knew was how to build websites.
My parents were strict about graduating college. The day after I graduated, I knew what I wanted to do was entrepreneurship. I was sitting in Panera Bread trying to build a website and self teaching myself. It was pretty intuitive and it just clicked. It was all self taught. I was working full time and school full time. There was no time to work on a side hustle. I realized if I can build this fully functioning site, I can start doing this for people. It was 2005. Not many people had company websites. It was easy to do it since it was in high demand. I could pump out websites quickly and it was my seed capital.
I knew this was the right idea to work on because the internet was relatively new at the time. Companies did not have a corporate email address, domain name, or website. My job was to fix the gap. I came in at the right time. I helped people to buy domain names which helped to set them up and launch their websites. I did that for years since no one else knew.
I was Passionate about marketing as a young kid, more in the graphic design area. I was a broke college kid living with my parents and no income. I wanted to fix everyone's problems. I wanted everyone's business to be cohesive. I wanted people to get their logo right and be effective, use the correct color schemes, and have websites that flowed. I was on a mission to fix people's businesses.
This is not what I do today, but how I started. I saw many people who did not know how to brand.. I bridged the gap since people just didn't know. They did not know it made a difference in sales. Branding is so important but people did not view it as such back in the day. It was not a top priority to business owners since they did not understand the true effect it has. Today, people are much more aware of this. It is common knowledge that did not exist in 2005.
At the time, I validated the ideas by starting to buy domain names from providers that were small companies. I was figuring out the process of owning it. It was so new, I was eating up all of the knowledge about it. This is what the world needs right now since no one else has it. I wanted to capitalize on it, even as a kid. Still to this day, so many people do not have a proper domain name, websites, or corporate emails. This is one business that offers a service everyone needs forever. Everyone needs to keep their website updated and make sure that it is optimized.
If you are starting up your business, this is your business.
Since launch, what has worked to attract more organic traffic?
Advice for aspiring founders based on what I have learned is to specialize in attracting local clients. When I first started my company, I did not go for national clients. My hometown was Chicago and I wanted to rank in that area.
I used what I knew. I built a website first that was not SEO-friendly. We then started using SEO for only local traffic. I wanted to get business from local people. I never went to networking events, it was always someone finding us online. I would put my name on the bottom of websites that I built.
This would cause people to reach out to me and want me to build them their own website.
A step I took to increase traffic and sales was to start to develop more content. The challenge is most marketing agencies do not invest any time in their own marketing. They are so busy working on clients' campaigns they do not give enough time for this. So we changed it up and gave more time to marketing.
We hired a blogger and part-time SEO specialist so we did not get lost in other issues. Content development became a priority. We would use creative tactics that we took seriously. I involved my team in my content and paid more attention to what I was putting out.
Our first version of the company was building websites, and we were done. It was like a machine, we had a sales team, then a designer to make the site, and also a developer to code the site. It was a process we had done to redesign the site, which we did for many companies. The way we started to bring customers back with a retainer model is the customer would tell me as much as I love my website, it is not increasing clients because no one knows I have a website.
We knew we had to drive traffic. We need to get people and clients, not pretty websites. They needed more traffic, more people filling out their forms. That was our pivot. Do not tell your clients you only specialize in websites. I did not understand the power of inbound traffic. People want leads and traffic. We invested in that. We hired copywriters and SEO specialists. We built an ongoing retainer business. We do not take on clients that do not have interest in growing with us.
Link examples of content:
https://www.youtube.com/watch?v=ceJ_dJXpmNM
https://www.youtube.com/watch?v=c1BeHhKVlbs
https://www.youtube.com/watch?v=xECqu2Goa0I
https://www.oneims.com/growth-hacking-strategies-for-b2b-companies/
https://www.oneims.com/google-my-business-optimization-tips-guide/
https://www.oneims.com/seo-for-manufacturers-industrial-companies/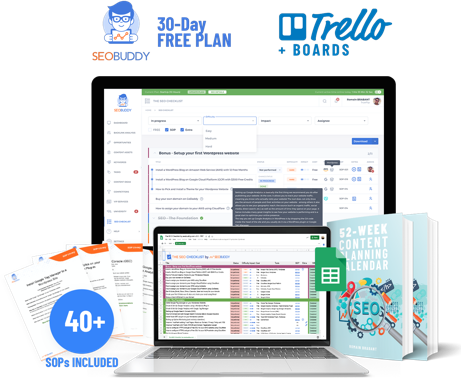 There's more…
Now it's time to discover the other 102 steps that will get more organic traffic flowing to your website. Get the SEO Checklist here.
Want to get a sneak peek of what it looks like?
Enter your email and get a free demo version of the SEO Checklist.
Have you learned anything particularly helpful in your SEO Journey?
A challenge I encountered was when we were onboarding digital marketing clients, there was an influx of data.
All of these sources were driving too much data at us. There was too much information to make sense of. We did not know why traffic was going up and if it was generating leads. We developed an in-house software to connect all of these reports to one place. If we kept all information in different places, no reports would make any sense to clients. We figured out a way to consolidate everything on the same platform with zero outside capital. Without doing this, we could not scale.
A good decision I made was building software. We morphed from a service company who made emails and made websites, to a software company selling a system that helped people get traffic once we had our own framework and methodology. We would do things strategically. We were able to show reports immediately of the growth by showing a graph that their leads and traffic were growing. We were early in the days of building softwares. We are a tech company focusing on lead generation and customer acquisition. You cannot build a website and walk away, you need to understand the data that all the systems give to you.
A force out of my control that helped me was Google since it blew up out of nowhere. In my early days, people wanted to be at the top of Google. At the time, no one was patient enough for SEO. Everything was centered around Google. No one was talking about Microsoft's search engine. Google took over Microsoft's search engine. Google's number one revenue is advertising, so we took advantage of this. I was in the right place at the right time. Google ads were very efficient at the time. People were willing to buy it. Then, everyone wanted to be a part of Facebook and Instagram as well after they blew up and grew. There are trends that are constantly changing, such as the emergence of new social media platforms and their changing algorithms.
A lesson I learned was scalability. I used software to scale as opposed to people. I started to automate processes to lessen hours for my people. Using the power of technology and atomization to your advantage is important. If you start using technology to solve problems, you can build an amazing business and not invest so many hours and need so many people. Marketing automation can help our customers get an edge and get another sale in the door.
A skill I possess is my scaling abilities. I have learned how to scale a professional company. If you want more clients, go and hire more people. Scaling is the opposite mindset of that. I have the skill of teaching businesses how to get 10,000 new customers while hiring no one. I use this model to scale constantly. Make your marketing as efficient as possible. You should push things to the minimum amount of time. Maximize output with not as many people in the middle.
What SEO tools do you use for your business?
The list of tools I utilize for SEO is SEMrush, AHREFS, Hubspot, Browser Stack, Complete G Suite, Google Search Console, and Bing Webmaster Tools. These tools provide lots of data to optimize SEO and present it in a non-complicated format. Learning how to use these tools will help to set you apart from your competitors by tracking information of your website, which you can use to make tweaks and perfect your site to drive leads.
Links to tools:
https://www.semrush.com/
https://ahrefs.com/
https://www.hubspot.com/products/crm
https://www.browserstack.com/
https://workspace.google.com/
https://search.google.com/search-console/about
https://www.bing.com/webmasters/about
I have contributed to link-building through digital public relations. This is the most efficient and effective method. Every time I have an opportunity to write content, I create 800-word articles and send them to organizations such as Forbes. I also do lots of Q&A content, such as HARO.
If I do this for half an hour every day, I will be able to build links that are hard to get. To Google, the easier link is to acquire, the lower the value of the link is. It has no authority if it is easy to get. For example, USA Today has millions of inbound links so it has a high page authority.
If you publish a press release, it has a higher authority than building a brand new blog and putting a link to a website since it has less authority. It is best to acquire links that are not impossible and make sure to not take too much time on this since it will take away from other areas of your business.
You should contribute in high-quality content and work with other copywriters to build links. For example, reach out the copywriter and pitch that you have a link to a free tool if they would feature you in their blog. Find guest writers and email that you want to collaborate with.
What have been the most influential books, podcasts, or other resources?
A book that has stood the test of time was written by my friend, Michael E Gerbet, E-Myth Revisited. It was published in the mid 1990s. He has written multiple books from many different industries. This will tell you how to build a business and systems to follow to grow and scale. It is great for people who want to build their business.
Another great book is called Scaling Up by Verne Harnish. This book is essential for people learning to grow and add more people to their business.
Another honorable mention is a book named Traction by Gino Wickman. This book basically teaches you how to get information across your organization. It educates you on how to get everyone on the same page for goals and objectives. This is great for entrepreneurs to dive in deep and execute.
One of my favorite writers is Gary Vee. This author gives you actionable items instead of purely strategic insight.
What's the next step in your SEO Journey?
SEO has taken over every aspect of our lives. There has been an emergence of many platforms since the days of only worrying about Google. Youtube is the second largest search engine, so proper title pages and thought-out descriptions are essential when posting video content.
Everywhere we go, and every platform has something we can optimize or something to optimize. We can not just worry about Google SEO anymore. It is so competitive it is like man against machine. If you use any techniques that are against terms, it will come back to haunt you.
There are so many other platforms you can publish content and get ranked faster than on Google. For example, TikTok and LinkedIn are platforms where SEO can drive you to the top. We want to educate people from thinking outside of just Google and be a leader in industry on different platforms. Anything that has a search bar, that means there is opportunity to optimize searches that should be taken advantage of and not ignored.
Where can we go to learn more?
Website:
https://www.oneims.com/
https://www.clickx.io/
Instagram:
https://www.instagram.com/clickxio/
https://www.instagram.com/oneims/
Facebook:
https://www.facebook.com/OneIMS/
https://www.facebook.com/Clickx.io/about/
Youtube:
https://www.youtube.com/channel/UChUw-CvnPnC6ZuMX7-a2EAQ
https://www.youtube.com/@oneims
LinkedIn:
https://www.linkedin.com/company/oneims
https://www.linkedin.com/company/clickx
Blog Page:
https://www.oneims.com/blog/
https://www.clickx.io/blog/