My SEO Journey: Michael Downing from chipmonkbaking.com – Low-Carb / Keto eCommerce Ranking Organically on 4,200+ Keywords
My SEO Journey is a series where entrepreneurs and Indie makers share their honest SEO Journey filled with failure and success, and most importantly proven results. Episode #39 features Michael Downing from ChipMonk Baking.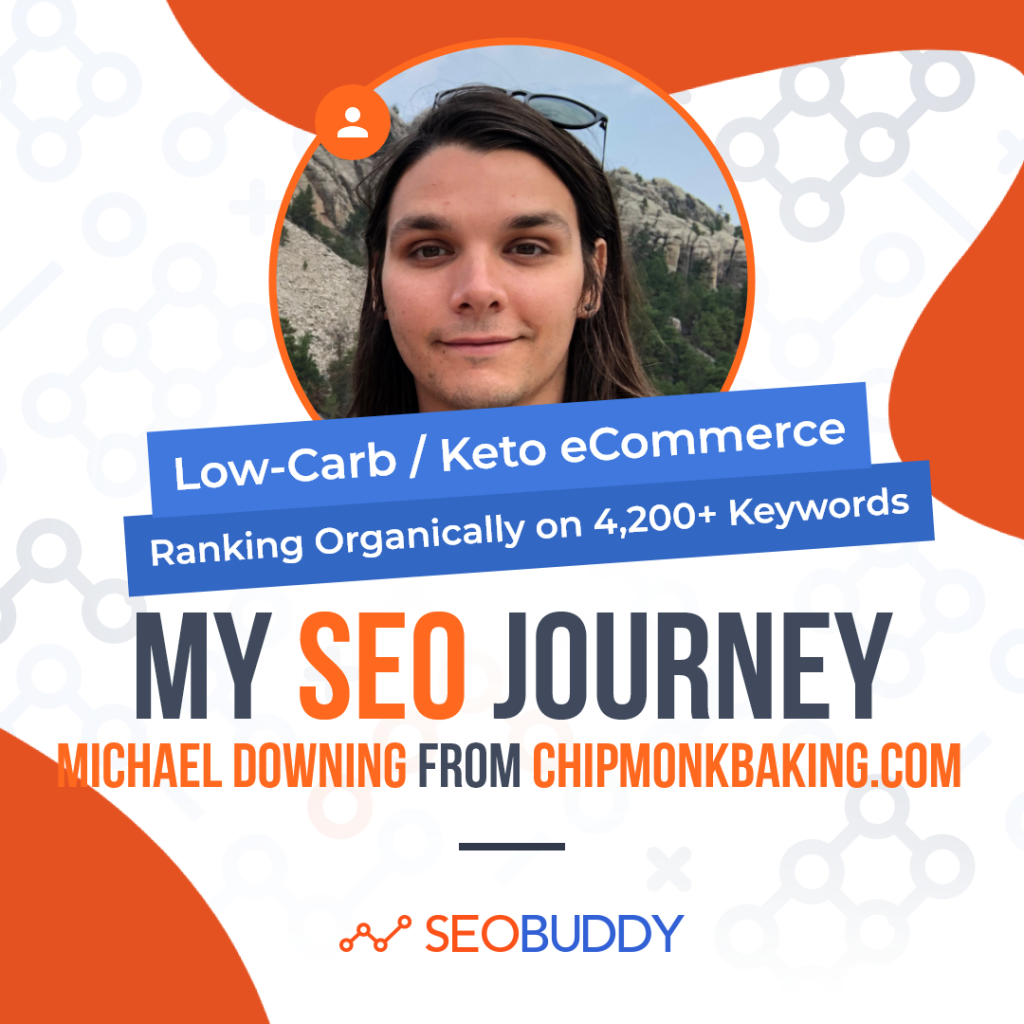 My name is Michael Downing and I am the Digital Marketing Director for ChipMonk Baking, a Houston-based keto bakery that specializes in sugarless, all-natural desserts.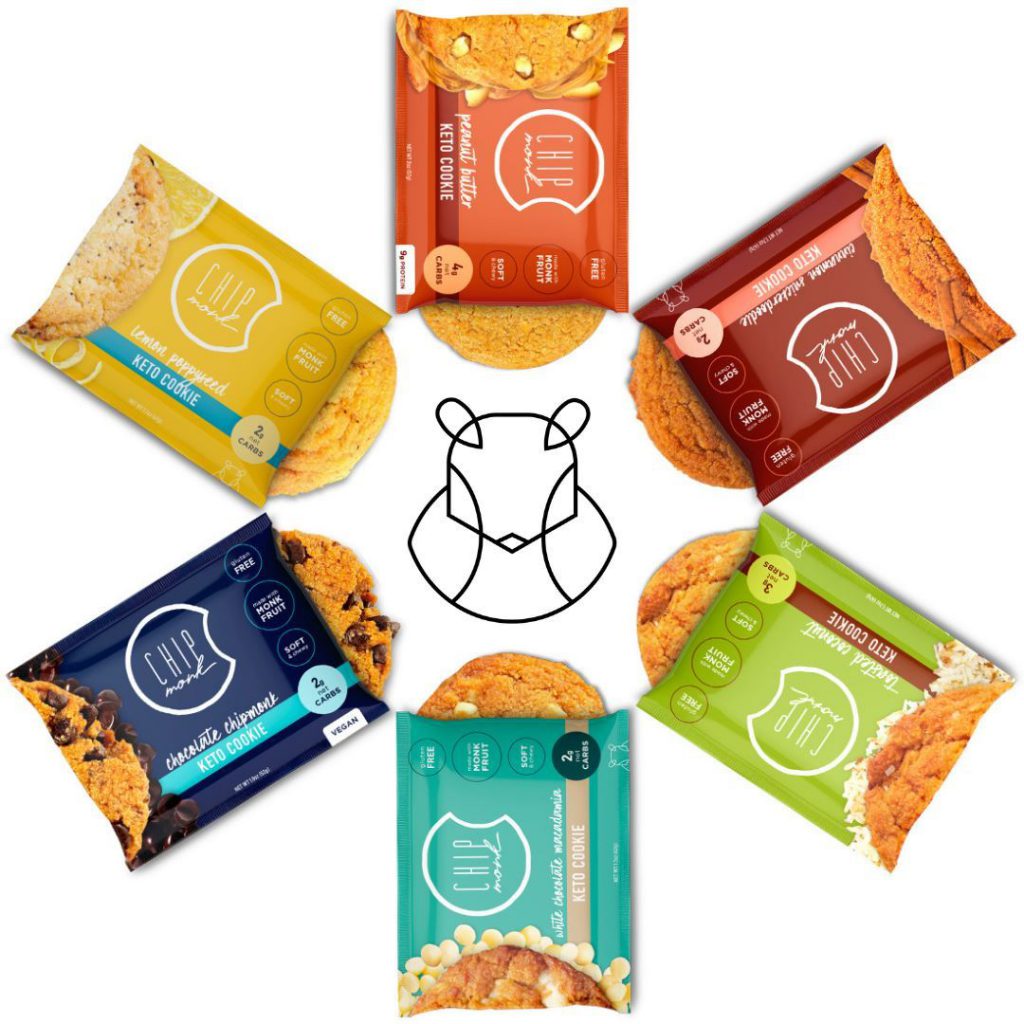 One of the things that sets us apart is that we try to offer as much variety as possible. We offer 15 flavors to choose from and also regularly do special 'small-batch' bakes so there is always something new to try.
Our mission is to help everyone indulge mindfully by providing a rich variety of desserts and snacks that maximize both taste AND health. You can learn more about our story here.
Since launch, what has worked to attract more organic traffic?
We are constantly experimenting with new strategies to drive traffic to our website and we've definitely come up with several winning strategies. The first is to regularly post and share our own keto recipes on Reddit.com. They have tons of keto-themed communities that are excited to learn about our content and visit our website.
We also see a ton of success from bi-monthly co-sponsored giveaways with other brands.
Every two weeks, ChipMonk along with a different partner will send out an email newsletter driving traffic to a customized landing page to signup for a giveaway. Users are prompted to sign up in exchange for a 15% off discount for both brands.
This typically leads to hundreds of new email leads, and a sizable sales bump.
We also regularly drive traffic via social media by sharing relevant content and links on Facebook, Instagram (via LinkTree), TikTok (via LinkTree), Twitter, and especially Pinterest.
We also have a daily 'Social Media Growth Protocol' which includes frequent posting, following and commenting with relevant accounts, engaging with our followers, and sending a welcome message and discount code to new followers. Sticking to and expanding on this protocol has helped us grow our social media presence pretty quickly and continuously drive qualified traffic to our website.
Finally, and probably most importantly, we also send out weekly email and text campaigns to help remarket to previous customers and website visitors announcing new products, sales, health & diet tips, & keto recipes. At this time, nearly 60% of all of our e-commerce sales are driven by email and text remarketing efforts.
Have you learned anything particularly helpful in your SEO Journey?
In terms of SEO, I would say our biggest mistake was not investing in relevant content early on.
We were originally only publishing 1-2 blogs per month, but now we aim to publish 2 blogs per week, which are also promoted via our social media channels and email campaigns. We try to focus our content on whatever is relevant to a health-oriented, or more specifically low-carb, ketogenic audience.
So naturally, we post tons of keto recipes.
But we also like to post 'best-of' product lists, and about health, wellness, & mindfulness in general.
One surprising win for us was a blog we posted called The Real Story of the Two Wolves, a blog written by our owner about a common misinterpretation of a popular parable. Our content theme hasn't allowed us to re-create these results too often, but by aiming to write about something your audience cares about but is generally not easy to find, we have been able to consistently drive new traffic to our site.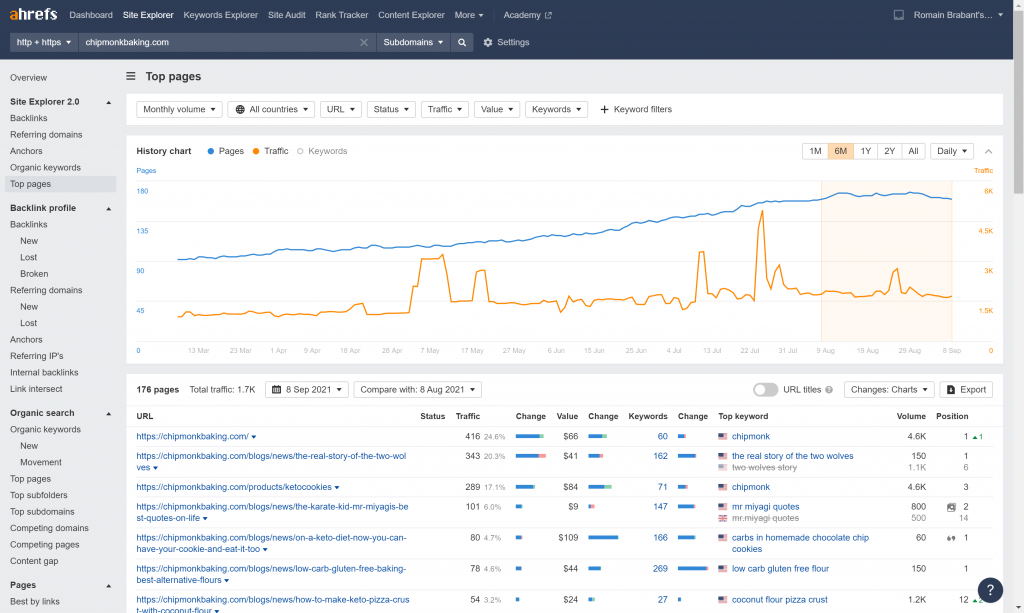 We also learned a little late how important it is to double-check meta-tags and meta descriptions to make sure they match the contents of our product pages and blogs. This was fairly easily remedied with a quick audit and re-write of our product descriptions to focus on keto-themed keywords and then adjusting the meta-tags accordingly.
Not entirely related to SEO, but I would say another big mistake was taking as long as we did to get set up with SMS text message marketing. I personally hate being marketed to via text, so I wasn't too enthusiastic about this platform, but it turns out to have been totally essential in converting website visitors to new customers and for expanding our customer lifetime value in general. People are shopping via text!
Another mistake we are slowly learning to avoid is overpaying for PPC traffic during times when the PPC marketplace is highly competitive (ex: Labor Day, Black Friday, near elections).
Although Facebook & Instagram Ads are an essential part of our marketing efforts, we have found it simply isn't worth competing in the marketplace whenever we see a big, market-induced spice in cost-per-click. During these times we tend to focus more on unpaid marketing and email & text remarketing opportunities.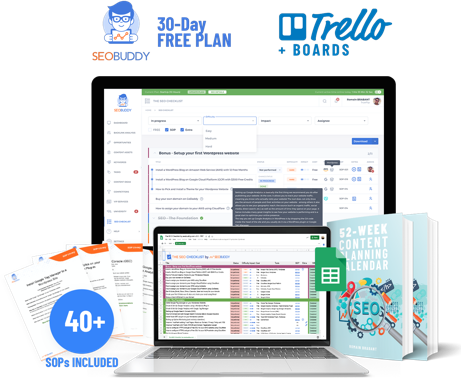 There's more…
Now it's time to discover the other 102 steps that will get more organic traffic flowing to your website. Get the SEO Checklist here.
Want to get a sneak peek of what it looks like?
Enter your email and get a free demo version of the SEO Checklist.
What's your SEO Tech Stack?
We have access to a few different SEM-specific tools, but honestly, the most valuable tool for us has been Google Analytics and Shopify. Combined, these tools provide us with a detailed breakdown of where our visitors are coming from and how they are converting.
While the keyword research tools provided by resources like RankTracker or SEMRush might be valuable to others, we've found it's generally better to go straight to the source and ask our customers directly (via email and call surveys) what they are looking for (new relevant blog posts, products, and recipes), and how we can improve their experience on our website.

Whenever we publish new blogs on our website we also share them via social media and with partners who we encourage to backlink and re-share. We also build goodwill by hosting blogs from relevant guest authors, usually in exchange for a link from their website.
A HUGE partner for us has been SugarlessCrystals.com, a website owned by a keto-baking professional and investor in ChipMonk Baking.
What have been the most influential books, podcasts, or other resources?
I subscribe to the DTC (Direct-to-Consumer) newsletter, which has tons of helpful tips for SEO, website optimization, and digital marketing in general. ChipMonk's CEO has also put together a monthly book club for us to read and discuss everything related to marketing.
I can't just recommend one book or resource, but I certainly recommend making time to read relevant literature and stay up-to-date on current trends. In digital marketing, there is always something new to learn.
Where can we go to learn more?
Like I said, my experience in SEO is pretty limited, but I have been fully immersed in digital marketing with ChipMonk Baking for nearly 2 years now and I am always happy to speak with and learn from other people in a similar position.
If that's you, feel free to email me at [email protected]. You can also check out our website (https://chipmonkbaking.com/) to check out our products and blogging strategy.
Thanks for having me!
-Michael