My SEO Journey: Chelle Neff from urbanbetty.com – Building an in-house "Blog Writers Group" to produce awesome content.
My SEO Journey is a new series where entrepreneurs and Indie makers will share their honest SEO Journey filled with failure and success, and most importantly proven results. Episode #25 features Chelle Neff from Urban Betty.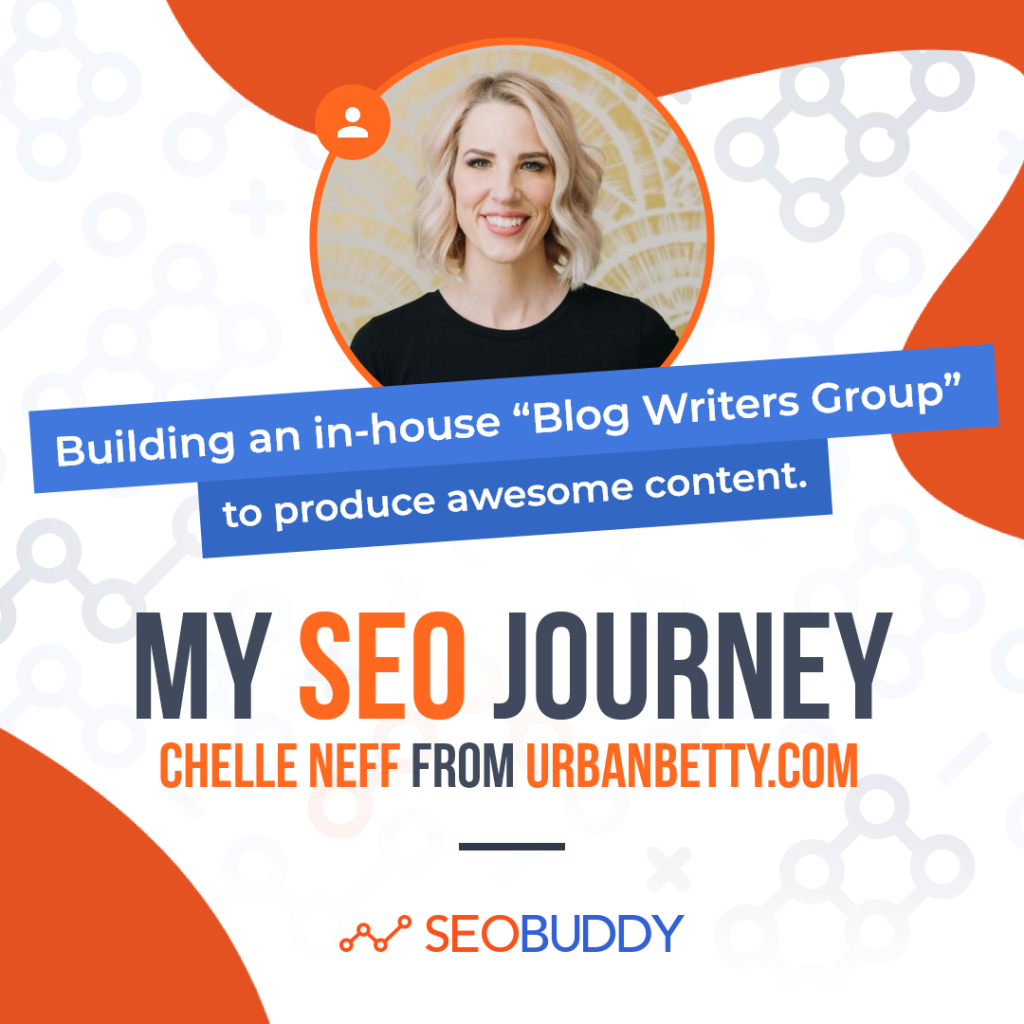 Hi, I'm Chelle Neff, and I'm the founder of Urban Betty.
After ten years of working for other salons, I took the leap in 2005 and opened my own salon company.
I had one contractor that worked for me in a space that housed over ten hair stations. After six months, I had my first employee. Six years later, I had about thirteen people working at Urban Betty (half employees, half contractors).
We then moved into a space double the size, and after a few months, I phased out my contractors and evolved into an all commission-based employee salon company.
Now sixteen years later, we have two locations with over 60 employees.
Mission Statement: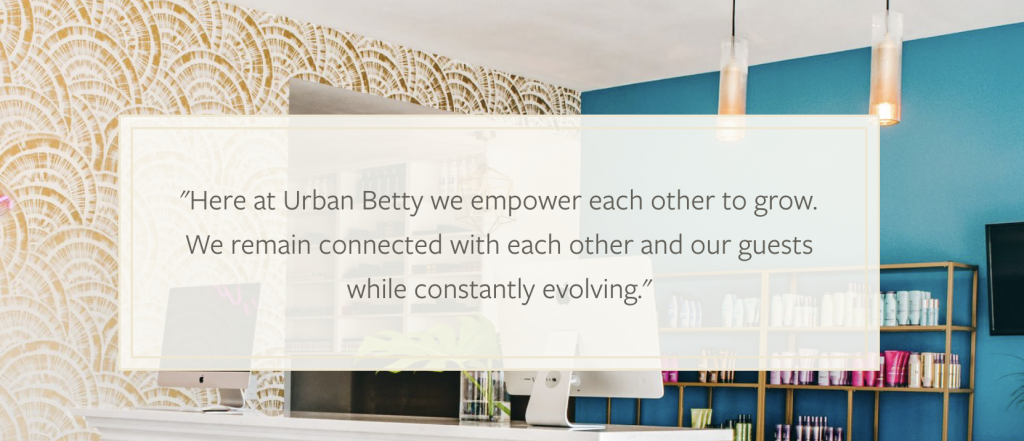 What's your backstory and how did you come up with the idea?
The motivation to do better in life led me to this career.
I knew that if I wanted to go to college, I would need to find a way to pay for it along with my cost of living. I naturally had a talent for doing hair, so when I was sixteen, I enrolled in cosmetology school while in high school, and by eighteen, I had a license.
This route was much more affordable for me than going to a traditional college.
When I received my license in 1995, I started working behind the chair at Supercuts. I slowly worked my way up the ladder to high-end salons. Five years later, I got a small suite at the Gallery of Salons and was an independent contractor.
That was my initial stepping stone to running my own business.
I identified a common issue at each of the salons that I worked at before opening Urban Betty: a lack of honest communication between management and staff and no transparency on the breakdown of hairstylists' earnings.
This experience inspired me to open Urban Betty so that I could create a space for hairstylists that had systems, structure, and the ability to succeed with setting goals
Since launch, what has worked to attract more organic traffic?
We use our blog to gain more organic traffic.
We also use it to promote events, products, sales, and our Betty of the Week and (employee) of the month; but, we also use the blog to educate our readers and increase engagement with our social media community.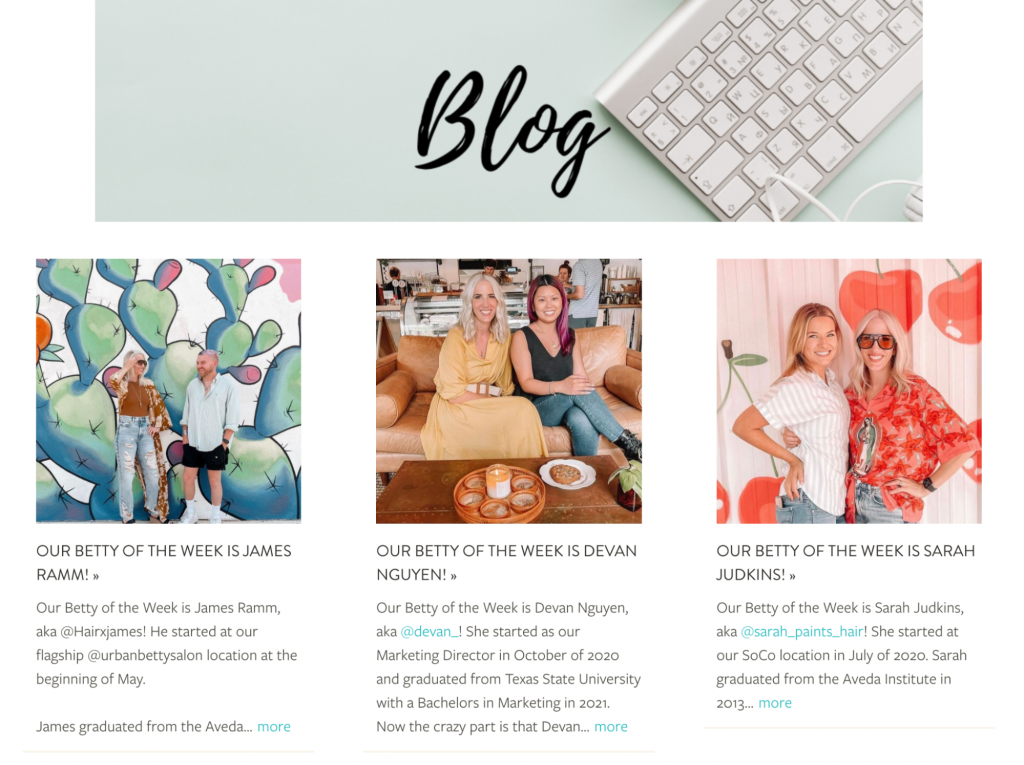 Our blog has been a significant source for both new and returning website traffic, with our blog being one of the top 10 visited pages on our website. We regularly poll our followers on Instagram to ask what topics they want to read next on our blog, which helps keep our community engaged and coming back for new content.
Our most visited blogs are ones that cover the latest trends, how-to's, and general hair advice.
We strive to publish fresh content on our blog every week, and we subsequently share those blogs on our social media platforms such as Instagram, Facebook, and Pinterest.
Most recently, we launched a Blog Writers Group within our salon.
We have four members of the group who are stylists that each write one article a month.
Our Marketing Director oversees the blog and the writer's group, edits and publishes the blogs, and offers blog ideas and feedback for the group. We started this group to guarantee that our blog would have new, original content written by stylists each week.
Since our Marketing Director joined our team and started executing the content strategy for our salon, the Urban Betty blog has helped increase returning visitors to our website from 13.4% to 14.2% (an additional 1700 returning visitors).

The majority of traffic to our website is new visitors; but, once a new guest has come into the salon and established a relationship with a stylist, they typically don't need to revisit our website.
The salon blog provides a reason for website visitors to regularly return to our website, keeping our website traffic steady and our SEO rankings high, which ultimately helps direct new guests to our website when searching for hair salons in Austin.

Blog page: https://urbanbetty.com/blog
Popular blogs:

https://urbanbetty.com/blog/the-biggest-hair-trends-in-2019
https://urbanbetty.com/blog/toners-are-they-really-necessary
https://urbanbetty.com/blog/the-best-hair-colors-for-your-skin-tone
https://urbanbetty.com/blog/bang-series-part-1-the-oval-face
https://urbanbetty.com/blog/5-reasons-to-buy-hair-products-from-a-salon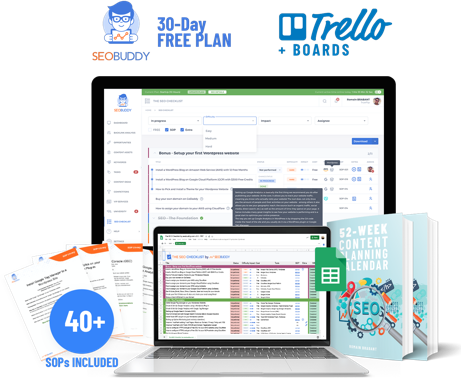 There's more…
Now it's time to discover the other 102 steps that will get more organic traffic flowing to your website. Get the SEO Checklist here.
Want to get a sneak peek of what it looks like?
Enter your email and get a free demo version of the SEO Checklist.
Have you learned anything particularly helpful or advantageous?
When I first opened my salon company, I wanted to stick my head in the sand and not pay attention to online reviews. I remember the first one-star review and crying about it all night. I learned that it usually doesn't go away; it just gets bigger.
So I started to respond to EVERY single review on Google and Yelp within 24 hours, good and bad.
After every appointment, we follow up with each guest and send out an email that provides the guest the opportunity to rate their experience, leave a Google review, give a video testimonial, and provide personal feedback regarding their consultation and service experience.
Once we launched this follow-up email system one year ago, it doubled our weekly Google reviews. We now get around three five stars reviews per week.
Not only does this help our reputation it increases our SEO.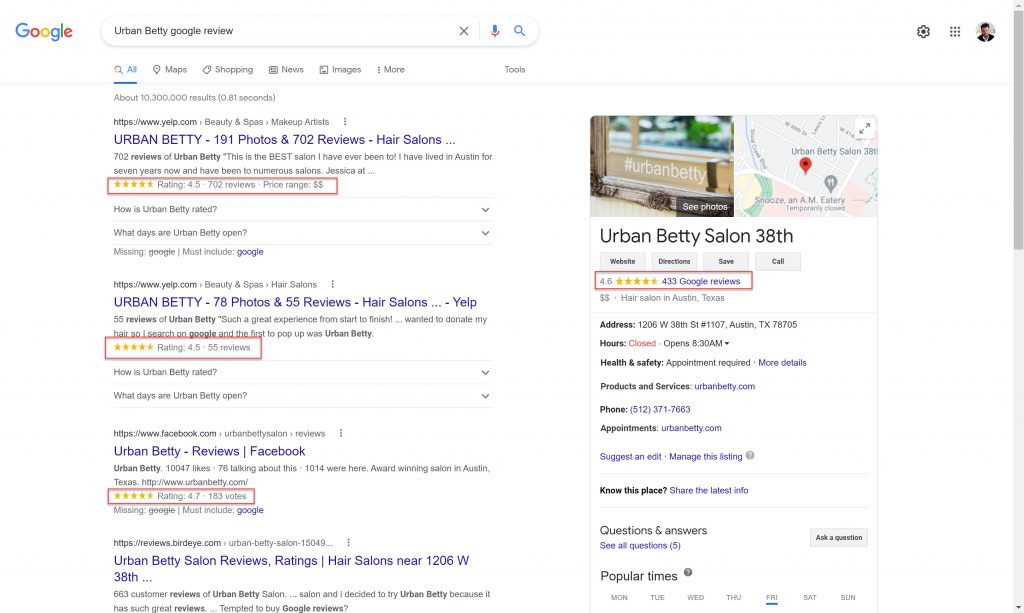 Our trick for responding to reviews is simple:
We love to thank them for their feedback,
Offer a solution if it's a negative experience.
We also thank them for their positive or negative review. Quickly responding helps save a guest from leaving us, and we gain respect and loyalty in that process. This tactic also produces new business for the salon, as it shows people that we are paying attention and will always rectify or resolve conflict.
I recently had a guest tell me that the one reason they picked our salon was not because of the GOOD reviews but how we had responded to the negative ones.
Because we care and always come across as professional, she felt safe coming to our business.
What platform/tools do you use for your business?
In March of 2015, we created an entirely new website for Urban Betty.
We used the services of a local company, SpaceCraft, to set it all up. What is so great about our site is that we can log in and update all of the content and design ourselves. We can also constantly update our SEO for each page. The result is that our Google Analytics is now customized for the site, and we can check it each month to see what pages are visited the most.
We use Envision as our POS system. We book all of our appointments through Envision and use it for all of our reports, including service totals, retail sales, and client retention. We love it because we can customize reports based on the stylist's performance and track their goals. The system also sends out text messages and follow-up emails after each appointment.
Meet Your Stylist is a tool on our website that invites new guests to take a survey to see which of the salon's service providers you best match with, offering three potential matches and connecting the guest to their bios. The survey essentially is a "matchmaking" service for service providers and guests. It uses the technology of The 5 Love Languages to poll each person. Our stylists have taken the same quiz, and therefore each guest becomes a match based on their answers. And when a guest gets a client that they can click with right away, they are more likely to stay with us!

We regularly use MailChimp for our marketing emails. We send marketing emails to promote our salon's sales, products, and events. We also use it to inform and educate our clients and readers on various beauty-related topics. Mailchimp has helped streamline our email marketing through the ease of its email-building design and its tips for every step of the creation process. We've been able to identify and enhance critical areas needing improvement through the use of Mailchimp's reporting functions.
For example, we placed a strong focus on email subject lines—my marketing director crafts a powerful subject line for every newsletter to maximize our open rate. We can see what works with our audience and what doesn't, and we also have visibility on essential metrics like which blogs receive the most clicks on each newsletter.
What have been the most influential books, podcasts, or other resources?
Last year I discovered the Lacy Phillips podcast, which expanded into joining her online community and becoming a member. It seriously changed my life. I am a big proponent of self-growth through self-care.
Without one, you cannot have the other.
Wellness and beauty are two things that should always go together. Whatever you choose to put ON your body goes INTO your body. You have to be careful that the products you use are sustainable, clean, and healing.
Fierce Conversations by Susan Scott is a book that transformed my business. When I started, every single employee came to me for every single question that they would have. It became exhausting. I attended the Fierce Conversations workshop in NY and learned a great system to help alleviate that issue.
It's the Decision Tree. It envelopes the four categories of decisions:
Leaf Decisions: Make the decision. Act on it. Do not report the action you took.
Branch Decisions: Make the decision. Act on it. Report the action you took.
Trunk Decisions: Make the decision. Discuss your decision with me before you take action.
Root Decisions: Make the decision jointly, with input from many people.
These are the decisions that, if poorly made and implemented, could cause harm to the organization. We now include The Decision Tree into our new employee orientation, assigning each level to a different person within management.
Where can we go to learn more?