My SEO Journey [Pro Edition]: Pragati Singh from carinasoftlabs.com – The Role of Selecting Sites backlinks (Case Study)
My SEO Journey [PRO Edition] is a series where professionals in the SEO Industry, Digital Marketing, or Web Design share their honest SEO Journey filled with failure, success, and most importantly, proven results. Episode #143 features Pragati Singh from Carina Softlabs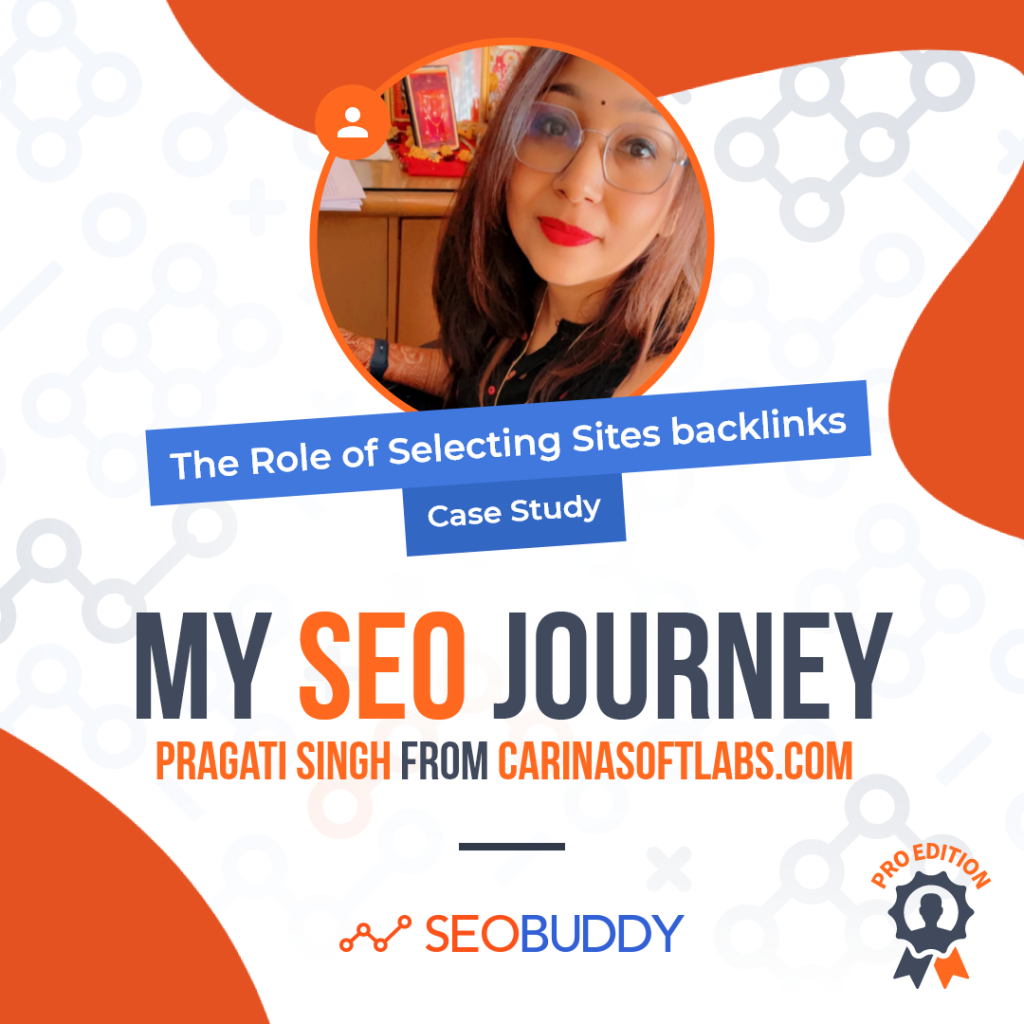 Hello, My name is Pragati Singh Suman, and I'm the director of Carina Softlabs Inc. At Carina Softlabs, we offer professional services to businesses in Game Development, Digital Marketing, Web development & Mobile App Development.
What's your backstory, and how did you come up with the idea?
I commenced my role as an SEO Executive back in 2011, marking the beginning of my journey in this field. I decided to take matters into my own hands. I interviewed directly with an Indore-based company called "Workgroup Business Solutions Pvt. Ltd" and was fortunate to be chosen as an SEO executive. This was during a time when the SEO landscape was primarily focused on link building and fundamental on-page activities.
Consequently, my initial role revolved around essential link building tasks, such as blog commenting, directory submissions, forum discussions, forum profile creations, social bookmarking submissions, and article submissions.
After eight months, I embarked on my freelancing journey in the realm of SEO, which proved to be an invaluable learning experience.
What's your Work Experience?
My first remote position was with a company based in Bangalore, Flatworld Solutions. Initially, I began as a forum poster and gradually took on more responsibilities. I collaborated with a team and gained expertise in various aspects of SEO, including on-page and off-page optimization, link building, infographics, social media marketing, and outreach strategies, such as resource page links, broken link building, guest posting, and sponsored guest posting. I also became proficient in using tools like Ahrefs, SEMrush, Pitchbox, and Reply.io, as well as project management tools such as Trello and Clickup.
In Seattle, I had the privilege of working with Loganix, primarily focusing on remote outreach campaigns, which included broken link building and guest posting. My toolkit included Buzzstream and Ninja outreach, with Slack serving as our messaging platform.
I also had the opportunity to collaborate with a company in Australia called Constant Clicks, where I worked remotely on on-page optimization, link building, and outreach campaigns. Project management tools like Monday helped streamline our tasks.
My work with Outreach Humans in Spain was also conducted remotely and centered around outreach campaigns.
Similarly, in the Netherlands, I remotely partnered with SurfShark for outreach campaigns.
Throughout this journey, I worked on multiple remote projects and eventually established my own remote team, which has now grown into an agency comprising 32 marketing professionals. We handle a diverse range of remote projects, including SEO, on-page optimization, link building, social media marketing, meta ad campaigns, PPC, YouTube marketing, and branding initiatives.
What Project Management tools do you use for your business?
In addition to my project management expertise, I have had the opportunity to work with a wide array of project management tools that have further enhanced my ability to efficiently plan, execute, and monitor projects. These tools include LiquidPlanner, which has been invaluable in helping me create realistic project schedules and optimize resource allocation.
Asana has been a go-to choice for collaborative task management, allowing for seamless coordination among team members and stakeholders.
ClickUp has proven to be a versatile platform for agile project management, offering customizable workflows and extensive integrations.
Basecamp has been instrumental in facilitating client communication and document sharing, ensuring everyone remains on the same page throughout the project lifecycle. Podio has been a fantastic tool for customizing project workflows to suit specific project requirements, while Notion's flexibility has enabled me to create comprehensive project dashboards and knowledge bases.
Lastly, Jira has been indispensable for managing software development projects, offering robust issue tracking and agile project management capabilities. My experience with these tools has not only broadened my skill set but also equipped me with the versatility to adapt to various project management methodologies and client preferences.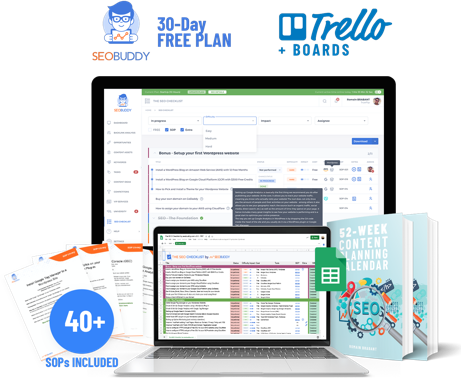 There's more…
Now it's time to discover the other 102 steps that will get more organic traffic flowing to your website. Get the SEO Checklist here.
Want to get a sneak peek of what it looks like?
Enter your email and get a free demo version of the SEO Checklist.
What about SEO Tools?
I have expanded my digital marketing skills by mastering various remote SEO and social media management tools like Ahrefs and SEMrush for SEO tasks, offering keyword research, competitive analysis, and backlink tracking. For social media, I've utilized HubSpot for automation and analytics, Buffer for scheduling and publishing, and Ritetag for optimizing hashtags. These tools have empowered data-driven decision-making, improved online visibility, and allowed me to adapt to the ever-changing digital landscape, equipping me with a comprehensive skill set to lead successful projects in today's digital age.
Do you own a company?
Yes, Carina Softlabs Inc is a renowned company that specializes in offering a wide range of services, including Digital Marketing and Game Development, which we established back in 2011.
Over the years, we have garnered a reputation for excellence by delivering top-notch services in Web development, Mobile app development, digital marketing, Game Development and software development to our esteemed clientele. Our unwavering commitment to quality and customer satisfaction has always been our primary focus.
What sets us apart is our remarkable client retention rate and the remarkable consistency of our team, which is unparalleled in the industry. We are on a trajectory to becoming one of the leading IT service providers in Central India.
In our development processes, we adhere to the AGILE methodology, ensuring that websites, web apps, games, or mobile applications are developed with precision and efficiency. Our emphasis on code quality guarantees ease of comprehension, and we provide comprehensive documentation along with code files upon project delivery.
Case Study: Instrument London
The "Instrument London" project embarked on a journey nearly two years ago with the goal of expanding its outreach and influence in the digital landscape. As a result of meticulous planning, strategic execution, and a keen understanding of the dynamics of online visibility, the project achieved significant milestones.
One of the pivotal strategies employed was the acquisition of 250 high-quality backlinks, which played a transformative role in boosting the project's website traffic from a modest 4,000 monthly visitors to an impressive 14,000 per month.
The Role of Selecting Sites backlinks
Selecting the right websites for live links was a critical factor in the success of this endeavor. This task was entrusted to a team of dedicated individuals, among whom my role was particularly crucial.
Here are some key points highlighting the significance of this selection process:
1. Strategic Assessment: We conducted a comprehensive assessment of potential linking websites, considering their domain authority, relevance to our niche, and overall trustworthiness in the eyes of search engines. This involved a thorough analysis of each site's content, backlink profile, and audience engagement.
2. Quality Over Quantity: Our approach prioritizes quality over quantity. We focused on securing backlinks from websites that were not only authoritative but also had a strong alignment with the content and objectives of the "Instrument London" project. This approach ensured that every link added genuine value.
3. Diverse Link Sources: To diversify our backlink portfolio, we targeted a wide range of sources, including industry-specific blogs, news outlets, educational institutions, and reputable online directories. This diversity helped in establishing the project's authority across various online platforms.
4. Relationship Building: Building strong, professional relationships with website owners and administrators was integral to our strategy. We fostered collaboration and mutual benefit, ensuring that our backlink placements were not perceived as mere transactions but as valuable contributions to the online community.
5. Continuous Monitoring: After securing backlinks, we didn't rest on our laurels. Continuous monitoring of the health and relevance of these links was an ongoing task. This involved periodic checks for broken links, changes in website content, and any potential risks that could affect the project's online reputation.
Results
The results of this strategic approach were nothing short of remarkable. The "Instrument London" project witnessed an exponential growth in website traffic, soaring from 4,000 monthly visitors to a staggering 14,000 per month. This surge in traffic not only translated into increased brand visibility but also amplified the project's reach and impact within its target audience.
In conclusion, the "Instrument London" project exemplifies how a well-executed backlink acquisition strategy, grounded in meticulous site selection, can drive substantial growth in website traffic and online presence.
The success of this endeavor underscores the importance of quality over quantity, strategic partnerships, and ongoing vigilance in maintaining the integrity of backlinks. As a key participant in the site selection process, I am proud to have played a vital role in achieving these remarkable results.
Case Study: Surshark
For this exciting project, our client has entrusted us with the mission to elevate organic traffic and broaden the reach of their website, fostering a larger and more engaged user base and audience.
Duration: (4th Jan 2017 to 13th May 2022)
Client's Origin: United States
Tools Used: Ahrefs, Semrush & SEO Majestic
Team Size: 05
Website: Surfshark
Base Requirement
Our client operates a blog dedicated to reviewing Surfshark, a VPN service, and comparing it with various other VPN providers. Their primary revenue source is generated through affiliate sales of Surfshark subscriptions. To enhance their affiliate sales, they are seeking to boost the visibility of their blog on search engines, ultimately increasing their organic reach and website traffic.
Challenge
The VPN market is fiercely competitive, making it difficult to secure a prominent position in search engine rankings amidst established rivals.
Adapting to ever-changing search engine algorithms, rigorous keyword research, and optimization for a niche audience like VPN reviews are formidable hurdles. Moreover, maintaining the quality and uniqueness of content, building a network of valuable backlinks, and ensuring compliance with VPN industry regulations are complex tasks that demand continuous attention.
My role was not only limited to managing website traffic but also encompassed the meticulous selection of domains for acquiring high-authority backlinks. I was entrusted with the ambitious goal of achieving the highest possible number of backlinks within the span of a single month. My dedication, strategic approach, and hard work were instrumental in not only meeting but surpassing this target, contributing significantly to the project's success.
Results
My involvement in this project, especially in the domain of backlink acquisition and traffic generation, played a pivotal role in elevating the online presence and performance of the website.
I attempted to boost the website's traffic by implementing a backlink strategy. My objective was to generate 50 backlinks each month, and the graph illustrates the significant upsurge in website traffic as a result.
Case Study: The Crossfit Shoes
For this project, our client has asked us to enhance organic traffic and expand the user base and audience for their blog.
Duration: (4th April 2021 to Present)
Client's Origin: United States
Tools Used: Ahrefs, Ubersuggest & SEO Majestic
Team Size: 04
Website: https://thecrossfitshoes.com/
Base Requirement
Our client operates a blog dedicated to reviewing CrossFit shoes and comparing various top shoe brands. Their primary revenue source is generated through affiliate sales. To enhance their affiliate sales, they are seeking to boost the visibility of their blog on search engines, ultimately increasing their organic reach and website traffic.
They have no intention of investing in paid advertising campaigns and are specifically interested in leveraging organic search engine optimization (SEO) techniques to attract more visitors to their blog and bolster overall website traffic.
Challenge
The most challenging part of this project is the period when we took that. It was March 2020, and Covid-19 was already hitting all primary businesses at that time, so our client was concerned too.
There were many websites where the engagement ratio is downgraded a lot in the pandemic situation and so has higher chances of low performance for us too as the website is completely focused on affiliate sales.
Results
Amid the pandemic, we conducted in-depth research using Ahrefs to assess its impact on our industry. This involved competitor analysis, backlink evaluation, and keyword review to shape our organic SEO strategy.
Our goal was to boost website traffic and affiliate sales. We executed two monthly SEO outreach campaigns: Guest Posting and the Skyscraper Technique. Our focus was on securing permanent backlinks from authoritative blogs with strong Google presence, considering factors like spam score, organic traffic, and keywords.
By crafting high-quality, keyword-optimised content and leveraging tools like Ninja Outreach, we successfully gained valuable backlinks, notably from Websta, a high-authority website. This effort led to increased organic traffic, sales, and a boosted domain authority from 27 to 31, as well as improved SERP rankings.
In summary, our SEO strategy proved effective in a challenging environment.