My SEO Journey [Pro Edition]: Jonatan Parski from captainwords.com – SEO and content is always evolving, and it's adapt or die
My SEO Journey [PRO Edition] is a series where professionals in the SEO Industry, Digital Marketing, or Web Design share their honest SEO Journey filled with failure, success, and most importantly, proven results. Episode #131 features Jonatan Parski from Captain Words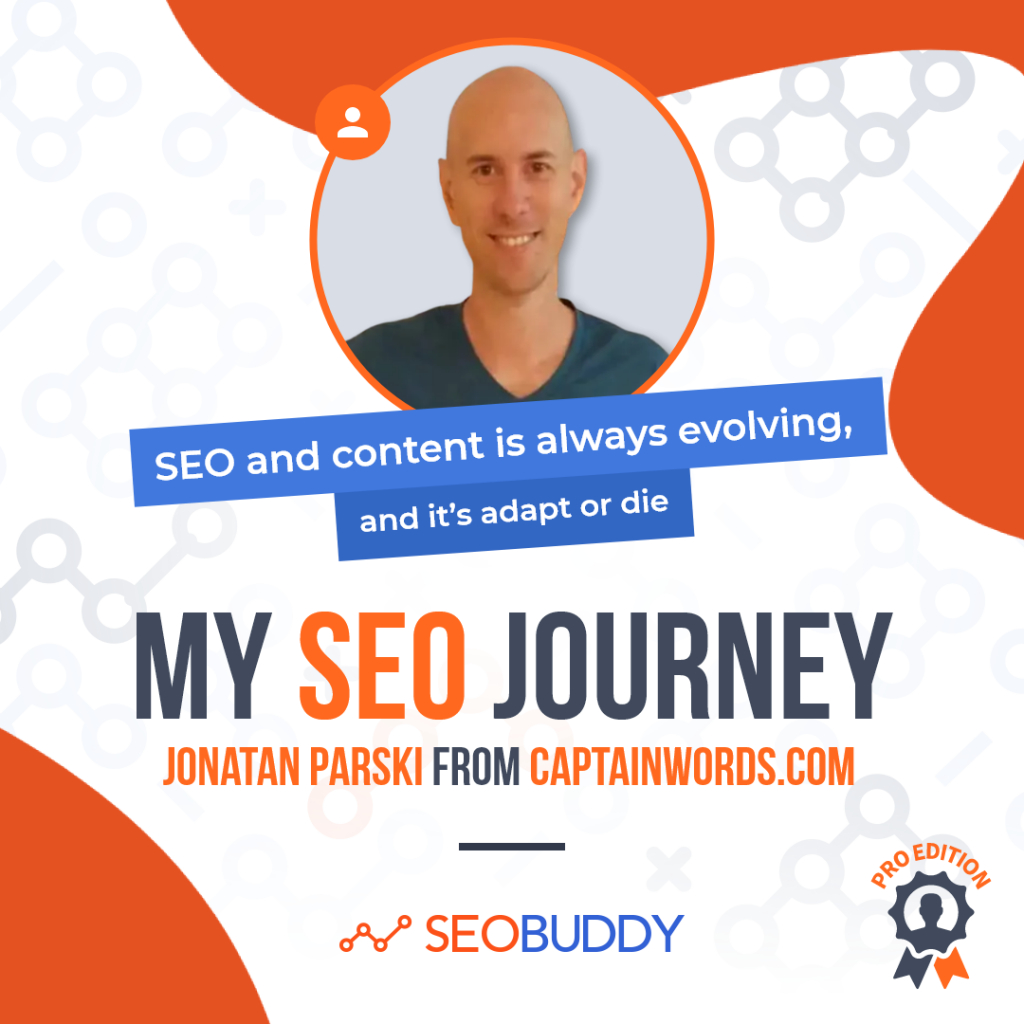 Hello! I'm Jonatan Parski, co-founder of Captain Words. My career has taken many exciting twists and turns, leading me to where I am today. Here's my story and some insights I've gathered along my journey in the SEO world.
What's your backstory and how did you come up with the idea?
My fascination with SEO sprouted when I recognized an unfulfilled need in the market. With a background in content and digital marketing, I continually observed businesses struggling to craft content that was equally valuable to their audience and optimized for search engines.
But let's take a step back. A few years prior to founding Captain Words, I was heavily involved in creating and managing multiple content websites. This experience sparked an understanding of the complexities and intricacies of delivering high-quality, SEO-focused content. As the portfolio of my content websites grew, I found myself coordinating a growing team of writers, perfecting the art of crafting content that resonated with readers while appeasing the ever-changing algorithms of search engines.
Word of the work I was doing spread in the industry, and I started receiving requests from my peers who needed good writers for their own content websites. Recognizing the burgeoning demand for well-written, SEO-friendly content offered at a reasonable price, the idea for Captain Words was born.
As with any start-up, we faced our fair share of challenges after launching Captain Words in 2017. One of the most significant hurdles in our early days was training inexperienced writers in-house, helping them develop their skills to an advanced level.
Our aim was to bridge the gap between the demand for high-quality content and the need for affordability.
We rose to this challenge by recruiting full-time writers and focusing on their growth and development through comprehensive in-house training courses. This strategy allowed us to deliver top-tier content at competitive freelance prices. As we navigate the continuously evolving landscape of SEO and digital marketing, our commitment to delivering high-quality, SEO-friendly content remains unwavering.
Since launch, what has worked to attract more organic traffic?
We've centered our approach on crafting helpful, compelling content that resonates with our audience. We firmly believe that the best way to attract organic traffic is to deliver genuine value to our users.
From the get-go, our strategy has been about understanding our audience, anticipating their needs, and providing them with the content that not only answers their questions but does so in a meaningful and engaging way. We've invested heavily in content research, topic clustering, and thorough keyword analysis to ensure that our content hits the mark every time.
However, content creation is just part of the equation. Another critical aspect that's worked wonders for us is focusing on technical SEO and site speed optimization. Search engines, particularly Google, have been placing an increasing emphasis on user experience. We've therefore optimized our website to be as fast and user-friendly as possible, which has significantly boosted our organic reach.
Furthermore, we've also leveraged the power of AI in understanding user behavior and predicting content trends. This has allowed us to stay one step ahead and create content that's not just valuable now, but also anticipates future user needs.
Link building, through the establishment of meaningful relationships and collaborations with industry experts, has also played an instrumental role in driving organic traffic to our site. These combined efforts have allowed us to establish a strong online presence, attracting consistent, organic traffic to our site.
Overall, our strategy has been holistic, integrating high-quality content, solid technical SEO, the effective use of AI, and relationship-based link building. This integrated approach has helped us not only attract but also sustain a growing stream of organic traffic.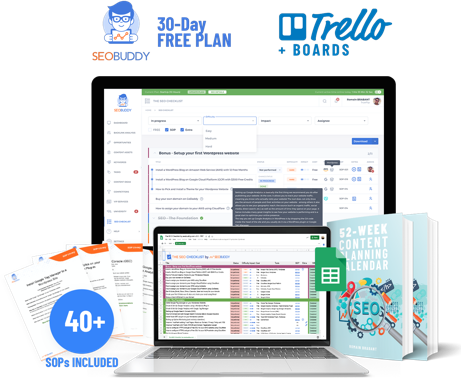 There's more…
Now it's time to discover the other 102 steps that will get more organic traffic flowing to your website. Get the SEO Checklist here.
Want to get a sneak peek of what it looks like?
Enter your email and get a free demo version of the SEO Checklist.
Have you learned anything particularly helpful in your SEO Journey?
Definitely. One of the most profound lessons I've learned is the significance of adaptability in this ever-evolving SEO landscape. Much like Eugene Nosov from SEO PowerSuite underscored, SEO isn't a static discipline. As algorithms evolve, our strategies need to be nimble and adaptive, matching the pace of the industry's rapid advancements.
This journey, however, hasn't been without its fair share of mistakes and missteps. When we first started, like many others, we sometimes fell into the trap of chasing after algorithm updates reactively, or pursuing certain SEO tactics that promised quick results. What we've learned, often the hard way, is that SEO is a long game. Quick fixes and shortcuts seldom lead to sustainable growth and can even be detrimental in the long run.
Moreover, in recent years, with developments such as Core Web Vitals and AI gaining prominence in the SEO world, we've had to expand our focus beyond traditional on-page and off-page factors. For example, user experience and technical SEO have now become equally, if not more, crucial in our SEO strategy. This shift has also led us to redefine our understanding of content writing, moving beyond the traditional content writing definition to include aspects like user experience and technical SEO.
These experiences have cemented our belief in the power of continuous learning and testing. We've realized that there are no one-size-fits-all answers in SEO. Instead, successful SEO is about staying informed about the latest trends, understanding how they apply to your specific business context, and being open to refining your strategy based on the insights you gain.
In summary, adaptability, patience, and a relentless commitment to learning have been instrumental in our SEO journey. We are always on the lookout for new developments, be it AI or other technologies, and are ready to experiment and adapt to continue delivering exceptional results for our clients. This includes constantly evolving our understanding of content writing, ensuring it stays relevant and effective in the ever-changing digital landscape.
What SEO tools do you use for your business?
Our toolkit is a combination of industry-standard resources and emerging AI-related tools. We also find immense value in platforms like SEMrush for comprehensive keyword research, Ahrefs for in-depth competitor analysis, and Google Search Console for real-time monitoring of our website's performance.
That said, the increasing influence of artificial intelligence on the SEO landscape is something we've been closely watching. Despite AI being relatively young and still fallible in certain areas, we believe it holds significant promise in streamlining and enhancing our SEO and content efforts. This is why we're actively looking at potential AI-related tools that we may be able to incorporate into our workflow.
For instance, we're exploring AI-powered tools such as Clearscope for content optimization and MarketMuse for content planning and strategy. These tools employ machine learning to analyze top-performing content in our niche as well as those of our clients, which allows us to identify the specific factors that make content more likely to rank.
Moreover, we also use custom tools that we have developed in-house to manage content production and SEO tasks more efficiently. These tools are specifically designed to integrate with our unique workflows, enabling us to stay agile and responsive in the ever-evolving SEO landscape.
While the current AI tools are not perfect, we're encouraged by their potential and are constantly testing new tools and methodologies. We firmly believe in the power of blending traditional SEO practices with cutting-edge technology to achieve the best possible results. This includes the role of an SEO content writer, who must now navigate both the traditional aspects of content creation and the evolving technological landscape. It's an exciting time in the SEO world, and we're thrilled for every SEO content writer we have as a part of this evolution.
Certainly, my experience in link-building spans not only my time at Captain Words but also in previous roles and businesses. We've always valued the importance of building meaningful relationships and creating valuable, link-worthy content. This philosophy was largely influenced by insights from top SEO specialists.
Over the years, we have developed a nuanced strategy for link-building that extends beyond simply chasing links. Our team focuses on creating high-quality, informative content that is naturally linkable. We believe that when the content is genuinely helpful and engaging, it will organically attract links.
We also collaborate with top industry specialists to help in our link building efforts. These collaborations include guest posting and expert roundups, where we contribute our expertise and, in return, get high-quality, contextually relevant backlinks.
Further, we actively maintain relationships with bloggers, influencers, and other businesses in our niche. This is a long-term effort that requires consistent communication and mutual value exchange, but it's a cornerstone of our link-building approach.
The combination of these strategies has allowed us to steadily grow our backlink profile while ensuring the links we gain are valuable and contribute positively to our SEO efforts.
What have been the most influential books, podcasts, or other resources?
"The Art of SEO" has been a vital resource for me. It provides an in-depth exploration of the nuances of SEO, from the fundamentals of keyword research to the complexities of link-building and algorithm changes. This book also offers a forward-looking perspective on the future of SEO, including the growing influence of machine learning on search algorithms.
The "Marketing School" podcast by Neil Patel and Eric Siu is another influential resource. Each episode delivers concise, actionable insights on a variety of digital marketing topics, including the latest trends in SEO. The podcast often discusses the evolving nature of SEO and the role of AI and technology in shaping this evolution.
Moz's blog has been particularly helpful for its detailed guides and case studies on various SEO strategies. Their 'Whiteboard Friday' series, where complex SEO concepts are broken down into easy-to-understand visuals, is a great way to keep abreast of the shifts in the SEO landscape, including the integration of AI in search engine strategies.
Lastly, Search Engine Journal is a constant source of up-to-date news and analysis on SEO. They offer insights into the future of SEO, such as how AI is influencing search engines and what this means for businesses and digital marketers.
These resources have not only shaped my understanding of SEO but also provide continuous learning opportunities in the ever-evolving landscape of SEO, especially with the rise of AI.
What's the next step in your SEO Journey?
The future is certainly exciting. We share the vision of many in regards to AI's role in SEO, but also understand its limitations and current pitfalls. As AI and machine learning continue to advance, we plan to leverage these technologies to further optimize our SEO strategies. We are also looking to expand our team and service offerings to meet the ever-evolving needs of our clients.
Personally, I look forward to seeing more growth and advancement in the SEO industry as it continues to evolve, bringing exciting changes with it!
Where can we go to learn more?
You can visit our website, CaptainWords.com, to learn more about our services and approach to SEO. You can also follow us on LinkedIn and Twitter for regular updates and SEO tips.