My SEO Journey [Pro Edition]: Christy Olsen from cadenceseo.com – Why It's Crucial to Think Outside the Box
My SEO Journey [PRO Edition] is a series where professionals in the SEO Industry, Digital Marketing, or Web Design share their honest SEO Journey filled with failure, success, and most importantly, proven results. Episode #108 features Christy Olsen from Cadence.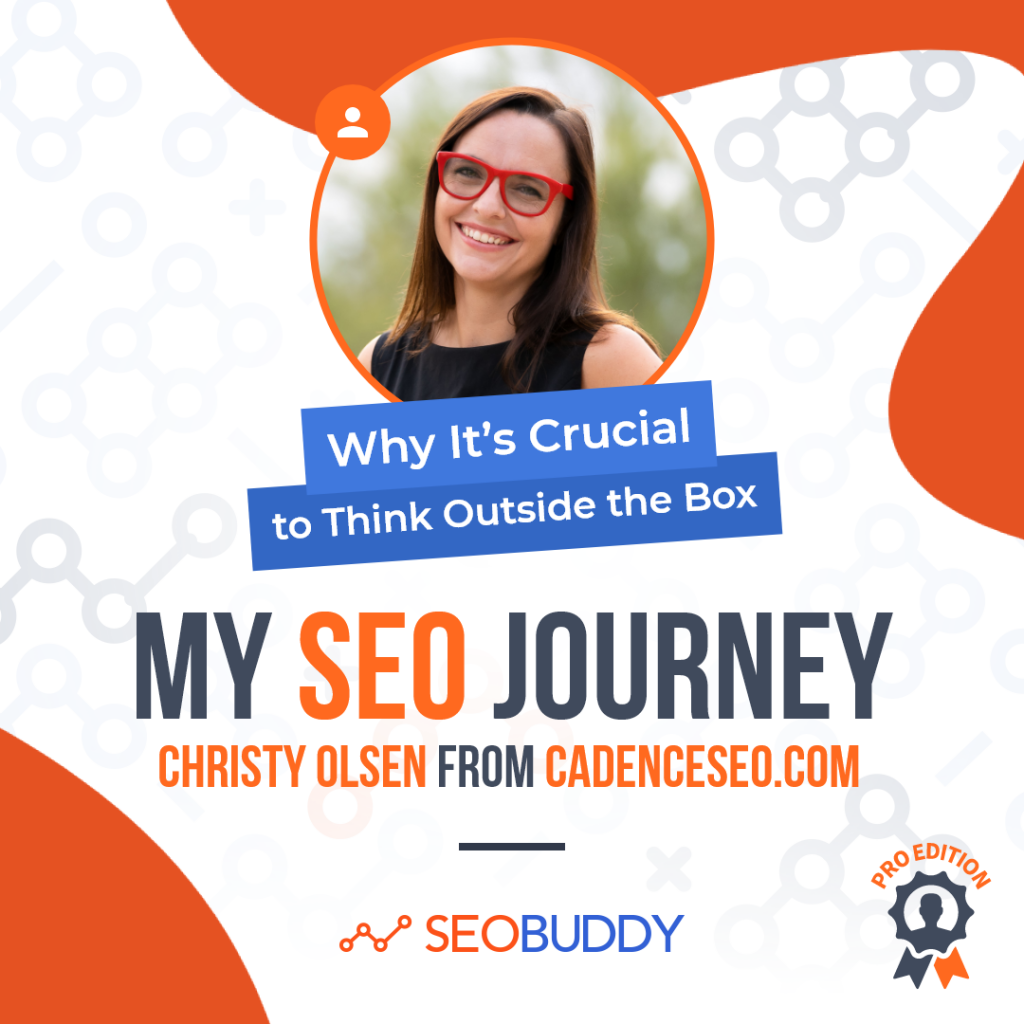 I'm Christy Olsen, the co-owner and founder of Cadence. My Husband, Kevin, and I started the consultancy in 2020 from our home in Gilbert, Arizona. My role is to help companies grow online by providing them with a holistic approach to SEO, content marketing, and PPC advertising.
At Cadence, we specialize in helping clients understand how SEO can benefit their businesses and then implement it for them. We started the business because we saw a need for an agency that offered expert knowledge and could provide results while still being transparent about what they do.

What's your backstory, and how did you develop the idea?
I started my career in SEO as a director of sales for a large agency here in the Arizona valley. I had gotten a link-building position because I had donated a kidney to one of their top salespeople before I worked there. Then, when my former husband ran into legal trouble, I realized I had to reevaluate my life and priorities. I took a chance and asked that friend I had donated to, to help me find employment, and he helped me get hired at his agency.
Over time, I realized that SEO was an industry that interested me. I decided to start a career building links from home. I was just a lead qualifier at the time, and I knew I was underqualified for the job, so I always ensured that I proved my worth.
I've always been the kind of person that believes in the importance of challenging myself. I worked to create an outbound email campaign to sell links. There was this instance where I generated a lead from my outbound email campaign, and the salesman decided they didn't think it was worth their time. Well, it had the potential to be a significant lead. So no problem, I decide to sell the lead myself. It was compare cards, and I closed them on a $ 50,000-a-month deal.
Around the same time, life happened, and my former husband passed away unexpectedly. I was left a single mother of four, so I marched into my former bosses' office and asked them for a raise and to be moved to the sales department. Shockingly, they did it. I was promoted to a sales position, and things started to get interesting.
I grew to be their sales director, and this is when I decided I needed to learn SEO. I started to come into work about an hour or two early with Starbucks and would bring coffee to the SEO team to sit and watch them. I'd pester them with questions so that I could learn, and in time, I learned all of the basics and even some advanced strategies for SEO.
Eventually, I landed a massive client that owned multiple brands. I began to receive a lot of pushback on their audit because of trivial concerns. I took advantage of this opportunity and started doing a lot of the work myself. It's during this time that I start to pick up my stride, appreciate all of the moving parts of SEO, and become great at it.
At the same time, I was having a lot of conflict at my job and was beginning to get frustrated with the constriction of the company and the politics. Then, I realized, If I was sourcing my leads, closing my leads, and now executing, why not just do it all for myself? I finally realized I could do this alone, so I quit.
I was the only one working then, so Kevin got a job in insurance sales, and we took out a mortgage on our home so we could have something to fall back on. It was a big transition, as we would be taking a more than 50% pay cut, but we both agreed it was worth the risk.
I started my consultancy and started working for another agency doing contract SEO on the side. Bless Kevin, he agreed to invest in the business, and we've since built two million-dollar agencies together. So what's the moral of this story? If you want to start your own business, do it. Don't be afraid of taking a risk.
Since launch, what has worked to attract more organic traffic?
My SEO journey has been a wild ride. From the moment I decided to take the plunge and start my own business, I've had to think outside the box. So, what has worked for us?
We knew our strategy would need to be different from other companies were doing. And we knew that it would take a lot of work and dedication to get there. We knew we needed to think outside the box.
When we launched Cadence, I knew the only way to build organic traffic was to start from the bottom up. So, I started by writing blog posts on topics relevant to my business and audience. These posts were then optimized for search engines and shared across social media platforms like Facebook and Twitter.
One of the ways in which we've grown our organic traffic has been through the strength of the rapport that we keep with our clients. We make sure to take each client's individual needs into account. This enables us to provide quality service and create a reputation with which people want to be associated. We've also leveraged our client-focused approach in the organic world, which has helped us get more new clients by word of mouth.
As time went on, we adapted our SEO practices and learned more about what worked best for us and our clients. We also put a lot of effort into building positive reviews through Google My Business reviews, which helped improve our overall authority in Google's eyes.
We work hard to provide amazing service, and our clients love us. We also have a culture of sharing that extends beyond just referring clients to one another. We share our knowledge with other agencies and help them become more successful. Now our current clients are referring us to their colleagues and friends. This is one of the best ways for businesses to get new clients, so reputation in your industry is paramount.
Another way to build a strong reputation is to publish industry-related content. I've always been a fan of content marketing. It allows businesses to build relationships with their customers and provide them with value over time.
Rich content is also important because it helps build trust with your audience over time—and trust is key when trying to build an organic audience. The more you share your knowledge with others, the more they want to learn from you. You may also get some publicity for this content by promoting it on social media and submitting it to industry-related websites.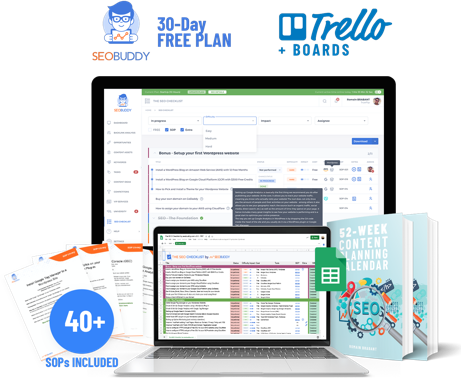 There's more…
Now it's time to discover the other 102 steps that will get more organic traffic flowing to your website. Get the SEO Checklist here.
Want to get a sneak peek of what it looks like?
Enter your email and get a free demo version of the SEO Checklist.
Have you learned anything particularly helpful in your SEO Journey?
I have learned so much from my SEO journey, but I think one of the most important things is to be flexible. As an SEO consultant, you are constantly changing your strategies, learning new things and adapting to the ever-changing online environment.
It's easy to get stuck in a rut and forget what made you successful in the first place. For me, it's been crucial to remember that SEO has no rules. You need to think outside the box and use your creativity to develop new ways to reach your goals.
Another thing I've learned is not just to listen to my gut instincts but also to listen to the people I trust. One of my biggest mistakes was not listening to Kevin about a former business partner. That mistake cost me a lot of money and my first agency, but little did I know that the company Kevin and I would go on to create would grow to double the size of that first agency. This leads me to my next point.
Trust the process! It may seem like nothing is happening on paper but trust that everything will work out in time. You have to make mistakes to grow and learn, and even the biggest mistakes can be lessons that lead to success.
What SEO tools do you use for your business? (your SEO Tech Stack)
We use a few different SEO tools at Cadence.
For my SEO work, I rely on Moz, Ahrefs, and SEMrush. The first two are great for finding backlinks to our client's websites and figuring out what keywords they're ranking for. SEMrush is a great tool for seeing which keywords our competitors are ranking for and where we can improve.
For content marketing, I use Google Analytics (or any other analytics tool) because it gives me an overview of where people are coming from and what they're doing on our site. We also use Google Keyword Planner (and Keyword Tool) to research keywords and set up campaigns.
We rely on Google Webmaster Tools to keep track of our website's health and performance in search results. It's also important to use Google Search Console because they offer free tools that help us monitor our site's performance in search engines like Google.

When I was starting in SEO, the first thing I did was research link-building. I knew it was a crucial part of SEO, but I didn't know how. I initially thought that all you had to do was share a link on your website, and people would magically start linking back.
That's not how it works!
Instead of sharing links everywhere and hoping for the best, I started thinking outside the box and trying different tactics. Link-building is a long-term investment. It's not something that you can do once and be done with it—it's an ongoing process and one that you need to work on over time.
Your first step would be to build relationships with influencers in your industry or niche so that they will link back to your website(s) when they publish content related to yours. This takes time and effort, but building those relationships is crucial if you want quality links from relevant sources.
In addition, we recommend working on getting backlinks from reputable sites. These sites have high domain authority, meaning their links will pass more weight than the average blog or website when Google calculates its rankings algorithmically.
What have been the most influential books, podcasts, or other resources?
The most influential book for me has been The Art of SEO: Mastering Search Engine Optimization by Eric Enge, Jessie Stricchiola, and Stephan Spencer. It is a comprehensive guide for SEO that has continued to book I read about SEO and it can teach anyone the basics of what it takes to have a successful search engine optimization strategy.
The most influential podcasts for me are The SEO Show, which covers all things search engine optimization, and Voices of Search, which highlights seo professionals from around the world. These podcasts are a great way to stay up-to-date on industry trends and get insight into how other professionals are approaching SEO.
What's the next step in your SEO Journey?
We're proud of our growth, and we're excited to see what the future holds for Cadence. We know that our success is only possible when we work with clients who are committed to their own success.
We're working on new ways to help companies grow their businesses through SEO, content marketing, and digital advertising. In addition to our free tools, we offer a suite of paid tools. This includes keyword research tools, keyword tracking tools, and link-building tools.
The next step in our SEO journey is to continue growing and expanding our reach in the digital marketing space. Our team is always looking for ways to help businesses get more traffic, leads, and sales through the power of search engine optimization.
We're always looking for new ways to expand our reach in the digital marketing space and have recently launched a product that we believe will be successful.
Where can we go to learn more?
You can learn more about Cadence at Cadenceseo.com, where we share our mission and approach to digital marketing. You can also follow us on Facebook, Twitter, and LinkedIn for expert advice in the industry.
You can also check out our blog at https://www.cadenceseo.com/blog/, where you'll find all kinds of useful information on challenges other businesses face in digital marketing.