My SEO Journey: Marton Varo from brandefy.com – SEO requires a lot of research and dedication
My SEO Journey is a series where entrepreneurs and Indie makers share their honest SEO Journey filled with failure and success, and most importantly, proven results. Episode #113 features Marton Varo from Brandefy.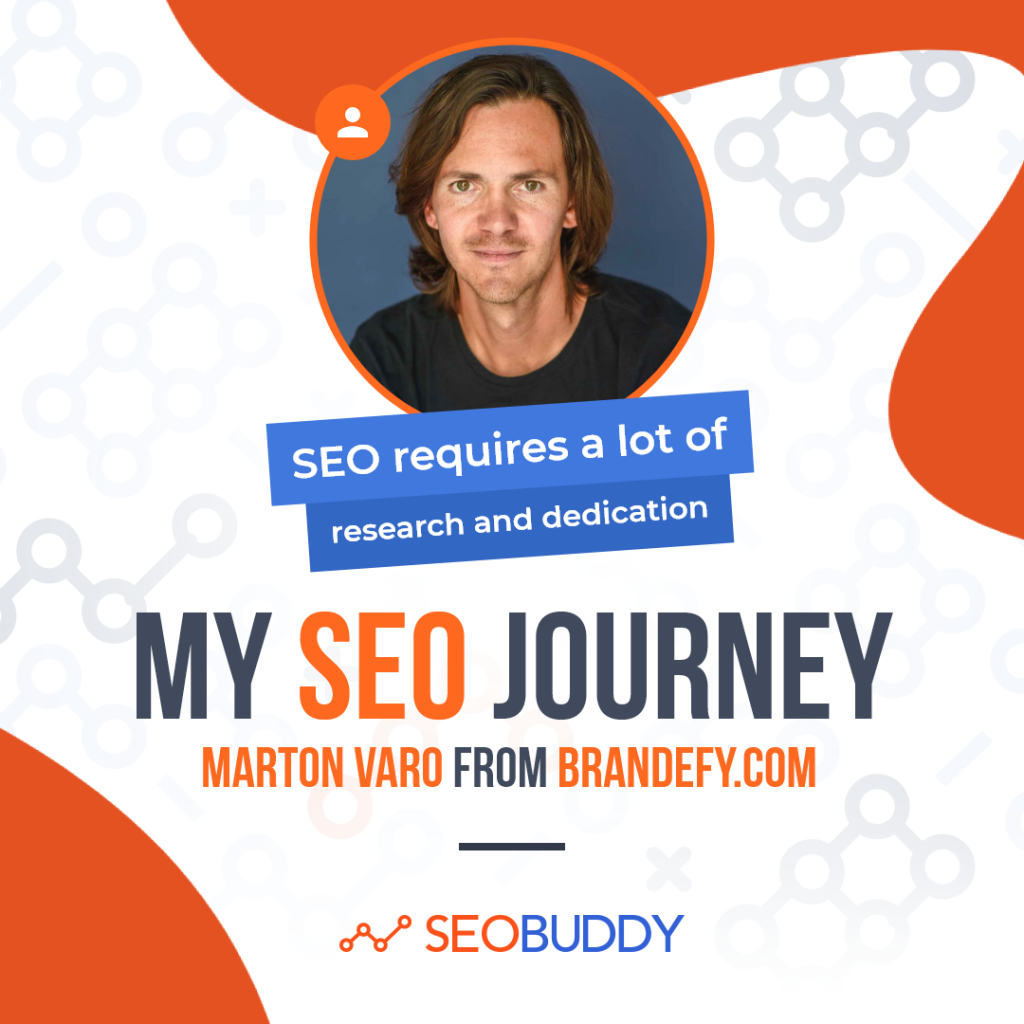 My name is Marton Varo and I am the founder and CEO of Brandefy, a video production and video marketing agency, specializing in creating branded content for businesses large and small — anything from TV commercials to brand videos, product promos, animated explainer videos, as well as 3D productions. Our goal with Brandefy is to help businesses large and small be able to leverage the ever-growing power of video across multiple channels.
Effectively, we act as a video marketing partner and in-house production team for many of our clients.
What's your backstory and how did you come up with the idea?
I didn't always know that I'd become a video marketer.
In fact, it was the exact opposite of what my dream job was when I graduated from film school. As a director and writer, I was inspired by those who had come before me, all the great storytellers and visionaries who could take their audience on a journey with their words and pictures.
A few years of practical experience in producing short films, music videos, and even a couple of feature films, led me to realize that my real passion was in creating short-form content. Some meetings led me to pursue the world of marketing and advertising, eventually starting my own video marketing agency, Brandefy.
It didn't take long for me to realize that video was growing fast and that at the time not many businesses realized its purpose or power. I quickly discovered that in the coming years the rapid growth of video would translate to the business world and eventually video content would be essential to any business' success.
I knew I was onto something with Brandefy when we quickly started getting referrals and inbound leads from businesses small and large wanting to showcase their company culture, products, and services. This has led to where we are today, where we work with our clients to develop strategies that help them use video as an integrated part of their marketing efforts so they can scale and grow at a rapid rate.
Since launch, what has worked to attract more organic traffic?
I started Brandefy on a shoe-string budget and have been able to grow it into a successful, leading video agency. Here's what I've learned along the way:
1. Identify your target audience and focus on them like crazy. The majority of our customers are small to medium sized businesses looking to leverage branded content to communicate their messaging to existing and potential customers. We work hard at making our services cater to their needs in terms of what we offer, how we guide them along the process from start to finish, and how we price our services to make sure it will be the best solution for them.
2. Don't be afraid to ask for help! I was lucky enough to find some great mentors who helped me get where I am today, but there are tons of resources out there for entrepreneurs like us. There are also tons of people who are willing to give advice for free (or nearly free), so don't be afraid to reach out and ask questions!
3. Be authentic. If you're not comfortable with what you do and don't come off as a credible thought leader, people will see it and they won't trust you. You need to be able to trust yourself, because if you don't believe in what you're doing, then why should anyone else?
4. Communication is key. And also a great way to bring back existing customers, by sending them a newsletter every month or so with new products or promotions. They'll get excited about buying again because they know there's something new available that they don't want to miss out on!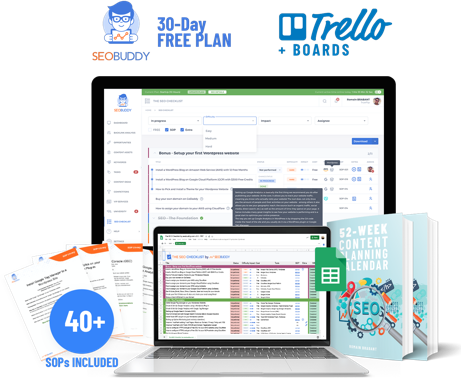 There's more…
Now it's time to discover the other 102 steps that will get more organic traffic flowing to your website. Get the SEO Checklist here.
Want to get a sneak peek of what it looks like?
Enter your email and get a free demo version of the SEO Checklist.
Have you learned anything particularly helpful in your SEO Journey?
Mistakes and challenges are part of every entrepreneur's journey. I've made my share of poor decisions, missed opportunities, and gotten blindsided by things that were hard for me to do. But I've also had some great success in SEO.
The first mistake I made was not realizing how much work was involved. When I first started out, I thought SEO would be a simple task—just a few keywords here, a few links there, boom! The truth is that SEO requires a lot of research and dedication. You have to know what you're doing, or else your site will be penalized by Google and you won't get any traffic.
Another mistake was thinking that SEO could be outsourced. It's true that outsourcing tasks like writing content can save time and energy, but when it comes to optimizing websites for search engines, nothing beats in-house expertise.
It's also important to note that even if you hire an expert from outside your company, they will still have limited knowledge of your business—which means there are things that only an in-house expert can do for your site (like create internal links).
Luckily for me, there were plenty of other things happening out there that helped me get where I am today: trends like video marketing and content marketing helped me get noticed by potential clients; strategic partnerships with larger companies gave me credibility; and luck played a large part as well—right place at the right time!
What SEO tools do you use for your business?
We use a lot of different tools and platforms to manage my SEO. The ones that we love the most are:
1. Ahrefs: This is a great tool for seeing how your competitors are performing. It also helps me see what keywords they're ranking for, which can be useful when you're trying to find new keywords to target on your site.
2. SEMrush: This is another great competitor analysis tool, but it also has some other features that are really helpful for tracking backlinks and identifying potential link opportunities. It also has some other features (like keyword research) that I really like using for my business.
3. Keywordtool: This is an awesome keyword research tool that allows you to run multiple searches at once so you can find all kinds of different topics related to each other—and then compare them all side by side! It's super helpful if you're trying to identify a bunch of related keywords that aren't already covered on your website.
When we first started out, we were doing content marketing, so a lot of my time was spent writing blog posts. That's why at the time, most of our link-building efforts were focused on getting people to write about those blog posts.
Later on, when we started doing more technical SEO work, I learned how to use tools like Open Site Explorer and SEMrush to find links pointing to websites and then reach out to those sites with a pitch about why they should link back to me or my client's website. In some cases, this worked quite well!
In recent years though, it seems like Google has gotten much better at detecting unnatural links than they used to be.
So now instead of trying to get people who already have articles written on their blogs or websites to link back from those pages (which can potentially get flagged), we're focusing more on creating content that naturally attracts links from other sites without having to build them manually ourselves–which is a lot easier than having one person try to do everything by themselves.
What have been the most influential books, podcasts, or other resources?
1) Neil Patel's blog is a great resource for insights into SEO strategy, as well as tips for increasing conversions and traffic.
2) Rand Fishkin's blog covers everything from copywriting tips to social media marketing strategies to growth hacking tactics—and it's all written by one of the smartest minds in SEO today!
3) Jon Cooper's Youtube channel is full of great videos about anything from link building strategies to keyword research tools that you can use right away on your website.
What's the next step in your SEO Journey?
I love learning and thinking about how to best implement new strategies and processes into my business, so I'm constantly looking at what other people are doing and how they're doing it. My goal is to always stay ahead of the curve, so Brandefy can continue to be an industry leader in video production agencies.
I really want to work on our content marketing strategy by implementing more images and videos into our blog posts. We also need to put more effort into social media marketing—not just posting content, but actually engaging with our audience on each platform.