My SEO Journey [Pro Edition]: Harry Stuart from bigfatlinks.com – Why it's important to educate your potential clients
My SEO Journey [PRO Edition] is a series where professionals in the SEO Industry, Digital Marketing, or Web Design share their honest SEO Journey filled with failure, success, and most importantly, proven results. Episode #132 features Harry Stuart from Big Fat Links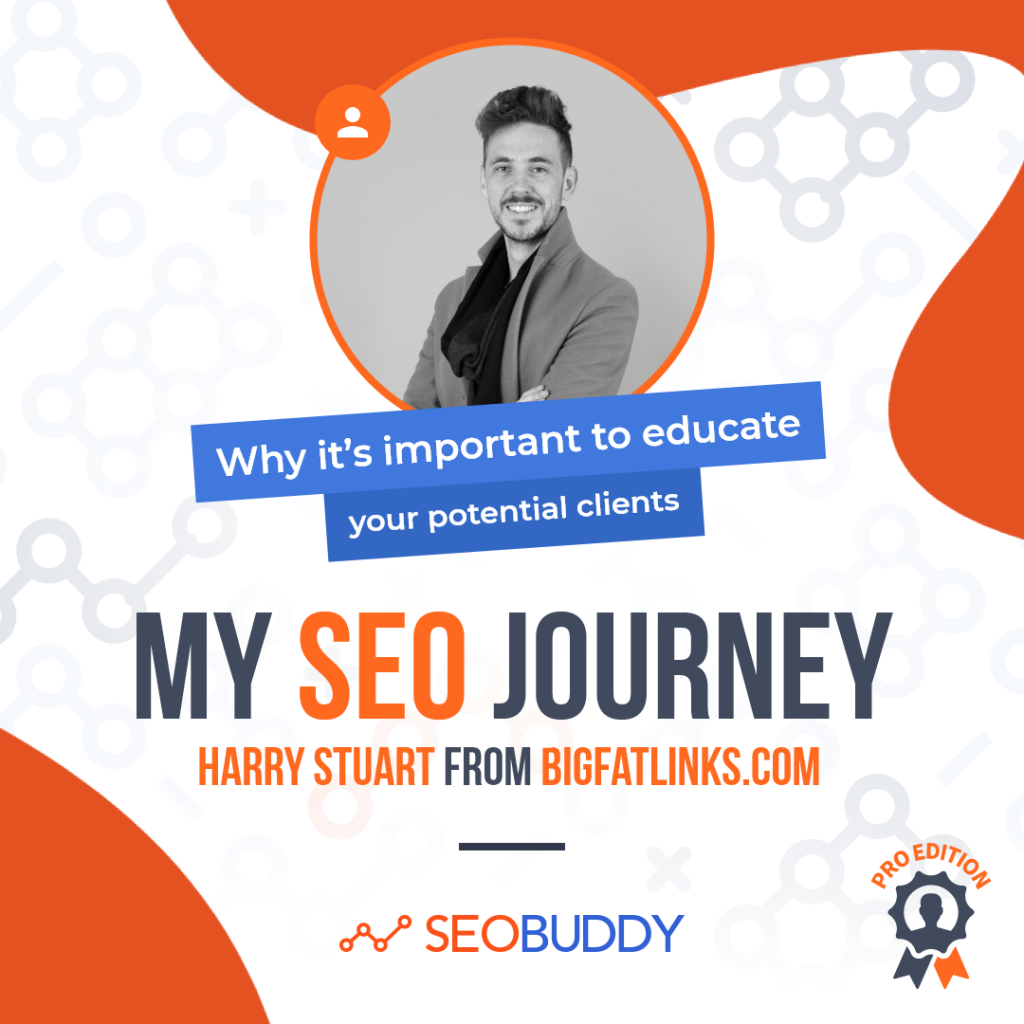 Hello, Salut & Ciao! (It's nice to use my bilingual skills sometimes, albeit in a limited fashion, for this piece!)
I'm Harry, Head of SEO & PPC at BigFatLinks. We aim to take the complexity out of link building, creating a seamless process that allows our customers to acquire high authority links which point to their websites.
We are a small business with an incredibly hard-working team. We have harnessed the power of AI with our in-house built CRM (Customer Relationship Management) system. This innovative approach allows our team to deliver a high-quality customer experience with our link building services while maintaining a personal touch – something we truly value!
Based in Greater Manchester, our team collaborates with specialist individuals across the globe.
What's your backstory, and how did you end up at Big Fat Links?
Having lived abroad for most of my teenage life, I returned to the UK to finish my university degree. Whilst at Uni, my interests in property and SEO began to grow. I knew that once I finished Uni, I wanted to do something that combined both of them.
That's when I joined a commercial property portal website that specialised in advertising property on behalf of real estate agents.
I knew of SEO before joining but did not realise how broad the SEO spectrum was. My early years at the portal were spent understanding key SEO aspects and growing the website's online presence.
In early 2017, I felt a need for change after achieving fantastic organic growth with our content strategy, resulting in some great referring domains such as Wikipedia and Vice.com.
However, by the spring of 2019, I was back in a senior role, tasked with reversing the company's downward trend.
The digital marketing team and I successfully navigated this challenging period. Then the Covid-19 lockdown happened!
Alongside my SEO and marketing responsibilities, I was part of the progress of changing the company's business model to survive the pandemic, requiring a massive company communications strategy to engage with our client base.
Post-pandemic, the company has enjoyed a renaissance with steady growth. Although I've stepped back from the business I enjoy a part-time consultancy role within the company.

For about a year, I was still determining what I wanted to do next, but then Chat GPT arrived.
I realised that the world wide web was about to grow exponentially. High authority links were about to become much more valuable. I wanted to get involved in the action!
And that's how I ended up at Big Fat Links!
Since launch, what has worked to attract more organic traffic?
Big Fat Links is still in the early stages of growth.
When I joined, we made it one of our missions to help people understand link building. Through our easy-to-read blogs, eye-catching infographics, or social media posts, we have begun to make our mark.

We believe in educating our audience about link building and securing these valuable links, not just to enhance our SEO results, but also to build a trustworthy relationship with our customers.
We release educational content every week, and we can see it already bearing fruit.
A great example is our blog post comparing manual link building vs buying backlinks. We take a detailed look at the pros and cons of each method. Breaking it down in a way that's easy for everyone to understand. This blog post has become a real hit, bringing in a steady stream of organic traffic.
Our resources don't stop at blog posts; we've gone a step further. We've released a free Google SERPS (Search Engine Results Pages) template tool that's been popular.
Creating educational content and releasing our free tool enables us to convert organic traffic into monthly repeatable customers.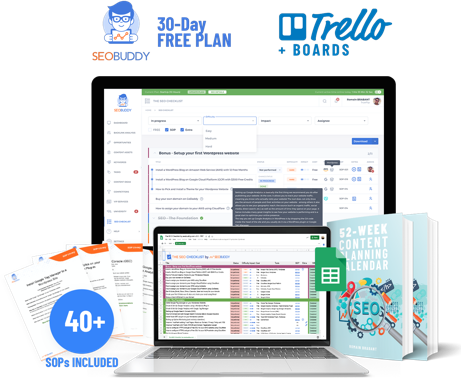 There's more…
Now it's time to discover the other 102 steps that will get more organic traffic flowing to your website. Get the SEO Checklist here.
Want to get a sneak peek of what it looks like?
Enter your email and get a free demo version of the SEO Checklist.
Have you learned anything particularly helpful in your SEO Journey?
Never stop learning
I try to learn something new every day. SEO is constantly evolving, with recent trends and Google updates. Spending 30 mins every morning browsing SEO lets me pick up further information.
Data
We do not let every piece of data we produce or gather fall between the cracks. We wring every last drop of value out of our data, recycling and repurposing it to drive our business forward.
Being in the office
As digital technology has made working remotely easier, it can't beat being in the office with a cohesive team. The ability to have new dynamic idea chats with the team and come together to put it in a plan makes it feel much more real than doing remotely.
What platform/tools do you use for your business? (your SEO Tech Stack)
Ahrefs – it's one of my day-to-day go-to tools. All-in-one. We use it when researching SEO, checking backlink profiles and comprehensive auditing.
SE Ranking – very similar to Aherfs; however, I like to have to ability to compare and contrast different SEO tools.
Zoho – our email system to communicate with our customers. We like how it can be customisable and has been integrated into our in-house self-built CRM system.
Skype – we use Skype to communicate with the team members. We all find it very effective.
Calendly – great for organising calls with potential customers.
Google Workspace – our online documents and spreadsheets are all handled within Google Workspace.
White Boards! – we have whiteboards around our office. It helps the team visually see tasks, priorities, and goals. It's a great feeling wiping off the achievements and fantastic engaging the team when posting new ones!
Our link building efforts are still in their early stages; however, our educational content has started gaining traction.
Our guest posts, niche edits, and foundation links services form our link building service.
This involves using extensive client-specific outreach campaigns.
Our process:
When we have a link-building order from one of our clients, we will first do Google and Ahrefs searches to assemble a list of prospective websites which match the metrics and traffic we require.
Then our outreach marketing team starts a personalised outreach campaign using our in-house CRM system to communicate with these websites.
An analysis of the responses then follows this by following our guidelines: no PBNs, no link farms, low spam scores, relevant domains etc.
After identifying an appropriate placement, our team will create a tailored guest post that will resonate with the website's audience, with an editorial-style link to the designated website.
For our Niche Edits, once an appropriate placement has been identified, the content team is responsible for enriching these posts, developing additional content to enhance the post and seamlessly integrating your link with the article.
This is our link building service.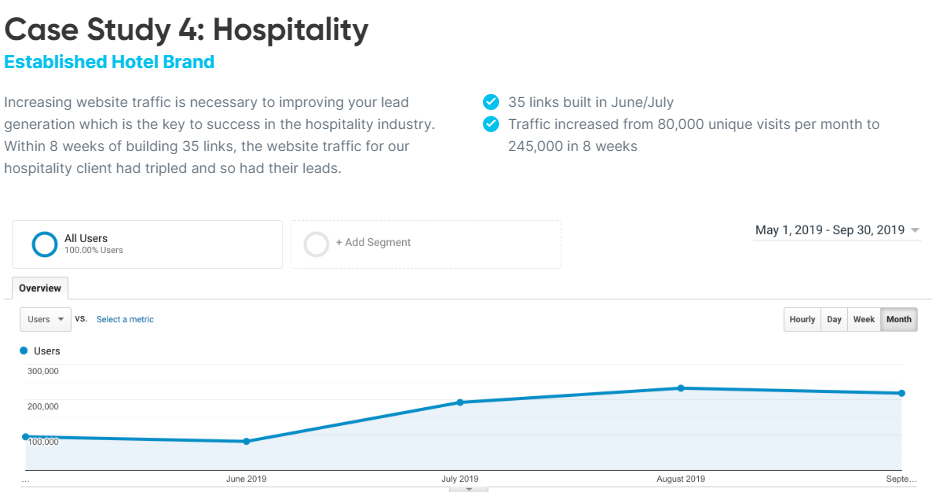 What have been the most influential books, podcasts, or other resources?
My morning reading always includes browsing the Search Engine Roundtable and scrolling through my socials to see what people I follow have to say.
To name a few people I follow, Simo Ahava, Daniel Foley Carter, Charles Floate and Matthew Woodward.
Using Twitter and LinkedIn is a great way to keep up with the latest news and trends!
What's the next step in your SEO Journey?
Getting my head fully around Google Analytics 4 (GA4)! It has been a steep learning curve, as I only started using GA4 in January. I have a love-hate relationship with it, but I recognise the potential of customisable reports for analysing company data.
I'm eager to explore how AI and SEO will further integrate over the next 6/12 months and how this merger can benefit our work.
Where can we go to learn more?
bigfatlinks.com – the company website
You can find me on LinkedIn at https://www.linkedin.com/in/harryastuart/

You can email me at [email protected]