My SEO Journey: Lillie Jenkins from bestwritersonline.com – The difference between copywriting and SEO writing
My SEO Journey is a series where entrepreneurs and Indie makers share their honest SEO Journey filled with failure, success, and most importantly, proven results. Episode #89 features Lillie Jenkins from Best Writers Online.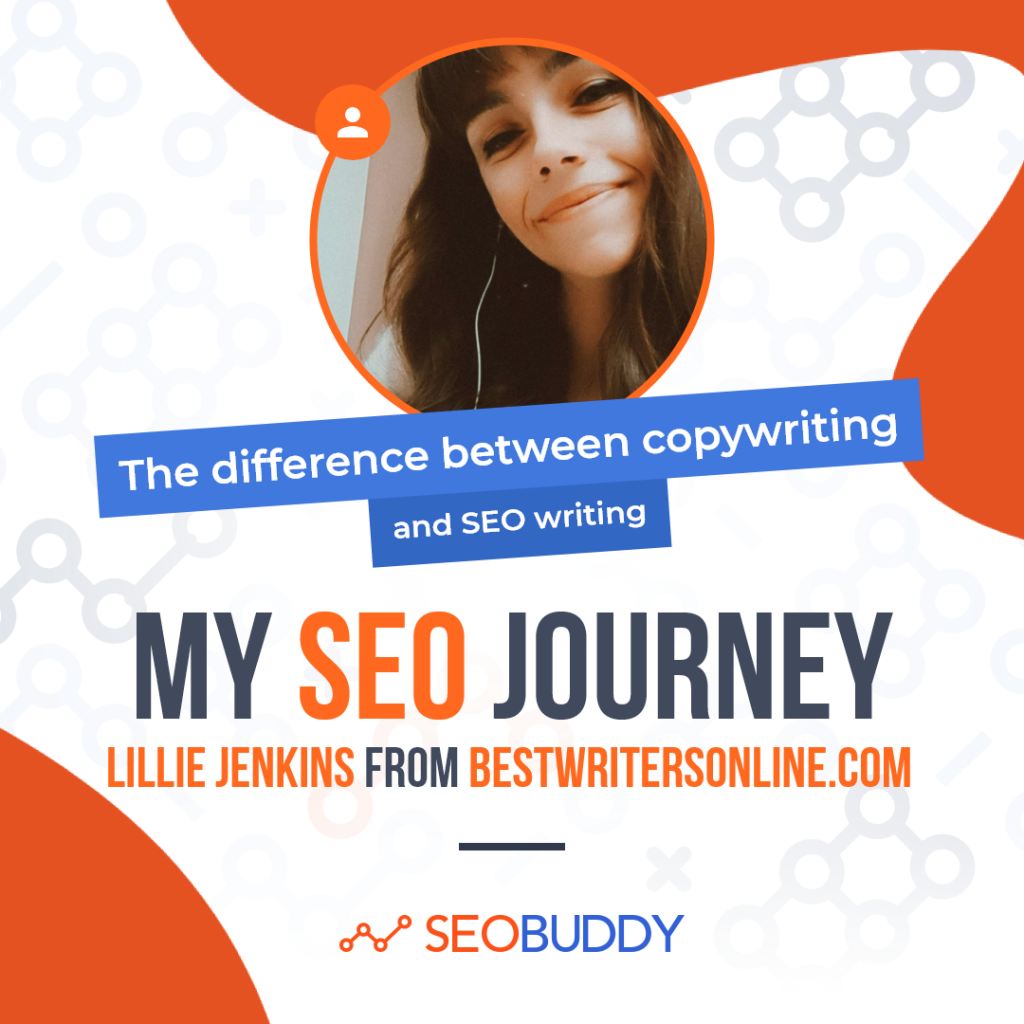 Hi! My name is Lillie Jenkins and I am 29 years old. I am a creative copywriter and content writer at the popular writing center called Best Writers Online. I cover a variety of topics that range from marketing and business to education and personal life. I've been working as a writer for years now – since high school, actually – so I've had plenty of time to really hone my skills.
At Best Writers Online, we aim to provide our clients with the most high-quality content that fits their needs and preferences. Every piece of content we create is meant to help our clients succeed in specific fields, whether it's blogging, academic writing, or something else. Essentially, we are dedicated to creating all types of written content that will best suit our customers' requirements.
What's your backstory and how did you decide to become a writer?
Even as a kid, I knew I liked literature. I would spend hours reading books at home, at school, and anywhere else where I could have even a single spare minute. I was a real bookworm – so much so that many of my friends often got frustrated that I wouldn't play with them and instead preferred to read. As I matured, I realized that it wasn't only reading that I was interested in. I wanted to write.
And so, that's when I started writing. At first, I would only write for myself. These were short stories about fairies, dragons, and other magical creatures because fantasy was the genre I loved the most. As I entered high school, I got interested in non-fiction more and realized that I had been limiting myself all this time. There were so many opportunities that being a writer provided, so it would be a shame not to dabble in all of them to see what I did best.
That's when I started freelancing. I started my own cooking blog and regularly submitted pieces to local newspapers and magazines. Only one or two got published and my blog wasn't very successful, but it was fun and it gave me the experience I needed to become a professional writer once I graduated. I quickly found a job writing for an online media outlet that covered business-related topics, but I eventually started looking for other jobs.
After some years of working for different media outlets as a freelance writer (as well as having my own clients that provided me with one-time projects), I stumbled upon Best Writers Online. I was intrigued because I hadn't worked for a platform like this before. After applying and being accepted, I quickly went through the training and onboarding process.
And here I am, years since then still working for Best Writers Online!
Since you became a writer, what has worked best for you?
I've learned a lot throughout my journey as a writer, but the most important thing is probably that you shouldn't do everything yourself. If you know that you can't handle something, it's okay to ask for help. You aren't the only one struggling, so you don't need to feel guilty about this. For someone who has been working as a freelance writer for so long, this was very difficult to accept.
You see, I'm used to handling things myself. I grew up in an environment that wasn't particularly bad, but it wasn't all rainbows and sunshine either. My parents taught me to be a hard worker and to put in maximum effort. But if you do that for a very long period of time, you could experience burnout. As a writer, it's very important to understand that and be able to find a balance between how much effort you put in and how good the results are.
At Best Writers Online, we have such a great community that I stopped relying only on myself to handle difficult situations. If I need help, I ask for help. That's actually something we also tell our clients all the time. If you need help with something, just get in touch with us and we will find a solution for you. Outsourcing some of your writing tasks will only be beneficial to you.
Have you learned anything particularly helpful in your SEO Journey?
There's so much that I wouldn't be able to explain it all here, but I'll try. Because I write about so many topics, I always need to be organized in everything I do. In fact, I think organization should be the number one priority for writers and anyone else working with SEO. I need to make mental notes about the keywords I should use here or there, the links I should add, and the formatting I need to apply. It can be confusing at times.
One of my biggest mistakes as a writer was thinking that I could do everything all at once without prior experience. When I was starting out after graduating from high school, I did have some experience, but it wasn't in SEO. In fact, I barely knew anything about SEO besides the obvious basics. I had to learn at my first job how to "do" SEO correctly.
It was challenging, but it wasn't impossible. Still, it's best to be prepared beforehand.
I think one thing that has been particularly useful for me is identifying my intent before I write anything. It's surprising just how much you can do just by knowing why you are creating a specific piece of copy. For example, I analyze top-ranking content to understand how I can make my content better. I also keep in mind search intent and work with all four categories of keywords (navigational, informational, transactional, and commercial). Moreover, I also try to write passage ranking so that paragraphs in my content can rank for specific queries.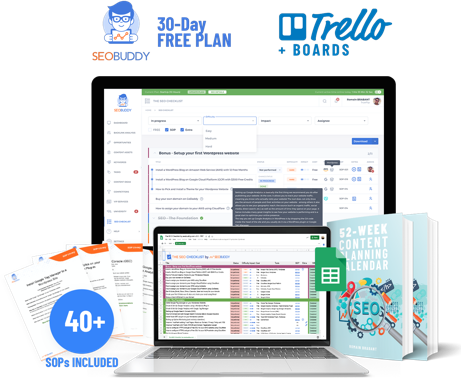 There's more…
Now it's time to discover the other 102 steps that will get more organic traffic flowing to your website. Get the SEO Checklist here.
Want to get a sneak peek of what it looks like?
Enter your email and get a free demo version of the SEO Checklist.
What SEO tools do you use for your business?
I am a bit old-fashioned in the sense that I mostly rely on my own skills and knowledge to do the bulk of the work. That being said, I do think that there are very many useful SEO tools these days that could significantly simplify your work.
For example, sometimes I outsource simple writing tasks with the help of the writing services reviews site Writing Judge. I always find great writers there. I use tools like Grammarly and Hemingway Editor to proofread and edit my content.
I also like Ahrefs, especially its Backlink Checker. Those are all my go-to anytime I sit down to write.
What is the difference between copywriting and SEO writing?
The difference between copywriting and SEO writing is not as complicated as it may seem at first. Essentially, it's all about purpose. Copywriting is used to sell a product while SEO writing is used to get the audience interested in the product in the first place.
Today, I would like to share my own SEO journey and show how modern content writing and copywriting are interconnected.
The two may be different at first, but in the grand scheme of things, it's all about the audience.
I usually try to use a wide variety of techniques when it comes to link-building. I think you shouldn't rely on only one way of doing it. For example, I like guest blogging, but I also think that influencer marketing can help you build your backlink profile with just as much success.
As for internal and external linking, I prefer including as many good sources as I can find without overstuffing my content. If you add too many, it just looks like a mess. But if you add too few of them, it looks kind of empty.
What have been the most influential books, podcasts, or other resources?
Oh, wow! That's a great question. Well, I've been following Oprah's Book Club for a while (I am a bookworm, after all). I also really like the How I Built This podcast.
What's the next step in your SEO Journey?
Right now, I'm looking for ways to expand my activities. I think I might start outsourcing some of my own writing tasks with the help of writers from the custom writing reviews site Trust My Paper. I know that those folks are reliable, so I trust them.
In terms of SEO, I want to dive deeper into more specific topics that I haven't explored before (like fixing 404 errors).
Hopefully, I can improve my skills if I dive into these topics and practice.
Where can we go to learn more?
I'm not a very public person, but you are welcome to check out my articles or contact me at Best Writers Online! It was very nice to meet you and I hope my answers were helpful for the readers!