My SEO Journey: Andy Bowie from myautoshop.co.nz – 10k Monthly Organic Traffic with just 27 referring domains (DR34)
My SEO Journey is a new series where entrepreneurs and Indie makers will share their honest SEO Journey filled with failure and success, and most importantly proven results. Episode #8 features Andy Bowie from My Auto Shop.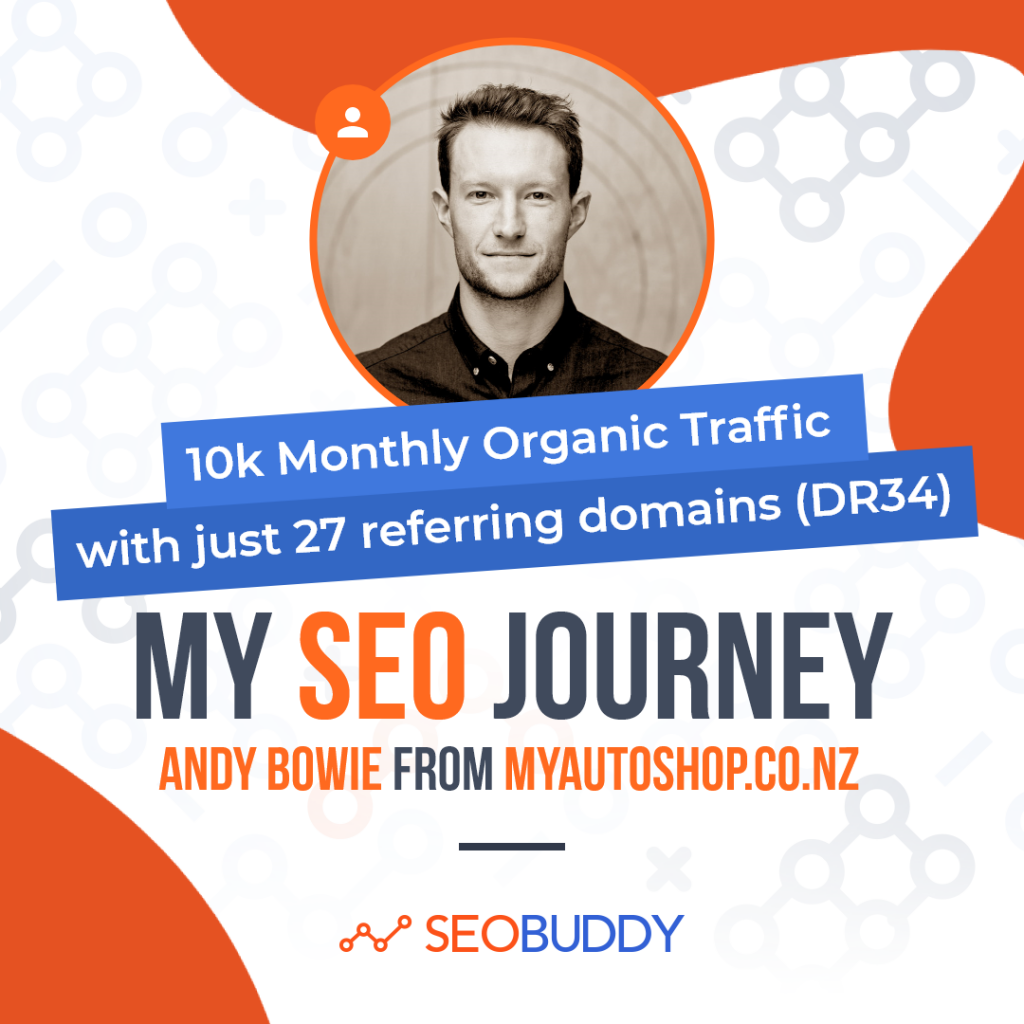 My Auto Shop is reimagining how car maintenance is done in NZ by partnering with fully vetted, MTA-approved garages and makes it easy to find, compare, and book the best mechanic for customers around New Zealand. We've essentially become the 'Airbnb for car maintenance and repairs' and a really easy way for Kiwi's to sort out the hassles of getting their car repaired or serviced.
A fundamental aspect of the growth of the web presence of My Auto Shop is the development of our online organic growth strategy. Initially, as the business was formulated, we didn't understand the power that SEO can play in the car maintenance industry.
The narrative plays out in an unusual way to typical e-commerce products.
Most people don't casually browse through car repairs and servicing in the way they do with clothing or other items, yet the people who search specifically for these repairs have a much higher intent to book a repair than your typical clothes shopper.
What's your SEO Strategy?
Our strategy was built around targeting these high intent customers who are specifically searching for car repairs and in turn developed tailored landing pages to cast a greater net to capture this traffic. Landing pages are an interesting form of content because you can create one per niche, making it basically an infinite source of useful content for the reader.
The trick is to make sure each landing page is useful to what your customers are looking for to ensure they receive quality engagement, have a low bounce rate, and ideally result in a CTA being clicked. In our case, these pages are geared around a specific vehicle make or model, a city or suburb, or a type of repair.
Here is a sample of our SEO Friendly URL and Landing Page for people looking for Car Service in Auckland for Audi: https://myautoshop.co.nz/car-service/audi/auckland/auckland-central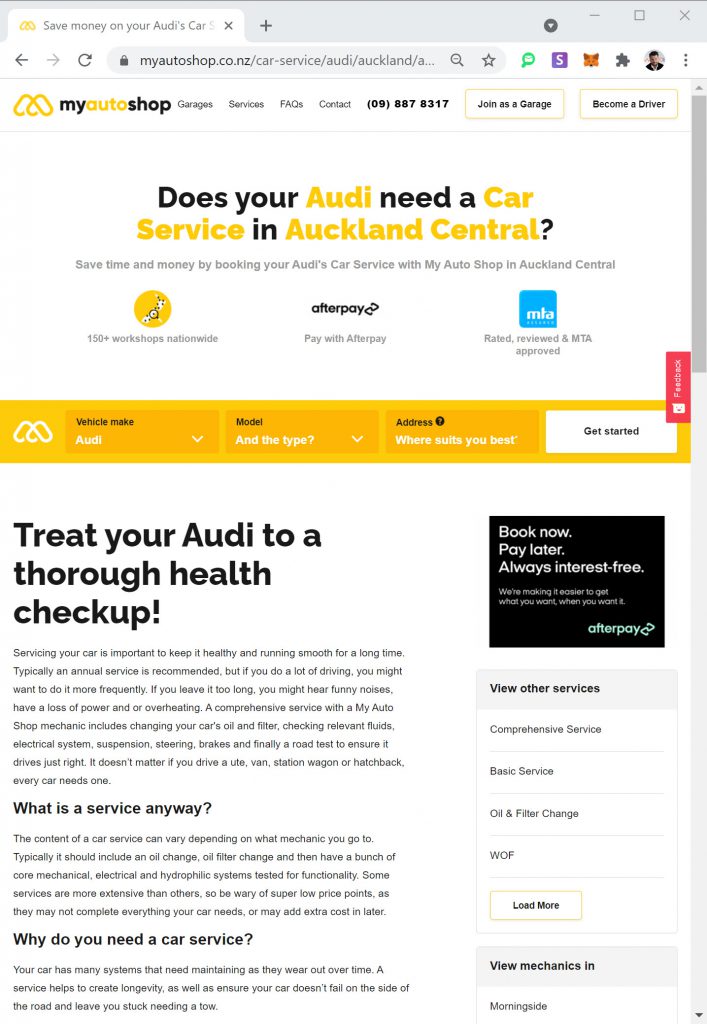 What's your experience working with agencies, freelancers, or building your own in-house SEO Team?
We initially sought advice from local SEO/SEM agencies, but after feeling pretty underwhelmed by 'run of the mill' packages and sales folk that weren't as technical as we would've liked, we decided to self-teach in house and develop our own more ambitious plan which was inspired through various online resources such as Moz and Ahrefs.
While our team was not structured for in-house SEO, nor had much knowledge in the subject, we took the initiative to learn from scratch, roll through the initial teething pains, and have now come to fruition through our large increase in organic website traffic.
Also as a small business just starting out, we didn't have a large marketing or SEO budget to work with so leveraging the power of the internet and our own blank page thinking has delivered great results at a minimal cost compared to the price of hiring an agency.
What is your Content Strategy?
An effective strategy for our SEO was the 'Silo Technique'.
For car maintenance and repairs, people tend to search specifically for what they want with regards to their car. This strategy allows us to reveal to search engines and help position our website as an expert source for car repairs due to our informative landing pages for each repair & job.
As a result, the search engines award higher keyword rankings as a result of our clear website structure and subject matter relevancy matching search queries from potential customers.

For us, understanding what content to produce and cascade onto our site has been a journey in itself.
I think the most powerful content pushes, are the ones that are scalable and give you the most bang for your buck.
While it can be useful to produce blog content and guest posts, the trade-off is the time that it takes to carry these out. So producing content that can be cascaded much more easily without investing as much time is an effective approach.
The Numbers & Growth
We've seen over a 2000% increase in our monthly online organic traffic, resulting in over 65% of our total traffic coming organically. And even despite our lower domain authority score (which we're in the process of building), our optimized SEO strategy has funneled many organic customers looking for car maintenance and repairs.

From SEMRush, you can see we are rapidly growing and are reaching over 10K monthly users organically.
What is your next SEO Challenge?
As we turn our eyes now to growing our authority score, we are looking to build a library of quality backlinks in an equally scalable way. While it can be easy to socially engineer some local backlinks, it's harder to develop effective scalable channels.

Up until now, most of our exposure has come from publishing content on our blog, email list, and other social media outlets. We take inspiration from businesses like Thumbtack, which pioneered creative ways to grow their domain authority.
The link-building strategy will change based on how much and what type of content we are cascading.
It will be important to understand based on our volume of content we are producing, perhaps our best bet might be concentrated and targeted outreach campaigns for the meantime with quality guest articles on other domains.
There's no doubt that SEO can require a big commitment from a growing business juggling many priorities, and is not always the right strategy to pursue, but it can be a fruitful tree if done properly.
At My Auto Shop we've got many more things to test and learn. We're looking forward to our second iteration of SEO changes, influenced by our wins & losses from the first, which should lead to even more growth over the coming year.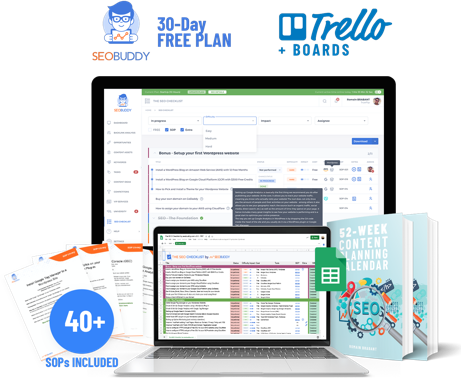 There's more…
Now it's time to discover the other 102 steps that will get more organic traffic flowing to your website. Get the SEO Checklist here.
Want to get a sneak peek of what it looks like?
Enter your email and get a free demo version of the SEO Checklist.
Our Favourite SEO Tools
To gauge our SEO, we use tools such as SEMRush and Google Search Console.
The search console is an easy way to see what keywords we rank for and in what position and follow our progress in search results. It's a great tool and gives clear visibility of how our SEO strategy is performing with regards to keyword rankings.
For information and learning, Moz and the Ahrefs blog are great resources.
These resources have many topics and provide a great introduction to learning SEO, and deliver some in-depth practical guides which are a great help when trying to implement specific strategies. Their step-by-step guides really encourage you to use the knowledge you are learning, rather than just learning theory.