My SEO Journey: Andrew Davison from luhhu.com – Understanding Search Intent to reach DR43 while ranking on 1.3k+ Keywords.
My SEO Journey is a new series where entrepreneurs and Indie makers will share their honest SEO Journey filled with failure and success, and most importantly proven results. Episode #24 features Andrew Davison from Luhhu.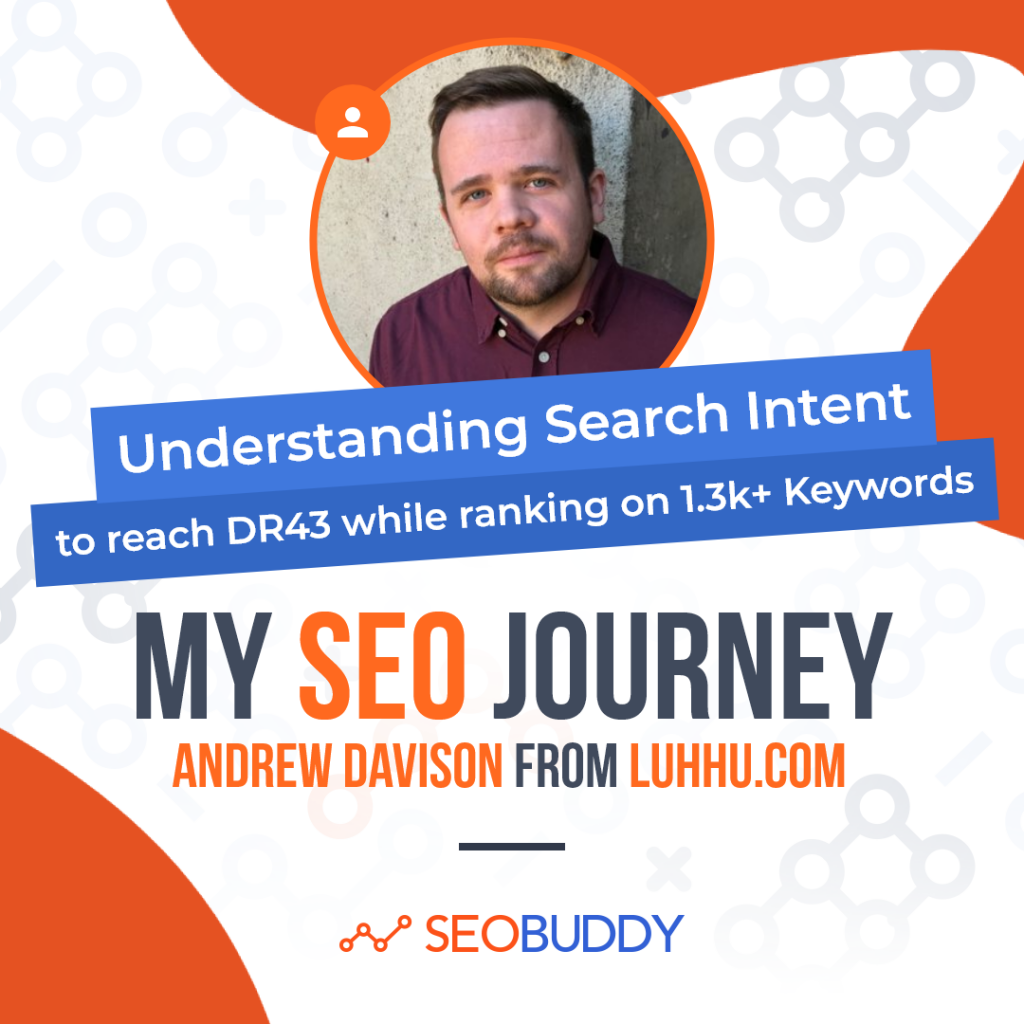 I'm Andrew – and for the last 4 years, I've been growing Luhhu, an automation agency. We help people save time and money using tools like Zapier and Integromat.
In terms of my SEO journey, it's been one of constant tinkering, experimenting, learning what I can from where I can, and picking the brains of others for advice.
In this post – I'll try and summarise what I've learned and how you can apply it to your business.

SEO – learning along the way
I think it's important to say upfront that I've not had any formal SEO training – and in fact I haven't even taken an online course. Everything I learned has been picked up through Googling and talking to other experts in the industry who've been gracious with their time and advice.
Luhhu is not my first business – that was a lead generation business for language teachers called Teacher Finder (still active today!) – and it was then that I learned about the importance of search intent.
People weren't going to search Google for my company name – we're an unknown after all – but they would search for a "French teacher in Paris". So I built targeted landing pages and organised content around these terms.
It worked and we quickly found ourselves in the top 3 of the SERPs for our key markets.
Luhhu's strategy = helping people automate
When starting to build Luhhu, I knew the key was the same. No one is searching for Luhhu, and my keyword research even showed that people weren't just searching for a "Zapier expert".
Rather, most Zapier-related search traffic relates to the apps people are trying to connect it to – Pipedrive, Facebook, Hubspot etc. And this makes sense considering the SEO strategy Zapier themselves followed to drive their early growth.
So, using Ahrefs I found all the 'Zapier + [app]' keyword combos with at least 50+ monthly traffic and set about writing content to match.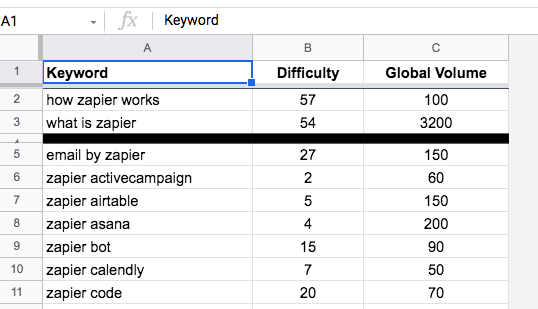 The result is thoroughly unsexy content like "How to get started with Zapier and Contact Form 7", that ranks well and has delivered new clients that would rather just pay an expert than follow a guide.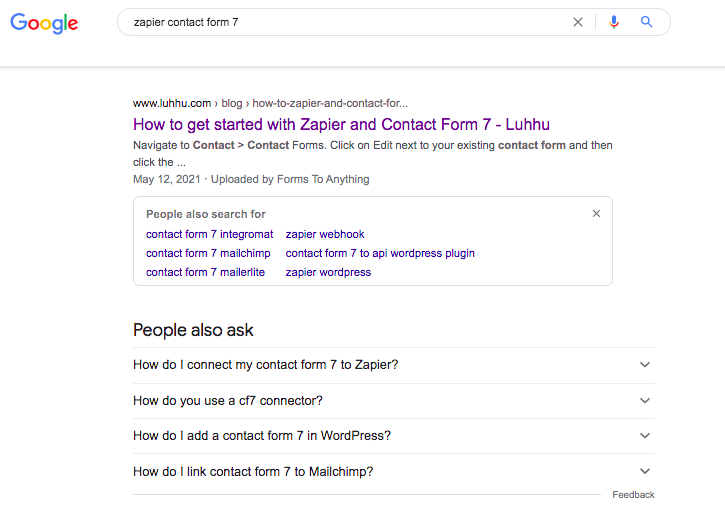 Content for curious minds
People ask questions about Zapier as well – and Ahrefs was able to help me dig out a few common ones to create some content around.
One of the most fun was "How to pronounce Zapier?" which took less than 5 minutes to write and gave me the chance to drop a little historical nugget about Zapier's origin story which I learned from an AMA.
It sends a few dozen visitors a month.
Another added bonus here is that this question pops up at least once a month on Twitter, and I now have a ready to go reply and an easy way to tempt another potential customer to look around Luhhu's website.
Backlinking the hard way
I've read a ton about different backlinking strategies, most coming at it from the angle of trying to hack your way to scale – mostly through shady, spammy methods with little guarantee of success (and every guarantee of pissing people off).
So I decided to go at things the old fashioned way – emailing people and asking to guest post or publish interviews.
When starting out I stuck with #nocode blogs.
Being a rather new industry, most publications are eager for easy content. I also found a lot of success contacting the marketing teams of the various apps that integrate with Zapier and offering to write them a how-to piece they can leverage to their customers – like this one.
In the two years I've spent actively pursuing this strategy, it has generated 70+ links, from sites with between 20 to 90 DR, including on the Zapier website itself.
It's now getting easier, as I get into the flow of pitching and turning around good posts – even getting invited to write by companies that have seen my existing content (like this blog for example!)
Getting creative
I always like to grow by experimenting – and as I continue to write focussed content and building links, I'm working on a few other projects to try and move the needle on growth.
The first is AutomateNow a platform I'm setting up to 'rival' the likes of Upwork and Fiverr and be an alternative to the partner programs that apps like Zapier run themselves. The idea is to band together with other freelancers and agencies working in the automation industry and provide a platform for customers to find us.
While it might seem a bit bonkers to spend resources promoting my competitors I've come to realise that there is more than enough work to go around, and I'm gambling on the fact that SEO and marketing for a broad platform will be easier than for just my agency and that Luhhu will benefit from being part of the project.
Alongside this, I'm looking at ways to speed up the curation and publishing of new content.
I've recently discovered the wonders of Notion, and have been using it internally to build automation 'cheat sheets' around various topics that I can refer to when working on projects or send to clients for their benefits.
Tools like Super have emerged that allow you to publish Notion boards as websites – which I've started testing with some 'get started' content I've created for Zapier. Practically, I like how smooth it is to write, format and edit content in Notion – making it easier to keep it evergreen – and from an SEO perspective the pages load fast and tick all the core vitals boxes.
What's your SEO Tech Stack?
I keep it simple, with most of my research and analysis happening inside Ahrefs and Google Console, and any planning happening in Google Sheets – where I like the flexibility.
Any challenges you're still facing today in your SEO Journey?
Knowing which keywords to target with my limited time and resources is still something I struggle with.
I know there are merits to both approaches – creating long, well-researched content to rank well for major keywords – but accepting they are competitive – or focusing on creating a more nimble content operation that targets longtail keywords with easier to produce content.
I'll need to experiment further with both I think.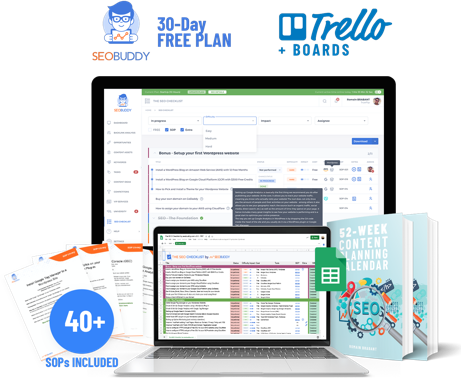 There's more…
Now it's time to discover the other 102 steps that will get more organic traffic flowing to your website. Get the SEO Checklist here.
Want to get a sneak peek of what it looks like?
Enter your email and get a free demo version of the SEO Checklist.
Conclusion
I've never considered SEO to be some dark art of difficult science, and I think that shows in the rather casual way I've approached it in the businesses I've built.
Write (good) content that people are actually searching for, and find other people writing good content to link to yours – from there Google seems to always take care of the rest.