My SEO Journey: Andre Oentoro from breadnbeyond.com – My 4 Key Strategies to achieve a DR72 Domain Rating 🚀
My SEO Journey is a new series where entrepreneurs and Indie makers will share their honest SEO Journey filled with failure and success, and most importantly proven results. Episode #6 features Andre Oentoro from Breadnbeyond.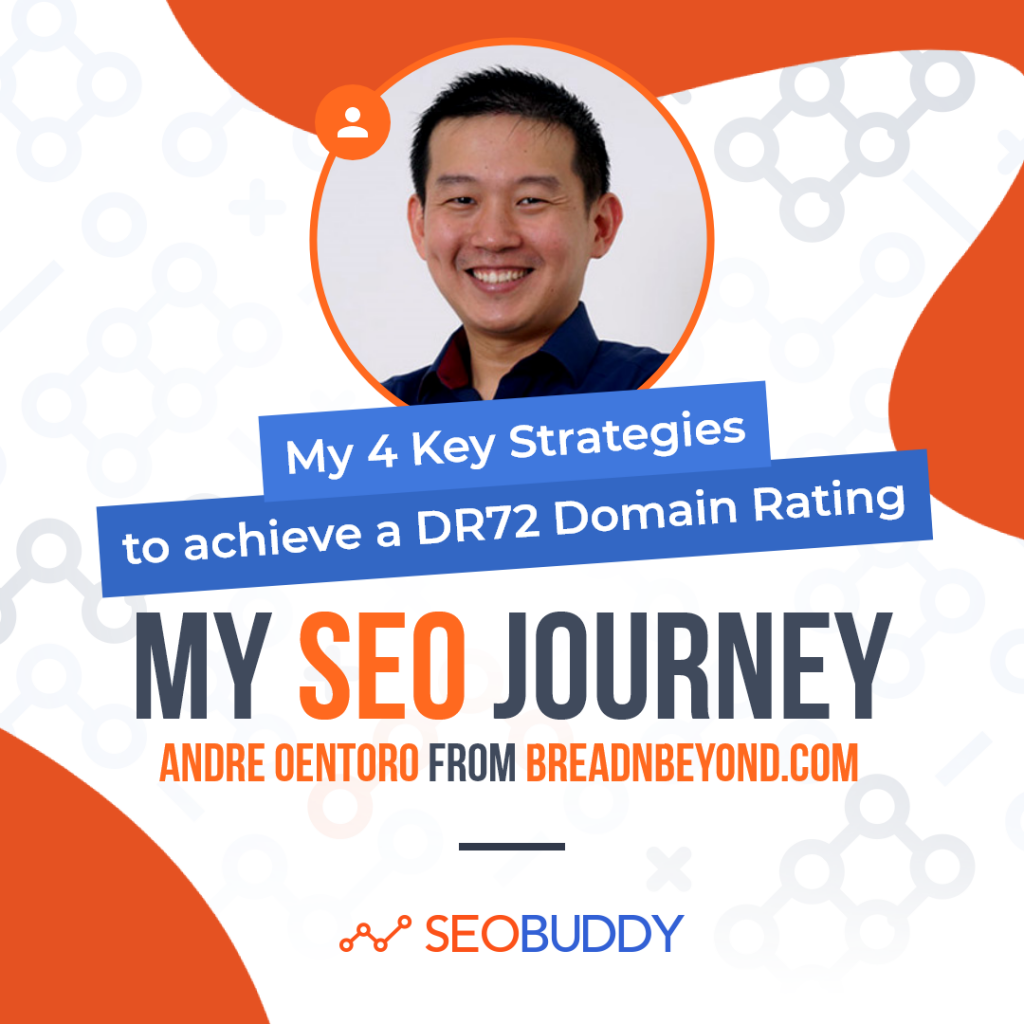 I'm Andre, the founder, and CEO of an explainer video company, Breadnbeyond.
My aim with our digital marketing and SEO strategy is to boost our online presence so that when potential clients search for anything related to explainer videos, they can find our website or content.
Since we have a small digital marketing team (we're a small business, after all), we decided to rely heavily on organic ways when it comes to SEO practices. The reason is that we don't have an extra budget to invest in paid ads. Also, we always want long-term bottom-line results.
Slowly but steadily, we can get some of our pages to rank on the top pages of Google SERPs for some keywords we've targeted for.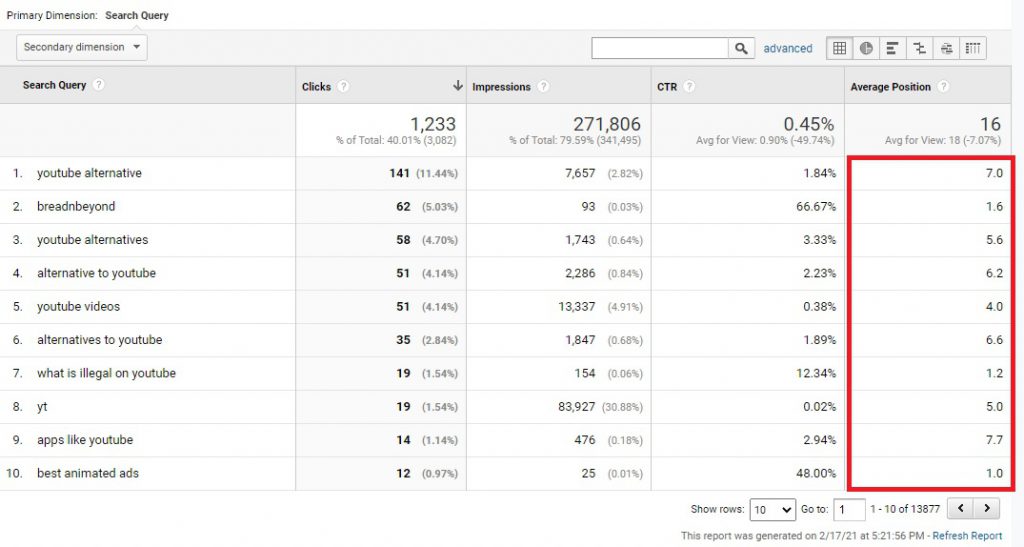 With that average position, we can drive more traffic to our website and build a strong backlink profile to push our Domain Authority (DA). About less than two years ago, my site's DA was stuck at 50. And since we decided to invest more effort and focus on SEO strategy, we finally hit a score of 72.

This way, we can continually maintain our position on the search engine.
Again, we've spent almost no penny to get a better rank on Google SERPs and build such a strong backlink profile, but it takes a lot of dedication and consistency indeed.
In this post, I'll share my four key strategies to get a better rank on Google SERPs for the long-run and of course, without breaking the bank as well.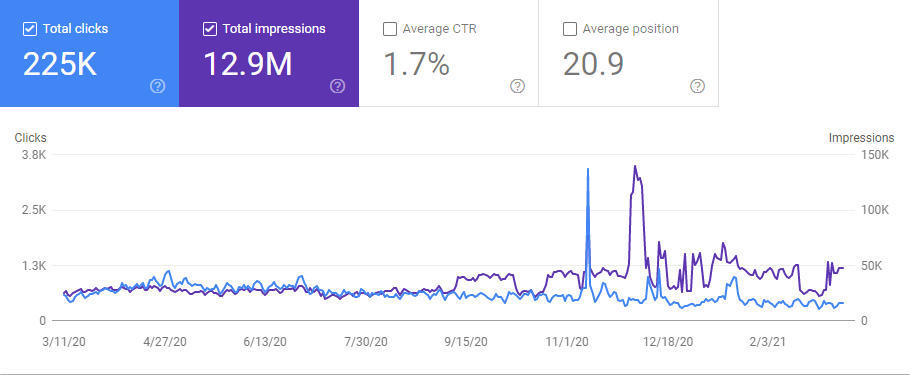 A Constant Content Creation
We always invest in content creation. As cliche as it might sound, this might be our most powerful weapon.
It's crucial for us to create at least one content project per month. We constantly produce a variety of content, such as e-books, power pages, expert roundups, infographics, videos, and in-depth blog articles.
Here's one of our best-performing articles that rank #1 on Google with our targeted keyword 'best animated ads.'

One of our expert roundups happens to sit on the top page of Google SERPs as well:

It's important to make our content more authentic, diverse, and inclusive. It is what truly engages your audience and makes them feel encouraged in exploring your brand.
And nope. You shouldn't create content just for the sake of doing it. Never. It's just a waste of time and effort – because no one will care about what you write if you offer them mediocre, not-so-engaging content.
Always remember that you create content to share valuable and insightful information that benefits the readers. Make it all about them. Show them how your content can answer their questions.
That's how you can make them stick around your brand. So, spend extra efforts in deep research and collect some valuable data to make share-worthy content.
Of course, you also have to make sure all your content is optimized for SEO. In our case, we use this robust SEO Checklist from SEO Buddy – what a life-saver it is! It gives us a step-by-step guide to every critical SEO metric.
The checklist makes it easy for us to understand what area we need to improve to drive more traffic to our website and improve our site ranking. Even more interesting, it tells you how to do it through actionable best practices.
Collaborative Link-Building

Once we publish and optimize our content, we don't just sit back and cross our fingers, hoping search engine crawlers do their work. We reach out to some authoritative websites and our partners to feature our new content. Well, we also called this process 'collaborative link-building.'
Here's what we send other websites and our partners an invitation for collaboration whenever we just published a new content: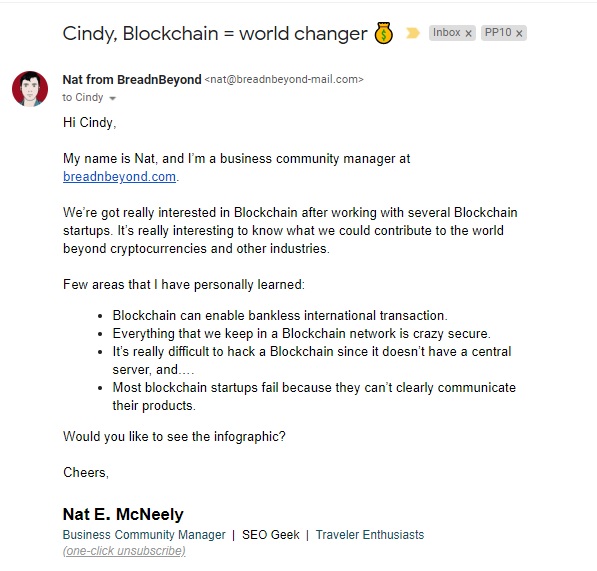 When other websites agree to feature your content as a new resource for one of their blog posts or content, it means that their readers read and see your content too. In exchange, you can also feature their content on your website.
Quality link in quantity is a fantastic result of link-building collaboration. Therefore, when you have 5 partners, then you can easily build more than 100 links in no time within a short period.
So, the more authoritative, high-traffic websites featured your content, the more chances you'll get to rank higher on the SERPs. The reason is that links are a signal to Google that your site is a quality resource worthy of citation.
However, one thing you need to bear in mind, though: make sure that the website you collaborate with is authoritative and relevant to the topic you outreach for. This is crucial to earn such high-quality backlinks.
A Guest Posting Strategy
Another important practice when it comes to pushing a website's rank and building a strong backlink profile is through guest posting. Old-school, much? But, it effectively works for us.
I believe that guest posting remains one of the most important tactics to boost your website traffic and earn more backlinks. Basically, you need to create valuable content for other websites so you can get a link to your piece of content.
You can also get yourself featured on an expert roundup from another website in your niche. Just like what we always do besides writing full-length articles for guest posting. Not only does it help you to position yourself as a professional or expert in your niche, but it also offers you an opportunity to put your link.

Of course, this is not a quick route for taking your search rankings to #1, but if you do it consistently, you can get your page to rank higher and not get lost in the flood.
Remember, building links from high-quality sites is a major SEO ranking factor and improves your website's position on search results pages.
Here are our best practices for creating an effective guest post for more high-quality links:
Find relevant sites to contribute to
Choose a winning topic and start with a pitch
Write great, in-depth content
Include a link to your site with a keyword-based anchor text
Work on author bio (this can be a chance to put your branded link)
Be responsive to every comment on the site
YouTube SEO Optimization
Since we're in the video production industry, we use YouTube as our marketing channel. This is an ideal platform to show our works, portfolios, and other engaging content.
And yes. YouTube can help you build out your audience long-term, improve your rankings, and as a result, serve up a steady stream of website visitors.
In fact, YouTube is our second-biggest source of referral traffic. That's why we make sure that we always maintain our presence on the platform.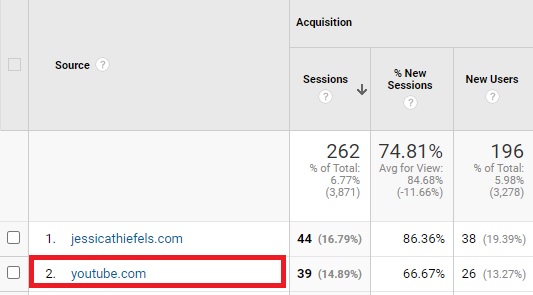 Just like Google, YouTube needs your videos to be optimized to rank higher on the platform. And if you can rank higher on YouTube, Google will include your video on their SERPs for relevant keyword searches.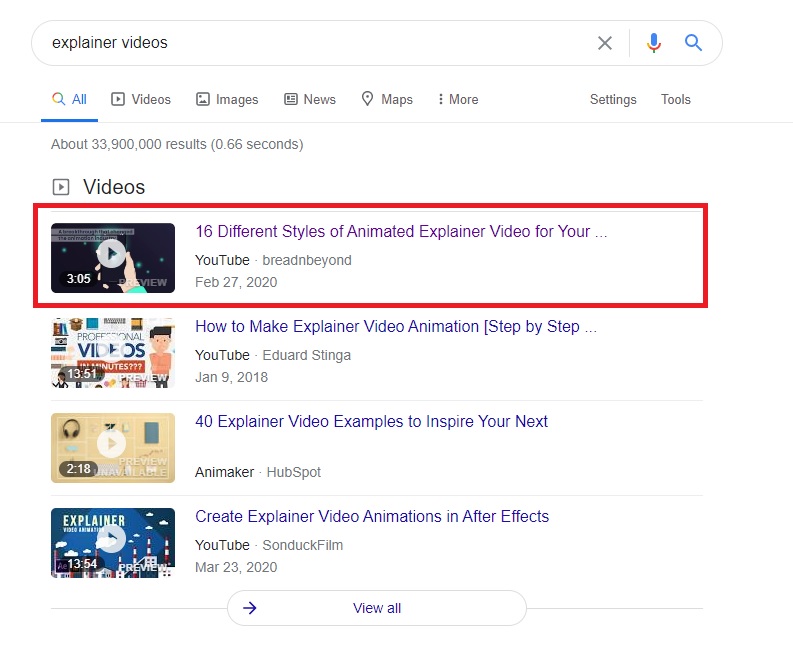 To optimize our YouTube videos – so that it can both rank on YouTube itself and Google SERPs, we make sure that we:
Choose a keyword-based title
Write fun descriptions (we also include our website link)
Add a transcript and closed captions (CC)
Include most profitable, relevant tags
In order to make YouTube optimization much easier, you can utilize tools like TubeBuddy, Tubics, VidIQ, etc. You can also use cards or end-screens to put a clickable link prominently in the video that leads to your page or homepage.
The Challenges We're Still Facing Today
Besides all those efforts and results we have to get a better rank on SERPs, I and my team still find ourselves struggling in some areas sometimes. Here are some of the biggest challenges we're still facing:
Staying Up to Date
Nothing stays the same for such a long time when it comes to SEO practices. There are always changes and updates on how the Google algorithm works and new Google features. It's a fast-paced environment, after all.
That's why we have to constantly update and adjust our strategies to stay ahead of the competition. And it's no small feat. In this case, we know that we can't get too comfortable with strategies that we found worked best for us and simply emulate them, but we need to innovate constantly.
Maintain Website Traffic
We also find it quite challenging to maintain our website traffic flows constantly. All the strategies mentioned above, of course, play such a significant role in our SEO journey, but sometimes, there's a thing such as unexpected traffic drops. The hardest is probably finding out the cause or reason behind a drop in our traffic.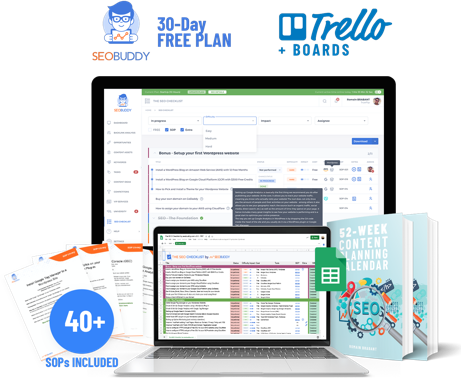 There's more…
Now it's time to discover the other 102 steps that will get more organic traffic flowing to your website. Get the SEO Checklist here.
Want to get a sneak peek of what it looks like?
Enter your email and get a free demo version of the SEO Checklist.
Essential Free Tools We Use
Those two biggest challenges we just talked about aren't as frustrating as it used to be since we leverage some tools in our practices. Here are some best tools we've been using to make SEO challenges less painful and help us to get back on track, getting a higher rank on the SERP.
Google Analytics. This is a holy grail in our SEO toolbox. We use this tool to monitor our overall SEO performance, track some issues or problems, and what can we do better.
Keyword Explorer. This tool gives us 500+ million keyword suggestions, making it easier for us to choose the word with the most accurate volume ranges in the industry.
Keyword Hero. It helps us to match keywords with conversion and other on-site metrics. So, we know we choose the right, high-performing keywords for our content.
Beam Us Up. Site audit becomes our routine to maintain a good rank on SERP. This tool helps us to discover broken links, uncover missing page titles, and identify other SEO problems that occur on our website.
Link Explorer. This one is the highest-accuracy link index and the most accurate DA and backlink checker for us. We use it to analyze our overall link profile.
Tubics. Video SEO optimization simplified with Tubics. We use this tool to analyze our video metadata, track video rank, choose the right keywords, and competitor analysis.
That's been my SEO journey. To make your pages rank higher on the SERPs for a quite long time, you mostly need patience, effort, and commitment. It isn't an overnights success after all.
But, all the results you'll get will be well worth any bumps in the road you've faced early on. With some tips above, I hope you can start your own SEO journey and reap all the long-term benefits you and your business deserve.