My SEO Journey: Alex Naoumidis from mindsethealth.com (YC S19) – DR36 with over 21k Monthly Organic Traffic from 14.3k Keywords
My SEO Journey is a new series where entrepreneurs and Indie makers will share their honest SEO Journey filled with failure and success, and most importantly proven results. Episode #18 features Alex Naoumidis from Mindset Health.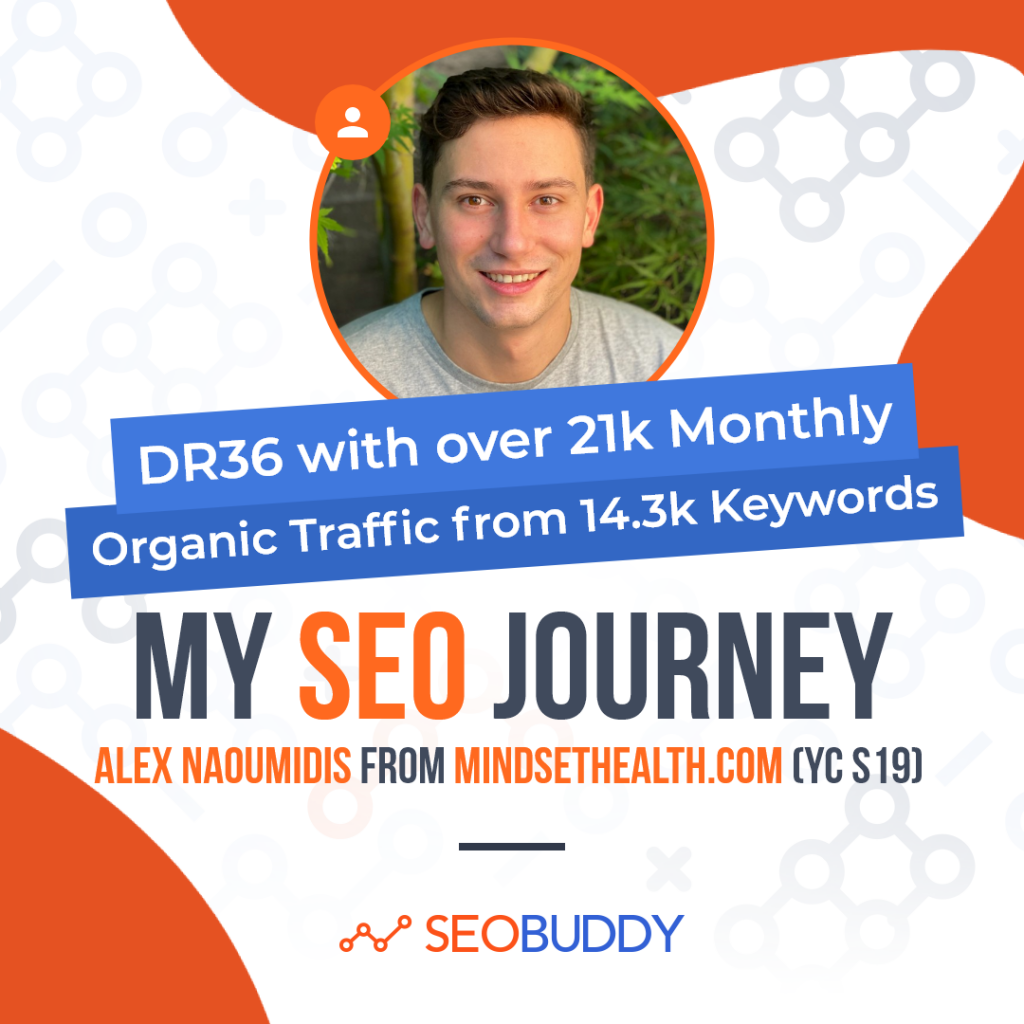 Mindset Health is building the healthcare center of the future: a digitally-native & patient-first network of digital therapeutics, clinicians, and educational resources for the billion people who have access to a phone but not healthcare.
We've started by building app-based digital therapeutics for mental health and irritable bowel syndrome.
Content is a big part of our mission to help empower patients to understand their health and better manage their condition. Many people with chronic conditions struggle to understand their condition and don't have access to accurate educational resources.
We launched our content hub Matter to help solve this issue with evidence-based articles on everything from IBS to hypnosis to mental health and sleep.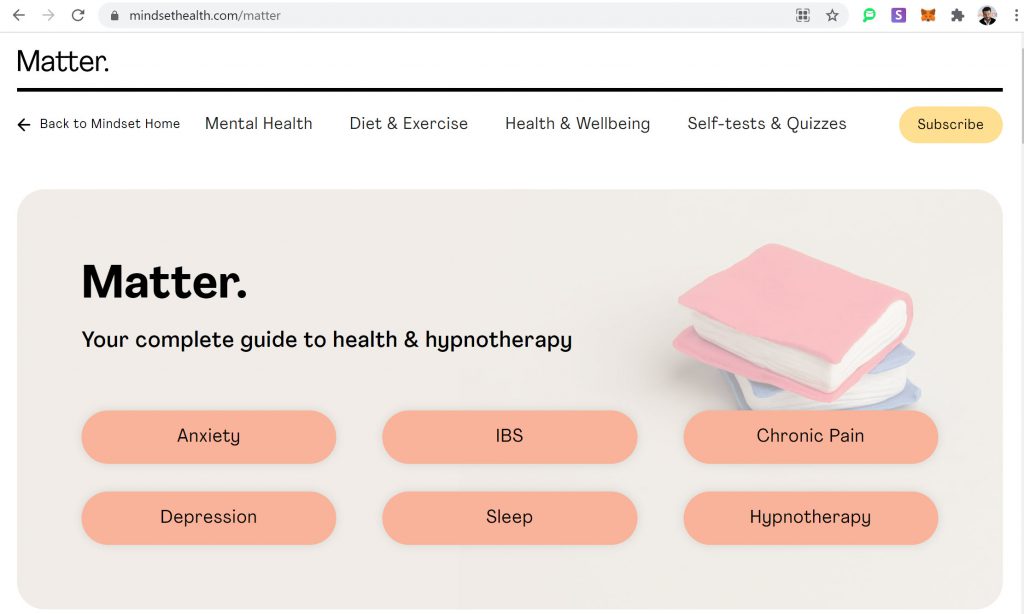 Our team
We've kept our content team largely in-house with our content being written by several content writers & copywriters with the help of healthcare researchers.
We do outsource some work, including editing some articles and have in the past used a contractor for SEO/backlink research. We found that the best Virtual Assistant we used was through SEO Buddy, as they were upskilled on the product that we were using for competitive backlink analysis so it made a lot of sense to work with a VA that was already skilled in the tools we use.
Additionally, as SEO Buddy had already filtered for skills and talent, it made it a lot easier to hire someone as we didn't have to do that work ourselves
We haven't had a lot of experience working with agencies to develop content but our thinking was that we wouldn't get the institutional learnings on how to do SEO and content well.
By developing the content and SEO muscles in-house, it can become a competitive advantage of ours compared to others that improve over time. Outsourcing means we're reduced to the lowest common denominator and lose out on a potential competitive advantage.
Our strategy
The way we've approached SEO is simple: write the most compelling and helpful content for low-to-medium competitive keywords that are relevant to our audience.
We find keywords that have decent search volume and low competition and write content for them.
Ideally, the low-medium term keyword also is included in a high-volume keyword so that as you get search volume for the first level keywords, you get more positive signals for google on the higher value keywords.
We use a software called RankScience to then compare our article with the keywords of the top 10 results for the specific keyword we're looking to rank for and then we aim to make sure our content is highly relevant to the supplementary keywords.
You can do that by making sure you're hitting all the relevant keywords in your piece (defined as what the top 10 articles commonly use). RankScience will then grade you overall, readability and word count: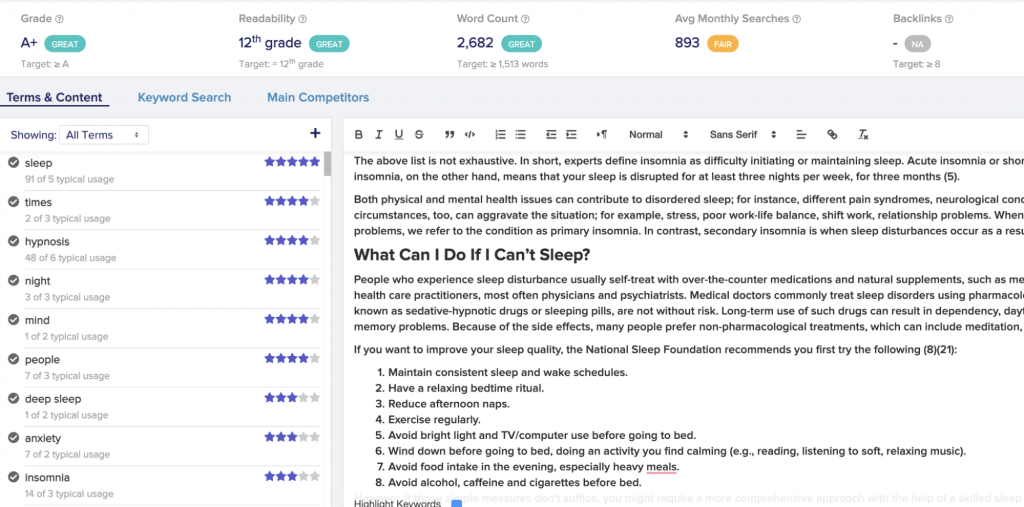 Nothing special or anything but it seems to work quite well.
We haven't done a whole lot of work with backlinks so far and it's probably the weakest part of our strategy. We had initial success with news articles from YC Demo Day which gave us several high-value backlinks and have done some backlink research using SEOBuddy to find opportunities for backlinks.
However, we haven't spent a huge amount of time optimizing for backlinks and have noticed we can rank well by making compelling content that users want to read and small related blogs want to link to.
Our results from this strategy so far have been great but have plateaued a bit:

Challenges

The biggest challenge we're facing with our SEO/content strategy is converting users from a blog to our digital programs. We're getting a significant amount of traffic to our blogs but we're not converting as much as we'd like to.
It's one of the reasons why we've seen the plateau in our results: we're not focusing just as much on it considering we have yet to convert as much of the traffic as we'd like to justify more focus.
We're finding we can get additional value from retargeting blog visitors with social media ads however.
Resources & Tools
We use Ahrefs for keyword analysis, Google Search Console for traffic analysis, SEO Buddy for competitive & opportunity analysis, RankScience for content analysis, and Webflow to host our articles.
Our favorite SEO & content resources are SEO Buddy's SEO checklist, and Clearbits article on data-driven SEO.