My SEO Journey: Alex Lashkov from linguix.com – 93k Organic Visitors/year from efficient Content Strategy and Competitive Intelligence.
My SEO Journey is a new series where entrepreneurs and Indie makers will share their honest SEO Journey filled with failure and success, and most importantly proven results. Episode #27 features Alex Lashkov from Linguix.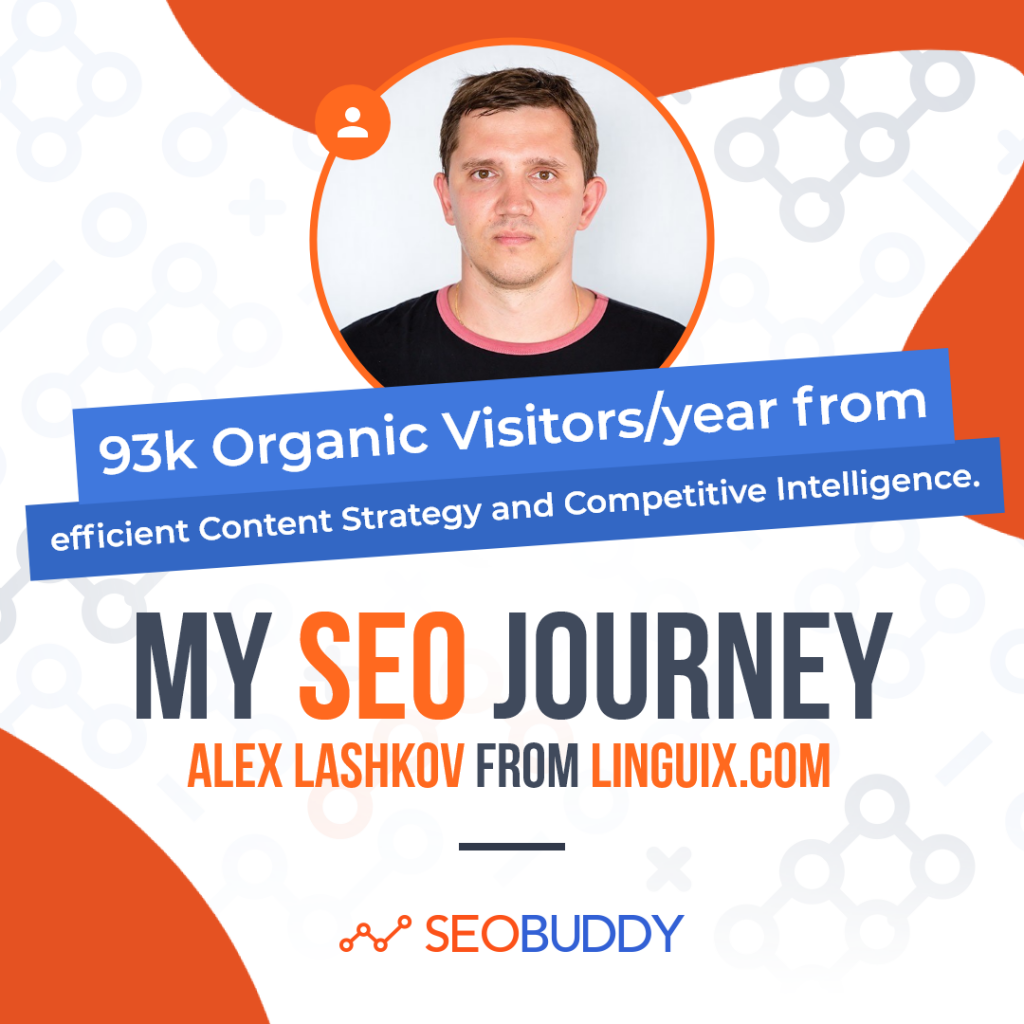 My name is Alex Lashkov, co-founder at Linguix.com.
We are building an AI-based writing assistant and writing skill improvement engine.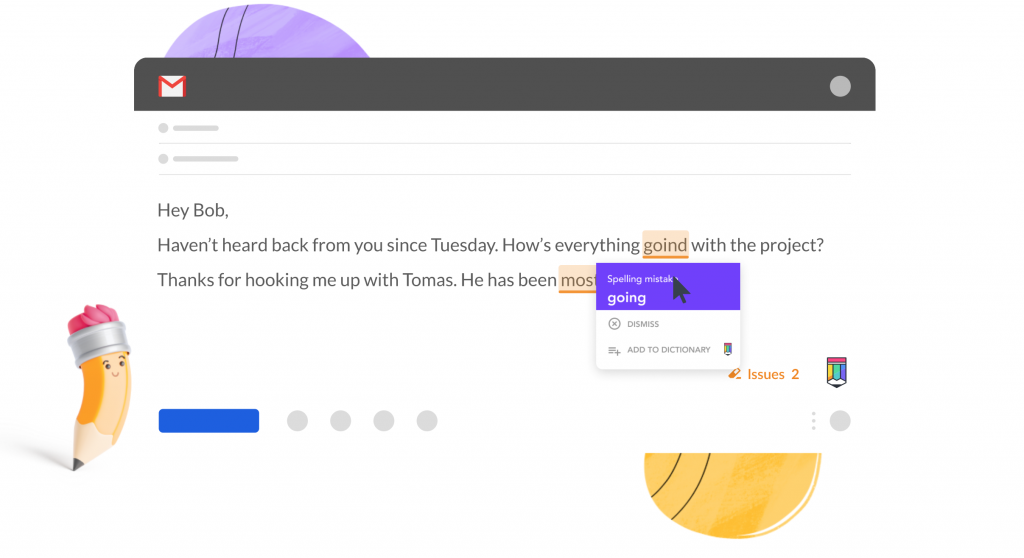 Our mission is to give people the tool that will instantly boost their communication and improve their writing skills in the long run. 
As so, Linguix is not only fixing writing mistakes, but unlike any other writing assistant, it spots patterns for repetitive issues to offer tailored personalized language training.
What's your backstory and how did you come up with the idea?
Building Linguix was a "scratching own itch" from day one.
I have 10-years long marketing experience, my first business was a content marketing agency back in Eastern Europe. When relocated to the US five years ago, I decided to do what I knew best – running a new agency. However, now it should work with customers willing to enter the US market i.e. all the content would be in English.
It quickly turned out that my writing skills were not that good as I thought. So, I had to search for some writing assistance software to boost my own writing and be able to empower my team of native writers.
I've tested a bunch of tools and ended up choosing one of the most famous solutions on the market.
However, after several months, I understood that this tool does not fit into my workflow. The main issue was I did no actual progress as a writer. I made a specific mistake 100 times, clicked Accept for the corrections every time, and then made this mistake again and again!
Also, that app fired like 80% of corrections that were not actual mistakes, just things the algorithm thought would be better to write no matter if that contradicted my writing style. That felt wrong to me.
The situation was beneficial for the app's developers, not the end-user who was pushed to think he or she can't type a word without an app.
So, I decided to fix this, and create a tool that will be good both for natives and non-natives, and will give two values instead of one. It would fix your writing right away, and offer training sessions that would allow you to avoid making this exact mistake again in the future.
What has worked to attract more organic traffic?

The writing assistance software market is a hot topic, we have billion-dollar-worth competitors. This automatically limits the opportunities to run successful paid campaigns, we had to focus on organic growth.
I've started from what I knew best: content marketing.
We've launched our blog and started posting content inspired by popular keywords and competitive intelligence. That allowed us to get first traffic and users. Some older posts still perform very well.
We've used SEMrush to identify keywords our competitors rank and used them to create blog content.
Also, we've searched for keywords that competitors do not rank for, but have potential. This helped us to refine our content templates library and create some well-performing templates that drive hundreds of signups monthly.
Second, we analyzed keywords our website organically ranks for.
The most popular one was "Grammar Check." So, people were coming to our website to find a grammar checker that would instantly check their text. To give them what they needed, we've launched a demo page https://linguix.com/grammar-check with the window to paste and check a text.
The growth hack here is that the text should be short enough to get checked, otherwise the user is prompted to sign up. For two years now, this page is one of the biggest sources of sign-ups for us.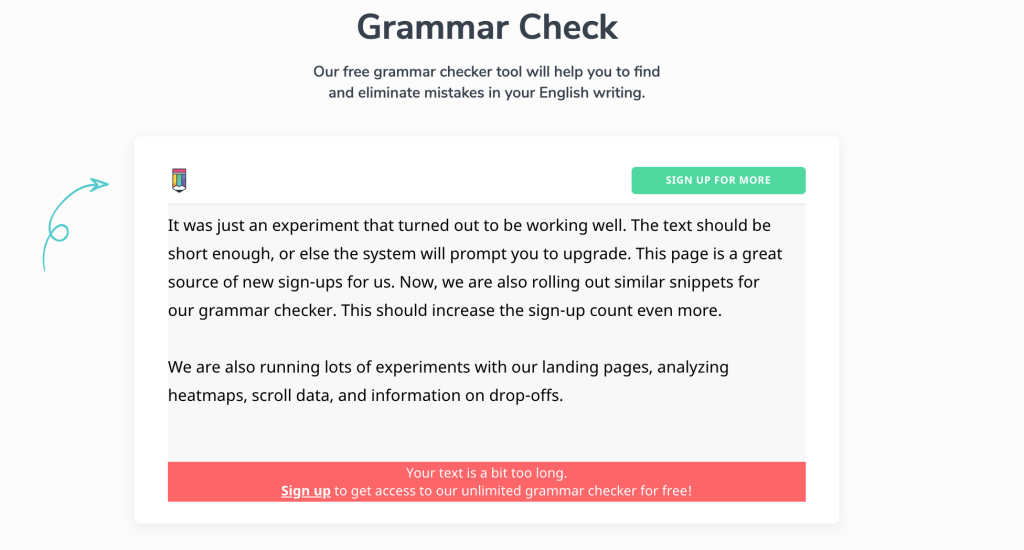 Another important thing for onboarding and retention is email.
We segment our email list to get active users (paid and freemium), those who are in the experiment (like we had a trial mode for several months and segmented these folks as well), and those who use/not use specific features of our product (for eg. did not install our mobile keyboards or browser extensions).
Another great idea was to start talking to the public early and frequently.
We've used any opportunity to get some organic coverage and traffic:
Product Hunt – we were #1 product of the day THREE times and #3 product of the day once
Review websites – we claimed all profiles we can spot, filled them with content, and started collecting reviews.
Launching our affiliate program and manually inviting influencers to joining. Almost 30% of our users come from our affiliates.

Have you learned anything particularly helpful or advantageous?
Actually, we did a bunch of experiments that failed, and the most surprisingly unsuccessful for me was the following:
The idea was to adjust our SEO and enrich it with usage-based data.
For example, we tried to collect some info on the websites our tool was launched on more often. We got the list of these websites and started pushing content like "N tools to boost your Slack experience", however, from the sign-up standpoint, these pieces worked not that well compared to the keyword-inspired content ("Types of metaphors in English").
The takeaway here is that following the search is more beneficial as this is the place where people formulate their pains and issues to solve. While they can use your tool here and there just because they can, not because they would have any problems without it in this particular situation.
We've also seen some success with our experiments. As mentioned above, working on our affiliate program and manually inviting relevant influencers to join paid off.
This is hard and routine, but it allowed us to get ~30% of our current sign-ups.
Honestly, Link building is the thing we hope to push more in the next few months.
But from what we've already done:
Developing our affiliate program, so that influencers all over the world would include links to Linguix in their materials from videos to blog posts.
Running review campaigns on all major review websites. Creating a well-crafted profile on G2.com or Capterra can really
Being active on social platforms, including Reddit and Quora, participating in discussions there along with posting the links to our product and relevant landing page
What platform/tools do you use for your business? (your SEO Tech Stack)
My growth hacking toolkit is:
Google Analytics that helps us to analyze our website performance.

Hotjar for analyzing heatmaps, can't say it often offers some a-ha moments, but it is useful to understand where people really click on your website or do they even scroll to your call to action or nobody sees it.

SemRush – this is our SEO go-to solution we use to analyze keywords, competitors traffic, and more. The tool seems too complex to me, but newer tools can't offer comparable functionality.

Amplitude for product analytics. This is the most important tool to me as it shows real product usage. We spot features that people do not understand, analyze geography of our customers and users (which are not the same very often!). Besides the product improvement itself, the tool gives tons of data that can be used in marketing, SEO, sales.

SendGrid for email marketing. Can't say anything particularly good about this solution, for now it is mostly legacy, and I would like to replace it with something cheaper and more flexible in the next 6-12 months.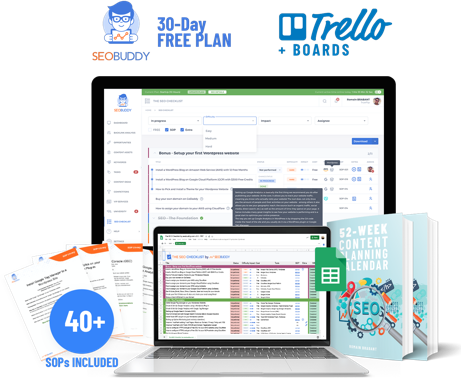 There's more…
Now it's time to discover the other 102 steps that will get more organic traffic flowing to your website. Get the SEO Checklist here.
Want to get a sneak peek of what it looks like?
Enter your email and get a free demo version of the SEO Checklist.
What have been the most influential books, podcasts, or other resources?
Actually, I spend lots of time browsing Product Hunt and IndieHackers discussions.
Following what makers are doing right now is more beneficial than reading blogs and watching videos that steal time and can contain little practical information.
Where can we go to learn more?
Follow us here:
https://linguix.com/
https://twitter.com/linguixai
https://www.facebook.com/linguix

Check out our user community: https://www.facebook.com/groups/linguix