My SEO Journey: Tyler York from achievable.me – Don't skip the Keyword Research phase of your SEO Strategy
My SEO Journey is a series where entrepreneurs and Indie makers share their honest SEO Journey filled with failure and success, and most importantly proven results. Episode #77 features Tyler York from Achievable.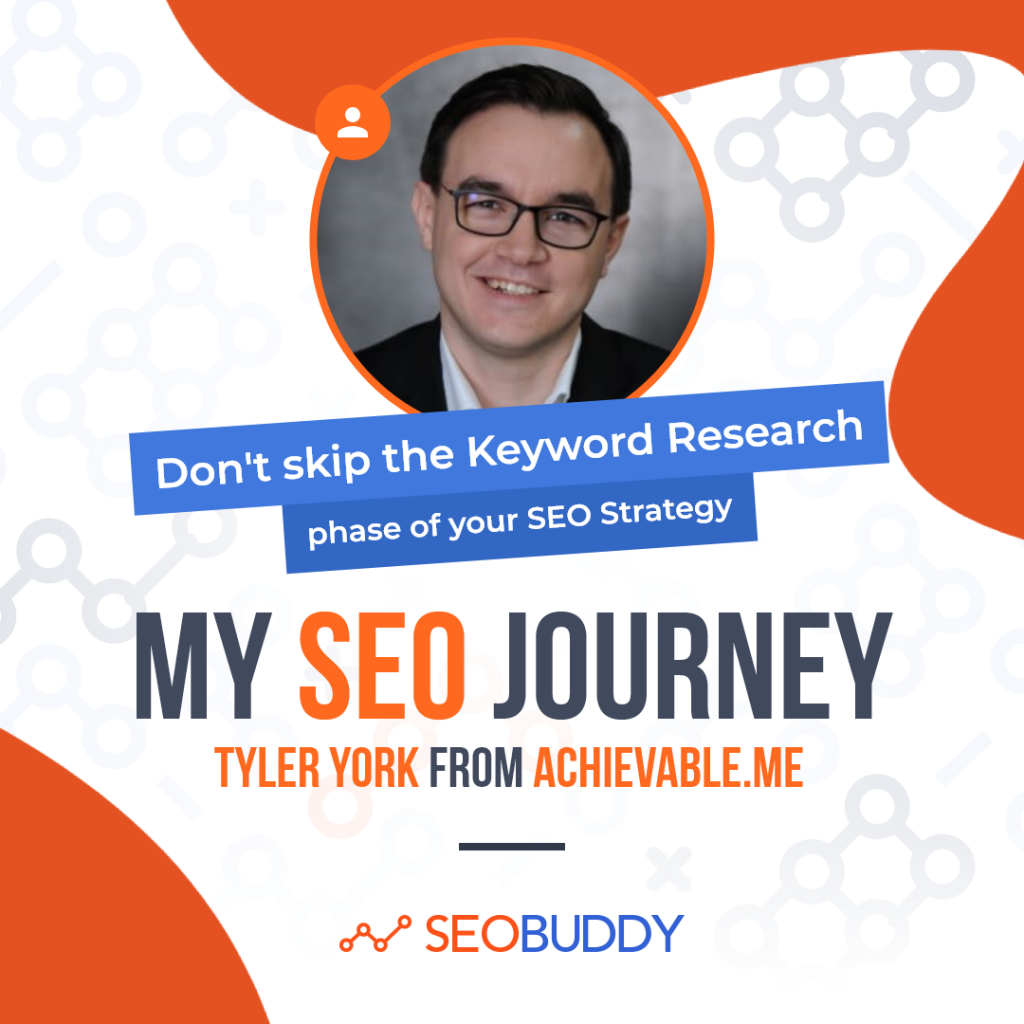 Hi, I'm Tyler York and I co-founded Achievable, a test prep company focused on exams that unlock opportunity in people's lives.
Our platform is a complete solution for passing any exam we offer. Each course contains rich textbook content, reviews powered by our advanced memory science algorithm, and realistic full-length practice exams. Our unofficial ethos is "learn by doing", and we believe that we've built the best platform for training people to pass these tests.
Our flagship product is our FINRA SIE exam prep course, and we also offer courses for a number of other FINRA exams like our FINRA Series 7 prep course. We also have successful and rapidly growing courses for GRE exam prep, USMLE Step 1 exam prep, and AMC exam prep. We're always adding more courses that align with our mission.
Our motto is "Study and pass. Period." With Achievable, you study, you follow our program, you know where you stand, and when you're ready – you succeed. That's the Achievable difference.
What's your backstory and how did you come up with the idea?
Justin, my co-founder, came up with the idea for Achievable through his experience at multiple EdTech companies.
Justin is an engineering leader who helped build the product and engineering team behind Cerego, a platform for memory-based adaptive learning. Cerego's platform used a method called spaced repetition to help students retain memory of large bodies of knowledge over time, like a new language or the periodic table. Spaced repetition is a very powerful and effective method, but only when the student is committed and can study often enough to make the most of the method. We saw an opportunity to take this innovative method to a highly motivated customer: adult students and professionals preparing for life-changing, career-advancing exams.
Most of the test prep industry is far behind what we'd consider table stakes for user experience today, especially on mobile devices. Some more competitive segments like the SAT market have decent technology, but the professional prep market has not seen the same drive to stay up to date. Even today, many of our competitors don't have true mobile experiences or any kind of 'adaptive learning' that has become one of the de facto standards of test prep platforms.
We first started in 2016, with a business of supporting professionals at wealth management firms who wanted to pass their FINRA Series 7 exam. Wealth management is one of the highest paying careers that is accessible to people without an elite background, and passing the FINRA Series 7 is often a serious hurdle for people that have not spent time in finance or the stock market before. People must pass their Series 7 before they can begin interacting with financial clients, so it is a hard requirement of the job. Once they get the job, anyone who performs well can become a highly successful – and wealthy – person.
We started Achievable to help students pass these exams and democratize this wealthy career path for everyone.
Since launch, what has worked to attract more organic traffic?

We relaunched our product with a focus on consumers in 2019. At that time, we had a better idea of how to start after a few years in the business on the B2B side, but still had a lot to learn. Consumer digital marketing is a well-known space, with only a few core approaches: content marketing and SEO, digital advertising, affiliates, influencers, and communities. We tried each in turn and found that all five avenues could be successful to varying degrees, but where we really hit our stride was in content marketing and SEO (why you asked to interview us!) and affiliates.
When you're starting a business, it's important to prioritize because you're starting from scratch.
Most marketing avenues will work for Apple, Sony, etc – because each requires a mix of product-market fit, messaging, brand, and, of course, money (spend). Big companies have all four things in spades, for the most part (that's probably why they're a big company). As a startup, you're often trying to figure out what channel you can make the most headway in by leveraging just one or two of those ingredients (typically PMF and messaging).
The goal isn't just to find what works at all – it's to find what gets you the best ROI for your money and time.
To this end, we found affiliates to be an excellent source of organic traffic early on in our business. Affiliates add value in that they have an existing audience, they generally have product-market fit between their content and their audience (whether your product fits that audience is your problem, not theirs), and people trust them and by proxy their recommendations.
You're trading the money component (typically 30% of each sale) to borrow these attributes for your benefit. This was the most effective way for us to quickly spin up a new line of business and get customers in the door, and we now do it first for each new course we launch. If you're worried about revenue, don't be – affiliate marketing was almost half of our sales at the beginning of Achievable SIE, but is now less than 10% of total sales as we have built out our other channels. Many of our early customers wouldn't have found out about us without affiliates, and then they wouldn't have told their friends, et cetera. It's worth it.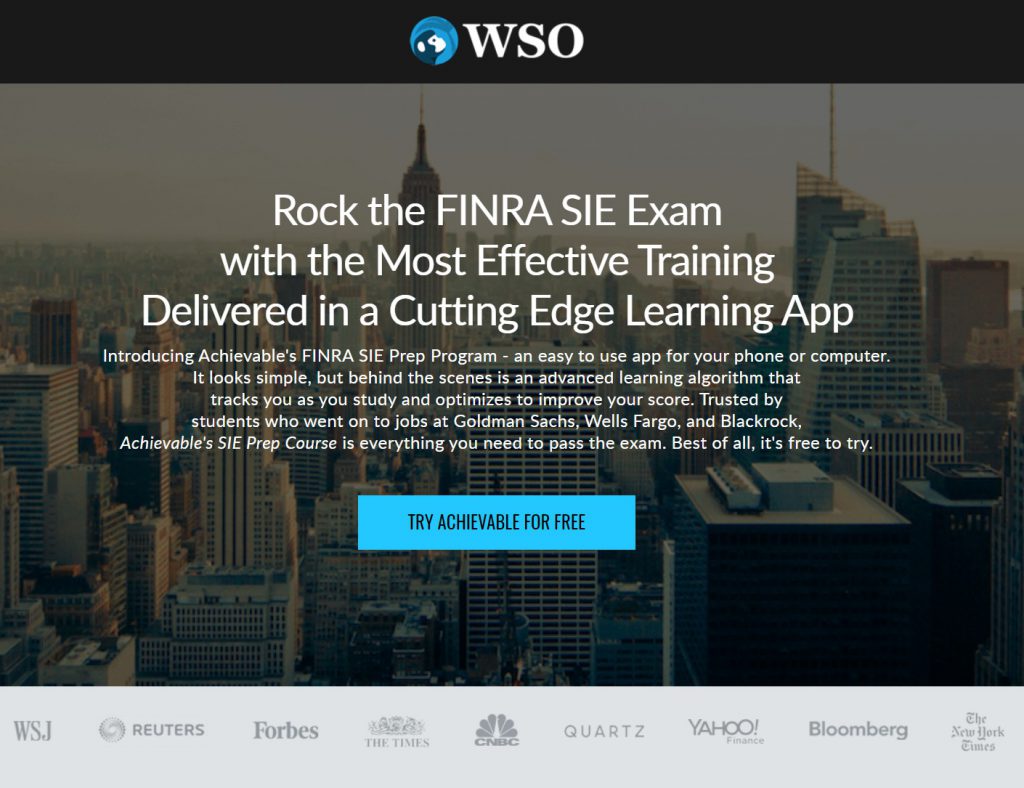 Content marketing and SEO is our next step. This approach is still the most effective way to build durable inbound traffic related to your business, and then you just need to turn that traffic into sales. But at this point, it's heavily competitive and well-known – yes, even your oldest school competitors are doing it by now. The best way I've heard content marketing and SEO described is by Bernard Huang of Clearscope: "Content marketing is a commitment. You either know you need to do it, in which case buckle up for 2+ years of hard work, or you don't need to do it and shouldn't do it at all."
We knew that we had to build out our inbound presence because it is the #1 way that all of our competitors get customers. After two years, this is a cornerstone of our marketing portfolio, and the sales and traction we have with it make it clear that this was the right call for us.
Now, our content coverage is strong, with blog posts for every major topic we want to rank for and a rapidly growing DR. We just need to stay the course and keep working on our backlinks and content quality to continue to level up.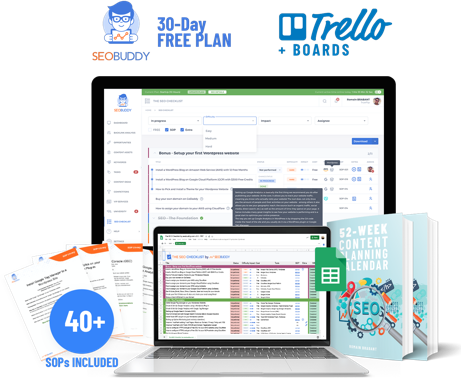 There's more…
Now it's time to discover the other 102 steps that will get more organic traffic flowing to your website. Get the SEO Checklist here.
Want to get a sneak peek of what it looks like?
Enter your email and get a free demo version of the SEO Checklist.
Have you learned anything particularly helpful in your SEO Journey?
Our biggest mistake when we got started was in our preparation and SEO research.
We spent months evaluating markets to enter for our first test prep vertical. We evaluated things like the competition, how committed the students are, and the revenue potential of each vertical. But our research had major blind spots.
For instance, we didn't do SEO research to determine the difficulty of ranking for the top keywords in our target markets, and we didn't do paid advertising tests to determine the viability of paid ads as a channel.
In addition, our research began and remained very narrow throughout, and we never thought to expand the definition of 'what will this product be successful at' based on the customer, not the market. What I mean by that is, we looked at 'what are the best professional test prep markets', not 'what are markets where customers are motivated, willing to spend money, and want to learn online'.
This was proven out when we met Aceable, another test prep company that ended up taking over the online driver's education test prep market. It checks all the boxes of what makes a good product-market fit for Achievable, but we never found it because we were looking for professional test prep and not evaluating based on the characteristics of our ideal customer.
If I could leave the reader with any advice, it's that an ounce of prevention (market research) is worth a pound of cure (go-to-market work). You can save yourself a lot of time, money, and headache by spending the extra time to really understand each market and each customer within that market to find the truly best customer to build for.
That will make everything that comes after easier, and is well worth the effort.
What SEO tools do you use for your business?
Our SEO stack is Ahrefs, and that's it. Honestly, while it might be a bit more expensive than the other tools out there, Ahrefs is the gold standard. It has everything you need and it is all put together well in a strong product. You might think you're saving money by using something with similar functionality that costs $30/month, but my bet is that you'll earn less over time because you have an inferior tool to work with.
There is an old Abraham Lincoln saying that I love: "If I only had an hour to chop down a tree, I would spend the first 45 minutes sharpening my axe." Ahrefs is the sharpest axe out there.
Actually, I should mention that we do use some helpful WordPress plugins as well for SEO optimization on our blog.
We use the Ahrefs plugin, Rank Math SEO, Page Optimize, AMP, and WP External Links. These tools (plus a few other that are more developer focused) help the site load quickly on any device, and help me as a marketer align my post title, header tags, content, etc together around a particular keyphrase for each post.

Our link building efforts are all probably ones you know about. We reach out to high DR sites with broken links to competitors' content, sites related to our content that link to competitors, and sites related to our content generally.
We offer an affiliate relationship to most sites to let them monetize the backlink if they so choose, and offer to do a deeper partnership such as a guest post or interview video if it looks like they've done similar things in the past.
It's worth noting that my big takeaway here is that building real relationships that have repeatable engagement value is totally worth the time and effort. I know that backlink building can seem like a big "numbers game" grind, and it is in a lot of ways. But some of the most valuable partnerships that came out of backlink building were far more involved than a single link. There is a person on the other end of the email you're sending – make them feel special and important to you, because they are, and they'll be more willing to help you.
What have been the most influential books, podcasts, or other resources?
Another great thing about Ahrefs is their resources section, particularly their intro course for people just starting out.
Even if you don't use the tool, you will want to check out their guide. I point everyone to it because it is the most straightforward and comprehensive guide out there, though SEOMoz is a close second.
What's the next step in your SEO Journey?
We've gotten a strong DR at this point, but it's still a big step up to reach the next level (that's the thing about DR – it's on a log scale, so every point increase is more difficult than the last). From our research, we've concluded that this will come with more super-high-DR backlinks to our domain, which are obviously hard to come by.
We feel like PR will need to be part of that equation, but it's something we've struggled with so far. My hope is that we can continue to learn and start securing these press articles about our company.
Where can we go to learn more?