My SEO Journey: Mohammad Athar from englishsummary.com – Half-million free organic traffic per month leveraging all search engines.
My SEO Journey is a new series where entrepreneurs and Indie makers will share their honest SEO Journey filled with failure and success, and most importantly proven results. Episode #13 features Mohammad Athar from EnglishSummary & ExploreKeywords.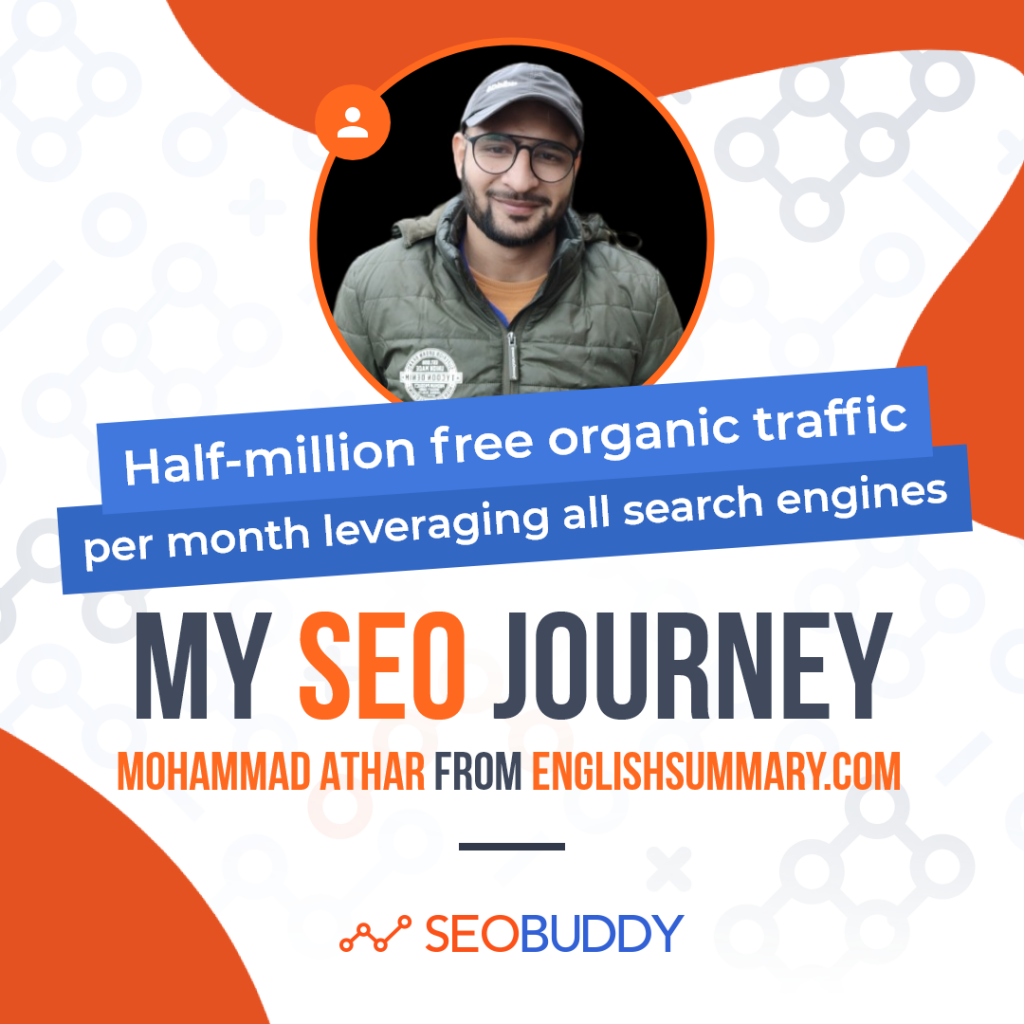 Hey guys! I'm Mohammad Athar from Darhal Valley, a small village in Jammu and Kashmir, India. I am the founder of englishsummary.com, englishnotes.com. I began my blogging career back in 2015 when I was a student of English Literature and could not find study material online.
Till the outbreak of COVID-19, I was working on Education Niche. However, due to the pandemic, my sites suffered traffic loss. So, I thought about having an alternative. I decided to launch my own keyword research tools website.
On December 16, 2020, I launched explorekeywords.com which is now one of the leading keyword research tools websites on the internet.
My SEO Journey
As we all know, keyword research is one of the fundamental parts of any growth strategy, it is one of the most misunderstood concepts in the bloggers' community. I have often talked to new and old bloggers and even saw in groups that people go after "volume" of keywords.
Some others have introduced techniques like KGR and God knows what.
However, throughout my 6 years of blogging career, I have learned that in order to rank on Google and grow our website, we need to follow some steps which are different from what most companies and SEO Gurus preach.

As a student of English Literature, blogging and WordPress was quite a different field for me. But I was often motivated by sites like SparkNotes and GradeSaver to begin something online.
This motivation helped me to learn the basics of WordPress and Keyword Research in a short period.

Within 3 years, I was able to reach 1.5 Million page views on my website englishsummary.com
and launch my own keyword research tools website explorekeywords.com.

This exponential growth led me to quit my Ph.D. from AMU which is one of India's topmost Universities. Today, I have a team of 11 people and most of the work is on automation.
My Content Strategy
The reason behind my success is my experience and techniques which I learned over time and
would like to tell you in this post.
Never Follow SEO Gurus
I know, most of you won't agree with me on this.
However, I have seen that most of the bloggers fail because of SEO Gurus. These Gurus start their journey by introducing some big and confusing terms to their users and as they grow, they use their name to sell their products, courses, and affiliate products.
I never learned difficult terms like KGR, Skyscraper Technique, Link Farming, CTR, Ninja Techniques, etc… as proposed by SEO Gurus but made all the strategies by myself and learned everything by hit and trial method.
Finding Content Ideas and Noting Down All the Topics
Most of us think that content strategy begins with keyword research and backlinking. However, I believe that keyword research and other SEO factors are secondary. The first step is to make a content strategy.
e.g. if I am going to write on Keyword Research, I will make a list of
all the sub-topics like different sources of keyword research (Google Trends, Google Search Console, Bing Webmasters, Yandex Webmasters, QuestionHub),
different types of keywords (Seasonal keywords, evergreen keywords, geo-targeted keywords, trending keywords, product/service oriented keywords, buyers keywords, etc),
How to Use Keywords in Content (title, sub-headings, within content)
and finally the images, videos, and slide shares.
So, for just one topic, I will be able to write more than 30 articles.
Keyword Research
The next step is to take the first topic, here, "Using Google Trends for Keyword Research" and try to find the longest possible tail keywords (a term coined by me) relating to it.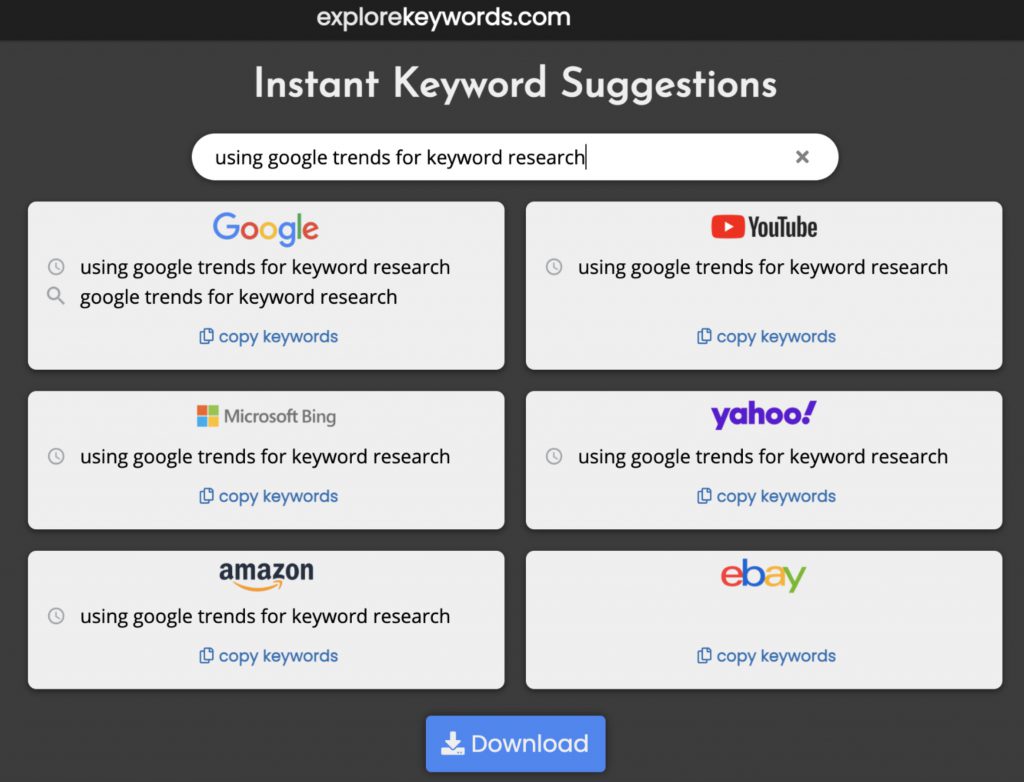 Here, the longest possible tail keyword is, "Using Google Trends for Keyword Research".
However, we can still add some more prefixes and suffixes. So, we can make this title a little longer by adding phrases in the beginning and end. The final keyword for the title of the topic will be "How to Rank A Website on #1 Using Google Trends for Keyword Research in 2021".
Now that we are done with our title, the next step is to find more related questions/queries relating to our topic which we can either use as sub-headings in the content or to create an FAQ section in the end and get the benefit of Rich Schema.
For that, I will insert our seed keyword in Google and go to the "People Also Ask" section, and click the keywords at least 5-10 times. It will yield more topic ideas.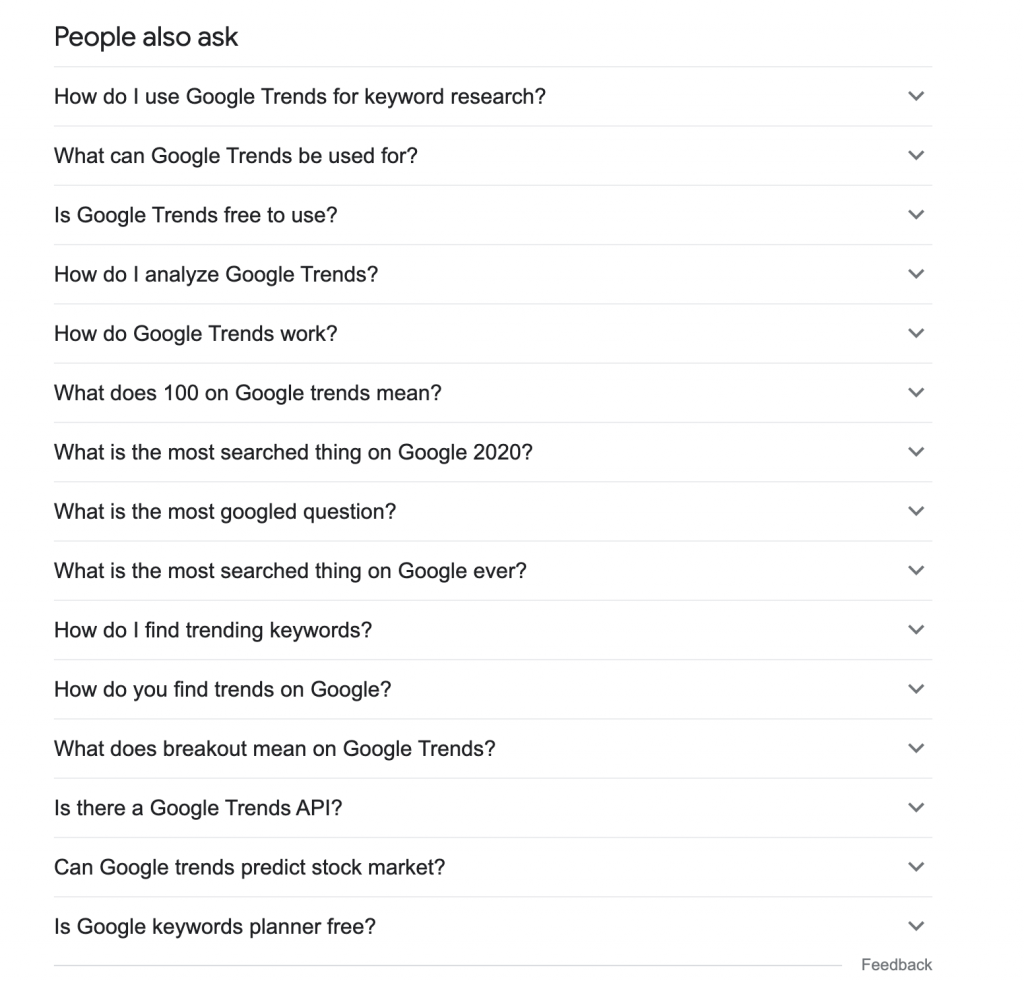 The next step is to find all the relevant keywords and use them in sub-headings and FAQs. We can use Explore Keywords "A-Z Keywords generator Tool", "Question Keywords Generator Tool" and "Affiliate Keywords Generator Tool". Simply insert "Google Trends" to Question Keywords Generator Tool and boom, we get 100s of keywords for our content.
Rich Media
An article is incomplete without the use of images/videos/PPTs/Quizzes/Podcasts. So, while creating content, I always try to add these things within the content. e.g. we can create an infographic in Canva in which we can explain the process of searching on Google Trend
Similarly, we can create a small video showing how we do the keyword research on Google Trends and use different sections for our content.
Quizzes are one of the most important elements of engagement. I always create quizzes related to the content. These quizzes can be added to the bottom of content or we can make a new article and put a backlink from the main article.
Adding such a variety to the content makes it lively and more engaging and hence leads to better CPM Rates and less bounce rate. And adding YouTube videos helps in mutual growth (blog and YouTube channel as well).
Indexing
Most of us often focus on Google.

However, I believe that we should never leave an opportunity.

I have added my sites to Bing Webmasters, Yandex Webmasters, and even Baidu Webmasters.
And here are some statistics to understand why these Search Engines matter.
Though Google is the main source of traffic for my website, through Bing Network (Bing, Yahoo, Microsoft), I get around 300-600 daily clicks. And, I have noticed that the page per session, average engagement and CPM Rate of Bing traffic is higher than that of Google.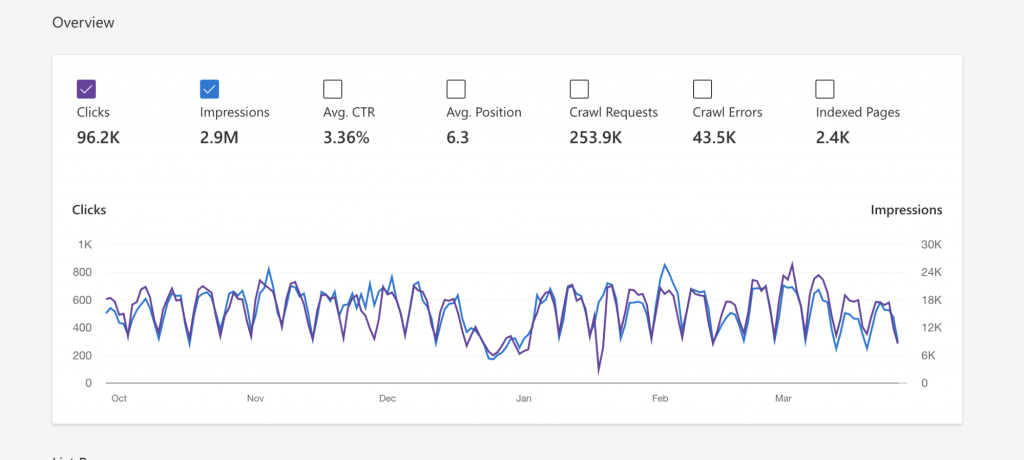 From Yandex, I get around 20-40 daily clicks: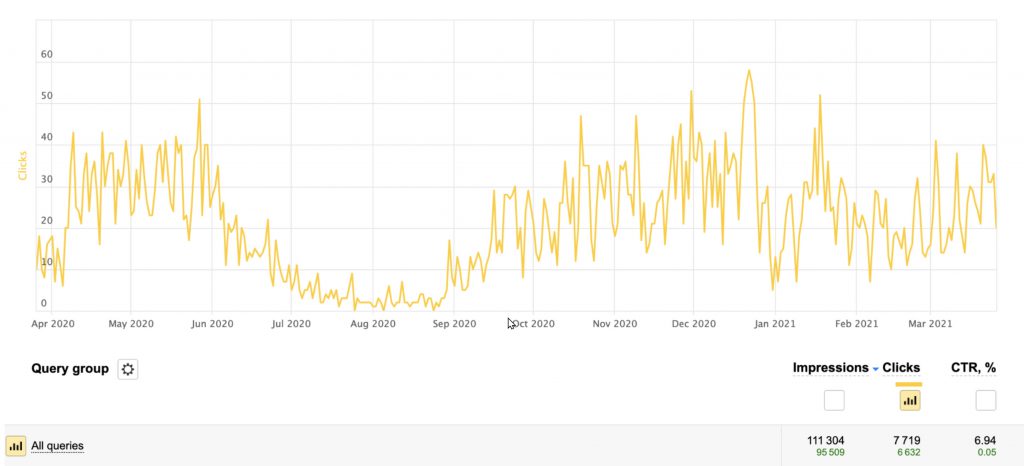 And from Baidu, I get around 100 clicks per month.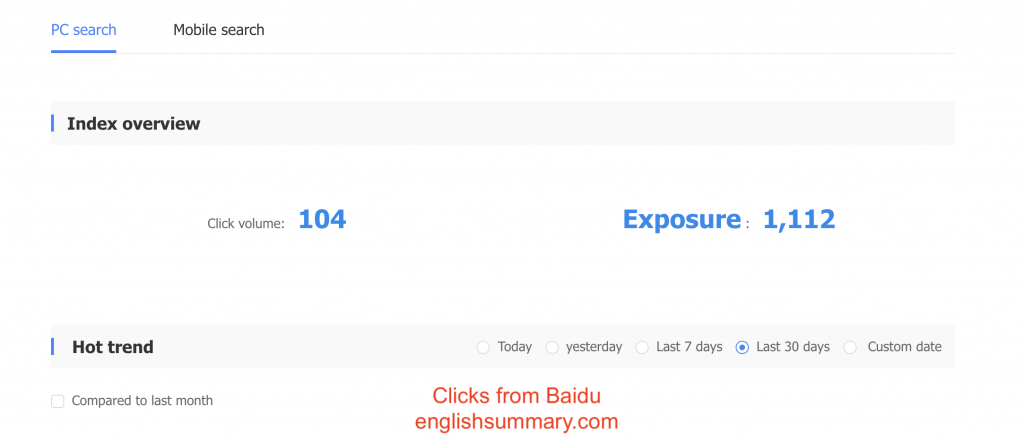 This way, I am able to get around 5%-10% traffic from sources other than Google. With time, the direct traffic, which I call the brand traffic has also increased.
On average, I get around 15%-20% traffic directly.
Internal Search
Though Keyword Research using explorekeywords.com or search engines autocomplete feature is important, we should never underestimate or ignore the searches which happen on our site.
I hate WordPress default search box. Instead I use Google Custom Search Engine (CSE).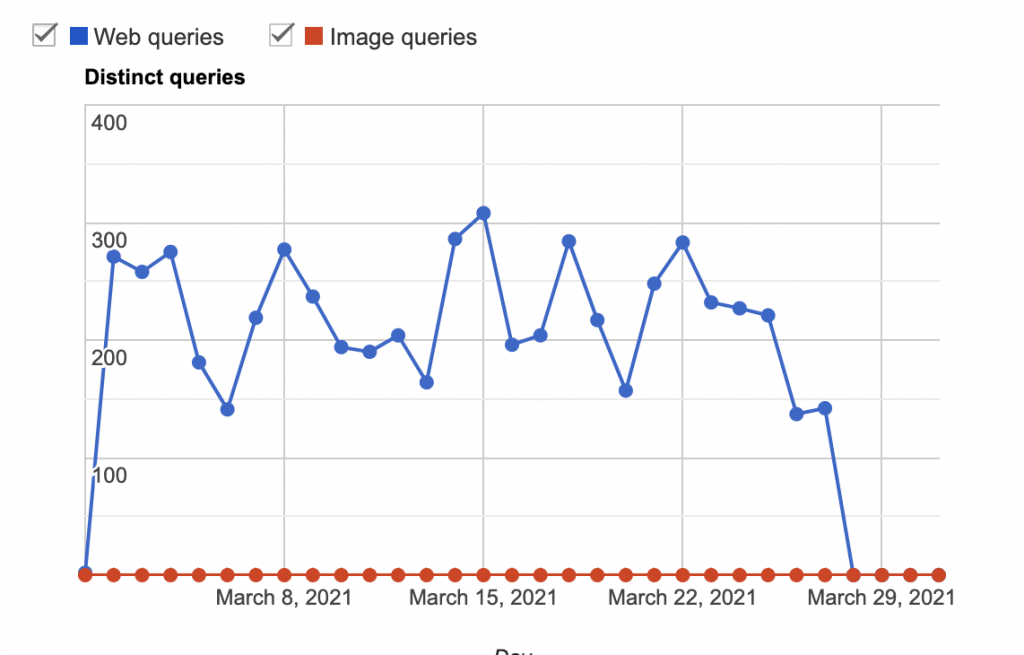 There are several benefits of using CSE:
• We can search content from all our sites/subdomains.
• We earn with ads displayed in search results.
• We can track what people are searching our site and use those ideas to create new content.
Every week, I get a list of the most popular queries. I add them to my list and arrange them for new topic ideas.
Additional Services
I believe that to become a brand, content is not enough. This is why we have launched a set of educational tools on English Summary and Explore Keywords.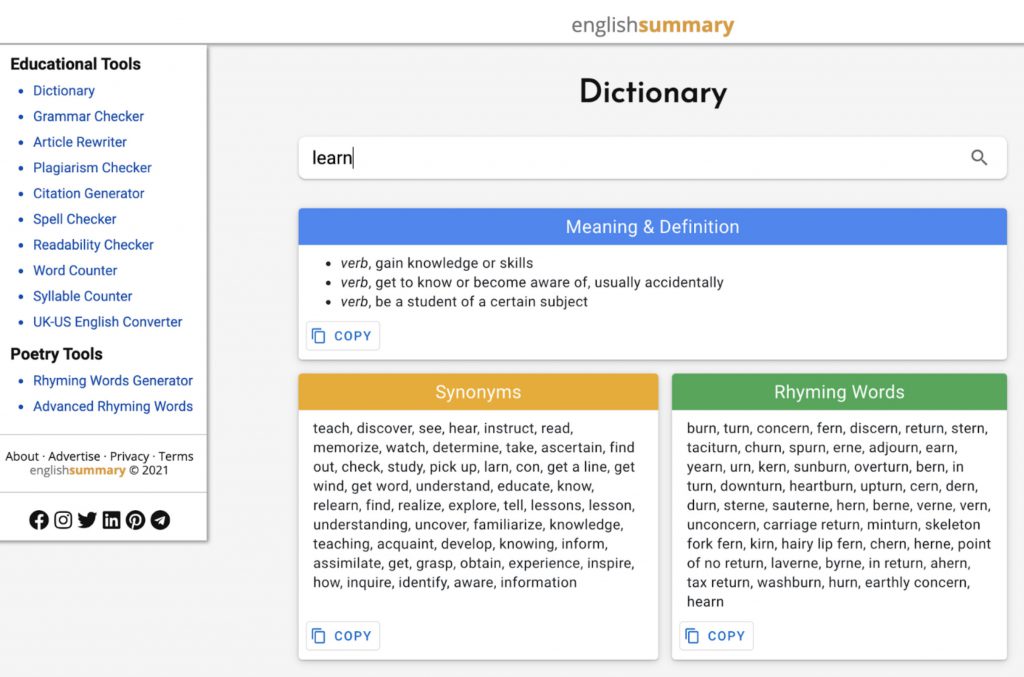 These tools help us to retain the traffic and make our site more valuable for our users.
List of Tools I Love to Use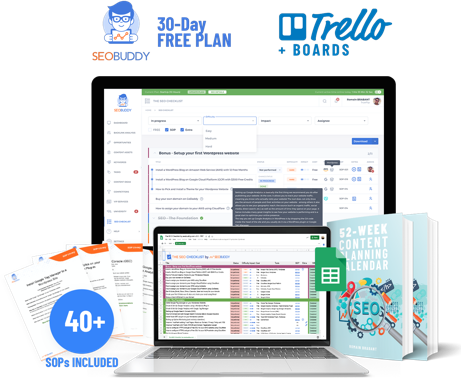 There's more…
Now it's time to discover the other 102 steps that will get more organic traffic flowing to your website. Get the SEO Checklist here.
Want to get a sneak peek of what it looks like?
Enter your email and get a free demo version of the SEO Checklist.
The Challenges We're Still Facing Today
Well, I consider challenges as stairs which we are supposed to use to climb up. I do face challenges like a website with wrong content outranks mine because of its authority. But that is perfectly fine. I along with my team love to keep our journey alive. I believe that we will soon be able to reach 10 Million hits with our unique strategies and unmatchable content and tools.
Final Thoughts
As a student of English Literature, I was far from the tech industry. When I started, I faced a lot of hurdles.
Sometimes challenging while sometimes discouraging. However, I kept moving. I believe that we grow by helping each other. So, recently, I have begun to provide a free consultation to all on my personal website atharmalik.in