My SEO Journey [Pro Edition]: Roman Shvydun from getmailbird.com – SEO is not a static field; it's a dynamic ecosystem that demands continuous learning and adjustment
My SEO Journey [PRO Edition] is a series where professionals in the SEO Industry, Digital Marketing, or Web Design share their honest SEO Journey filled with failure, success, and most importantly, proven results. Episode #140 features Roman Shvydun from Mailbird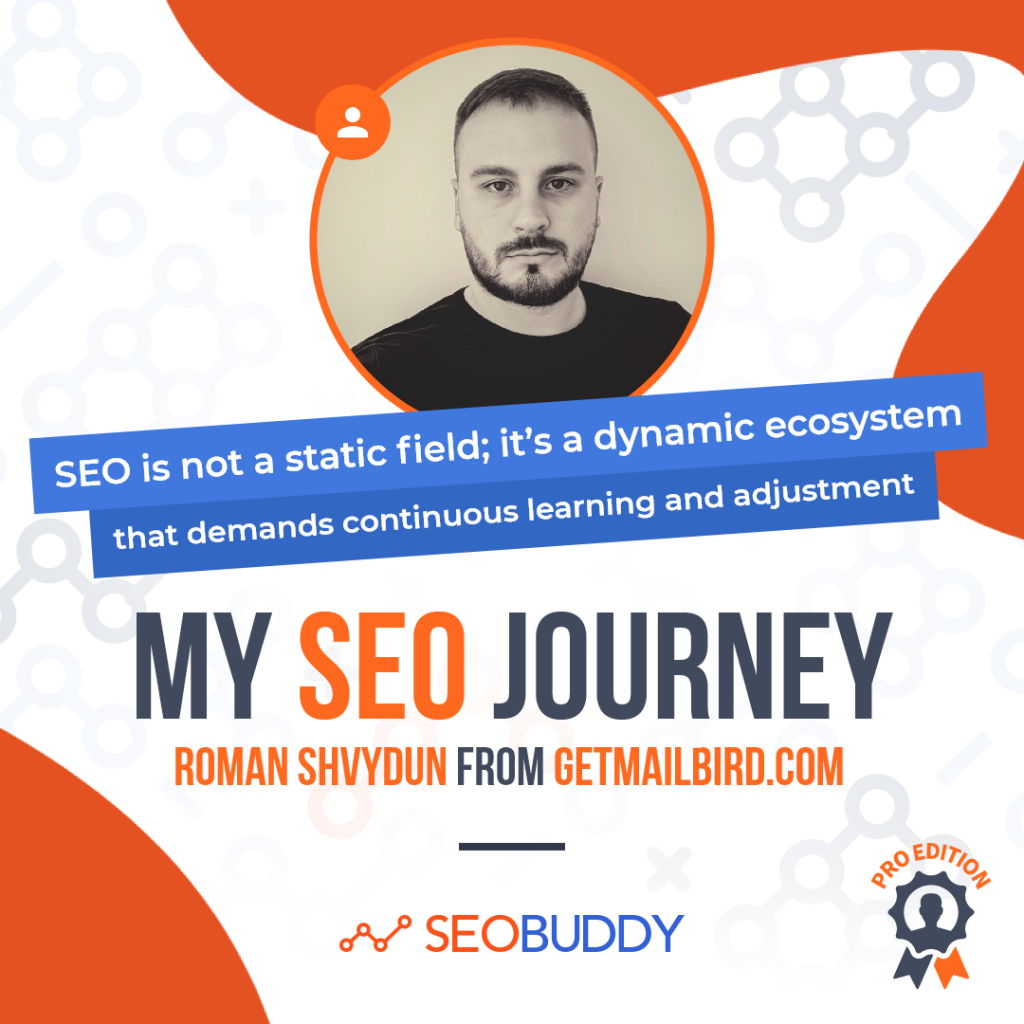 My name's Roman Shvydun. I'm a dedicated content marketer and link builder at Mailbird, a dynamic platform that's reshaping the landscape of email management and productivity.
Our mission is to simplify and streamline the way people handle email, making it more efficient and enjoyable. With a user-centric approach, we have created a powerful Windows email client that not only helps users manage their email but also integrates seamlessly with other productivity tools.
What's your backstory, and how did you come up with the idea?
My backstory is a testament to my passion for the digital landscape and my drive to excel in the fields of link building, SEO, and content creation. For more than three years, I immersed myself in these realms. This journey has been a remarkable one, characterized by personal growth, relentless learning, and the perpetual quest for improvement.
I began delving into the intricate world of SEO, dissecting articles, and overseeing content creation to ensure that it met or exceeded the highest industry standards. This dedication to quality and optimization became the cornerstone of my approach.
At the heart of this journey is the talented team at Mailbird, a group of multidisciplinary professionals who share the same commitment to excellence. Together, we are driven by the unwavering desire to deliver top-tier products that truly stand out in the market. It's this synergy of expertise, innovation, and dedication that propels us forward and enables us to consistently push the boundaries of what's possible in the realms of link building, SEO, and content creation.
Since launch, what has worked to attract more organic traffic?
My goal has always been to strike a balance between valuable content and SEO essentials, with articles covering email marketing, AI tools, business strategies, social media trends, workplace culture, and productivity techniques. This balance is meticulously maintained to ensure that, while catering to SEO requirements, article quality is never compromised.
As Mailbird strives to redefine the email management landscape, my focus is to facilitate link building and empower PR professionals with informed options in platform selection for guest posts.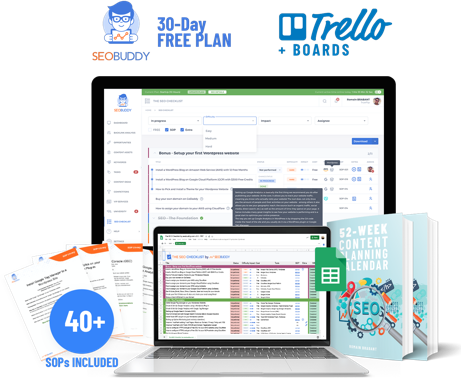 There's more…
Now it's time to discover the other 102 steps that will get more organic traffic flowing to your website. Get the SEO Checklist here.
Want to get a sneak peek of what it looks like?
Enter your email and get a free demo version of the SEO Checklist.
Have you learned anything particularly helpful in your SEO Journey?
I've gathered a wealth of valuable insights throughout my SEO journey. My study of the digital landscape has not only enriched my knowledge, but it has also provided me with a deeper understanding of the intricacies of search engine optimization.
One of the most significant takeaways has been the importance of adaptability and responsiveness to ever-evolving search engine algorithms. SEO is not a static field; it's a dynamic ecosystem that demands continuous learning and adjustment. This realization has underscored the significance of regularly monitoring industry trends, algorithm updates, and best practices to remain at the forefront of SEO excellence.
Additionally, I've learned the art of balancing technical SEO with content strategy. While technical aspects such as site speed, mobile-friendliness, and structured data are crucial, they must blend seamlessly with high-quality, user-centric content. This is vital for achieving sustainable SEO success.
What SEO tools do you use for your business?
In the realm of SEO, my well-honed toolkit is designed to navigate the digital landscape with precision and finesse. Central to my strategy is the use of industry-leading SEO tools, each serving a pivotal role in achieving our online goals.
Ahrefs: This powerhouse is my trusted companion for competitor analysis and backlink scrutiny. With Ahrefs, I can delve deep into the backlink profiles of our competitors, uncovering valuable insights into their link-building strategies and sources of authority. This intelligence forms the backbone of our strategic decision-making, allowing us to effectively adapt and optimize our own SEO efforts.
MOZ: Complementing Ahrefs, MOZ provides a comprehensive view of key metrics such as Domain Authority (DA) and Domain Rating (DR). These metrics guide our prospect curation, enabling us to prioritize prospects with the greatest potential impact on our SEO performance. Additionally, MOZ's insights into search traffic, spam scores, and traffic source statistics further refine our prospecting efforts, ensuring that our prospect list is meticulously selected.
BuzzStream: When it comes to outreach, BuzzStream is an indispensable ally. This versatile tool streamlines our outreach campaigns, allowing us to manage contacts, track communication, and maintain a personalized approach at scale. With BuzzStream, we're able to maximize our chances of securing valuable partnerships and backlinks.
Mailbird endeavors to incorporate innovation and cutting-edge technology. And I've embraced a similar approach. My journey blends SEO mastery, link building expertise, and modern online marketing tools to ultimately offer a holistic product that caters to a wide spectrum of needs.
Unlike Private Blog Networks (PBNs), my website's target is a carefully designed B2B platform with a robust blog. Its architecture reflects modern aesthetics and usability, upholding the highest design standards. This distinction ensures that the link building endeavors I engage in are grounded in authenticity, steering clear of shortcuts that compromise the integrity of the process.
My proposition involves offering a valuable backlink on a reputable blog and exchanging it for a captivating guest post – a proposition that promises mutual benefits.
What have been the most influential books, podcasts, or other resources?
One of the most transformative resources in my SEO journey was the book "The Art of SEO" by Eric Enge, Rand Fishkin, and Stephan Spencer. This comprehensive guide offered deep insights into the intricate world of search engine optimization. It served as my SEO bible, shaping my understanding and approach to SEO practices.
When it comes to podcasts, my absolute favorite is "Marketing Over Coffee", hosted by John Wall and Christopher Penn. This podcast covers an extensive range of topics, including marketing, blogging, artificial intelligence, SEO, and much more. Its diverse content consistently captures my attention and imparts valuable insights that I've applied to my business strategies.
My top YouTube channel is Brian Dean, the creator of Backlinko. He shares practical and actionable SEO tips and strategies. His videos often feature case studies and real-world examples to illustrate effective SEO techniques.
One of my favorite YouTube channels is AHREF. It's a treasure trove of SEO knowledge. They offer tutorials on using their tools effectively, as well as in-depth analysis of various SEO strategies and techniques.
What's the next step in your SEO Journey?
I am committed to intensifying my efforts in identifying the most suitable contact person for each blog and fostering robust relationships. In today's ever-evolving online landscape, this personalized approach has emerged as the foundation of my guest post and link-building strategies.
In conclusion, my journey mirrors Mailbird's ethos – one rooted in dedication, growth, and value creation. I hope my story serves as an inspiration for others seeking to carve their paths in impactful link building and content marketing strategies.