My SEO Journey: Dillon Carter from goaura.com – Happily outsourcing our link-building effort to an agency
My SEO Journey is a new series where entrepreneurs and Indie makers will share their honest SEO Journey filled with failure and success, and most importantly proven results. Episode #10 features Dillon Carter from Aura.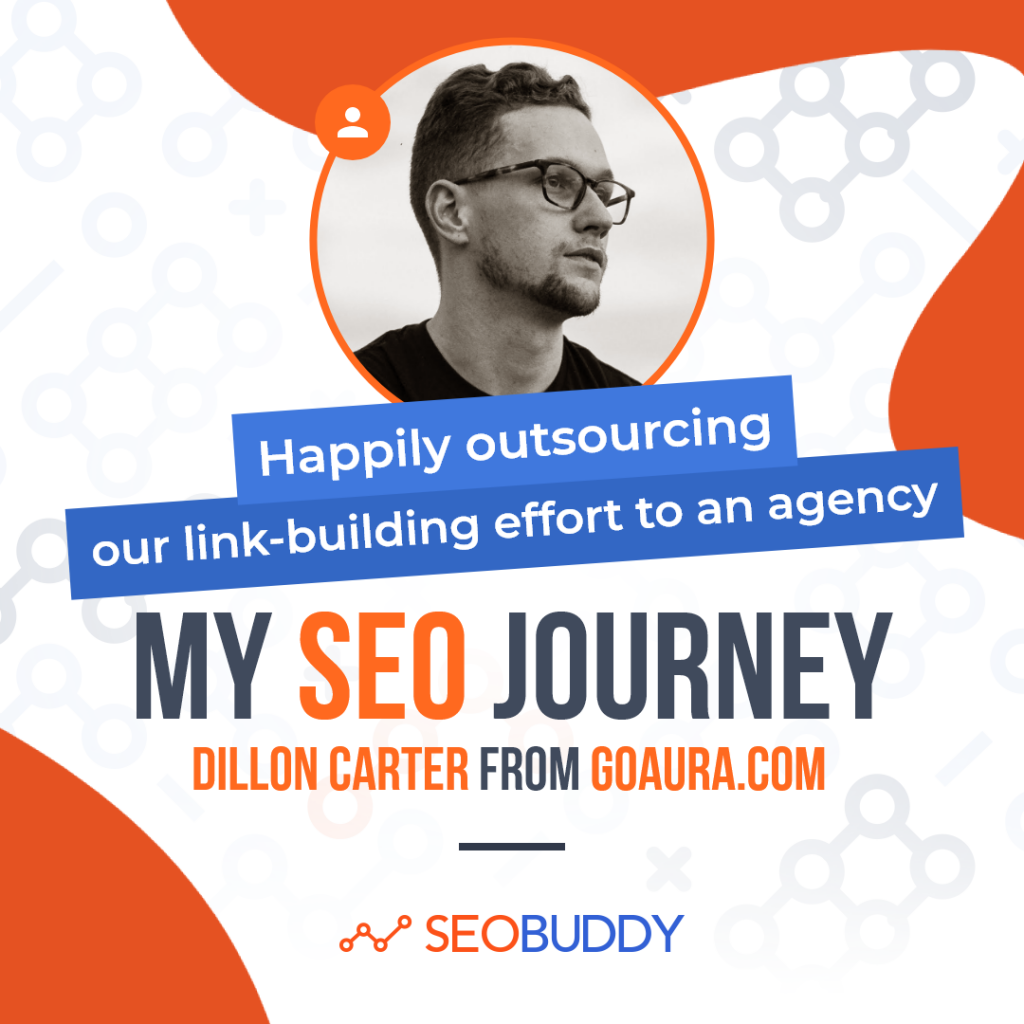 My name is Dillon Carter, and I'm one of the co-founders of Aura. My co-founder James and I met online while selling on Amazon and eventually started working together on software.
Aura is an intelligent repricing tool for 3rd party Amazon sellers. 82% of organic sales occur in the Buy Box, which is the little box that allows one-click purchases. The issue is that only one seller can be in the Buy Box at a time. Our software ensures that our users stay competitive 24/7 and increase sales.

When we initially started Aura we didn't have much marketing experience. Being a non-technical co-founder, I took on that role. 💪
Learning Effective Keyword Research
I started researching every blog related to SEO (naturally avoiding the terribly expensive and short-sighted courses) and everyone said the same thing — keyword research is important.
Keyword research doesn't immediately seem important but it's been the catalyst for effective SEO efforts.
By targeting the right keywords, you ensure the right kind of traffic.
Because we're a small team and bootstrapped, we focused on keywords with buying intent, such as "best amazon repricer" and "amazon repricer".
Buying intent-based keywords ensure that the traffic you gain from ranking is actively looking to purchase your service/product. There's really no point in adding more traffic if it doesn't also increase sales.
Once we had a few solid rankings and our domain authority began to grow we then shifted into non-buying intent keywords to expand the volume of traffic we were getting.

For us, the biggest resource was the free course offered by the Growth Machine team.
Learning On-Page and Content Optimization
Once we had a list of keywords we wanted to rank for we needed to learn how to create content that ensured Google knew what we were targeting. While on-page and content optimization initially seems overwhelming, we found the on-page optimization guide by Backlinko an incredible resource.
At this point, we started creating a streamlined process for choosing keywords to target and how the content should be written. That's when we hired someone part-time to write the content for us.
At the time I was full-time in college so I hired another student and walked him through what Backlinko recommended we do.
Outsourcing High-Quality Backlinks
One thing we learned very early on was that amazing content targeting the right keywords simply isn't enough. Google wants to see amazing backlinks pointing to your content. The issue with that is just how time-consuming it can be. You'll commonly see a small team hire a virtual assistant to take on this role, but I think that's ineffective.
For us, we chose to work with an SEO firm that specialized in getting backlinks in an industry we're in. That's when we started working with the team at Smash Digital.
We still head the strategy, keyword research, and content creation process, but Smash Digital ensures that we're getting quality backlinks every single month.
We're currently on a monthly contract with Smash Digital and couldn't be happier. While I cannot share the exact amount we pay them for backlinks, their fully managed SEO campaigns start at $2.5k/month.
Every single month we receive 10+ amazing backlinks. Including some from Close, 99 Designs, and Founder's Guide.

Once you have the above, it's a pretty well-oiled machine where keywords go in and rankings come out.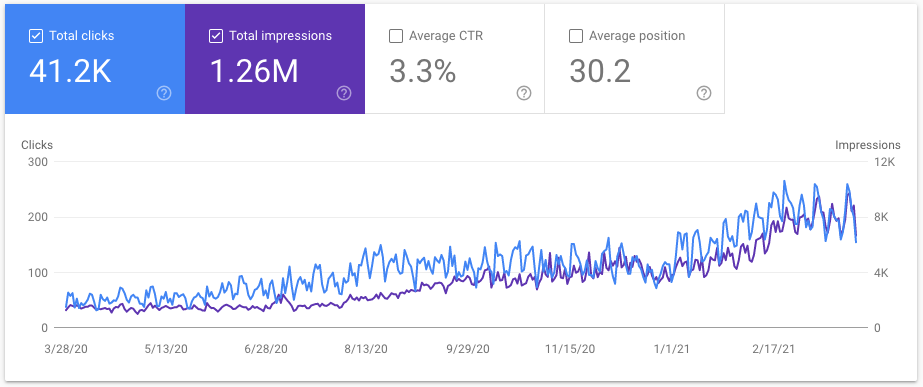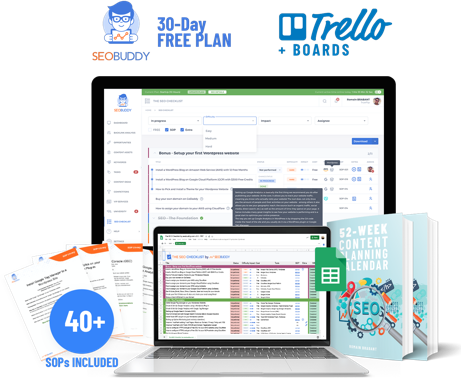 There's more…
Now it's time to discover the other 102 steps that will get more organic traffic flowing to your website. Get the SEO Checklist here.
Want to get a sneak peek of what it looks like?
Enter your email and get a free demo version of the SEO Checklist.
Overview of Our Current Content Strategy
We really like keeping things simple. You have to when you're a small bootstrapped team.
Our content strategy doesn't require a lot of tools or even a ton of time.
First, we focus on doing effective keyword research using Ahrefs. We really follow the guide from the Growth Machine course mentioned above, but we also routinely do a content gap analysis against our competitors, which we've found to be highly effective.
Each keyword is added to our list and our writer picks a new topic each week to write.
When it comes to writing content, we're highly particular. Gone are the days of writing short content with a ton of backlinks to it. Now, you really need to write the most amazing content for a given subject. That's why we always follow the Skyscraper Technique.
Once the content has been written, I'll do a quick check, optimize the meta title and description, and add more links to our other blog posts using the Wiki Strategy.
Lastly, I publish the blog post, submit it for crawling using the Google Search Console application (URL Inspection Tool), and let Smash Digital know if we want backlinks to the post or not.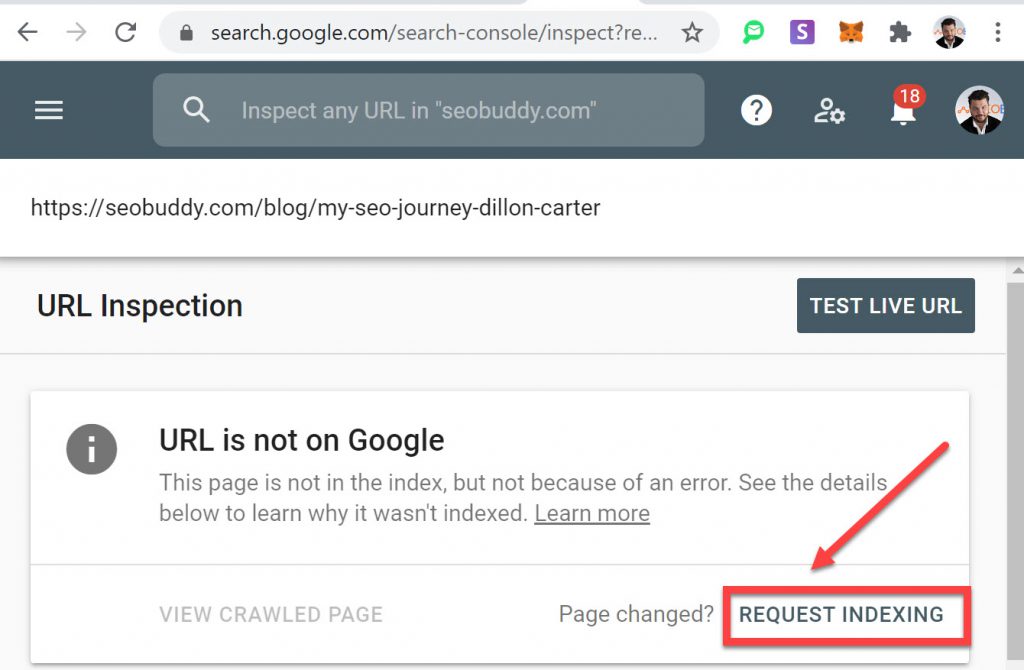 Overall, this process has directly increased our new trials with an above-average trial-to-paid conversion rate.
I'm proud of many of the content pieces we've put together, but a few stand out: we put together a competitor review blog post that has become the pillar of our content and a massive (63) tool review blog post.
Although we have a pretty though out process there are still issues that we face.
Mainly, we struggle to have a high enough frequency of new content going live and the ability to go deeper on specific content pieces. This all comes down to being a very lean team.
If I were to re-focus my time on scaling SEO, I would immediately hire a full-time writer that could create amazing content every single week that goes more in-depth than we ever could.