My SEO Journey: Alexandra Andrici from socialbee.com – Focus on creating content that aligns with your business goals
My SEO Journey is a series where entrepreneurs and Indie makers share their honest SEO Journey filled with failure and success, and most importantly, proven results. Episode #117 features Alexandra Andrici from SocialBee.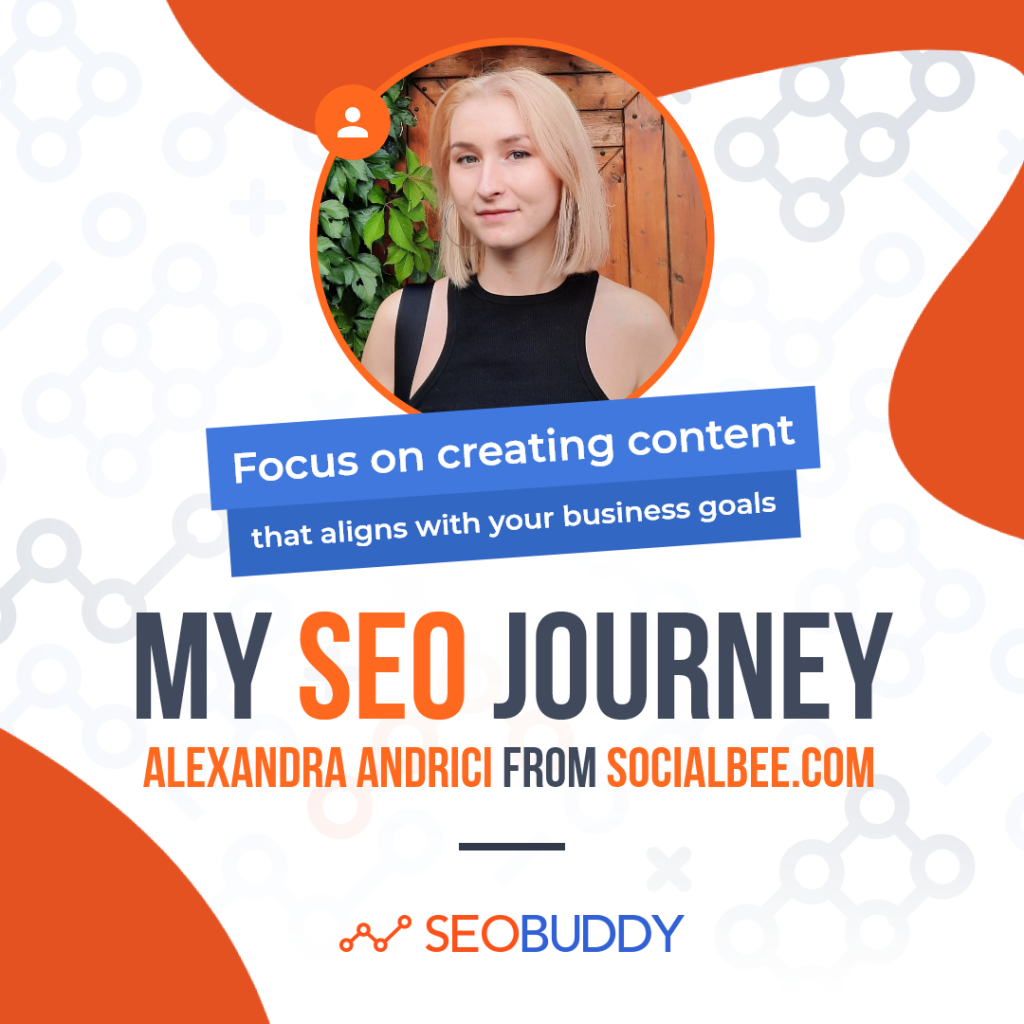 My name is Alexandra, and I am the Content Manager at SocialBee—an AI-powered social media management tool that enables users to generate, schedule, and share social media content across multiple platforms (Facebook, Instagram, Twitter, LinkedIn, Pinterest, Google Business Profile, YouTube, and TikTok).
With SocialBee, users can also manage their social media comments and mentions, get insightful performance analytics and collaborate with team members from one dashboard.
What's company's backstory and how did the idea originate?
The idea behind SocialBee came about when the founders of the company (Ovi Negrean and Vlad Hosu) were facing challenges with social media management for their previous startup.
They had to use multiple tools that did not communicate well with each other, and this hindered their growth and progress. In this limitation, they saw an opportunity to create something better that has real value.
Driven by the desire to overcome their challenges and optimize their social media management, they decided to build their own tool—SocialBee. They envisioned a platform that would not only help them to share their evergreen content seamlessly across all their social profiles but also enable them to grow their audience, engage with it and attract leads.
Today, SocialBee stands as a powerful solution for businesses to maximize their potential on social media and grow their business online with ease.
Ultimately, SocialBee's backstory is a real-life example of what you can achieve through perseverance, determination, and a willingness to innovate: a simple idea can impact an entire industry and turn a challenge into a solution.
What's the mission of the company?
The mission behind SocialBee is simple: empowering businesses, entrepreneurs, and creators to take charge of their online presence, streamline their social media management and achieve their marketing goals without wasting time and resources.
At SocialBee, we continuously strive to improve our skills, embracing being innovative, and willing to take risks. Above all, we value honesty, and building long-lasting relationships with our clients is a top priority. All these values can be seen in the company's progress.
SocialBee started as a simple content-sharing tool and evolved into an all-in-one social media management platform. With AI content creation capabilities, a social inbox, and a vast set of features that allows users to create, share and monitor their content performance, SocialBee is constantly fulfilling its mission.
Since launch of your brand, what has worked to attract more organic traffic?
As simple as it seems, one of the most effective tactics we have employed is creating high-quality, informative content that resonates with our target audience.
We take a user-centric approach to content creation by putting ourselves in the shoes of our customers. This allows us to create content that answers their questions and solves their problems, which is ultimately what they are looking for online.
One of the most important aspects of any content strategy is conducting thorough keyword research. So, we use tools like Ahrefs to identify keywords and topics that our target audience is searching for. By using such tools, we can analyze search volumes, competition, and search intent to develop content that is relevant and valuable to our audience.
Another critical aspect of our content strategy is optimizing older content, which has helped us rank higher in search engine results and attract more organic traffic. We regularly use Surfer SEO to review and update our existing articles and ensure that they remain relevant and up-to-date. Additionally, we use internal linking and put in the effort to get backlinks to our content. This way, we can help search engines understand the structure of our website and improve our SEO.
It's worth mentioning that quality always takes priority over quantity when it comes to content creation. Creating in-depth, well-researched, and informative content is more effective than publishing a high volume of low-quality articles. By focusing on quality, we can attract more organic traffic, position our brand as a thought leader, and establish ourselves as a credible authority in our industry.
In terms of promotion, we leverage various social media platforms to share content, interact with our audience, drive traffic to the SocialBee website, and build an engaged community.
Moreover, we send regular newsletters and promotional emails to our subscribers, keeping them up-to-date with our latest content, webinars, and offers. By providing value through our emails and staying top-of-mind, we are able to bring existing customers back and encourage them to make repeat purchases.
Ultimately, attracting more traffic to your website requires a combination of different tactics and a willingness to experiment and iterate. At SocialBee, we are constantly testing and optimizing our strategies to find out what works best for our business and we encourage every entrepreneur to do the same. By staying nimble and open to new ideas, we have been able to increase our traffic and grow our business over time.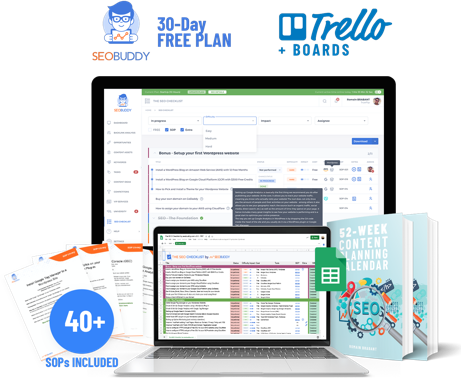 There's more…
Now it's time to discover the other 102 steps that will get more organic traffic flowing to your website. Get the SEO Checklist here.
Want to get a sneak peek of what it looks like?
Enter your email and get a free demo version of the SEO Checklist.
Have you learned anything particularly helpful in your SEO Journey?
The most important lesson I learned working in the content marketing field is to not stray away from the company's niche.
I mentioned earlier that creating content with your target audience in mind is key. However, this is not the only aspect that matters. After all, your audience can be interested in a variety of topics you can write about and get their attention. But the real question you must ask yourself is "How will that subject matter lead back to my business?"
At the end of the day, you are promoting your products and services and if you are not creating room in your content for that, then you've missed out on a valuable opportunity.
Not creating specialized content can dilute your brand's message and value proposition. Consequently, this hampers your ability to attract and convert leads. Not to mention the waste of resources and time that goes into creating content that doesn't end up aligning with our business goals.
Of course, there are also external factors that have impacted our SEO journey. For example, changes in search algorithms and the rise of new technologies. However, we've been focused on adapting our strategy, and not getting attached to just one way of creating content.
In terms of good decisions, investing in SEO tools and automating our processes has been invaluable for us, especially since we are an ever-growing, yet small team. We've also formed partnerships with other SEO and content specialists in our industry that helped us improve our strategy and get on the right track.
What SEO tools do you use for your business?
At SocialBee, we rely on a number of SEO tools to help us improve our website's ranking, optimize our content, and analyze our performance.
Here are some of our favorite tools and why we use them:
1. Ahrefs: We primarily use Ahrefs for keyword research, content analysis, and backlink analysis. Ahrefs provides detailed insights into search volumes, keyword difficulty, and competition, which helps us optimize our content to rank higher in search engines.
2. Google Analytics: An essential tool for tracking website traffic and user behavior. We use Google Analytics to monitor our website's performance, identify areas for improvement, and measure the effectiveness of our SEO efforts.
3. Surfer SEO: We particularly like Surfer's content editor and audit feature, which provides us with data-driven recommendations for optimizing our content based on the top-ranking pages for our target keywords.
Link-building is an important part of our SEO strategy at SocialBee. Our efforts have focused on building high-quality links from authoritative sources in our industry.
We don't focus on the number of links as much as their quality. To achieve this, we have taken a proactive approach to reach out to relevant websites and publications to establish relationships and offer our expertise.
We use Ahrefs to identify relevant websites. Then, we reached out to them to pitch guest post ideas. By creating high-quality, informative content for these websites, we're able to secure valuable backlinks back to our website.
What have been the most influential books, podcasts, or other resources?
1. The Search Engine Journal Show covers the latest trends and best practices in SEO, with guest experts sharing their insights.
2. Ahrefs YouTube channel has a range of tutorials and guides that cover various aspects of SEO, including keyword research, link building, and content marketing.
3. Search Engine Land is a leading publication covering all aspects of search engine marketing (SEM), including SEO, PPC advertising, and local search. They provide news, analysis, and how-to guides.
What's the next step in your SEO Journey?
As a constantly evolving field, there are always new opportunities for growth and improvement in SEO. One of the key areas we are currently focusing on is improving page speed optimization and mobile responsiveness. We are also looking to expand our content strategy and optimize our content for multiple countries.
Where can we go to learn more about you and your company?
SocialBee's website: https://socialbee.com
SocialBee's blog: https://socialbee.com/blog/
Twitter profile: https://twitter.com/SocialBeeHQ
Facebook page: https://www.facebook.com/socialbee.io/
LinkedIn profile: https://www.linkedin.com/company/socialbee.io/mycompany/
YouTube channel: https://www.youtube.com/channel/UCGu5RruK-fvI-w3xsA9DYGg