My SEO Journey: Radoslaw Fabisiak from duomly.com – Don't just press publish, Content Distribution is the Key!
My SEO Journey is a series where entrepreneurs and Indie makers share their honest SEO Journey filled with failure and success, and most importantly proven results. Episode #54 features Radoslaw Fabisiak from Duomly.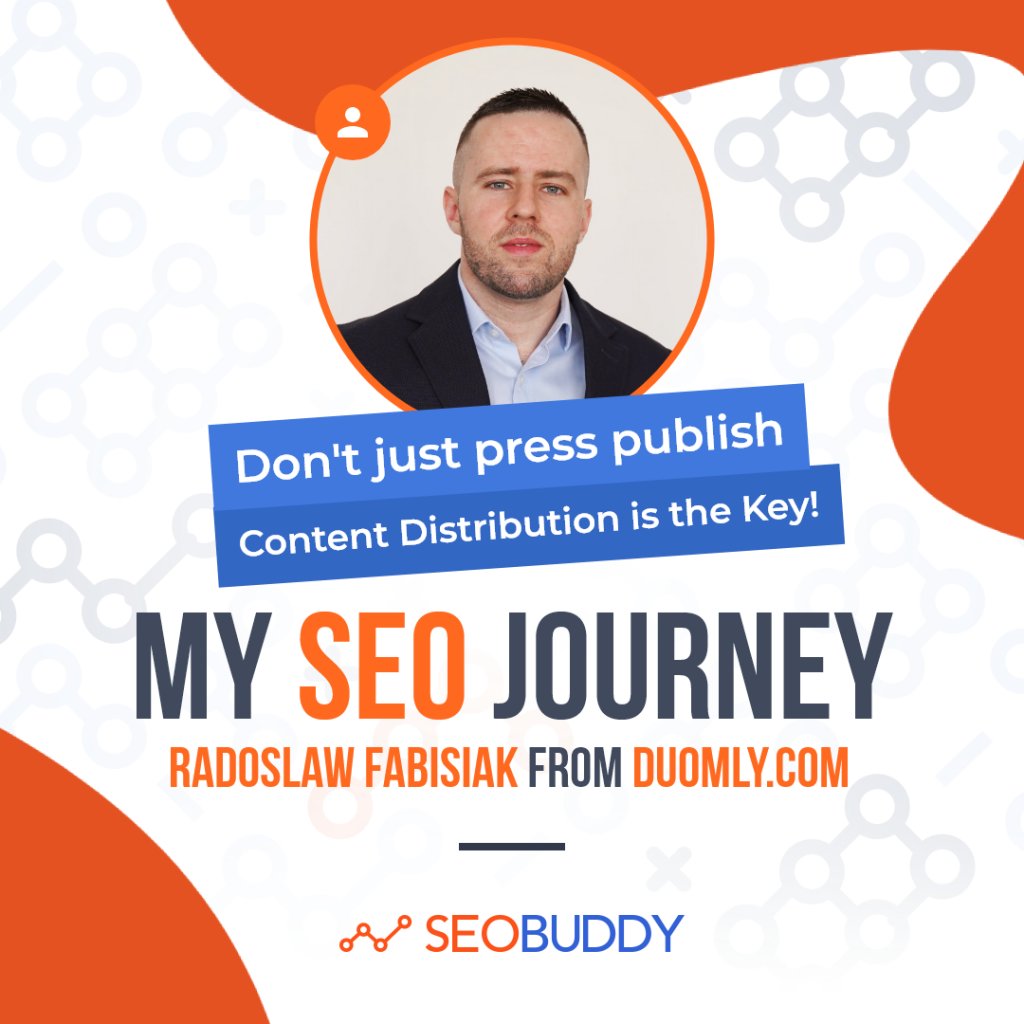 Hello, I'm Radoslaw Fabisiak, and together with Anna Danilec, I'm the co-founder of Duomly e-learning company. We started our ideas to give people a better learning experience about three years ago.
The project which we built is called Duomly, and it's an Edtech application that helps beginners join the IT industry. But as well as supporting advanced programmers with knowledge about how to build projects.
We focus on parts of IT like Machine learning and AI, Front-end and Back-end development, Blockchain development, and building Mobile apps.
Students can learn programming theory with fun through interactive challenges, quizzes, coding tasks, but can build real projects as well, and see their live progress.
Our main mission is to provide a learning method that will allow our students to enjoy learning like never before.
What's your backstory and how did you come up with the idea?
Both of us have been full-stack programmers for years, and as we know, the IT industry changes a lot in a speedy time, so it's the reason we need to learn many new technologies, to keep the right level.
We already had various resources where we can learn from, in most cases, we felt it's a must, not big fun.
As IT people, we need to learn a lot, and sometimes we do even a few courses or books per month, I can say learning is a massive part of our lives. So we wanted to make the learning process more fun and enjoyable instead of working-type spending time.
After some research through our IT friends, we noticed most of them had the same feeling, and a lot of them would improve their skills much more if the way would be better, so we found we should implement that idea.
Since launch, what has worked to attract more organic traffic?
The first step to bringing traffic to our product was Facebook groups.

We were part of many different Facebook communities around coding, where a lot of people struggled with learning new technologies or just started their journey.
It was a good place to let them know, we have a new e-learning platform. It worked well in the beginning, but after some time people knew about us and we needed a new source of traffic.
We decided to start a blog and Youtube channel, to build the SEO for Duomly, and to mark our presence on the internet. At first, we were posting content randomly, but after some time we realized that it doesn't work so well.
We decided to research more, to learn what we should improve about our SEO, in both blog and YT channel, and we learned a lot about how important it is to create good quality content, that people really want to read, and how to actually promote every piece of content we created, to make sure our every follower saw it.
Have you learned anything particularly helpful in your SEO Journey?

We definitely learned that producing content and letting it be is not the way that works. There was a time when we created a blog post and YT video almost every day. But after publishing it we forgot about it and went to the next one.
This way we lost a lot of opportunities to show the content to many people.
Later we discovered that each blog post and Youtube video we publish should have a proper promotion on our social media and other platforms.
We gathered a list of tech platforms where we could publish our content as well so that people who didn't hear about us could find out what is Duomly. One of the most helpful habits was to stay consistent with creation and promotion because the time we published the most regularly we got the biggest growth.
We also struggled a lot with our blog performance, which broke our SEO scores in Google Search.
With a lot of articles, we have to make a hard decision to migrate it to our platform, to a static page generator. It made our positions skyrocket in search engines.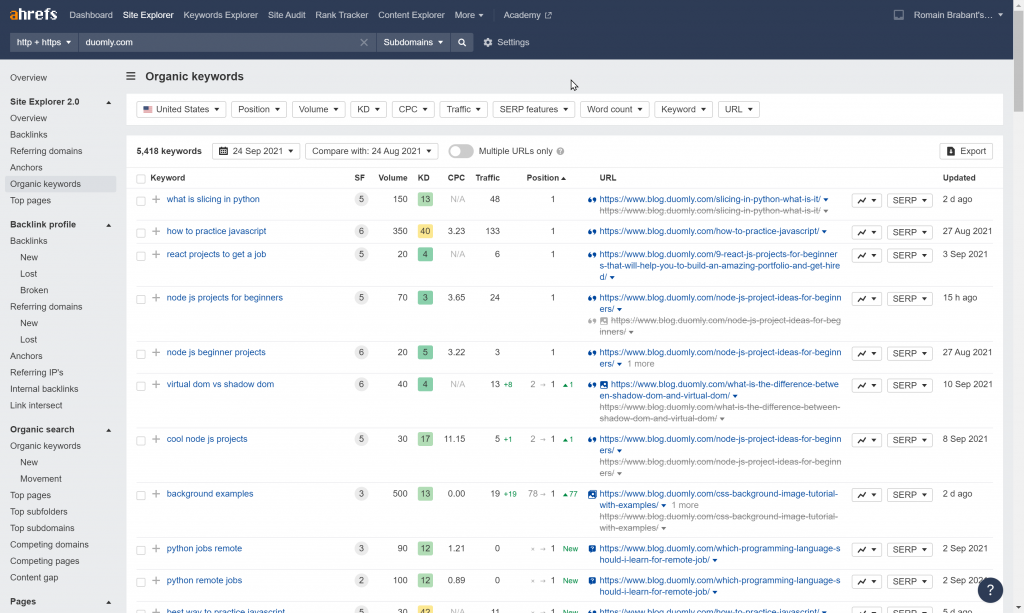 Also, continuous attempts to improve our articles and videos led us to learn lots of new skills, on how to edit our videos, how to shoot them, what equipment is good for the price, and what topics people enjoy the most.
Today I can say it's an important experience, because now starting from scratch I could do the same results much faster with the knowledge I got now, and it's kind of difficult to get a course or book that lists that all.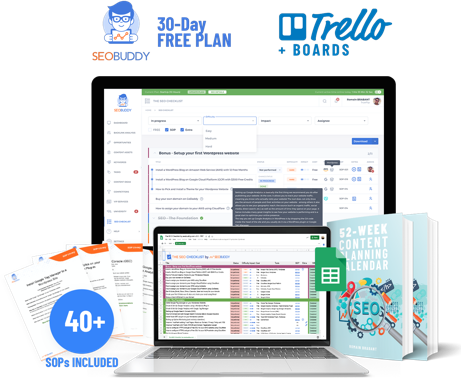 There's more…
Now it's time to discover the other 102 steps that will get more organic traffic flowing to your website. Get the SEO Checklist here.
Want to get a sneak peek of what it looks like?
Enter your email and get a free demo version of the SEO Checklist.
What's your SEO Tech Stack?
Google tools were the main source of information for us. We used Google Search Console to follow our positions and to look for improvements in our posts for certain keywords that started to work for us.
We also used Google Trends, Medium, Feedly, and social media like Twitter to find out what is trending topics, so that we know what to publish in a given time.
Google Keywords was a very helpful tool as well, as knowing what is trending we could find the best keywords for our next post.
We used Freepik and FlatIcons to create eye-catching thumbnails for our content, which made the engagement higher. From our experience graphics really matter.
To improve our blog performance Google PageSpeed Insights was also a very helpful tool because it pointed strictly at what is wrong and what needs to be changed to have a better SEO score.

We started our adventure with link building pretty late.
First, we tried to grow organically, and it worked. As we published good quality, interesting content there were many people who wanted to publish our posts on their platforms or translate them to another language and link to us.
We focused on creating good content, which people wanted to share without putting additional effort from our site on link-building, and it really paid off. 
What have been the most influential books, podcasts, or other resources?
We started with almost zero marketing knowledge, but during the whole journey, we read lots of interesting books.
Definitely worth mentioning are
About SEO and link building we get lots of knowledge from Ultimate Guide to Link Building by Gareth French & Eric Ward, and SEO 2021 by Adam Clarke.
There were a lot of helpful courses, blog posts, youtube videos as well, but it's really hard to gather them all together now.
Where can we go to learn more about Duomly?