My SEO Journey: Hayk Gregorian from aplano.de – Organic traffic is a difficult topic but here is our first SEO victory
My SEO Journey is a series where entrepreneurs and Indie makers share their honest SEO Journey filled with failure and success, and most importantly proven results. Episode #69 features Hayk Gregorian from Aplano.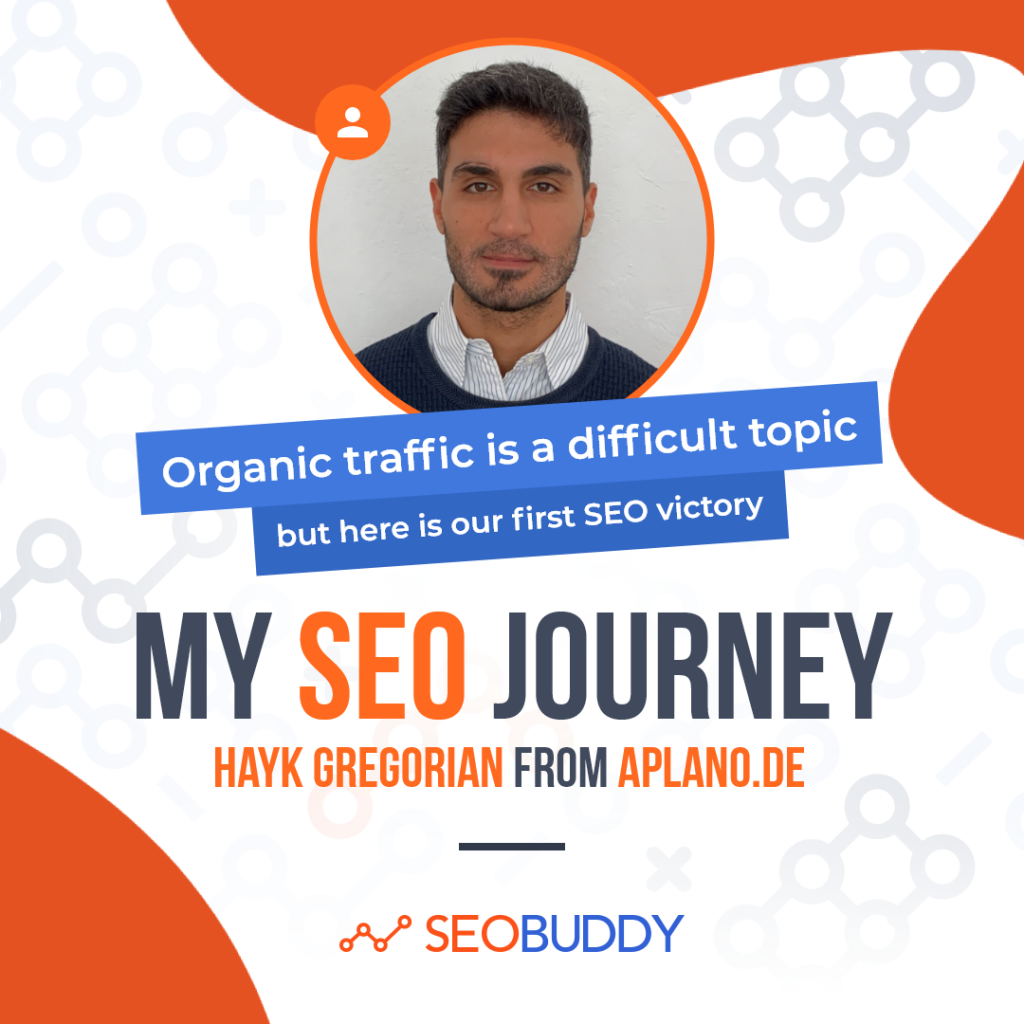 I am Hayk Gregorian, one of the cofounders of Aplano.
Aplano is a SaaS startup from Germany. Our software is an employee management system which covers features such as time tracking, a vacation planner, shift scheduling, employee chat, and much more.
Our customers are businesses of various industries, from factories to hotels, hospitals, and restaurants.
What's your backstory and how did you come up with the idea?
The idea came from one of our founders who used to work in a pharmacy.
They were using Excel to manage working hours and schedules, which made everything quite complicated and time-consuming. After doing some research and comparing existing solutions, he came to the conclusion that the software available at the moment wasn't really appealing and seemed quite bloated with unnecessary features and therefore had an overwhelming effect on the user.
So he decided to create an easy-to-use software to make the management of employees easier.
Through the success of a previous startup (a software agency), we were financially able to launch Aplano by ourselves.
Since launch, what has worked to attract more organic traffic?

Organic traffic has always been a difficult topic for us.
Because of the strong competition and the amount of ads being displayed on Google when it comes to employee management (especially in Germany), most traffic isn't organic, but we do gain more and more customers through word of mouth.
Our product is becoming more popular because it's simply better in many aspects compared to other employee management software, so we have been told by many customers who switched over to Aplano.
So what did we do to get more traffic?
Well, we started to focus on SEO but meanwhile also set up ad campaigns and tested the effectiveness of those.
We tried to appear on the web when it comes to the topic "employee management". For this we commented in forums, answering questions related to the topic, and of course placing a backlink in the comments. We approached bloggers with the hope that they would include us in some articles, or would write articles ourselves and upload them on websites where we would get a doFollow backlink in return.
One of those articles ranked pretty well, which would then generate lots of traffic for us.
It was a blog article listing the top 14 best employee scheduling software.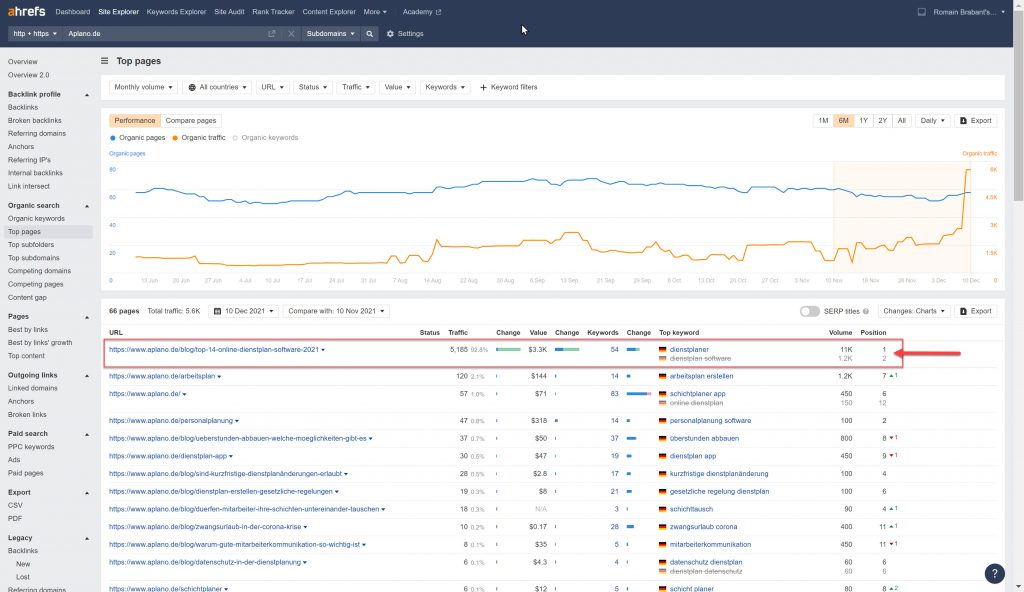 We also tried cold calling companies, working with email campaigns and such, but realized that in our case, it was very difficult to win new customers like that. The majority of our customers are already looking for a tool to manage their employees, there were barely any cases where we would actually get someone to use our software without him/her having thought about it in the past.
To optimize the ranking in Google takes some time, it was a slow but steady process for us.
Trying lots of different things, many of which would end up not delivering the desired results, but at least they gave us more insight into how SEO works.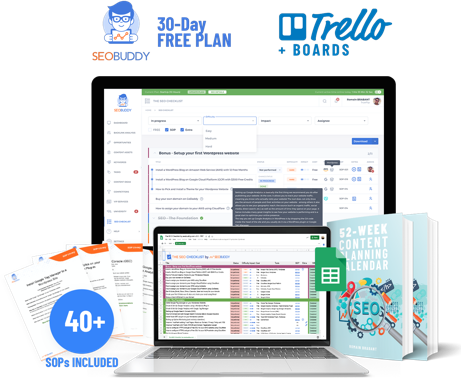 There's more…
Now it's time to discover the other 102 steps that will get more organic traffic flowing to your website. Get the SEO Checklist here.
Want to get a sneak peek of what it looks like?
Enter your email and get a free demo version of the SEO Checklist.
Have you learned anything particularly helpful in your SEO Journey?
Since we started our SEO journey from scratch without any external help, we first had to gather as much information as possible. And you have to understand that somehow SEO is something quite simple, but at the same time somehow complicated.
There are certain things we learned that were very straightforward. Link Building, the right set of keywords, website structure, and where to place certain keywords.
I started to create a backlink profile for Aplano, looking for directories and websites with high domain rankings (DR: indicates the backlink-profile of a website) to submit our startup or software.
This was the beginning, by doing so, which I think is quite necessary, we showed Google we existed on the web. But not much was changing after a while, these directories might help kickstart the project SEO-wise but that is definitely not enough.
After a while, our DR wasn't increasing really. So further steps were necessary.
What I learned here was that setting a backlink on a website with a low DR can be a lot more effective than one that has a high DR. Usually low DR websites have less backlinks on their page.
Imagine the domain ranking being split up and divided between all the links which are set on their website. Ahref explained it quite well by calling it "link-juice". If a website has very few backlinks placed on their page, you will receive a lot more "link-juice" than setting a backlink on a high DR website, because those usually have a very high number of links they point to.
So to make it easier to understand, a website with a DR of 7 (with just a few links placed on their site) will be a lot more beneficial for you than one with a DR of 90 that points to a high number of websites.
This was one of the most important lessons learned for us.
Having learnt this, we offered partnership programs to our customers: set a backlink on your business website and we will give you 20% off the subscription. Something like that.
Very important is also the use of keywords. Analyzing what potential customers are googling and setting up the right keywords on your website is extremely important. To be honest it is still a mystery to me, how Google is actually determining how fitting a website is to certain keywords.
Some websites will place a very high amount of a keyword on their page and be ranked quite high on Google, while other websites with very low keyword density can be ranked high. Google's algorithm is taking lots of aspects into account, therefore some things can just be done by trial and error.
Set up your keyword profile, see how it works, and analyze it.
Make changes and look at the results again and again. That's how we did it basically.
What SEO tools do you use for your business?
My favourite tools were Ahrefs and Google Search Console, although I used Ahrefs a lot more frequently.
With Ahrefs I could analyze all the important information regarding keywords, the CPC, the search volume, etc. I would create a list of keywords I would think would be googled most by our customers, and compared those mainly by search volume and average CPC. This was just for the keyword research.
But it would also help analyze our website, point out where meta tags were missing, image sizes were too large or certain keyword density wasn't sufficient. I recommend spending some time and looking into it.
It is a bit pricey but for a certain period of time, I think it's worth it.

As mentioned above, link building has been a long journey, where we learned to focus on higher-quality backlinks for better results. Contacting customers to receive backlinks on their websites, and being represented on websites with similar content of course.
Backlinks on websites which cover completely different topics could maybe even do more harm than good.
What have been the most influential books, podcasts, or other resources?
I have been looking into lots of different blog articles, tutorials, and podcasts. To me, there isn't any major source of information that stands above all else in SEO.
Some articles are generally a lot more informative than others. Bloggers usually tend to stretch things out and force you to read through 2 pages for information that could've been transmitted in 3 sentences. I found that tutorial videos from Ahref on youtube give me some valuable insight, but also lots of blog articles.
What's the next step in your SEO Journey?
Our next step is to slowly create a bigger and better backlink profile.
Unfortunately in our case focusing on SEO only will never be enough. Most of the customers are being caught at the top of the Google page, where all the ads are placed.
A healthy combination of SEO improvement and ad campaigns will be our focus for the future.
Where can we go to learn more?
I would just recommend checking out our website.
Look at the structure, use of keywords, and just analyze our backlink profile on one of the tools like Ahrefs or Semrush. Look where we placed backlinks, which are "doFollow" and which are not. I hope my answers will be of some help to those who are struggling with SEO.
A last piece of advice, don't expect things to change quickly. It's going to take at least a month for progress. But that of course depends on the amount of effort you are willing to put into your project.